Top Instagram Posts of 2018
INSIDE : I always love looking back at my "Top Nine" Instagram posts from the year. I am sharing my Top Instagram Posts of 2018, selected by none other than you!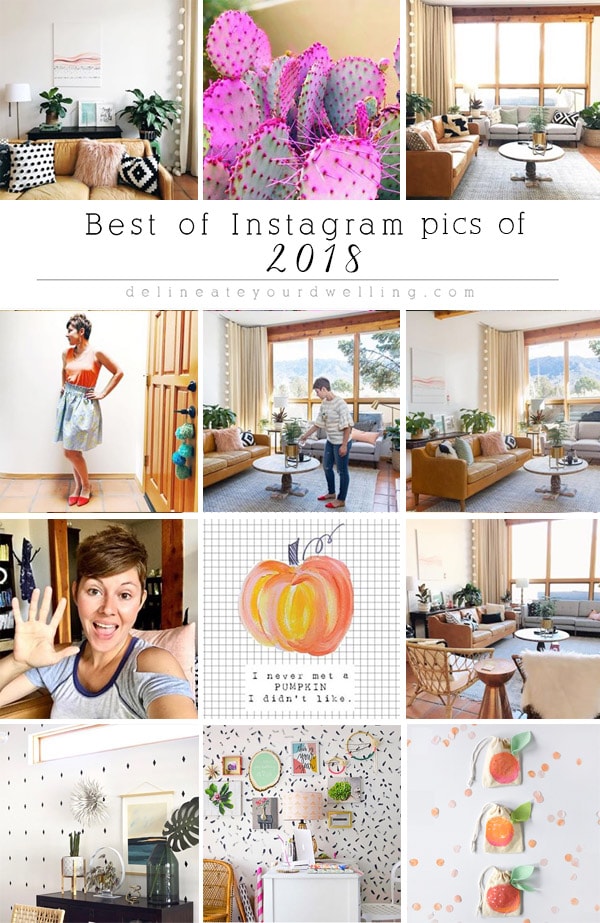 Just like every year around this time between Christmas and the New Year, I sit and think on how in the world this past year has zoomed by as quickly as it did. Seriously, where did 2018 go and how could it possibly so very close to 2019?!!
I always love looking back at my "Top Nine" Instagram posts from the year. Although I have had my ups and downs with IG, it still holds a place in my heart. I so love the good aspects of social media and the way it can bring people together. Today I am sharing my Top Instagram Posts of 2018, selected and arranged by none other than you!
I found this year's top Instagram pictures to be so interesting compared to previous years! Being mostly a craft blogger… most years my top IG posts have been mostly craft related, as you would have expected. This year however, I have slowly been making our new house into our home and that definitely reflects in my top Instagram pictures!
Of the top 12 posts, seven of them are interior space pictures and of those 7 interior spaces, 5 of them are our living room. How interesting! Are you all looking for more interior related posts?
I also very rarely share myself on Instagram, so I found it also interesting that of the top 12 posts, 3 of them included me.
I know algorithms play into all this, but I do find it fascinating what I think will be your favorites versus what ends up being your favorites. That's another reason why I like looking back at the top blog posts of the year, too!
Okay, enough chat… lets talk about the Top Instagram Posts of 2018 :
1 Sofa + Gilmore Girls : It was one of the first pictures of the year, January 4th and mama needed to sit on that sofa after the kids went back to school. And maybe Gilmore Girls were involved.
2 Painted Pink Cactus : Mrs Emily (my best lady) was visiting. I got my hands on some pink spray CHALK paint. Cactus' were painted. Enough said.
3 Living Room + Family Chores : I want to teach my kids to help with chores. I also want the chores to happen in under 88 hours. We have a dilemma.
4 The Amy Skort : Back to Mrs. Emily again… she handmade makes the most gorgeous skirts and then she named it after me. And I cried. And then I bought one and rocked it the best I could.
5 Fall time Living Room : It was colder than necessary and I was about to jump under 8 blankets.
6 Disco Balls + Pom Poms : It was another living room picture but I was highlighting some of my favorite features… my 8″ disco ball and the floor to ceiling pom pom trim I added to our curtains.
7 Happy Birthday : I turned 38 this year and I'm not a fan of birthdays. However, this year I sat in a movie theater on my birthday evening and watched Rachel Hollis do her thing and loved every moment of it.
8 Painted Pumpkin Prints : I shared how to paint a pumpkin which went wild on Pinterest. So then I turned it into a print and it went wild on Instagram.
9 Surprise, it's my Living Room : Family was on the way for Thanksgiving and you all loved it. Or well, you loved my living room – ha.
10 Almost Wallpaper : I shared how I created the wallpaper look in my updated Dining Room, without using wallpaper at all!
11 Creative Office Reveal : I shared how to hang a gallery wall in my newly updated Creative Office reveal.
12 Painted Peach Bags : If you can't eat the fruit everyday, why not just paint it!
Thank you so much for following along, commenting and adding to my love of Instagram this past year! I love being able to connect with you all on IG Stories, that is my favorite part. If you aren't following me yet, hop over and send me a hello – I'd love to get to know you better!


Are you interested in previous year's best nine – Don't laugh at my non square 2014 pictures… those were sweet innocent Instagram days.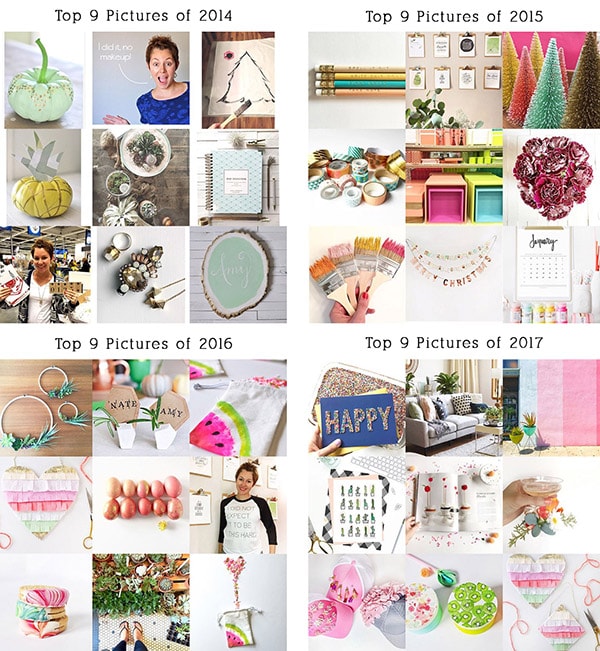 Interested in more blog business Instagram related posts? Check them out here!
SaveSave
SaveSave
SaveSave
SaveSave
SaveSave
SaveSave
SaveSave
SaveSave
SaveSave
SaveSave
SaveSave
SaveSave
SaveSave