INSIDE : How to make a simple Embroidery Hoop Holiday Ornament! Perfect for a gift idea or to hang on your Christmas tree. And ribbons and bells make it even better!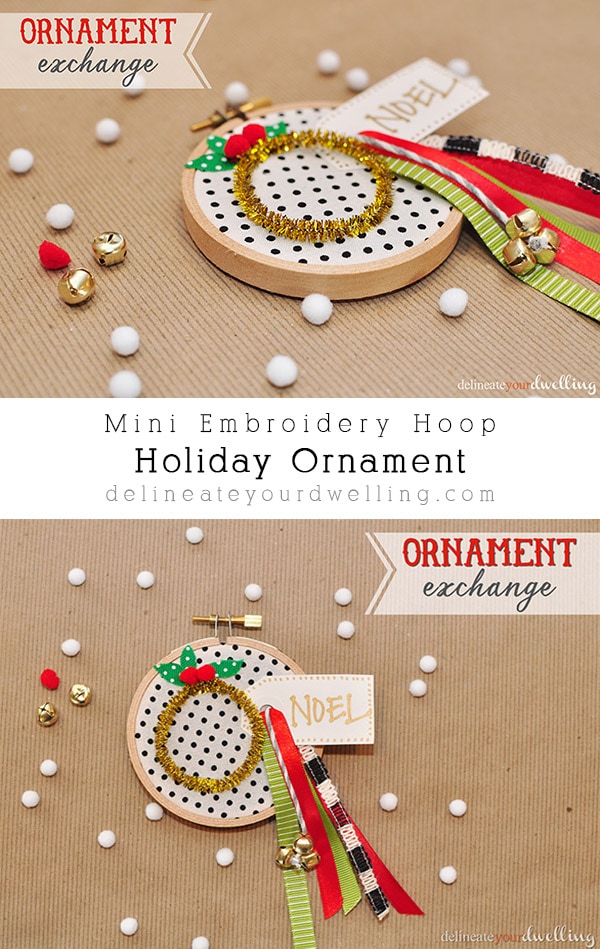 This post may contain affiliate links. See full disclosure here.
I have been wanting to create something with Embroidery Hoops forever. I literally drool every time I see Oh My Little Dears whipping up simple stunning ones for her dining room. I decided I would make some and turn them into ornaments. These were so fun and easy to create.
SUPPLIES FOR Simple Embroidery Hoop Holiday Ornament:
Mini Embroidery Hoops | Fabric | Gold Pipe Cleaners | Holiday Ribbons | Small Bells | Paper tag | LOVED these Mint Green Pipe Cleaners | Gold Sharpie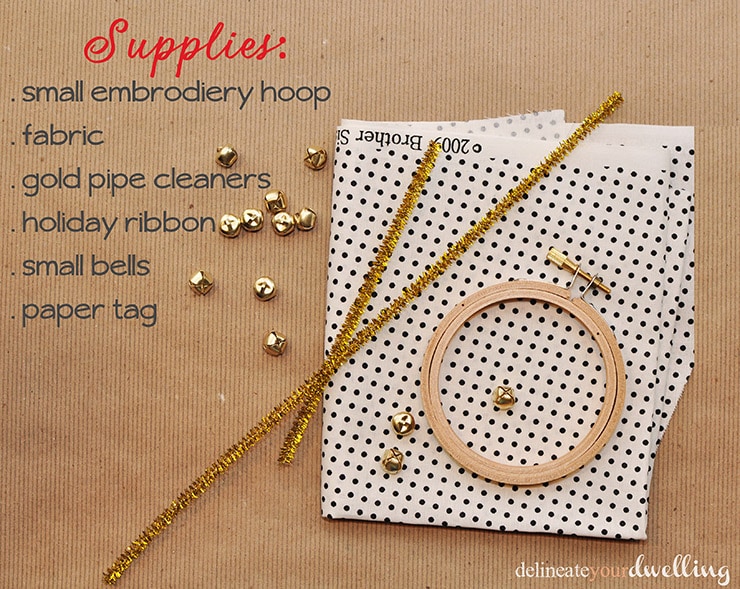 First, using the black and white polka dot fabric, covered the embroidery hoop and cut off the excess fabric from the back. To give your ornament extra security, add a little hot glue to the back of the embroidery hoop.
Next, curve your gold pipe cleaner into a wreath shape and wrapped the ends around each other.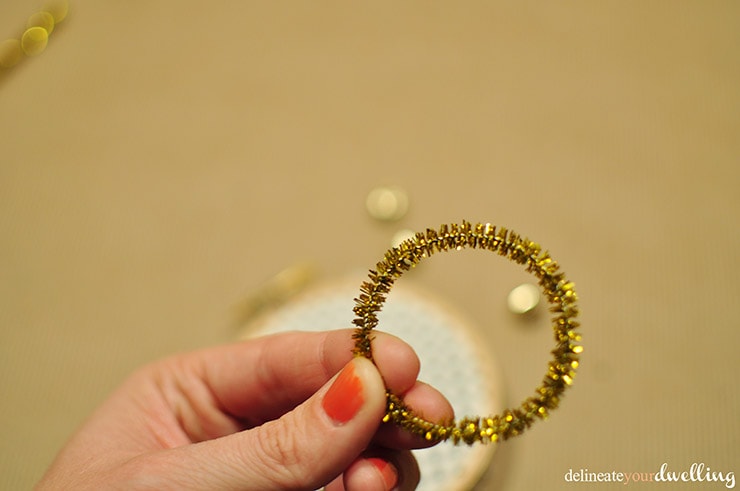 Next, cut three small leaves out of green and white polka dot ribbon. You could also use felt for this part.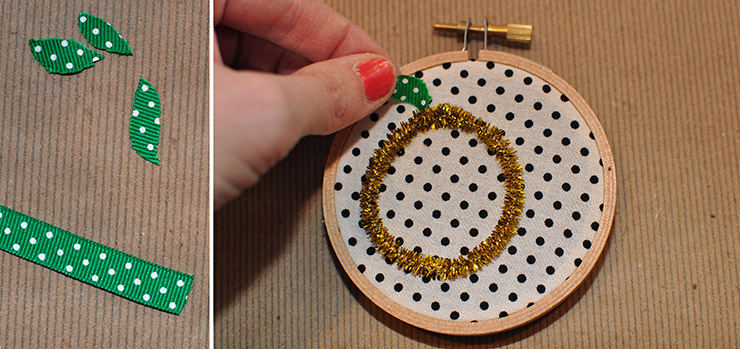 This is such a fun project to add little detailed embellishments to! I hot glued the pipe cleaner wreath, the small leaves and a few small red pom poms onto the hoop. I almost stopped here, loving the simplicity of it.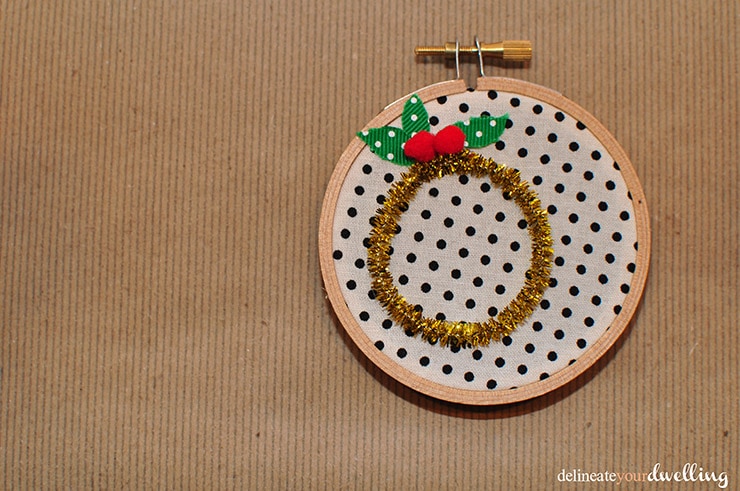 However, instead of stopping, I added a few additional embellishments – because why not!
I found a small paper tag and wrote, "NOEL" with a gold Sharpie marker. After adding a few fun ribbons and some bells, it felt done.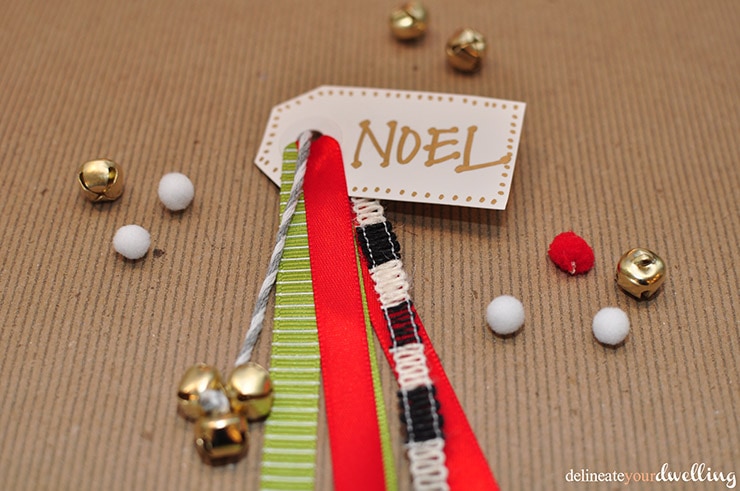 I hot glued the tag and ribbons onto the ornament and enjoyed the festive feel!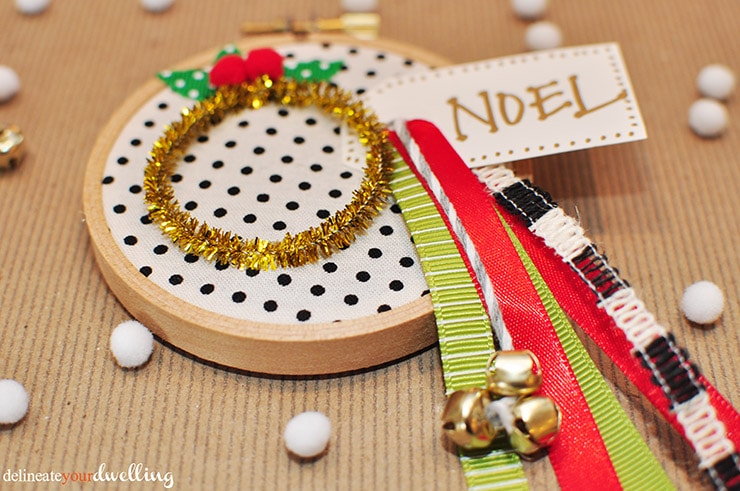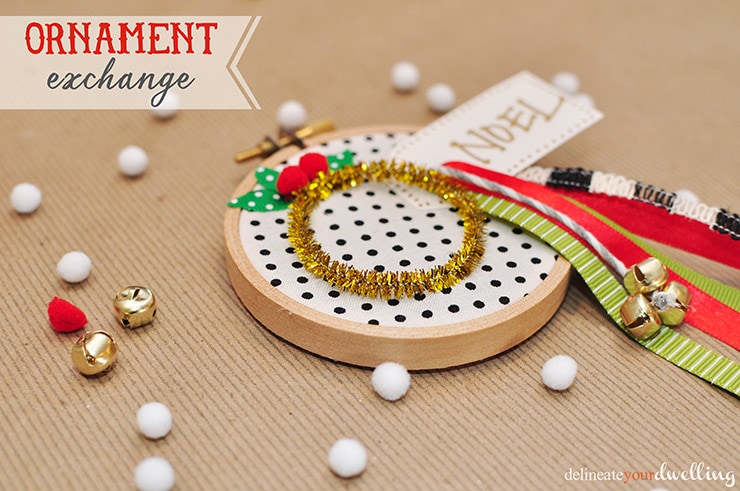 I could have easily taken the store bought route and just bought something cute at Target, but I am so glad I joined this homemade ornament exchange.
Will you be making any homemade ornaments this year?
Looking for more DIY Ornaments? You might enjoy these!