INSIDE : Learn how to make a fun decorative Succulent Table for your outside tabletop this summer with real growing plants – like hens + chicks, jellybean and donkey tail cactus.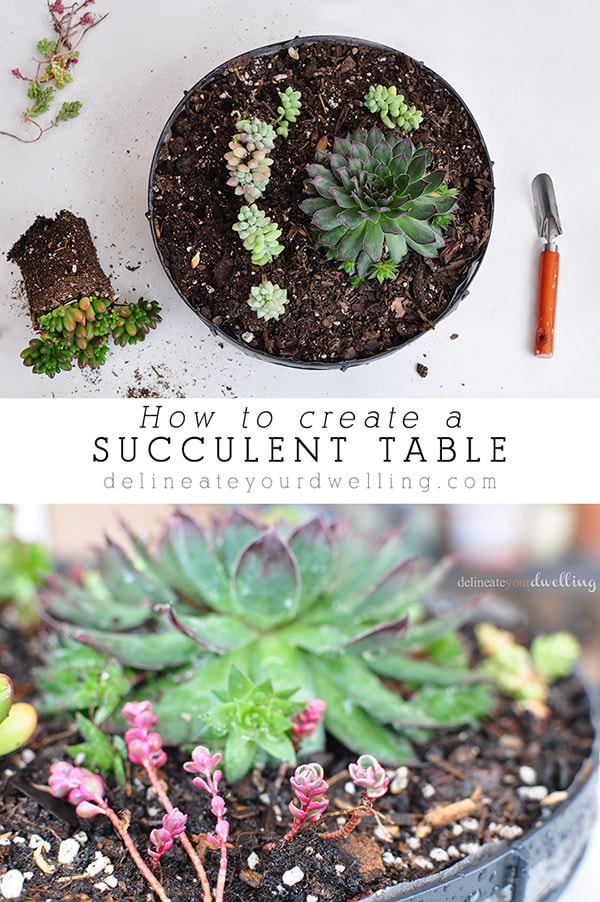 This post includes affiliate links. See my full disclosure.
This post has been updated since it's original May 2014 publish date.
I had such fun participating in a Pinterest Challenge with eight other bloggers over the last few weeks. And today is the FINAL challenge, week six. I hope you were inspired to "stop pinning and start creating".
MY PINTEREST PROJECTS –
Today, I am sharing my sixth project with you… a Succulent Table. Yes, I am a plant lover and have had this idea in my mind for quite some time. I am excited to share how simple it really is to make this fun table decor planter.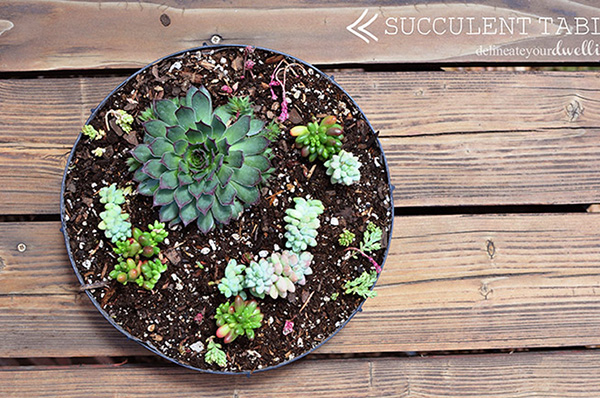 WHAT SUPPLIES DO I NEED TO MAKE A SUCCULENT TABLE?
A few weeks ago I saw this rolling Plant Caddy and just knew it was going to be the perfect container for this project. I was looking for something low profile that would also allow for the water to drain through. This fit the bill perfectly.
Garden Trowel + Garden Scissors
Filter Fabric
Jelly Bean plant
Hens + Chicks plant
Donkey Tail plant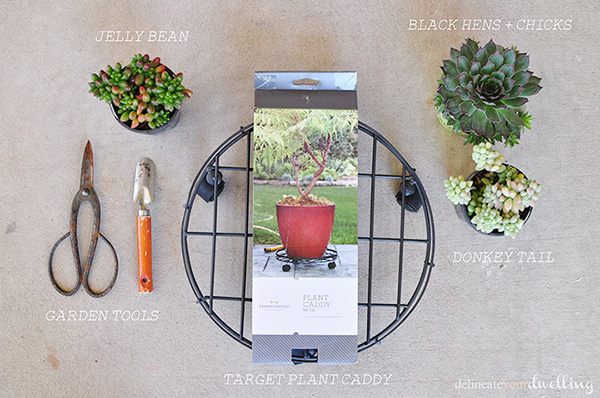 SUCCULENT TABLE Filter Fabric
Having proper drainage is so important with plants, however I didn't want the soil constantly sitting on my patio table. To help keep all the soil in place, I used filter fabric.
We had a huge roll in the garage as I'm always messing in the yard and here in the desert we use it constantly to fight weed growth.
Start by tracing the shape of your plant caddy onto the filter fabric with a permanent marker. Then mark about 2″ larger so you can cover the sides of your caddy as well.
Next, lightly glue the bottom of the filter fabric to the bottom of your plant caddy, so it doesn't move around when you add soil and plants.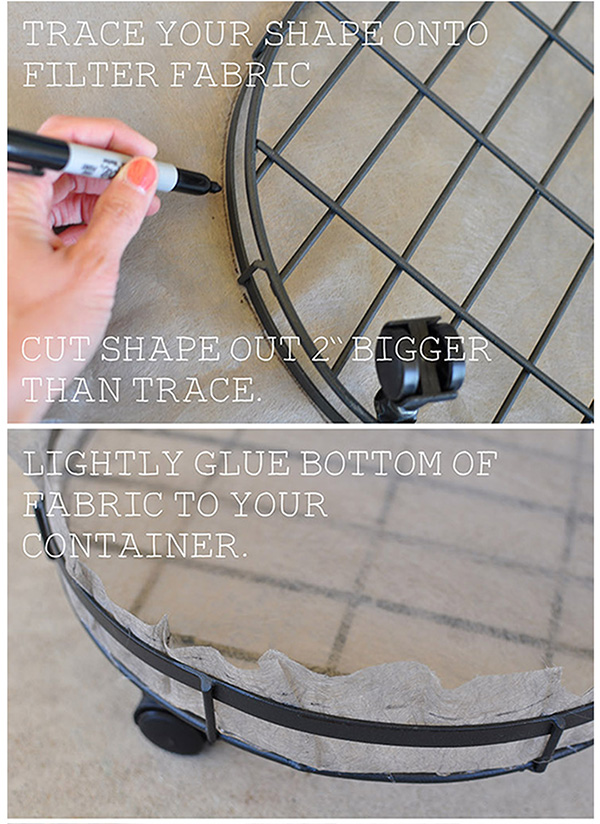 Adding soil and succulents
Once your caddy and filter fabric are set up properly, it's time to add soil and your succulents.
I bought three different types of succulents at my local nursery and also grabbed a few shoots from my yard. I've got a rock garden that is loaded with succulent and I'm always adding new ones to it, so it was fun to "go shopping" in the backyard.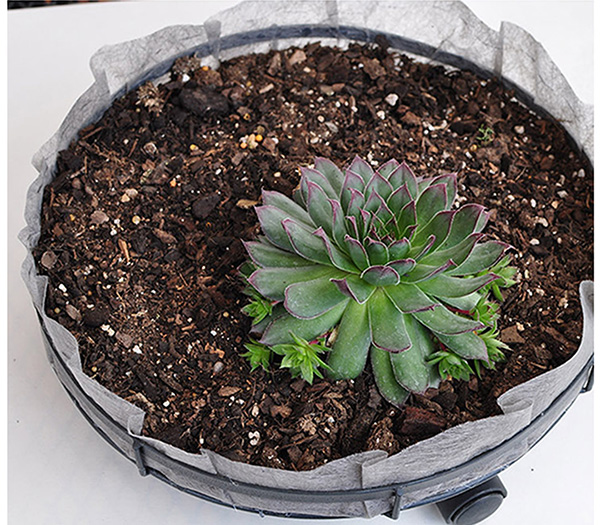 I used Hens and Chicks, Jelly Bean succulents and Donkey Tail plant.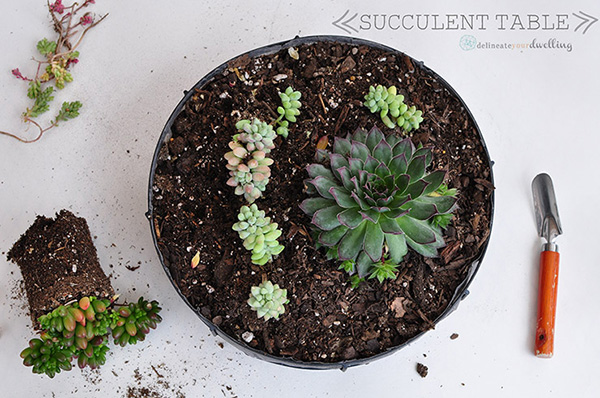 After planting everything, I gave my little succulent table a nice light soaking with the hose on a mist setting. It is important while all the plants settle into their new home, that you keep the soil lightly damp.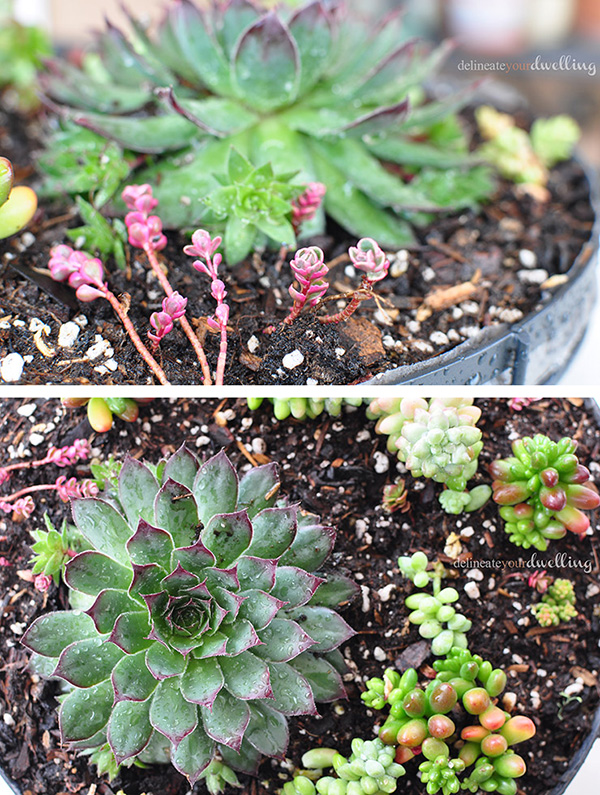 The form you have selected does not exist.
This fun succulent table is now proudly displayed in the center of our patio table.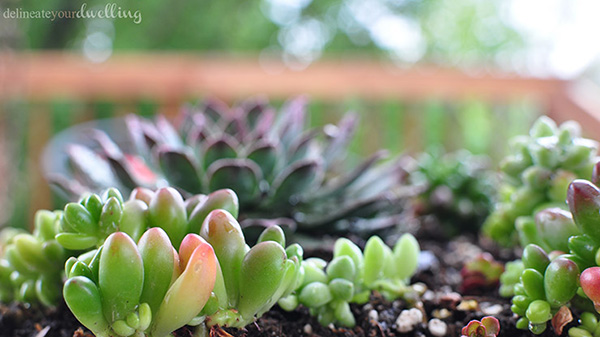 After about a week, you can start to water your succulent planter a little less. Succulents are more thirsty than cactus, so plan to water at least twice a week. Having filter fabric be open to the air, also will increase the rate the evaporation rate.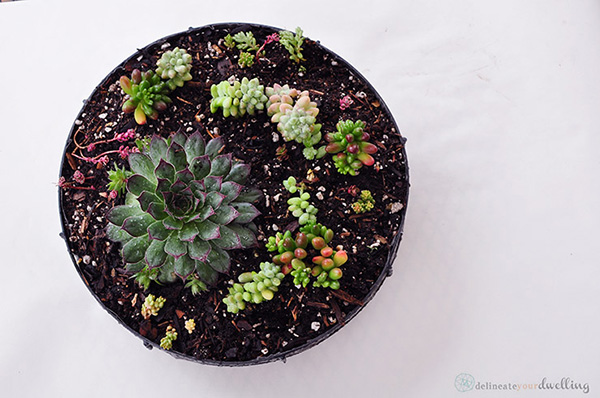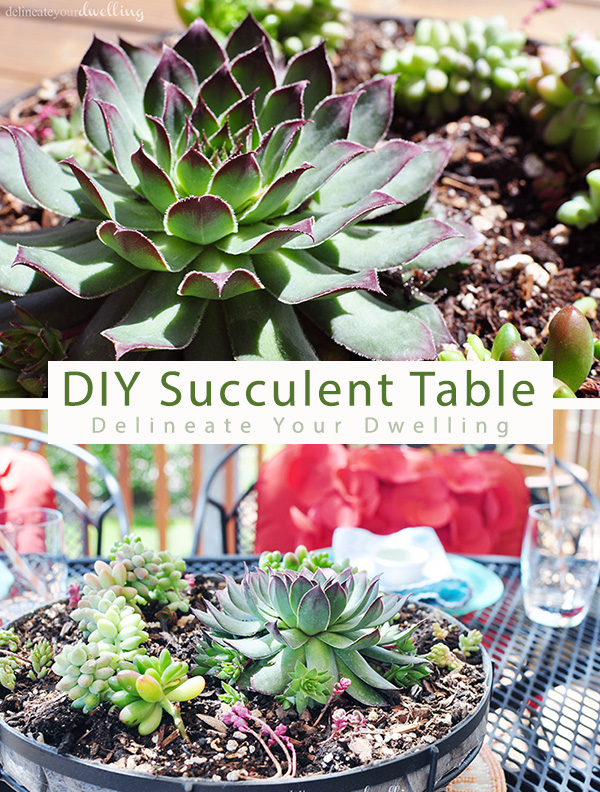 A big thanks to Stripes and Polka Dots for coordinating this great Pinterest Series! I hope you enjoyed it as much as I did.
If you'd like to take a peek at my other projects in this series, see below.
My first project was, Shoes Off Please.
My second project was Lime Cream Popsicles, yum.
My third project was a Key Shadow Box.
My fourth project was a Mason Jar Wall.
My fifth project was a Geometric Canvas Wall.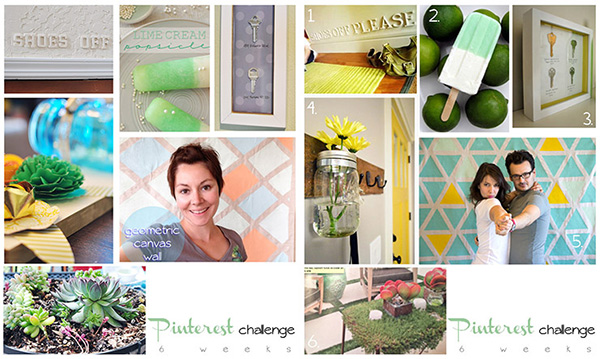 Were you been able to accomplish any of your Pinterest pins?
SaveSave