Hello Delineate Your Dwelling readers! This is Inspired Interiors Studio, an interior design firm that focuses primarily on E-Design, a savvy and convenient way to transform the look and feel of your space for a fraction of the typical cost of an interior designer. Whether your project is residential or commercial, we can provide you with a simple online consultation, assist you with one specific area, or provide the design of an entire space all at once. The beauty of E-Design is it is done remotely, packaged in a box, and delivered to your door.
Today we'd like to share Must See Trends for 2015. We hope you get inspired to incorporate these trends into your home.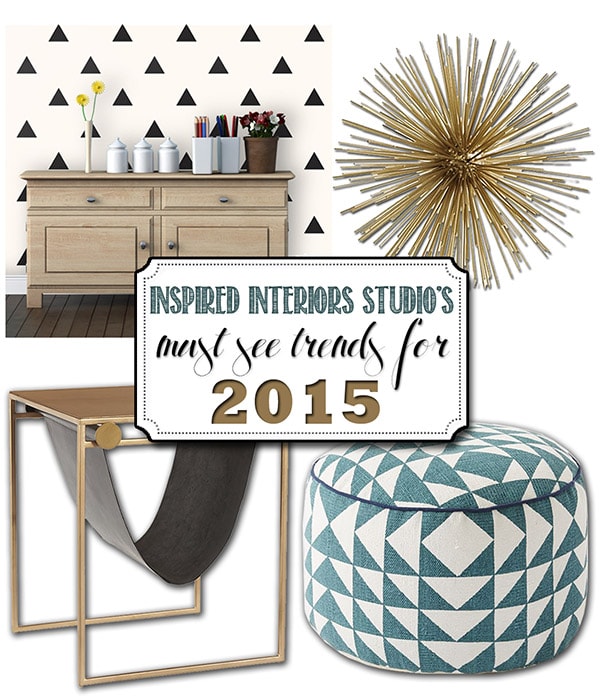 Inspired Furniture Trend :
Why stick to just one material when choosing a furniture piece? Furniture designs are popping up in the marketplace that beautifully combine two or more materials adding variation in color, texture, and translucency. A combination of wood and ceramic in the planter below blends the feeling of cool and warm while also providing variations in color and interest. The addition of a shiny, white lacquer to a wood console table brightens up the piece visually and makes it more modern. Mixing leather and iron in the nightstand broadens the range of what can live in the space and helps new and existing pieces blend together nicely. Start the mix of materials in your space today!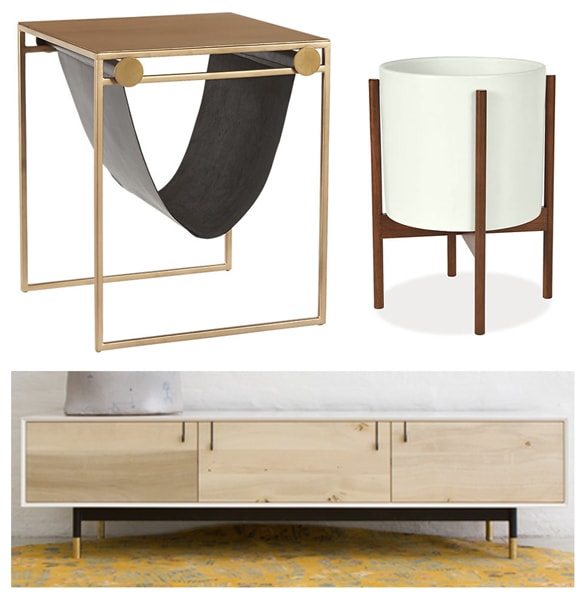 Sources : BDDW, CB2, Room & Board
Inspired Pattern Trend :
Animal print is out and the cultural diverse look of the tribal print is in… and it's not going anywhere, anytime soon. You've seen it at your favorite clothing store and in the fashion magazines, but now it's available and as easy as ever to incorporate into your home as well. You can tastefully integrate these ethnic patterns into any space through accent pillows, area rugs, drapery fabric, art, or accessories. Here are a few examples of classic tribal furnishings and the resources you can tap into to find them.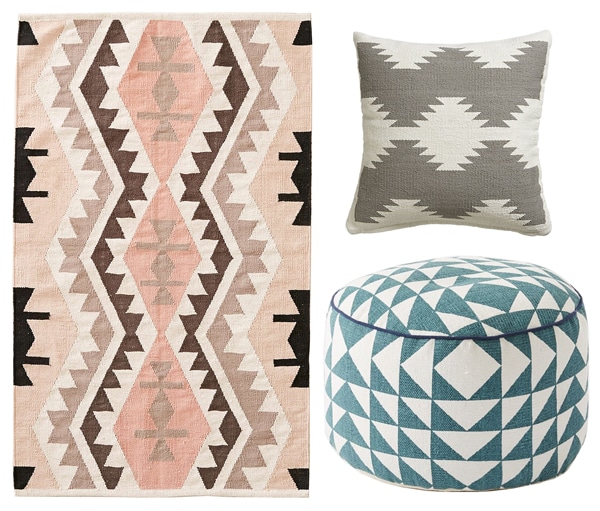 Sources : CB2, Urban Outfitters, West Elm
Inspired Nature Trend :
Nature as an inspiration for design is a very present-day trend, but has also proven to be a timeless look. There are endless elements in nature that you can draw from when looking for design inspiration for your space. The clean, linear shape and configuration of tree branches take on a wonderful look when lighting is added to form a chandelier. Felted wool stones double as oversized floor cushions or poufs and the natural driftwood slice that encircles a beveled mirror makes this nature-inspired piece the focal point in any room. Keep your eyes open and design in mind when you step outside; you will be surprised by what you see!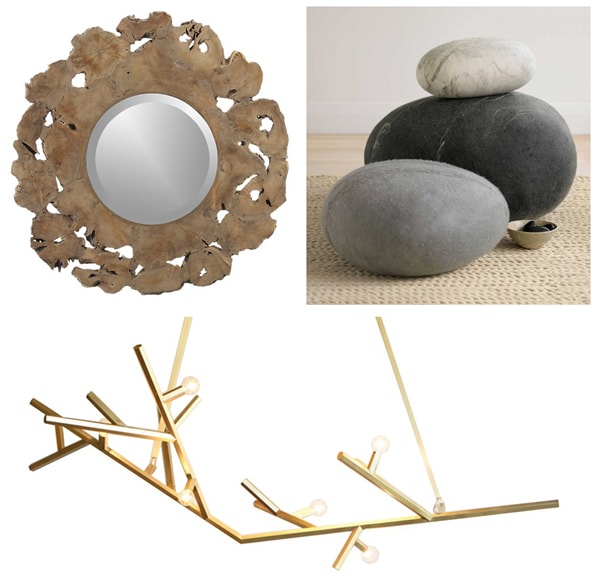 Sources : VivaTerra, Crate & Barrel, Dwell
Inspired Wall Treatment Trend :
Looking to make a bold design upgrade to your space at a low risk and commitment? Or maybe you rent and are frustrated with the design modification limitations you can make to your place. We have the solution! Temporary wallcovering is not only trendy, but it is affordable, allows you to customize your place with a big statement, and is easy to remove or change up as often as you'd like. Wall decals are another great option to get a similar look. Check out how these striking, patterned wallcoverings and decals can transform your space.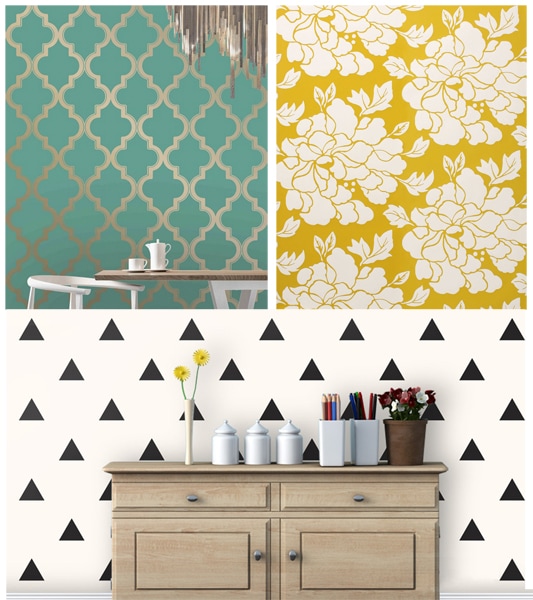 Sources : Anthropologie, Swagpaper, Tempaper Designs
Inspired Accessories Trend :
If you don't already appreciate the beauty of shape and form, let me encourage you to embrace geometry! You don't need to know a thing about obtuse angles or parallelograms to allow these sculptural art pieces to enhance the look in any room in your home. Below are some stunning geometric accessories including an aluminum knot that plays on the concept of interconnected rectangles, an antique brass prism, and a golden sphere that visually does so much more than just sit on your shelf.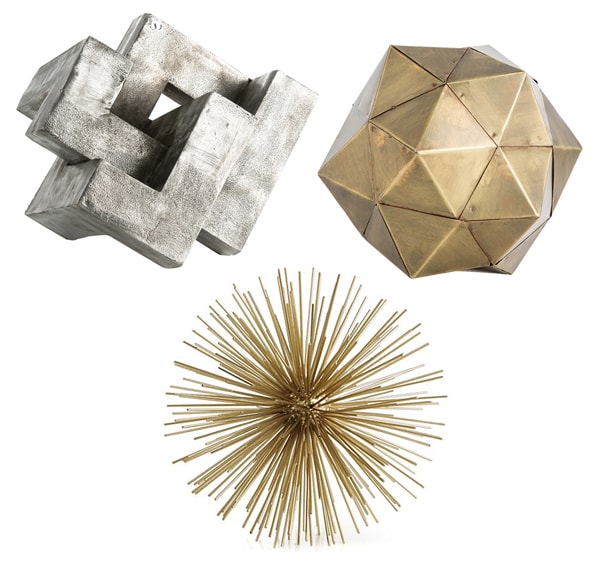 Sources: Arteriors Home, Dwell Studio, Z Gallerie
Cheers!
Thanks so much ladies. I love getting the latest trend scoop and no surprise I love them all, already! Thanks so much for stopping in today, Inspired Interiors. Be sure to stop by their site and check out some of these amazing services. You can also stay up to date with their ongoings by following them on Facebook, Pinterest or Twitter!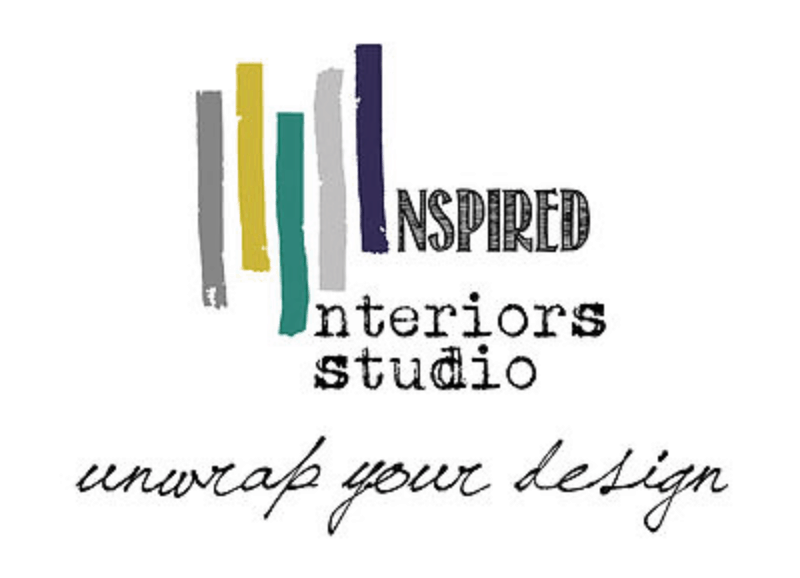 (PS, this is my sister's company, so send them some extra extra love from Delineate Your Dwelling. It would make my big sister heart burst with happiness.)