Leaf Press, Anthropologie Autumn Window Display
INSIDE : Learn how to make these simple DIY leaf press leaves for a fun autumn hanging display, inspired and created during an Anthropologie window display workshop.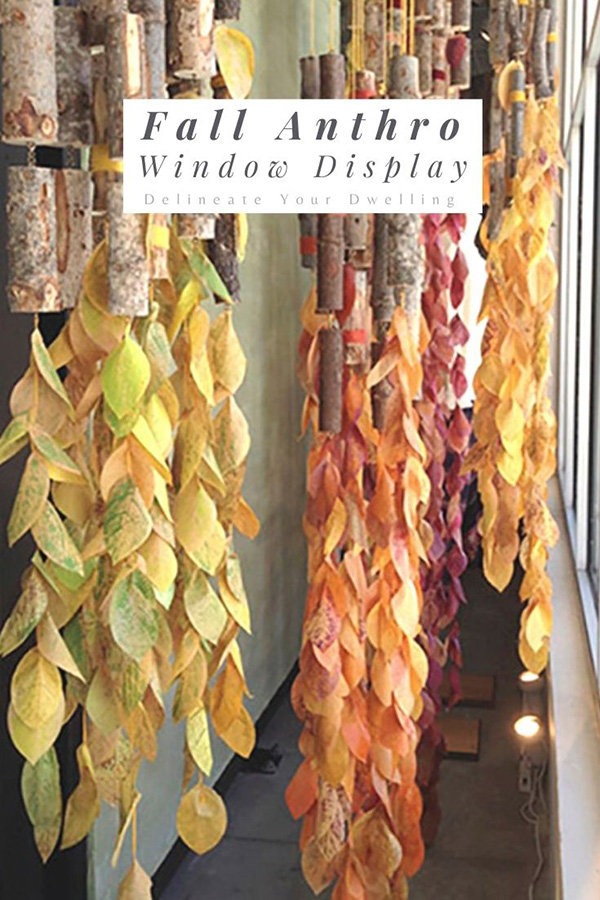 This post may contain affiliate links. See full disclosure here.
This post has been updated since it's original October 2014 publish date.
Anthro Window Display workshop
Last month, I participated in my first ever Anthropologie window display workshop and it was such fun! I had heard about these events and was told to check their website. Well, living in a state with only ONE Anthropologie, there was a very limited local Anthro online community.
One day this summer, while browsing their store in person I asked someone at the front and was put on a "list".
Fast forward six months and an email invitation arrived in my in-box. Today, I will be sharing the simple Leaf Press, Anthropologie Autumn Window Display we created together!
What supplies do I need to make a Pressed Leaf Display?
Acrylic Paints, colors of your choice
Leaves gathered from your backyard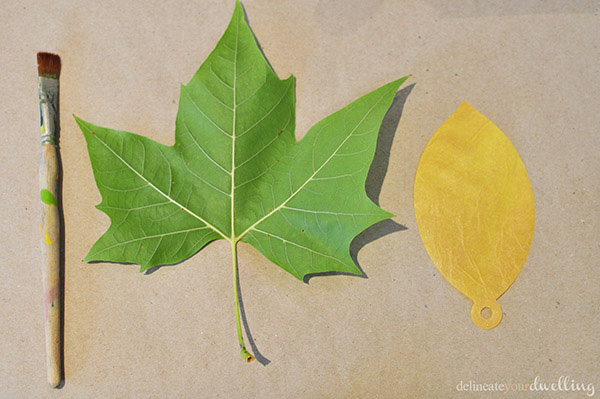 How to make painted Pressed Leaf art
Making painted pressed leaf art is so fun and one of the most simple craft projects to do. You often will see preschool aged children making art projects with pressed leaves. But leave it up to Anthro to really take a simple craft and transform it into something incredible!
Prior to us arriving, the creative team at Anthropologie had taken different fall colors of tissue paper and placed clear contact paper overtop of them.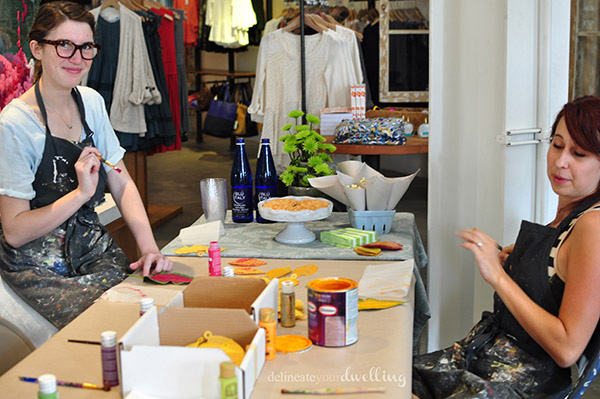 Then using a cutting press, the creative team cut out the shapes of the leaves. This could also very easily be done with scissors. Anthro was planning to hang and display thousands of leaves, so mass cutting was important. A Cricut or silhouette would take on this job easily.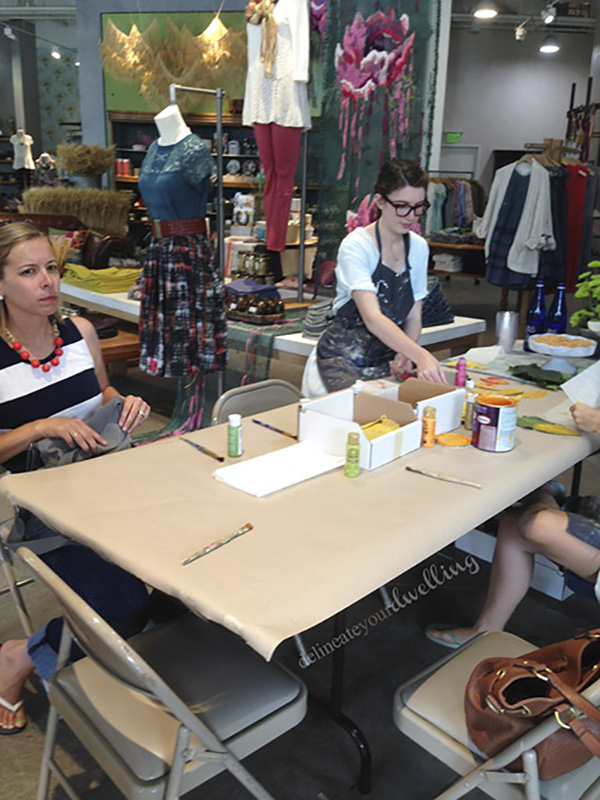 As the volunteers, our job was VERY simple. We brushed various colors of acrylic paint onto our real leaf.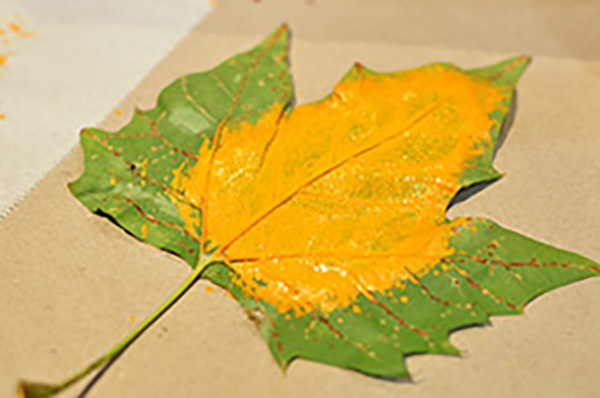 Then, we put the pre-made "tissue paper leaf" overtop and applied a little pressure. No need for perfection, it was meant to look natural and organic.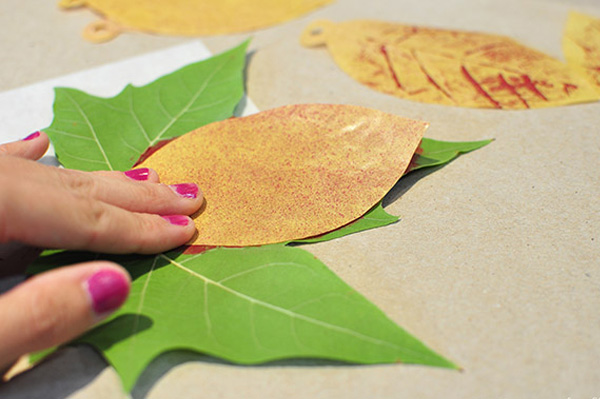 Looking to add some Fall Bats to your decor this year? Check out these fun ones…

After we made about a dozen or so of a particular leaf pattern, we switched paint colors or leaf patterns.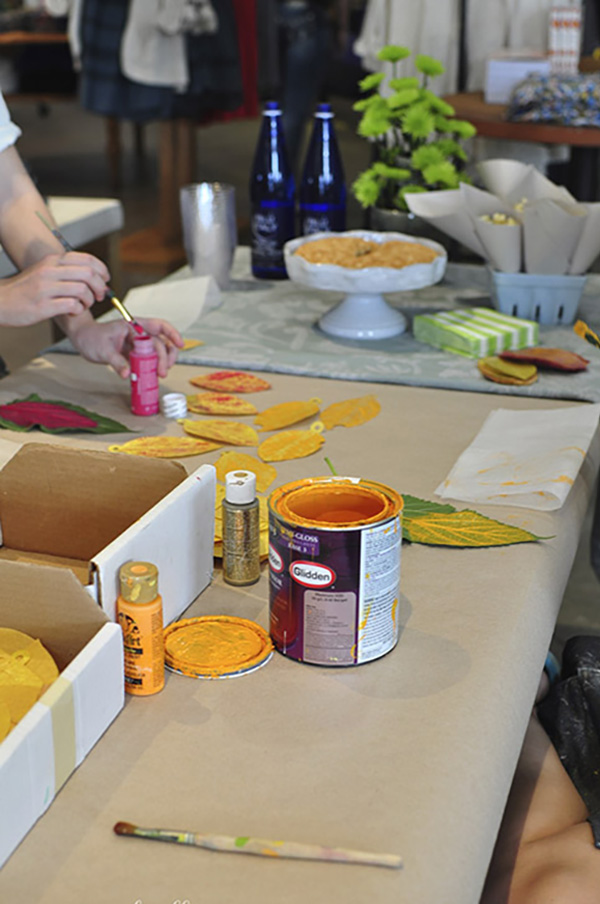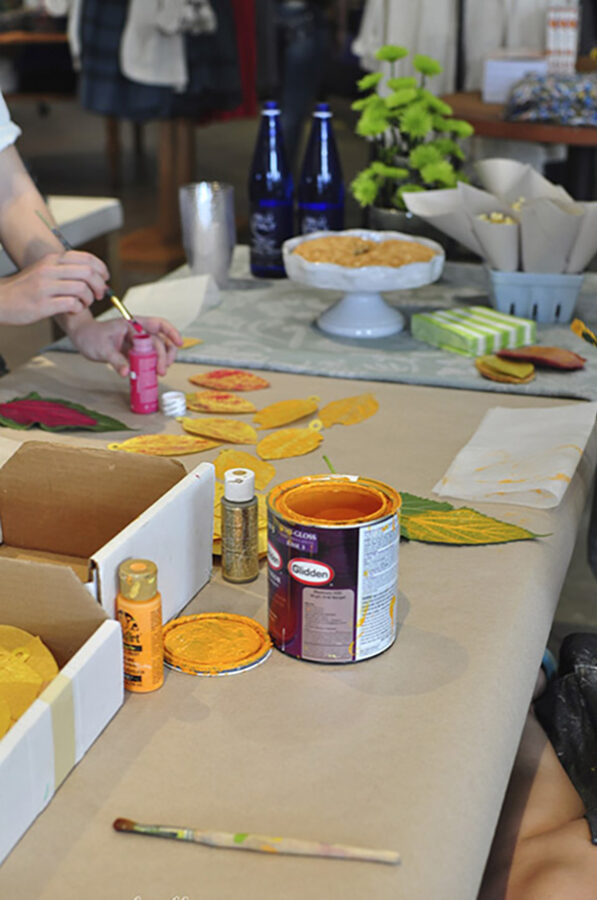 I loved the colors they choose for this project. And you may recognize that gold leaf in the upper right hand corner. I asked to take it home when we finished and turned it into a fun little autumn sign project which you can check out on my fall home tour.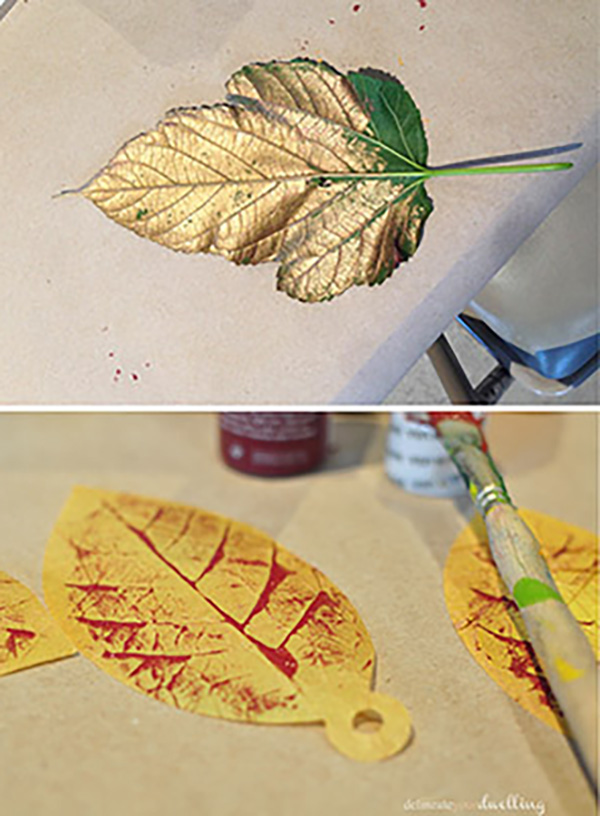 After about two hours of this and me asking 87 million questions about Anthropologie's creative team for as much behind the scene info I could squeeze out of them, the workshop was complete.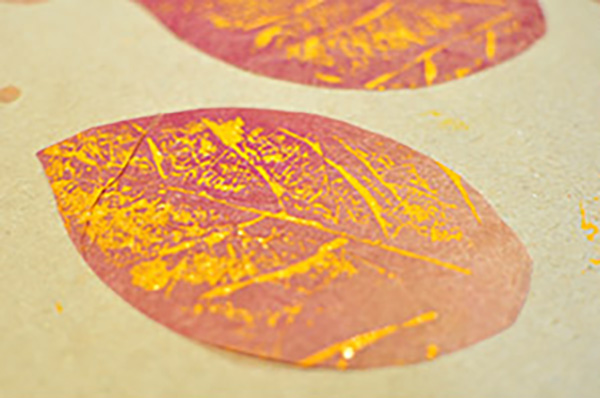 Fall Window Display
I would say it is safe to say, the creative team continued to work during the week and made roughly an additional 1,000 leaves. A week or so later, I stopped by to see the final Fall window display completed and I fell in love!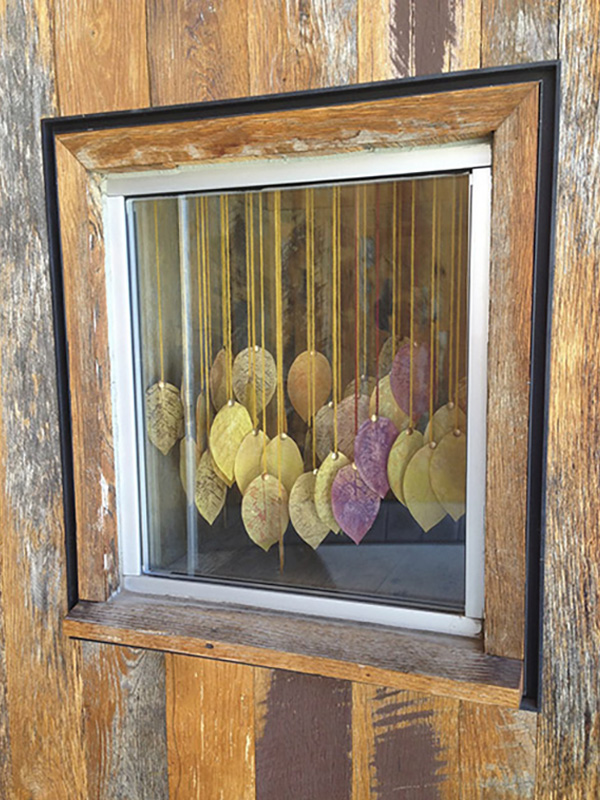 In typical amazing Anthro style, they mixed up the traditional fall scene. They suspended cut up tree branches with yarn and then hung the DIY painted leaves from there. Anthropologie in the fall does simple massing so well.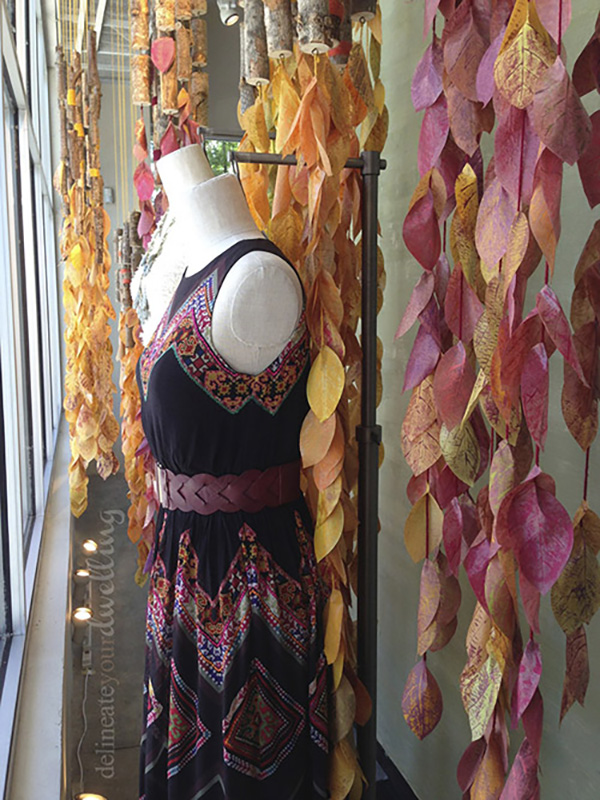 Looking for other Fall Leaf crafts? You might like some of these :
Anthropologie Window Displays
Not only is this just a gorgeous Anthropologie Window Display, but would these painted leaves not be the most stunning photo backdrop for a Fall or even Halloween party?!!!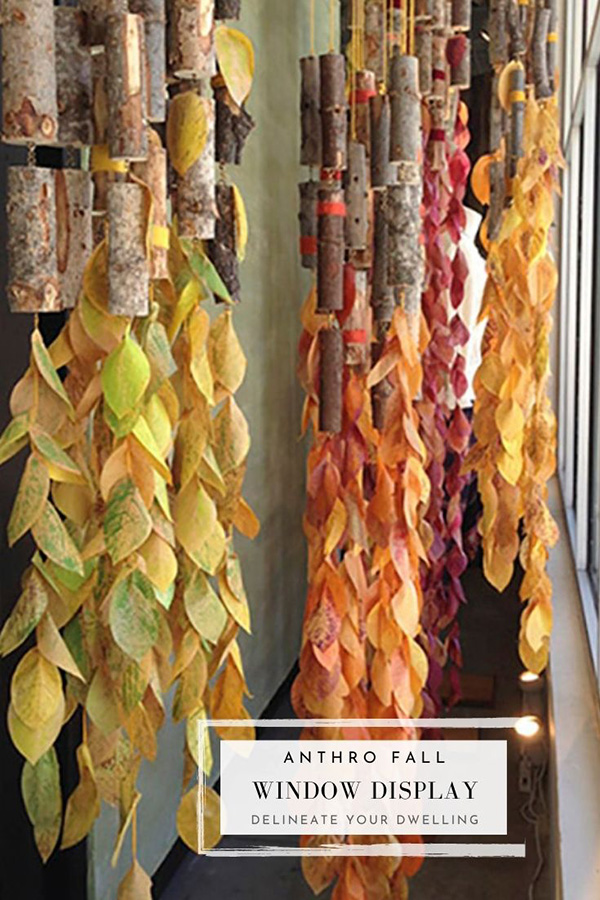 I've decided to make some painted pressed leaves with my children this fall. I can't wait to start collecting the leaves and picking paint colors!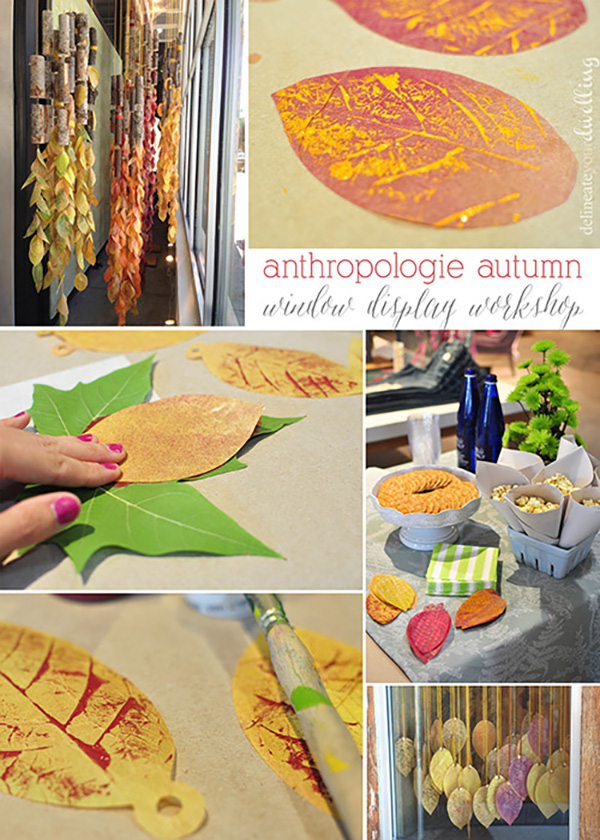 I just accepted an invitation next week for their winter display in a month or so and I can't wait!
If this sounds like something you might be interested in, be sure to ask at your local Anthropologie store. They love the community interaction!