DIY Holiday Garland from Chicken Wire
INSIDE : Learn how to make a simple DIY Holiday Garland from Chicken Wire to hang in your home. They are easy to create and easy to take off the wall with no damage or huge holes.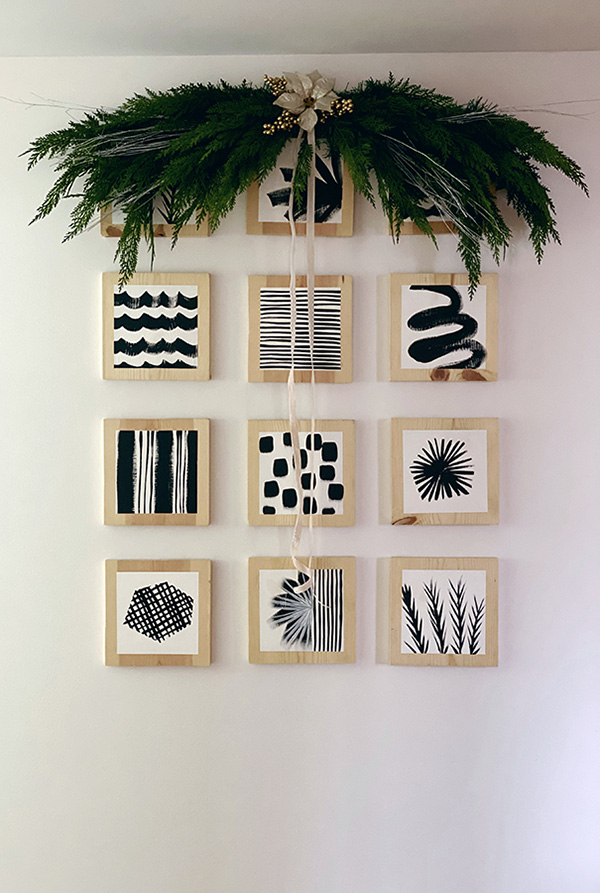 This post may contain affiliate links. See my full disclosure.
Who remembers my DIY Block Artwork that I have hanging in our hallway? It is such a popular project on my blog and a few weeks I decided it needed a garland to add a festive Christmas feel. The only thing is I hate spending very much money on holiday decor that needs to get stored away for 10.5 months of the year… so inexpensive DIY solution to the rescue!
What do I need to make a DIY Garland using Chicken Wire?
How do I make a cheap Garland?
I am a huge fan of mixing garlands to create a more lush and expensive look. This is Holiday Swag using chicken wire is no different. I was able to mix a Dollar Store garland with an old evergreen wreath I took apart, along with a few other items to create a stunning look.
How do I make a chicken wire Christmas garland?
To make a simple chicken wire Christmas garland, start by using wire cutters to create the shape of garland you are wanting. Since this was being installed at the top of our wall and above my DIY Block Art, I cut out a long skinny figure 8 type shape from my chicken wire roll.
Once you shape has been cut out, weave your inexpensive (Dollar Store) garland around the perimeter of your chicken wire. This covers the edges of your rough wire edges.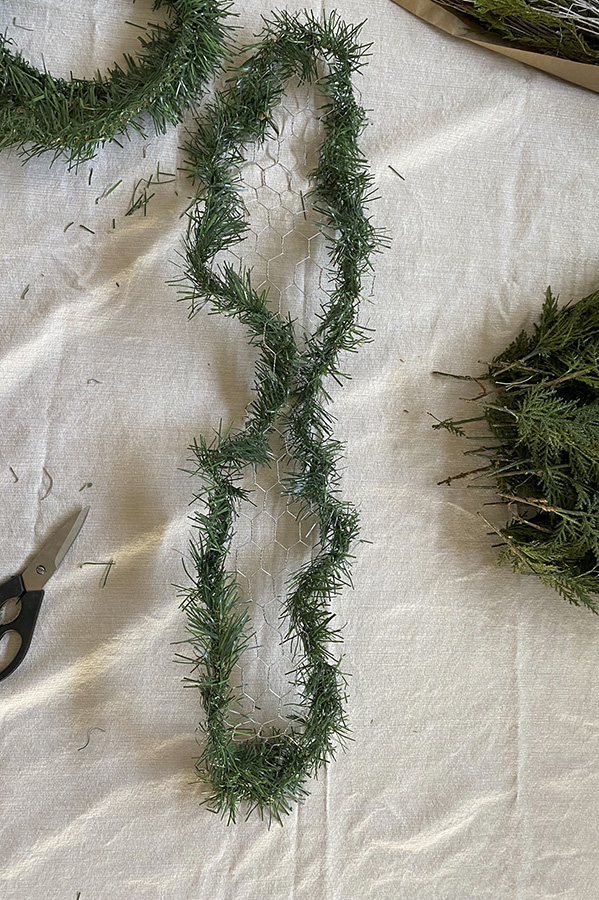 As mentioned before, I took apart an old Christmas evergreen wreath for my main greenery base. You can use any type of evergreen boughs for this step.
Starting at the very edges, slowly begin to weave the evergreen boughs into your chicken wire.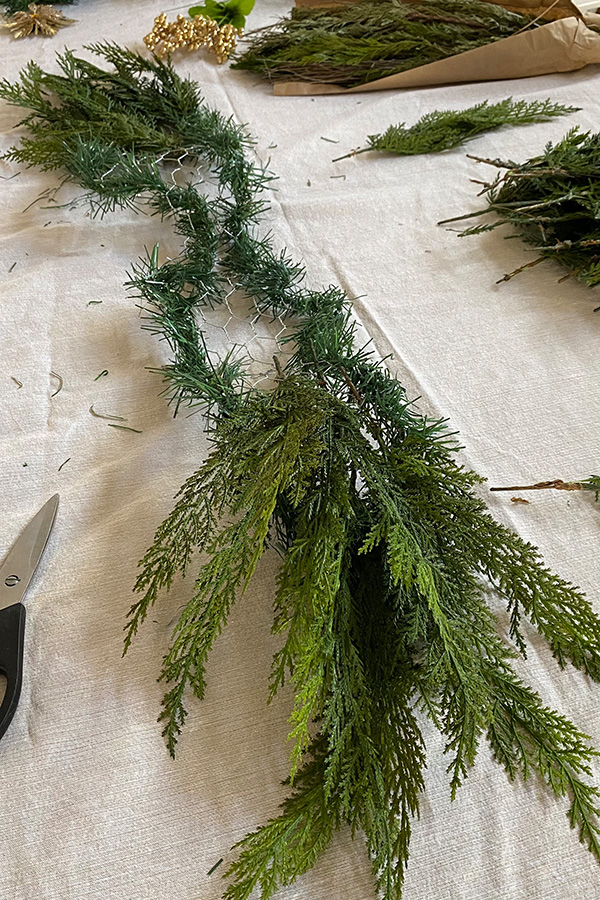 Starting at the edges and working your way towards the center creates the perfect layered look so you never see the ends.
Also using chicken wire allowed me to not have to wrap each of these stems with additional floral wire. The evergreen end simply weaves and tucks in the chicken wire holes to stay secure. Win!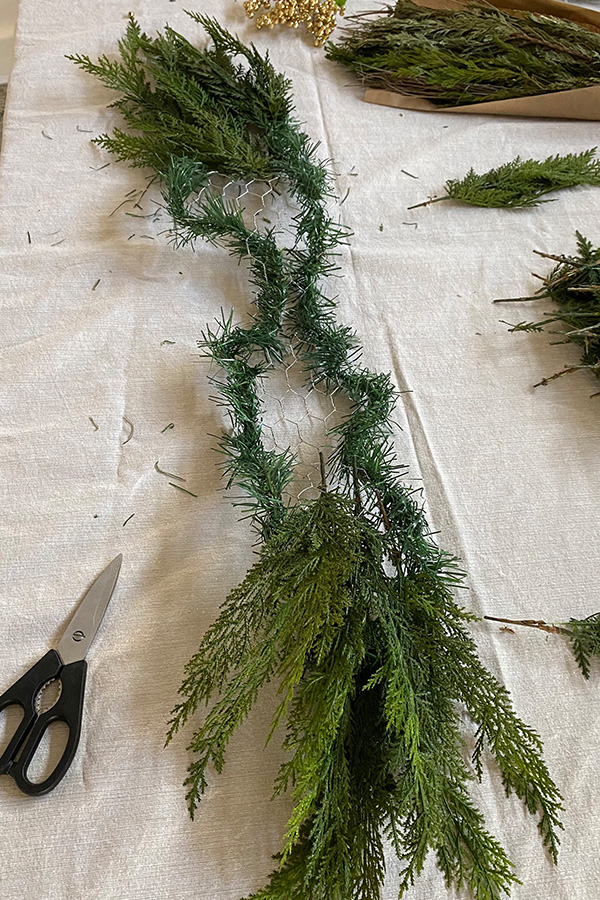 You can see the progress of working on both sides and moving towards the center, below.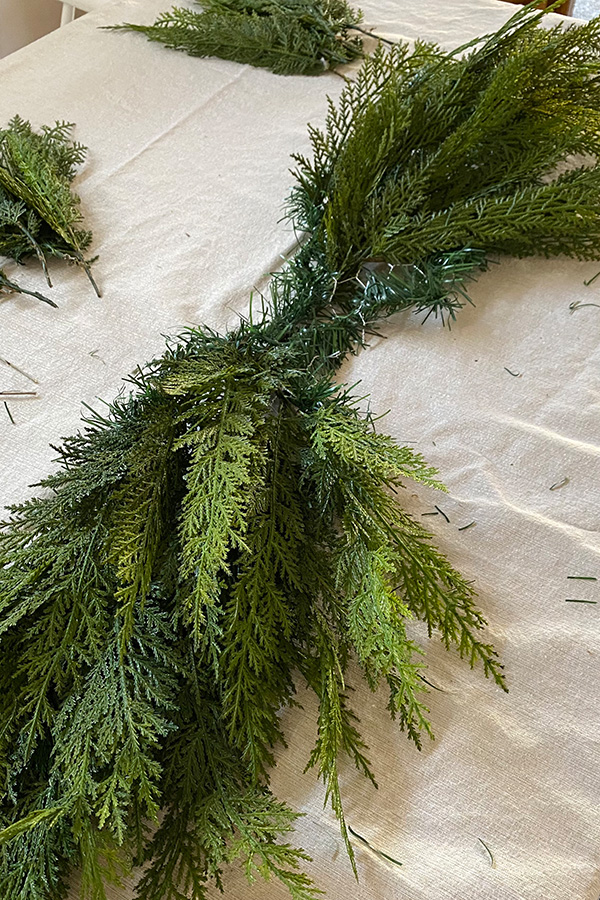 And here is what it looks like as I wove the evergreen ends into the chicken wire.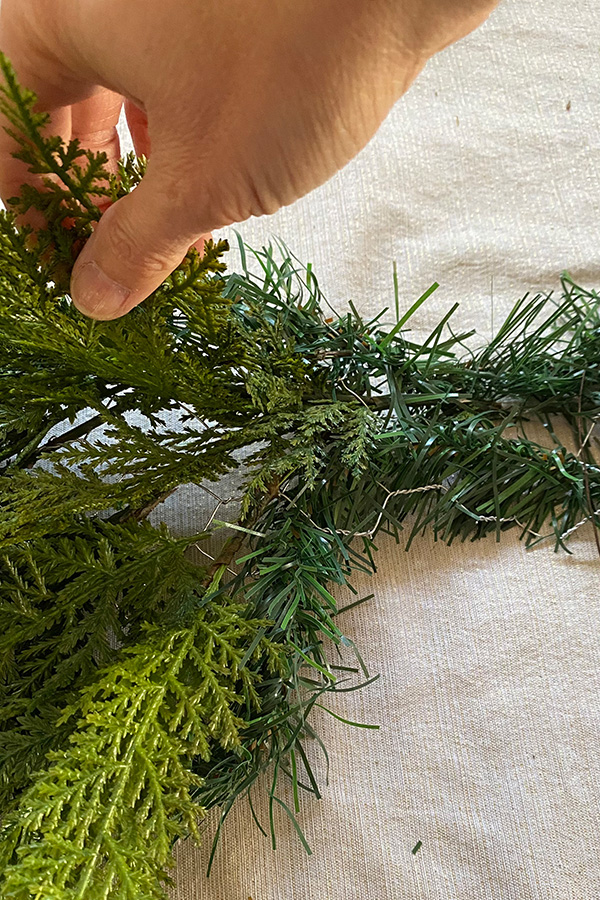 Adding branches to your DIY Garland
I had spray painted some small branches with silver spray paint and thought they were add a few contrast to my garland.
I was able to just stick them into the wire / evergreen structure and they stayed perfectly in place. If you need to add a little hot glue as well, that's fine.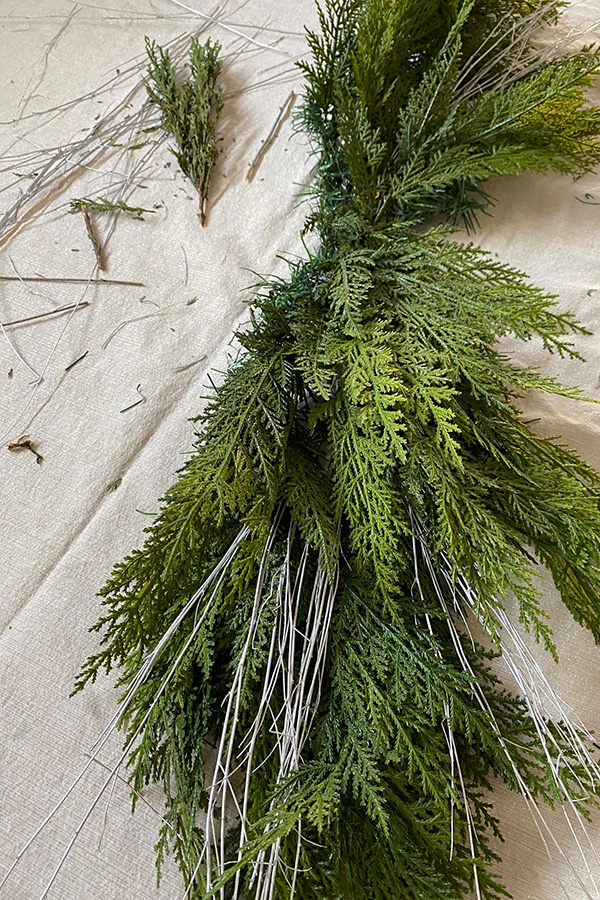 Be sure to check out my Holiday Garland Web Story here.
The final touches for my Christmas swag was adding Dollar Store gold poinsettia, some gold berries and a nice long ribbon.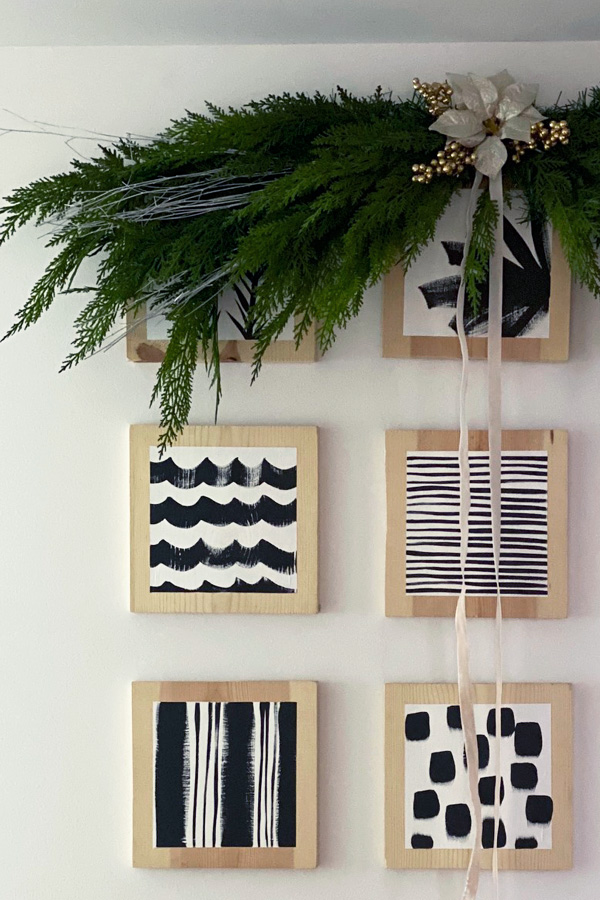 Looking for some other simple Holiday Decor ideas? You might like these :
I used two command hooks on the wall and in about one minutes time was able to install my garland on the wall. SO SIMPLE.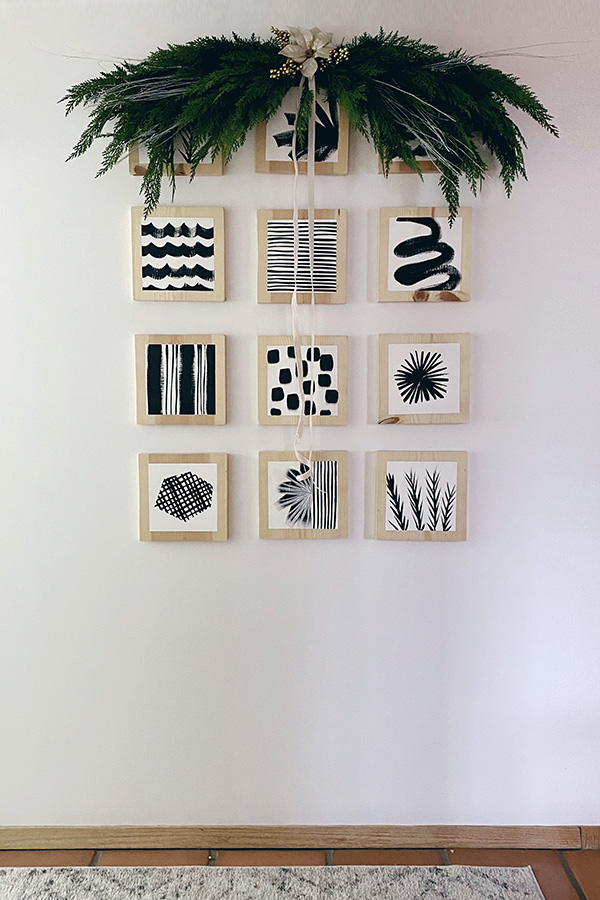 Chicken wire Christmas decorations ideas
There are really so many fun chicken wire Christmas decorations ideas. Chicken wire is great because it holds shape, but is still then enough that you can easily mold and form it into other objects. A few fun ideas might be :
Chicken Wire Christmas Gift box
Chicken Wire Christmas Tree with lights
Chicken Wire Snowman
Chicken Wire Large Ornament