Today begins Part Two of a three part mini series called "Shelley seriously knows what she is doing".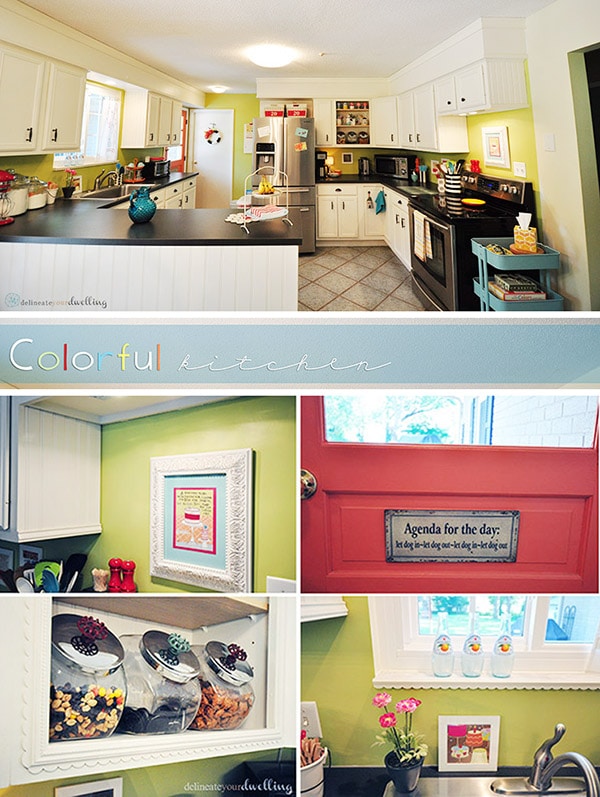 Shelley is a mother to three adult children and a Nona to two adorable grand.children. I love Shelley like my second mother and am honored that she has allowed me to share the inside of her home with you all.
You may remember Shelley's
beautiful front patio
that I featured in mid 2013.
(If you thought her patio was lovely, wait until you see her kitchen.)

Abby, her oldest daughter, shared her kitchen with us at my first Open House, Kitchen Edition.

Anyone been around long enough to have seen my early post on my mom's fabulous faux garage door windows? Well, Shelley was the one who started the craze!
This is such a wonderful family and I'm so honored to have known them for the last +/-30 years and be a part of their amazing and creative lives.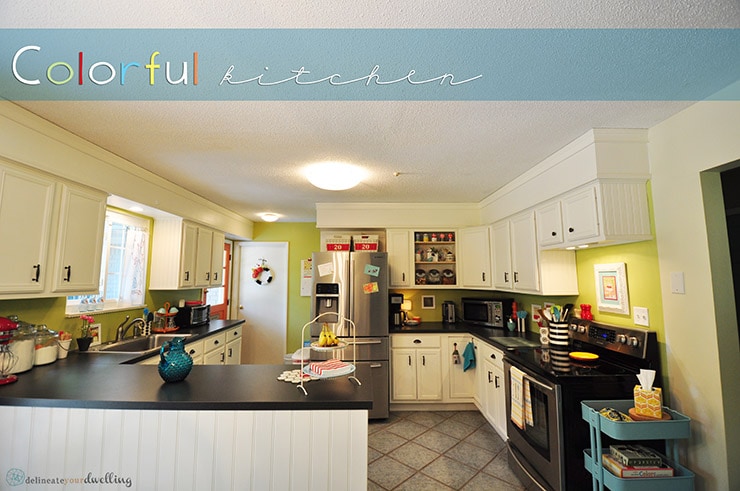 Let's dive into this stunner, but first a quick disclaimer:
Do not blink or you will miss major creativity. There are so many amazing details in this space.
I'm immediately drawn to the red "20" crates above your refrigerator. Were those a DIY?
The FEED 20 crates were a Target find. Target had a charitable campaign called FEED not too long ago. All items in that line had a number on them (and I'm such a sucker for anything with numbers). The numbers represented how many hungry people you were helping to feed by purchasing that item. I loved the concept and I loved the baskets!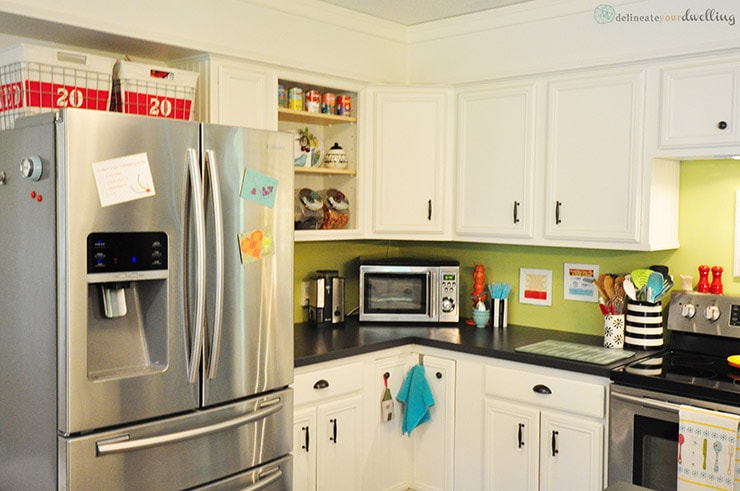 What were the major updates you gave to this kitchen?
The updates I've done to my kitchen have, in part, been undoing what I did when we moved in 16 years ago. Let's just say, I should have left the country garden look

outdoors

where it belonged, and made more timeless choices back then. Oh, to have the foresight we have in hindsight! But what fun would that be, right?
My cabinets were the biggest eyesore for me and were already here when we moved in. They were a light wood called Pickled Oak and looked like unfinished wood that had a pink cast to it. Lovely, if you're into a pink kitchen, but I am not. I really, really disliked them, but new ones were not an option. The thought of painting them overwhelmed me. So I just kept trying to give my kitchen the look I wanted by changing out accessories, curtains, paint color, and appliances as they died.
I finally took a bigger step and replaced my mint green countertops with new IKEA countertops in a black laminate in hopes that they would take the pink cast away – and they did! But that served as the final confirmation that deep in my heart, I just really wanted white cabinets. Soooo…I finally took the big plunge and just DID IT.
(By the way, the IKEA countertops have held up wonderfully for three years now. And you cannot beat the price! They cost me $250. I did have them professionally installed along with a new big stainless single-bowl sink and a garbage disposal purchased at Lowes.)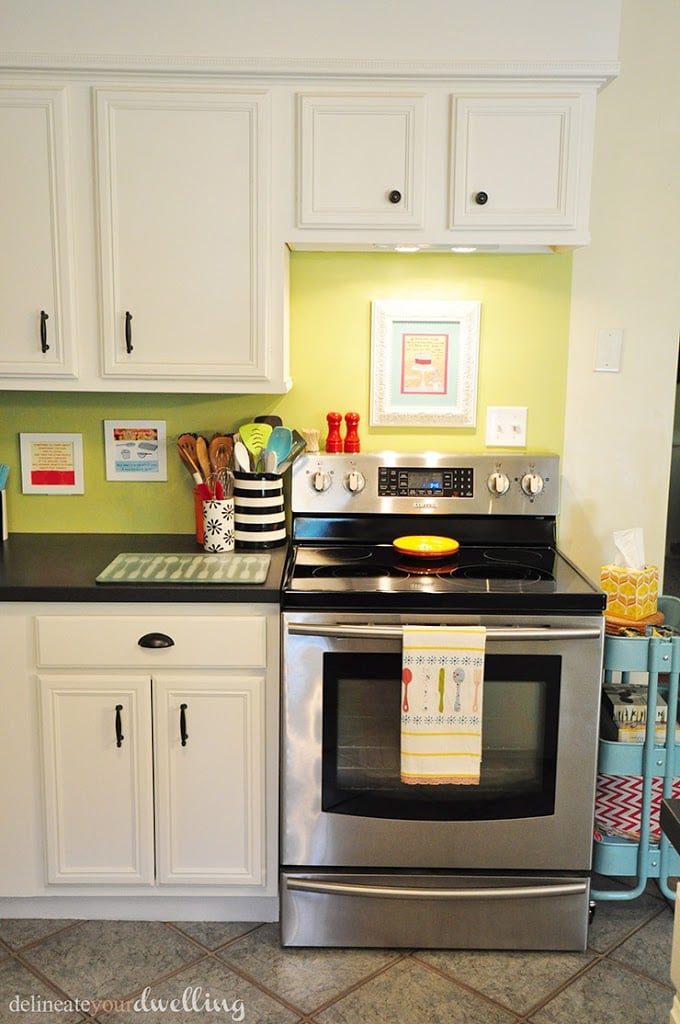 Do you have a favorite detail or aspect in your kitchen? There are so many adorable details, how could you pick?!
I'd have to say it is the one cabinet that I removed the doors from, installed a bead board backing and added decorative trim around the perimeter. It's a focal point now and I love changing it out seasonally or whenever the mood strikes!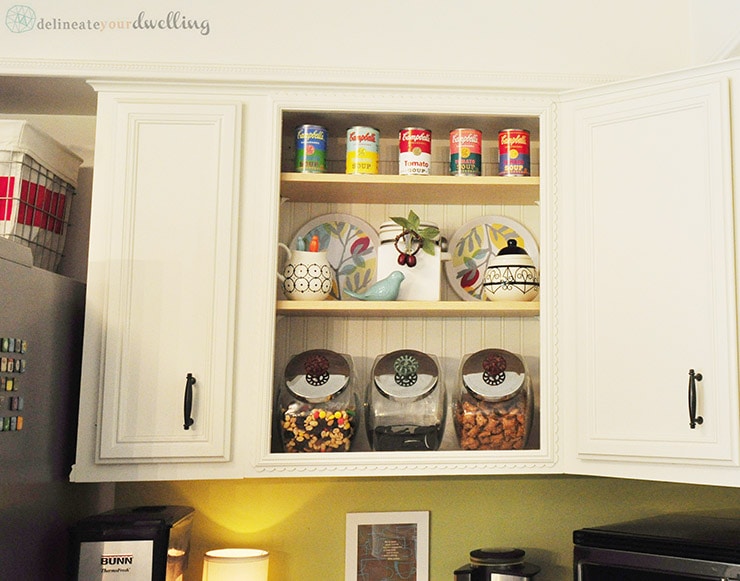 What were the colors you used in your kitchen?
The paint color for the cabinets is from Home Depot in Martha Stewart's line called
Glass of Milk
. The walls are a Valspar color from Lowes in their Seaside Retreat line called Lake Marsh.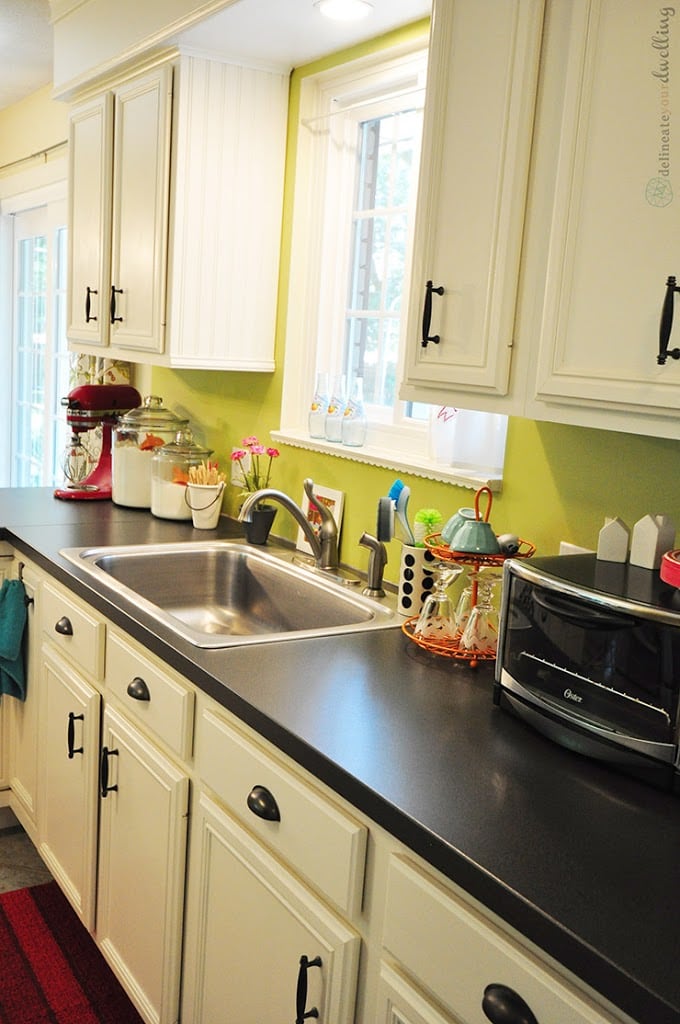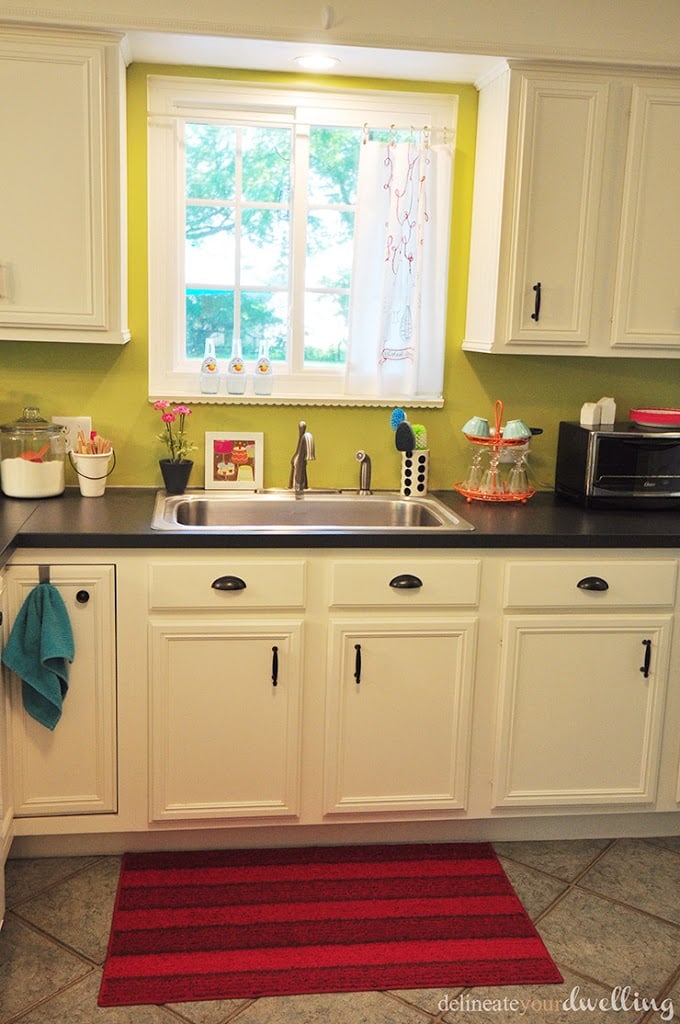 My eye keeps going to that fun orange door, such a great pop of color.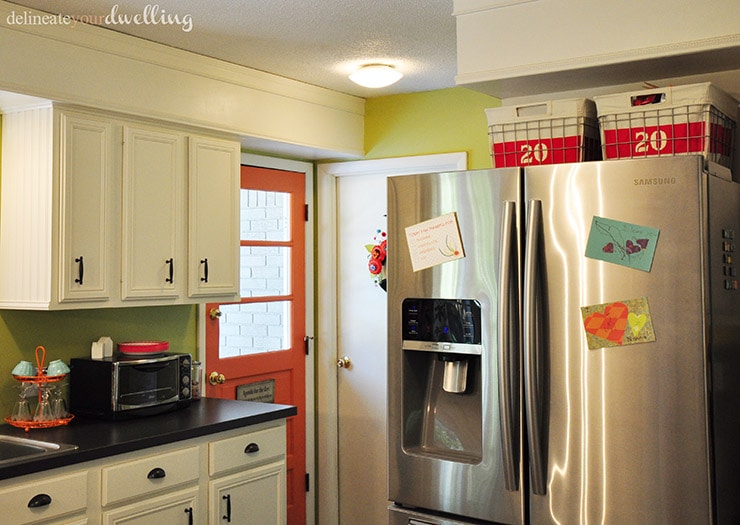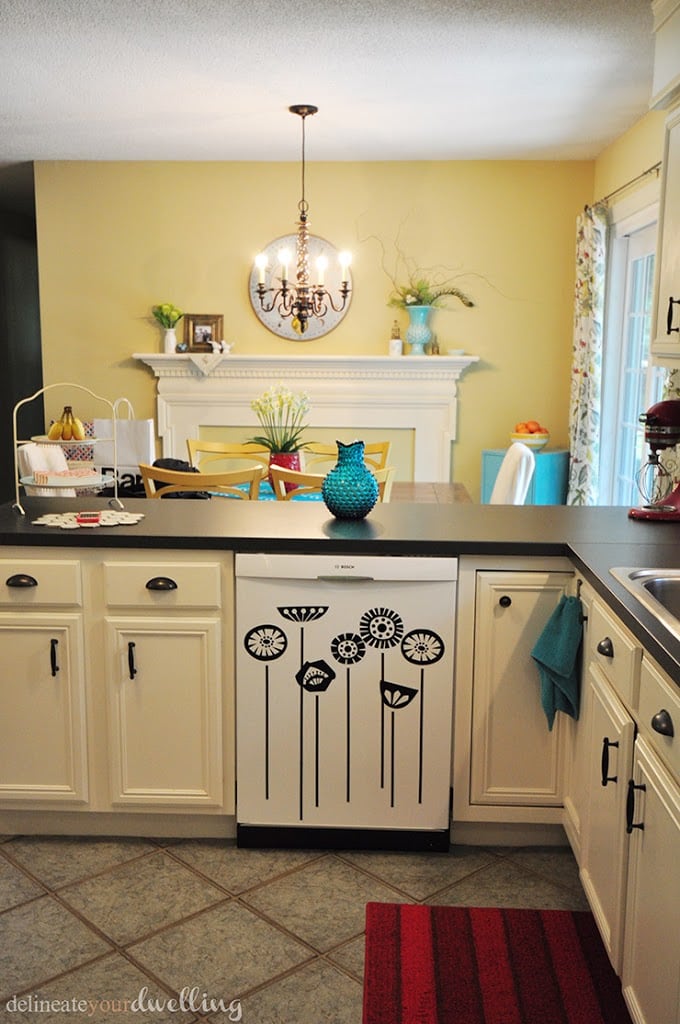 What was your favorite DIY of this space?
Giving the cabinets a paint makeover was quite the undertaking, but oh-so-very-worth-it! I also added different trims and bead board to the cabinets and bulkhead to give it all that little 'extra'. The trim work was definitely 'the more fun part' than all of the painting, and has turned out to be my favorite aspect of the whole endeavor.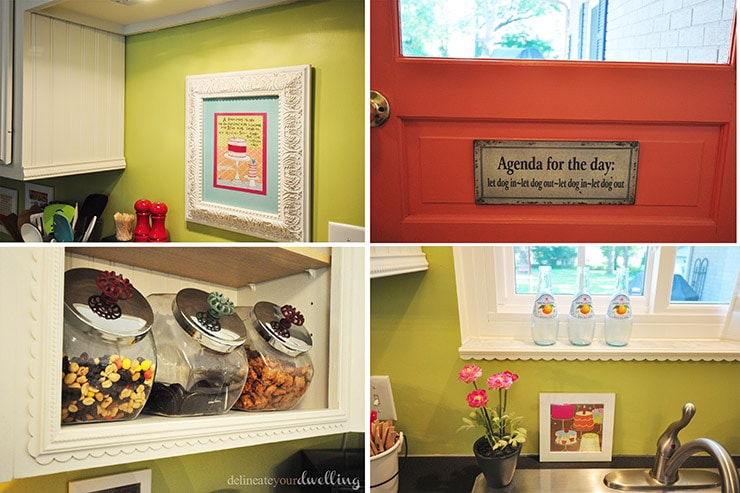 Where are all your great graphic prints from?
My graphic prints are my favorite kind of art, greeting cards! I love a good laugh and a clever saying. A framed a few of my favorite Fresh Ink cards. The cake print above the stove is a Curly Girl design and my motto.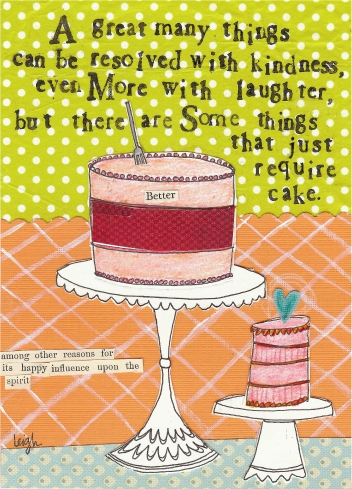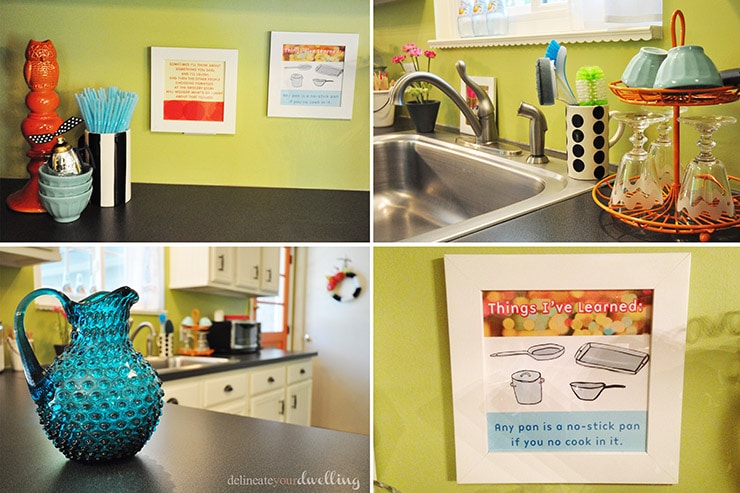 Did you have an inspiration for this remodel or just slowly piece it together?
Both. It has happened slowly over the last 3 years with inspiration from Pinterest, Houzz and DIY blogs. There is almost too much great inspiration out there, it can make a girl freeze in indecision!
Amy may not know this but her very own kitchen makeover (here and here) and its beautiful transformation really lit a fire under me. I also came across In My Own Style's cabinet makeover and both were just what I needed to get me to the point where I thought that I could actually do it, too. And I did! And now I finally have a kitchen I love!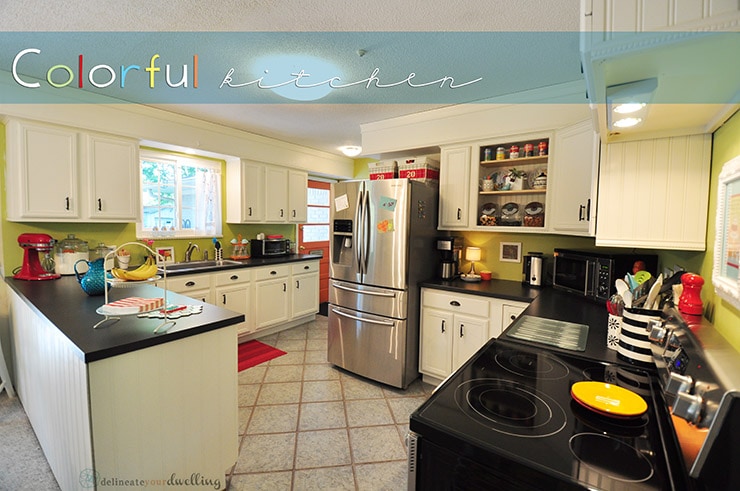 Wow. What an inspiration to us all, Shelley! I love that you took your time and worked on the updates little by little. My own kitchen is a huge testament to patience and lots of elbow grease. What a beautiful cheerful and colorful transformation. I love that your personality shines through every spot!
Thanks for featuring me today, Amy!
This concludes part two of the "Shelley seriously knows what she is doing" mini series. Be sure to stay tuned for the final addition where Shelley shows off her husband's amazing talents in their stunning backyard patio!
SaveSave