How does this happen each year? I feel like I blinked and just like that 2017 is over. I just get used to writing out the year and then it's time to relearn writing the new year… 2018! Before we get too far into the new year, I like taking some time and reflecting on the past year, to give it it's due service. This past year my love for Instagram has had it's ups and downs but it's still one of my favorite social medias to browse through. Today I am sharing Best of Instagram 2017, selected and arranged by none other than you all!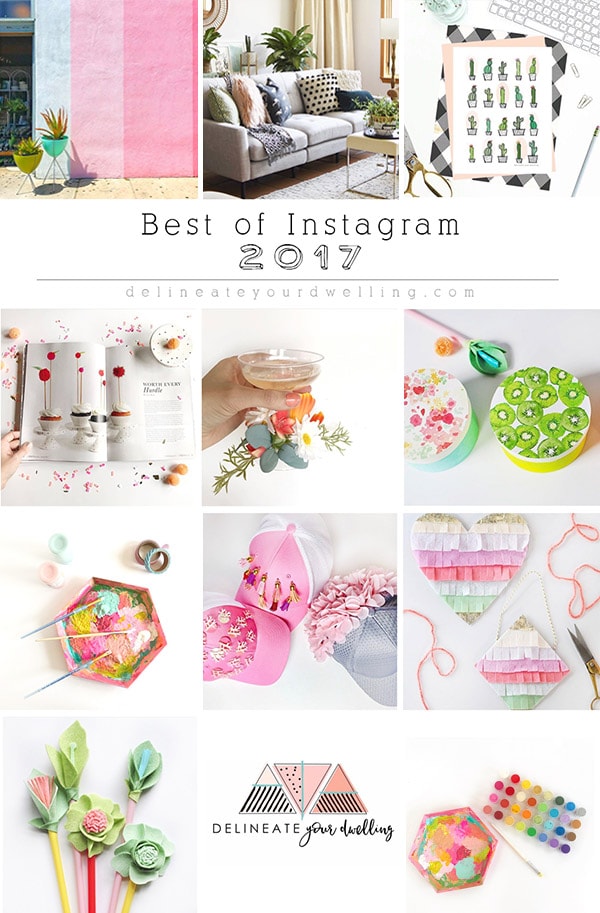 1 Pigment's PINK Wall : My favorite favorite store in San Diego recently added a pretty pink wall and clearly that had to be documented.
2 New Sofa in the new house : We moved from the Midwest to the Desert and I got a new sofa that I HAD to share about!
3 Cacti Print : There can never be enough cactus in my life and I was so happy to hear you all agree with me on that!
4 Cheers to better days : Cheers to better days!!
5 Worth Every Hurdle : Was so honored to have a full article written about my creative journey from landscape architect to mama to blogger.
6 Kiwi Box : Two kiwis have twice the vitamin C as an orange… just sayin'.
7 Paint Palette : You all always love my paint palette photos… and I was adding some green into my color schemes.
8 Baseball Caps should be your favorite item : My sweetest friend, Mrs Emily guest post about Why a Baseball cap SHOULD BE the most important item in your closet!
9 Fringe Hearts : It is amazing what you can create with old cereal boxes and some felt.
10 Felt Flowers: I was ready for spring flowers… and there were no flowers so I made some!
11 New DYD Branding : After 4 years, Delineate Your Dwelling got a little rebranding and you all were just as excited as I was!
12 Painting Fun : Having fun just having fun.
Thank you so much for following along, commenting and adding to my love of Instagram this past year! If you aren't following yet, hop over and send me a hello – I'd love to get to know you better!


Interested in more Instagram related posts? Check em' here!
SaveSave
SaveSave
SaveSave
SaveSave
SaveSave
SaveSave
SaveSave
SaveSave
SaveSave
SaveSave
SaveSave
SaveSave
SaveSave
SaveSave