INSIDE : Check out how to create this beautiful thrifted placemat throw pillow! Not only is it very budget friendly, but it's a wonderful addition to any room. Learn how to sew your placemat pillow today.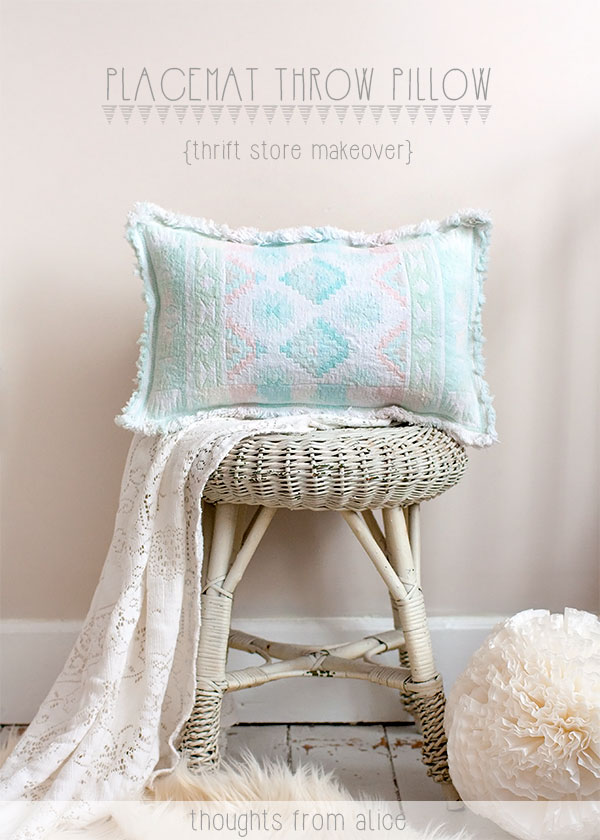 This post may contain affiliate links. See full disclosure here.
Today I have yet another amazing maker to share with you all! As I mentioned last week, we are enjoying some lovely family time in Florida with my in-laws, so I've asked a few super talented friends to guest post for me.
Be sure to check out How to paint Watercolor Agate Slices from last week!
And today, I'm so excited to introduce my third guest blogger, Alice from Thoughts from Alice. I've never met someone who can so easily take thrift store finds and turned them into the most lovely decor you've ever seen. She has a true talent! Take it away, Alice…
Hello Delineate Your Dwelling Readers! I am Alice W. and I am so excited to be here with you today. I was thrilled when Amy asked me to guest post for her, as I am one of her biggest fans.
I love the challenge of transforming what others may overlook or discard, into new and creative decor pieces. So, today, I have a fun project that I recently did turning inexpensive thrift store placemats into a cute bohemian style Placemat Throw Pillow.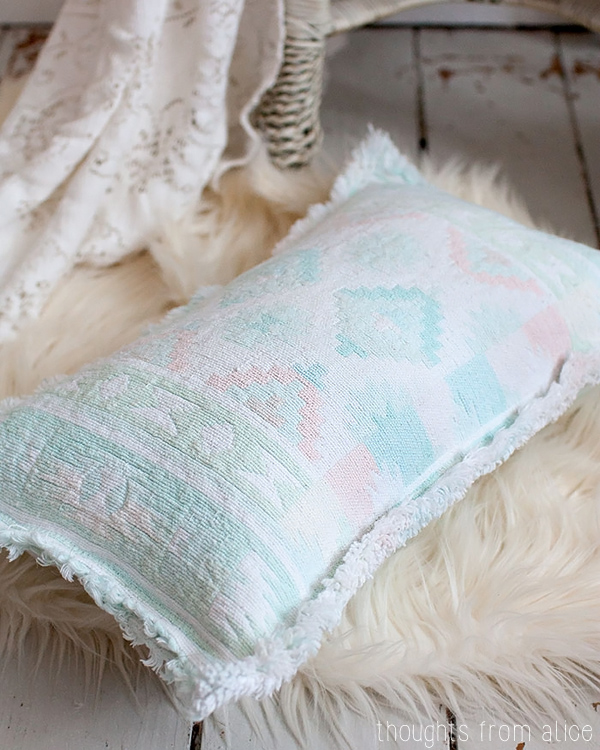 Where to buy 90's style secondhand placemats
I picked up these placemats from my favorite church thrift store. It was $5.00 bag sale day when I was there. My favorite!
It might seem crazy that these southwestern, pastel placemats stood out to me when I saw them, but they did! They were screaming to be given a second chance.
This style was probably all the rage in the eighties and early nineties, but most people aren't decorating their dining tables with these anymore.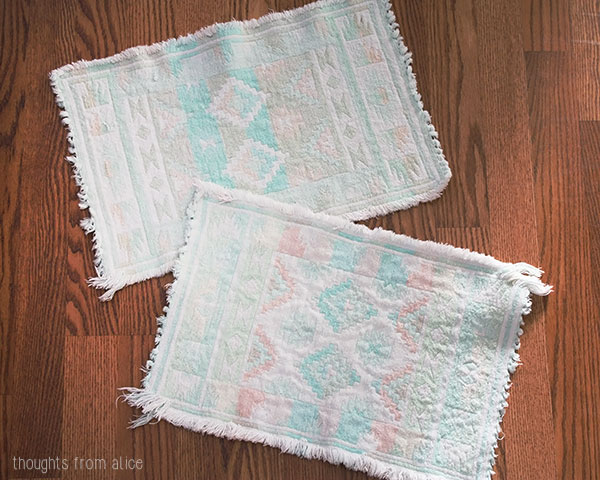 The pattern, however, is right on trend and one that I personally love. They also have great texture, so the wheels immediately started turning. I knew they would make great throw pillows, and the colors would go well in my daughter Hazel's room.
How to turn inexpensive thrift store placemats into Bohemian Throw Pillows
I wanted to make these pillows as simple as possible and I liked the fringe on the edges, so I decided to simply sew the two together on the outside and stuff it.
The pattern colors were different on the front and back, so I used one side of each for the pillow, so both could be seen once the pillow was complete.
I started by washing and drying the placemats, and then chose a coordinating thread. I went with a pale mint green.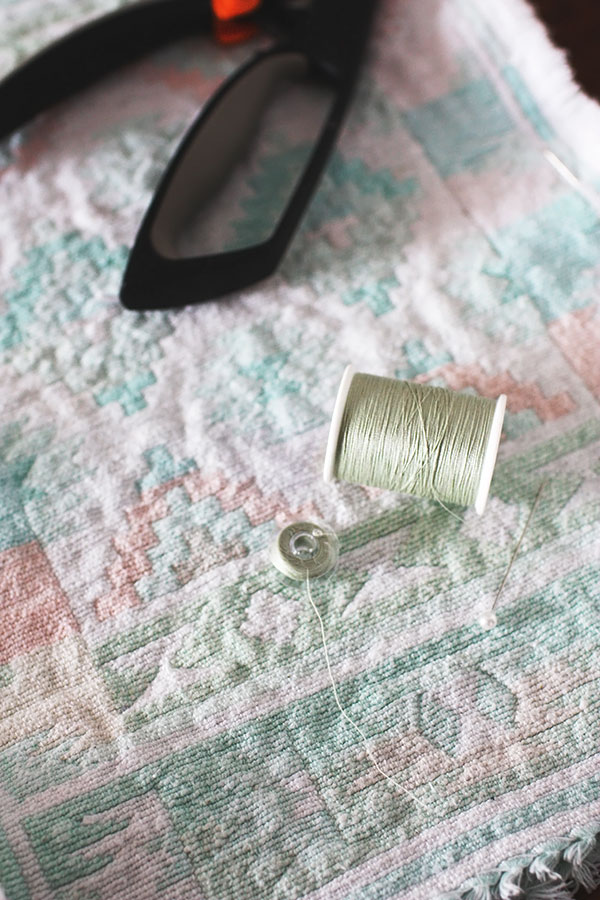 I sewed the two longer sides and one shorter side with a straight stitch.
I also decided to do a zig zag stitch to make sure it stayed together well. Even though this part was going to be seen, it seemed to add to the design and texture. You could always use a more decorative stitch if preferred.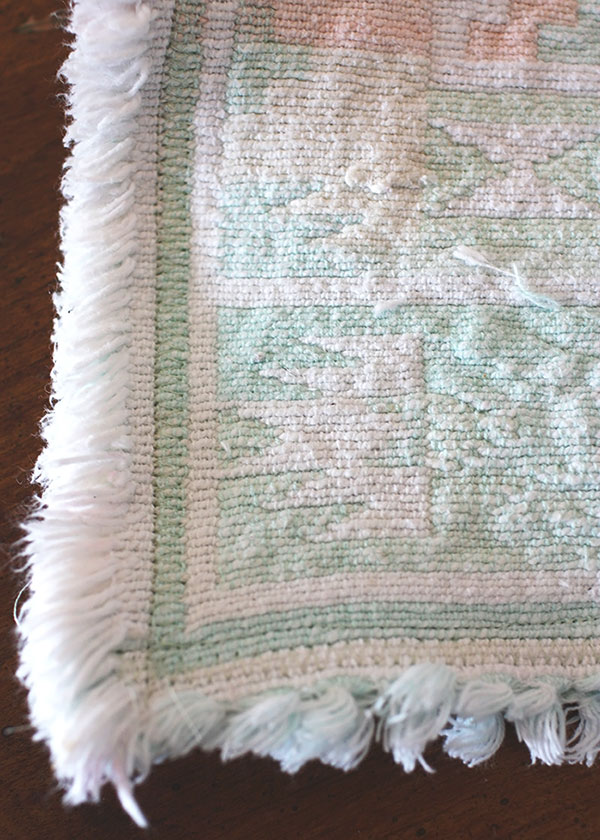 To finish it up, I decided to leave one side completely open and use polyester fiber fill to stuff it. I knew it would be trickier to get it sewn up on the machine, but I wanted to have freedom to get the stuffing nice and even without lumps.
I pinned up the open end and then this is where having a super helpful husband comes in handy. I had him hold the pillow for me, as I sewed it up.
It worked out great and this pillow literally only took about twenty minutes to make.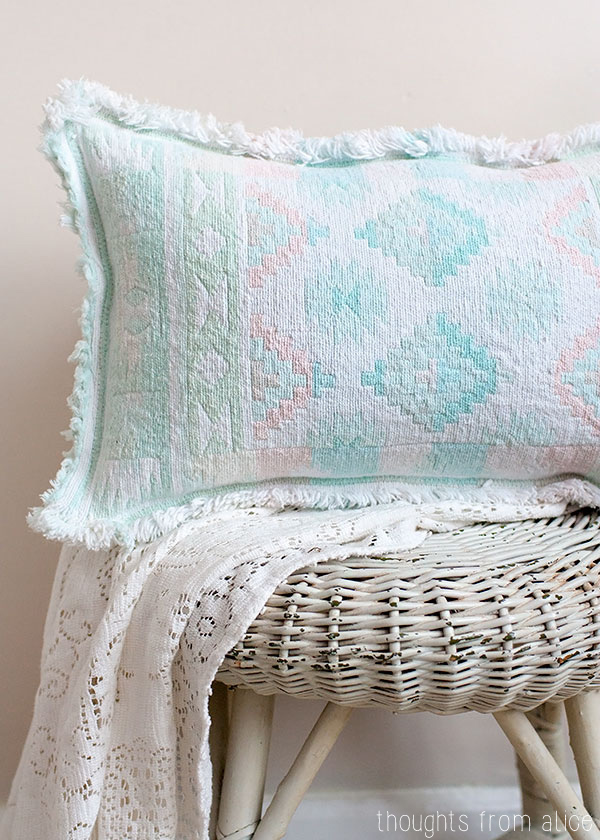 If you like this idea and are out and about at thrift stores, flea markets or garage sales this spring, be on the lookout for placemats, thin rugs, or fabrics with great patterns and textures.
Even if their original purpose was something quite different, these items can often be transformed to something fresh and current, without the cost of buying new.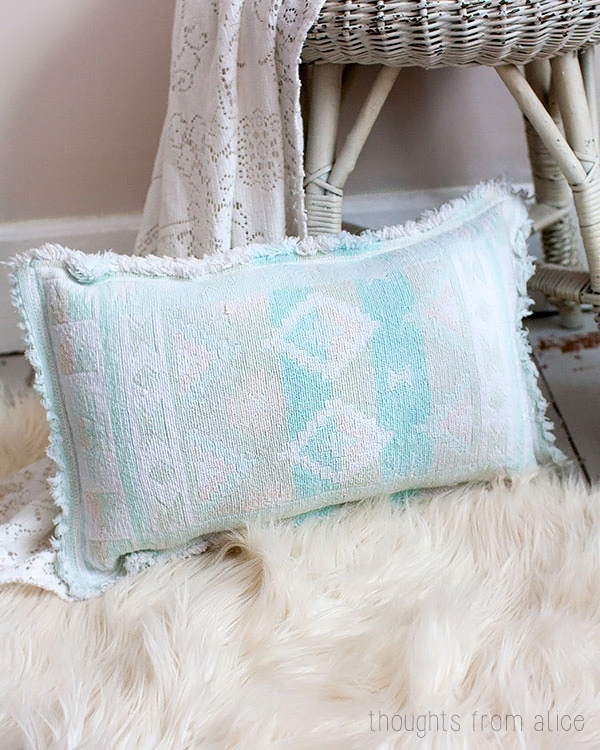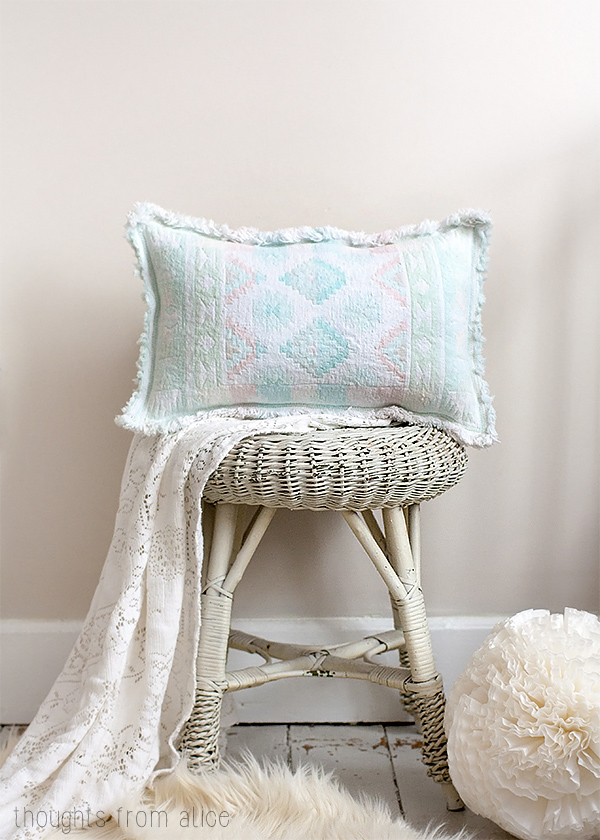 I hope you will consider visiting me over on my own blog and following along with me on social media as well! You can find me at the following:
Instagram | Pinterest | Facebook | Twitter
Thank you Amy for letting me share this post on your lovely and creative blog!
Till next time…
~Alice W.
Wow, I would have never seen these placemats and thought lovely throw pillow but goodness, I love them! Thank you so much Alice for inspiring us to take a second look the next time we head to a thrift shop. Be sure to stop by and send her a big hello from me!
And if you are interested in more Thrifting content, check these out…
Looking for more Thrifting Ideas? Check these out…