Foster a Calmer Life when you're on the go non-stop.
INSIDE : Keeping Calm : Learn how to foster calm. When your life is on the go non-stop, see these 5 tips for slowing down and staying more relaxed through it all.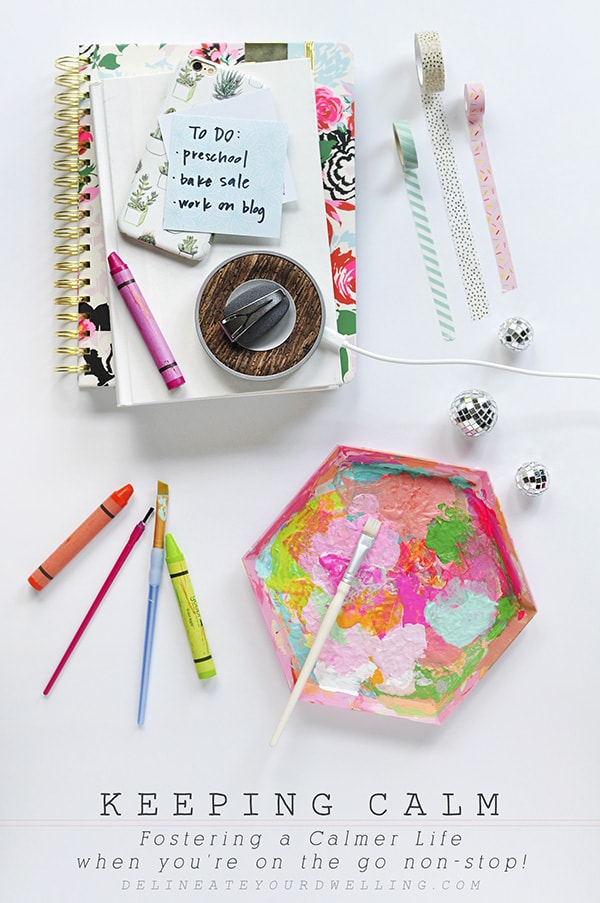 This post may contain affiliate links. See full disclosure here.
I am a mother of two young children, who are active and full of joyous pre-school energy. I am a full time craft blogger with a strong desire to constantly push myself both creatively and entrepreneurially. Soon, my daughter (kindergarten), son (preschool) and husband (phd) will all be starting back to school and I feel like I am juggling a million things all at once.
I think calmer days are in store for me, but recently I have been feeling anything but rested. Today I am sharing my thoughts on Keeping Calm : How to help foster a Calmer Life when you're on the go non-stop.
It seems every time I turn around, I'm more busy and more on the go. Sometimes I find myself feeling tense and realize my shoulders are crunched up, I haven't moved from the computer in a while and I'm hunched over in my chair, putting both my back and neck in awkward positions. The more I chat with other friends, the more I hear it's not just me. We all are moving at a faster more hectic pace in life and something needs to change!
5 tips for slowing down and staying more relaxed:
1. Practice the art of saying, "no".
This year, more than ever before I have been trying to practice the art of saying, "no". It is so easy to over commit. Even when it's good things to participate in and help with, sometimes it's best to save some recharge time for yourself.
A friend recently share this with me and it's so true, "Say No to as many good things that you can, so that you are free to say Yes to the best things that only you can do, those things you were created to do." Ah…. I love that!
2. Find a hobby or past time.
Another tip for really fostering that calmer life, is finding a hobby or past time. Whether it's taking time to read a good book or pick up a paint brush to create art… taking time to do something you enjoy and find relaxing is a huge help. I have loved A Book that Takes it's Time for this type of thing.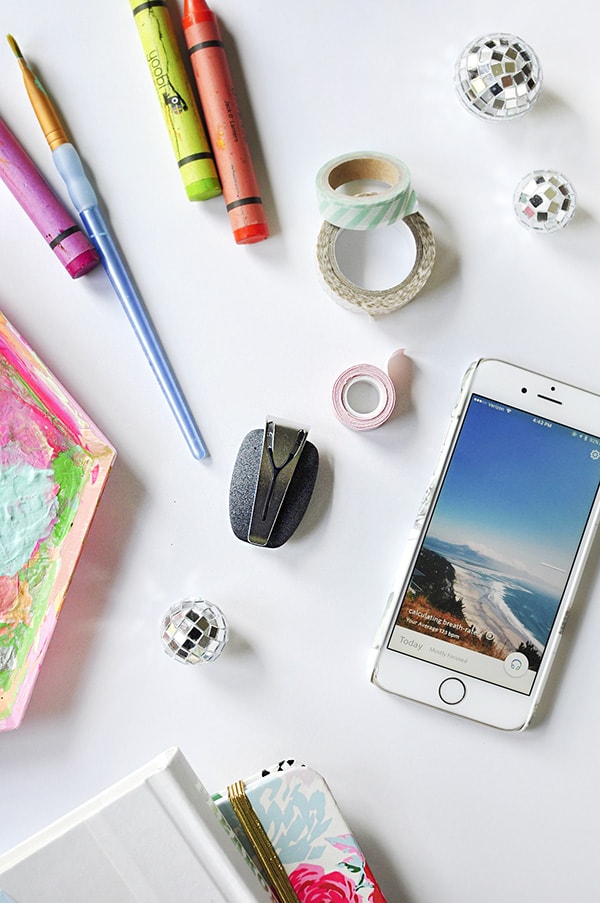 3. Taking back your life.
Are ready to start afresh and take back your life, you might be interested in my short ebook, Just Start. Because nothing changes until you begin!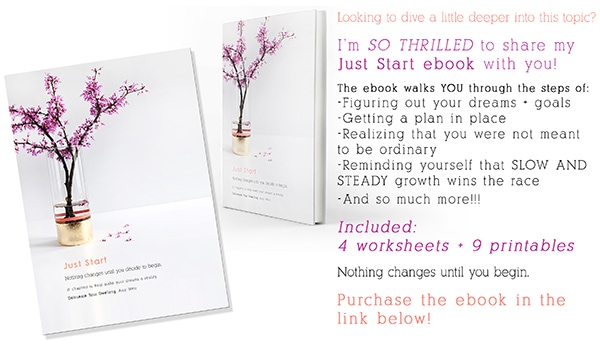 The link to purchase is below!!
4. Get up and get outside or move
You've heard this one before, but being outside and moving my body is such a big one for me! Often I'm feeling overwhelmed and I'll roundup my kids and outside we go. It's amazing what some fresh air and a good walk around the block can do for my overall mindset. I used to weed my garden as a stress reliever, it felt good to be outdoors and move around a bit.
5. Try a Spire Mindfulness + Activity Tracker
Finally my newest tip for helping get yourself in a calmer state of mind is being aware of your breathing. I recently got a Spire Mindfulness + Activity Tracker and it's been so helpful in making me more aware of my breathing. It creates thoughtfulness around understanding your breathing, in order to better understand your state of mind. It allows you to see your streaks of focus, tension, calm, and activity.
The Spire Fitness Tracker stone is worn on your belt or bra, where it can measure your breathing. After I started wearing it, I completely forgot it was on. It's so small and indiscreet. It comes with the most lovely charging station, too. You simply plug the charger into your computer's USB port and then place the Spire on top.
The Spire Mindfulness + Activity Tracker connects to a free app on your phone. The app can be integrated with your calendar, location and photos. These connections allow you to see exactly what you were doing and where you were when feeling tension, calm or focused breathing.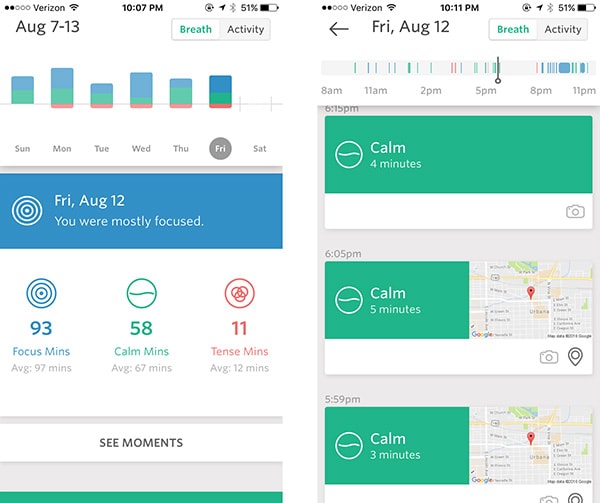 While wearing my Spire Activity Tracker last week, I took my daughter to a doctor's appointment and let's just say, it was not a pleasant or relaxed experience. I was able to see exactly where I was on a map, when my breathing went from calm to focused and then tension.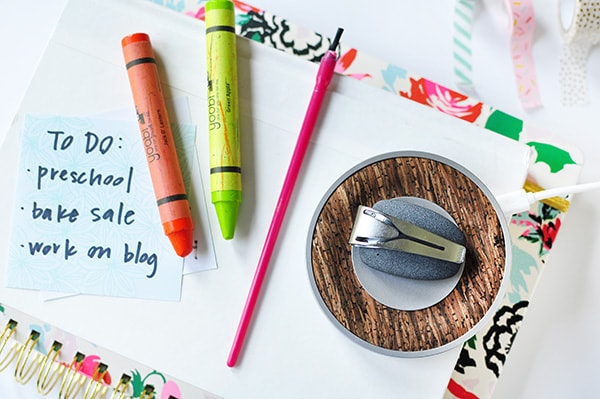 Another feature that I love is while wearing the tracker, it vibrates to alert you to different breathing patterns. There are various guided breathing exercises to help bring you from tense or shallow breathing to a more calm breathing pattern.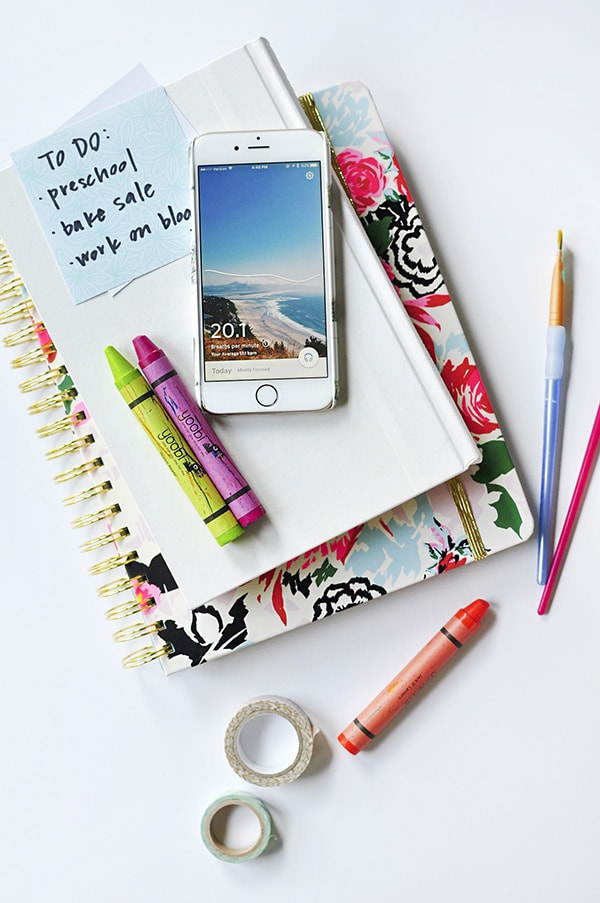 So the next time you realize you are getting over committed and feeling stressed, remember some of the tips for fostering a calmer life… and remember, sometimes all you might need is some focused deep breathing!
I was selected for this opportunity as a member of Clever Girls and the content and opinions expressed here are all my own.
You might also be interested in my Keep Breathing print!
SaveSave