I have been keeping a secret and I am SO EXCITED to finally share it with you! Do you remember when I shared the process of my Dining Room refresh? I shared my Modern Southwest Dining Room reveal, How to Mix and Match your Artwork and then How to create a Wallpaper look without using Wallpaper.
Well, guess who else noticed those posts… HGTV MAGAZINE.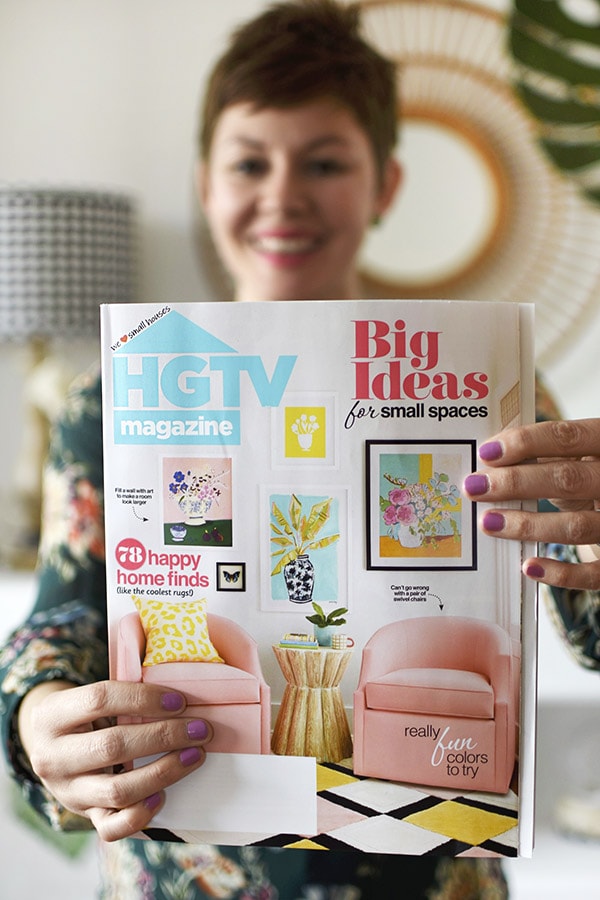 I know! Pinch me. And then pinch me again. And then maybe once more for good measure.
Back in early October, an editor from HGTV magazine emailed me about an upcoming article they were going to be writing, titled "My Favorite Room". I did a triple take before even opening the email.
They said they really loved my living room and dining room and were interested in featuring one of them for the magazine. Then they asked which room was my favorite. Do you know what you say when HGTV magazine asks which room is your favorite to be featured in their magazine? You tell them – ANY ROOM YOU WANT, WILL BE MY FAVORITE ROOM.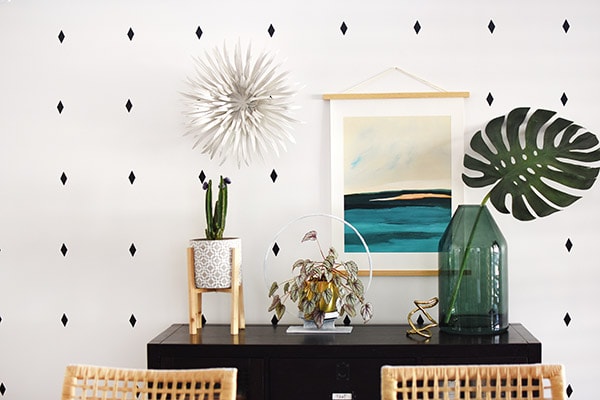 But in all honesty, I really do love my dining room. It's a space that I spent months and months dreaming up. I started by painting the room white. And then bought about 5 different rugs before finding the perfect one. By the way, do you know how obnoxious it is to return rugs by mail?!!
In a dream world, I would have purchased a new dining room table, chairs and credenza. But those items won't be in our budget for a while. And what you won't see in the HGTV magazine feature or any of my blog pictures is that I have two very full bookcases also squeezed into that room.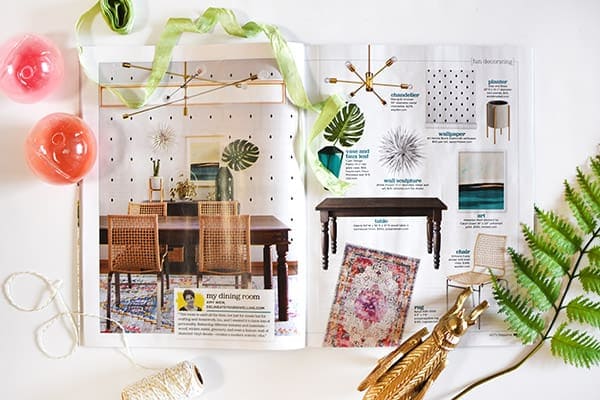 One bookcase holds all of my entertaining dishes, fancy glass and barware, table runners, etc. The other one holds all my children's craft supplies. And yes, their mother is a creative blogger – so that bookcase is packed to capacity with every colorful crafty product you could imagine for them to make and create with.
I would love getting a bigger buffet or credenza to put all that extra stuff in it and simply do away with both the bookcases. But I've been on the hunt for months and months and nothing is big enough with the right price point.
However, in reality I saved up and got a new chandelier which I adore so much. I got new artwork and the new rug. The magazine feature shows a similar looking wallpaper but mine is DIYed decals to look like wallpaper. Everything else I already owned and just moved around from different places in my home. The room really does speak to my way of designing a space : spend on a few select items, DIY most and shop small items from your home.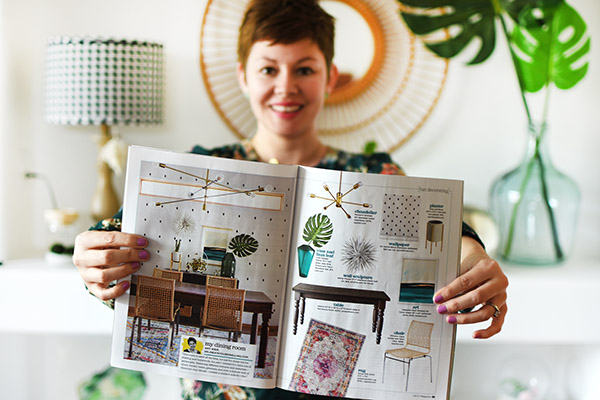 To say it's an honor to be included in HGTV Magazine is an understatement. When I got my first glance at the article, I happy screamed. I danced. And then danced a lot. I was honestly expecting a small thumbnail of my room and then to find a two page spread – it was too much. Plus, I'm easily excitable and things like this are such a fun treat.
Lastly, as I feel when I have any type of success from the blog, I always go back to you all. If it were not for the amazing support and readership that I have had over the last almost six years – I would not be in this place.
You all have allowed me to grow and mess up and take really bad photos and learn to take better photos. Your continued encouragement, likes, clicks, follows and shares keep Delineate Your Dwelling moving forward and in business.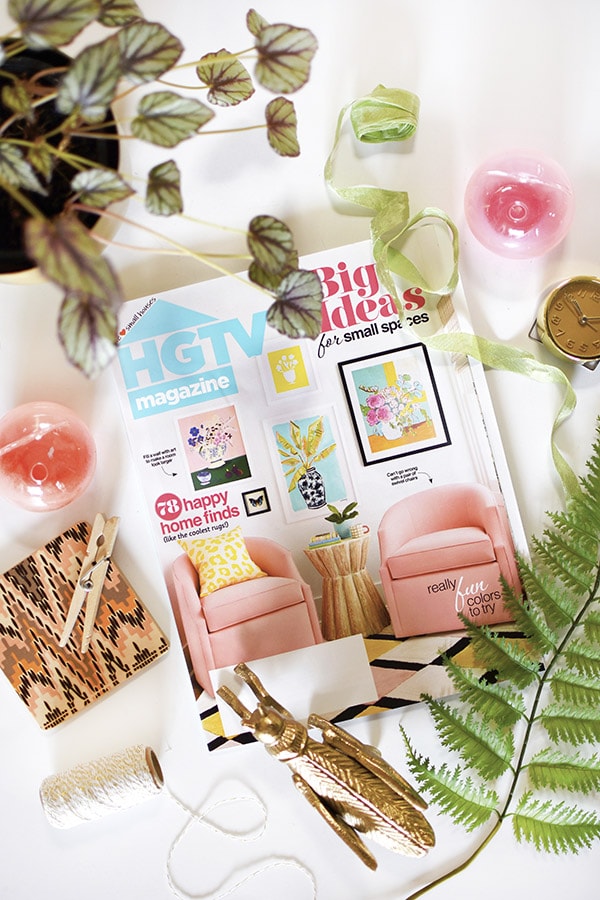 So, although this is technically a Delineate Your Dwelling win – I would love to share this big moment with you all. We have gotten here together. Thank you friends, readers and supporters so very much!
Interested in a few other magazine publications I've been a part of?

RESOURCE LIST:
Paint Color – Home Depot Behr, Sugar White
Rug – Rugs USA (or Amazon) Tunis Fading Floral Gabbeh
Chairs – IKEA chairs from Craigslist
Chandelier – West Elm Mobile Chandelier – Grand in brass
Large Green Vase – Target, Magnolia Large Green Mug Vase
Metal Flower Wall Art – At Home, White Metal Flower Art 17″
Blue/Green Artwork – Minted Hawaiian Reef Abstract
Amour Artwork – Minted Amour, Blush
Orchid colored Leaves Artwork – Minted Shrubbery, Blush
Polka Dot Bunny – blog post
Large Faux Monstera Leaf – CB2