INSIDE : Check out my Front Entry Refresh Plan. See my before and after photos (yikes) and the inspiration behind it all. Follow along as I bring some personality to our dull cream space in only three weeks during this New Year, New Room Refresh challenge!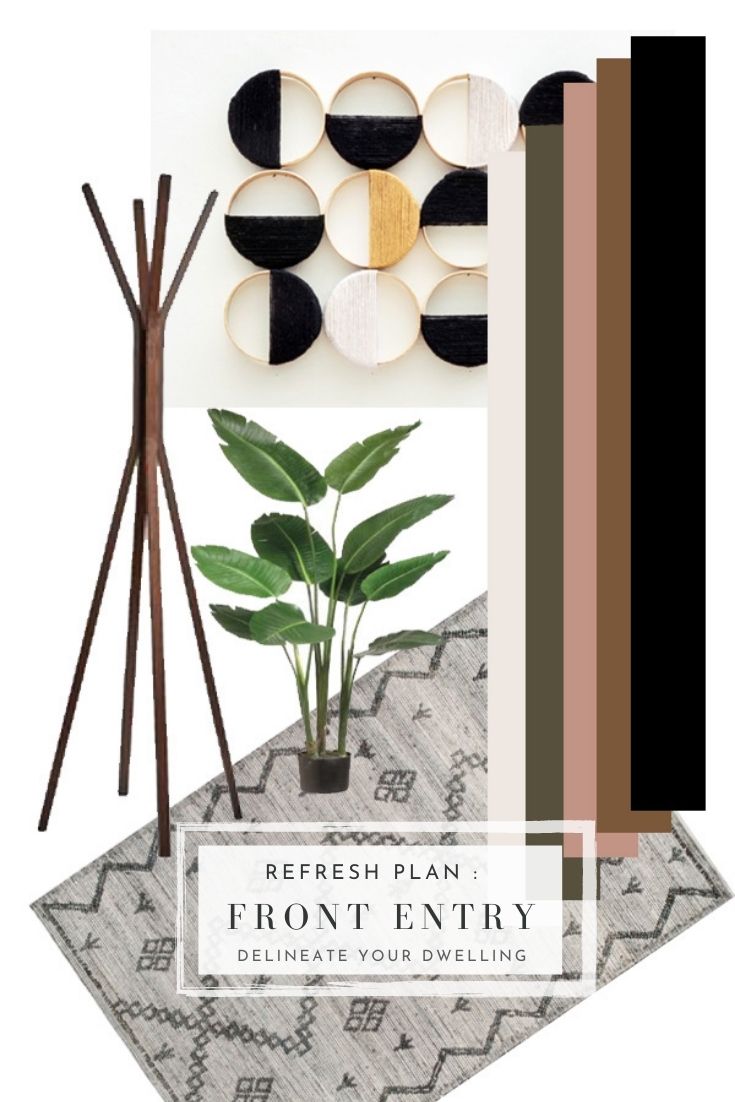 I am so excited to be back for another year of the New Year, New Room Refresh Challenge hosted by Stephanie of Casa Watkins Living. Last January I participated and was able to give my Master Bedroom a whole new look.
Over the course of the next 3 weeks we will all be "refreshing" a room in our home. Each Tuesday this month, 9 of us bloggers will be sharing progress update posts. The final reveal is on January 26th, so keep checking back.

This year, we as a group have opted to do a lighter version of the challenge now and will be planning for a bit more heavy lifting designs maybe early Summer. So be on the lookout for that, too!
The Front Entry Before :
I have decided to tackle giving our Front Entry a light makeover and I think you will quickly see why below. I took this picture yesterday in all it's lovely glory.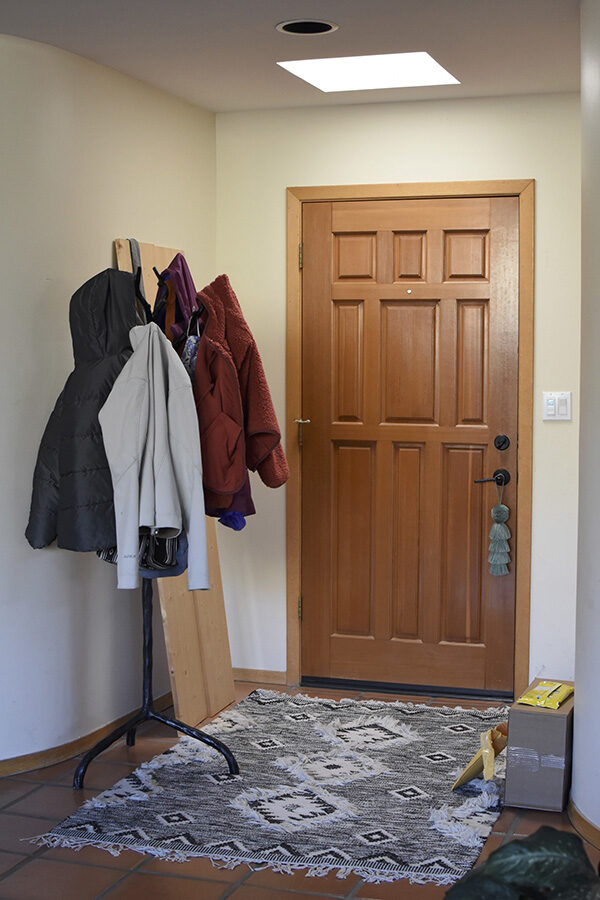 Our entry foyer is unique with double rounded walls on either side of the door. And a skylight in the center of the space.
Upon entering our home, you can take an immediate left into our kitchen. Then a few steps further, you can go either left (into our dining room) or right (down the hallway towards our bedrooms). And a few steps beyond that and you enter into our living room.
I'm not sure if you noticed, but I haven't painted the entry area yet. It is still "Navajo White" which in my opinion is cream. You can tell the difference between the white whiteness of our living room and the creamy color of the entry.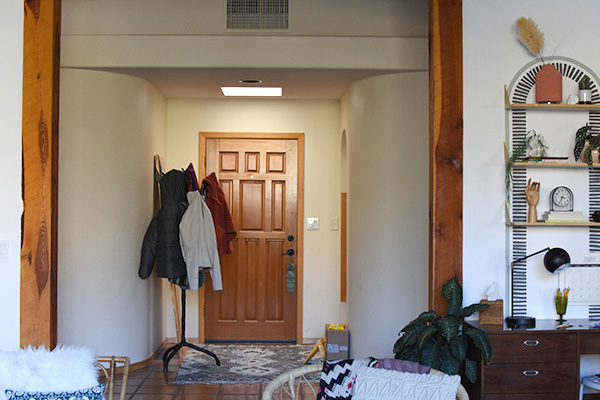 Here is standing in our kitchen looking towards the entry area. There were originally "cowboy" swinging doors on this arched doorway, but we took those down on the VERY first day of moving into this house.
I attempted to bring some texture into the space with this rug… but after living with it for a while… it just feels way too southwest for my style.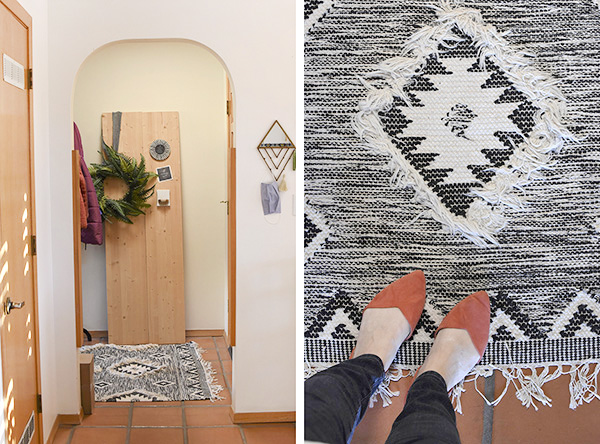 Now that you see what I have to work with, let's talk about where I want to go for this light update!
The Front Entry Inspirations :
Color – I pulled together a few color palettes I had found on Pinterest and pieced them together below. I love mixing neutral colors like black and white with pops of color.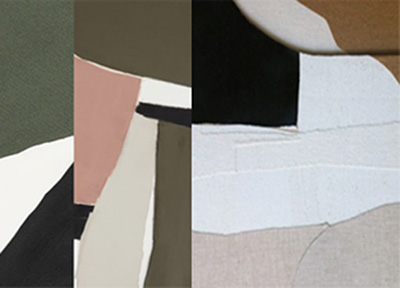 Style – I stumbled upon these gorgeous yarn looped pieces of art a while ago while on Pinterest and just fell in love. I love how they are stacked on each other. I love their graphic nature. And I love how simple they are.
I have no idea how, but I will be attempting to recreate something like this for my entry wall.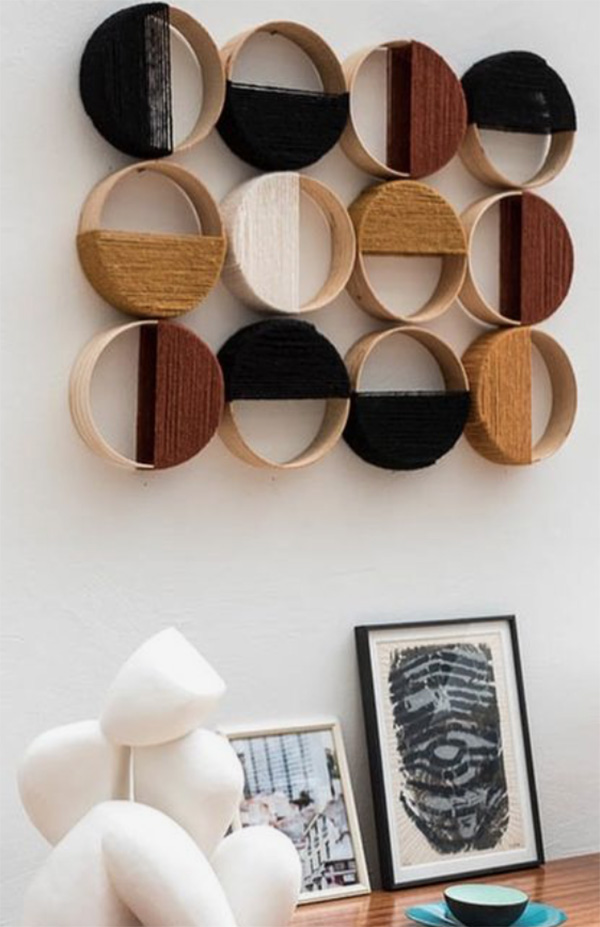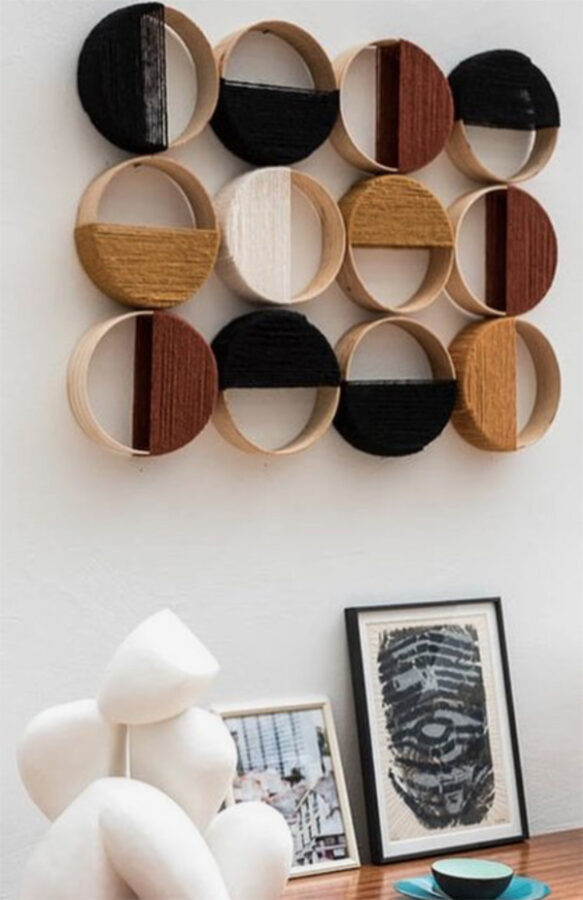 Front Foyer to-do List :
-Paint the cream walls a fresh white
-Replace the crazy winter coat situation with something more sleek
-Create an art/yarn focal point
-Replace rug with something less "southwest" feeling

Do you think I can get it all done in 3 weeks???? I sure hope so!
Week 1 Front Entry Refresh Plan
Week 2 Painting + Patching
Week 3 Ring Yarn Art
Week 4 Modern Boho Front Entry reveal

Be sure to check out the other amazing Room Refresh plans from the other participating bloggers! I can't wait to see what they all will be working on.