INSIDE : Learn how to create your very own trendy DIY Kitchen Countertop Lamp using just a few basic materials. It brings some a soft warm glow to any space!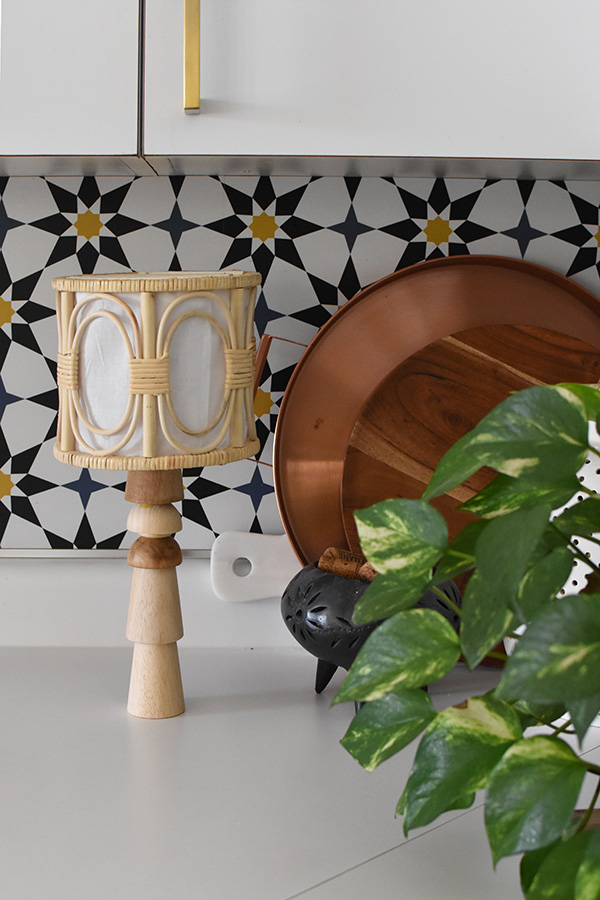 And with the light on… such a warm glow!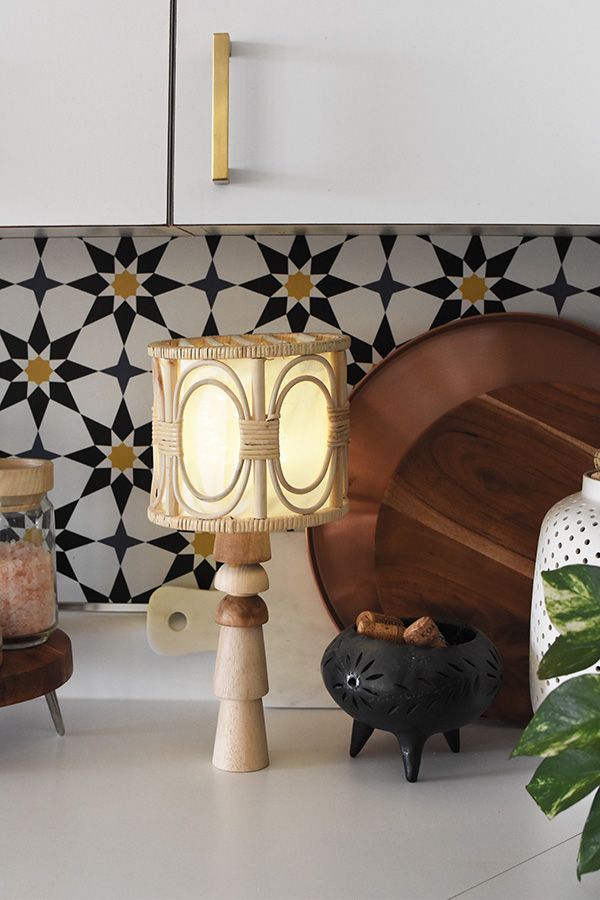 This post may contain affiliate links. See full disclosure here.
Have you noticed the recent trend of small adorable countertop lamps in the kitchen? I have been seeing them pop up all over the place. I did a quick scroll the other day on Instagram and Anthro, West Elm and Domino Magazine all had lamps on their kitchen countertop images.
I have almost bought this sweet little lamp multiple times from Urban Outfitters and now I am glad I used restraint because I made my very own DIY lamp! You might recognize some of the supplies from one of my FAVORITE projects, my DIY Wooden Candlestick Holders.
Let's get into how to make one below!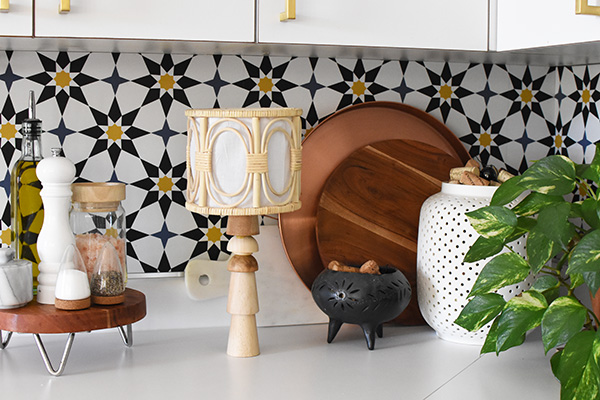 What supplies do I need to make a DIY Kitchen Countertop Lamp?
Small Rattan Basket
Hot Glue
Sewing Scissors
ruler / measuring tape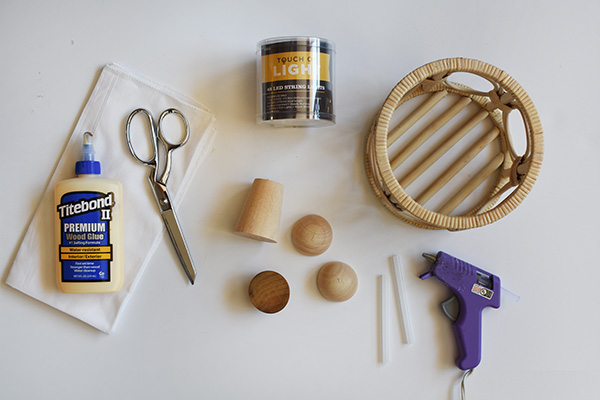 How to make a DIY Lampshade from a basket?
I found this simple drum rattan basket at Hobby Lobby and knew based on it's size and proportions that it would work perfectly for a small lamp lampshade!
Start by measuring the inside dimension and then cut your handkerchief to that width.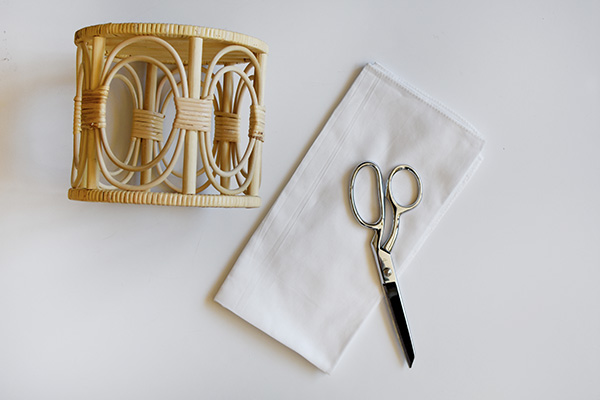 Pick a spot to start and apply a line of hot glue inside the basket. Quickly press the handkerchief onto the hot glue.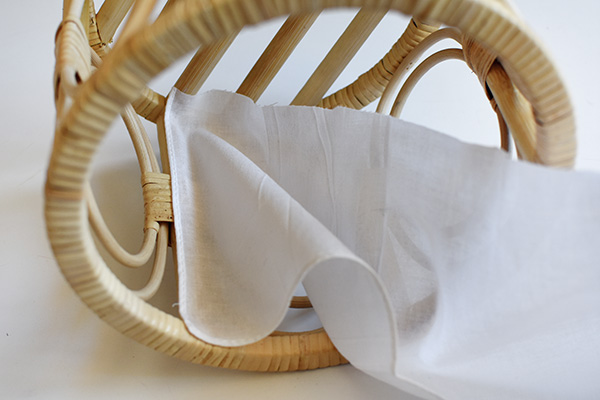 Slowly moving around the basket, hot glue your handkerchief to the interior edge. You are creating the main lampshade area with these steps.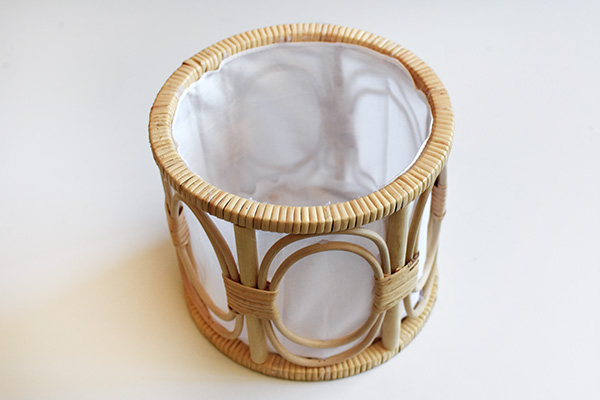 Once you have the handkerchief glued to the entire basket side, you need to add in your lampshade top. NOTE – If you will be adding a lightbulb of any kind, you can leave this step out. However, since I was using fairy lights for mine – I went ahead and added a top.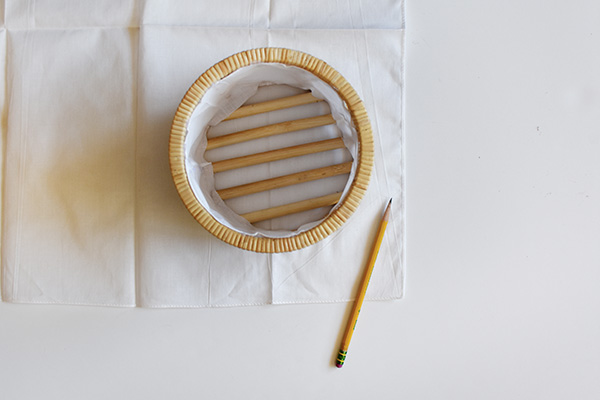 How to create a lamp base from wood pieces?
You can create any shape for your lamp base. Using the various half Circle Wood, Small Wooden Rings and small Wooden Cone Shape Legs pieces, there are endless variations.
I opted for the pattern below and I used wood glue and slowly and very carefully, added piece by piece until I had the height I was looking for, which was roughly 12-14″ tall.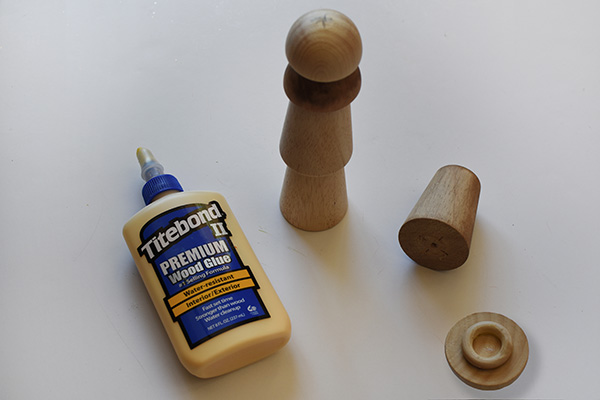 How to create a lamp using fairy lights?
Once my lamp base was built, it was time to add my fairy lights. You could also use a remote control puck light for this, but they are just a little more pricey than I wanted for this small lamp.
I used my fairy lights container to hold the lights up, but you could just as easily tack or glue the fairy lights to the interior of your basket.
To hold my fairy lights container, I glued two wide popsicle sticks in a cross shape at the top of my lamp base.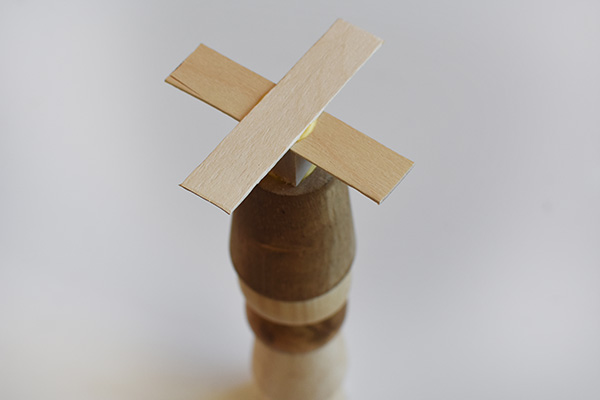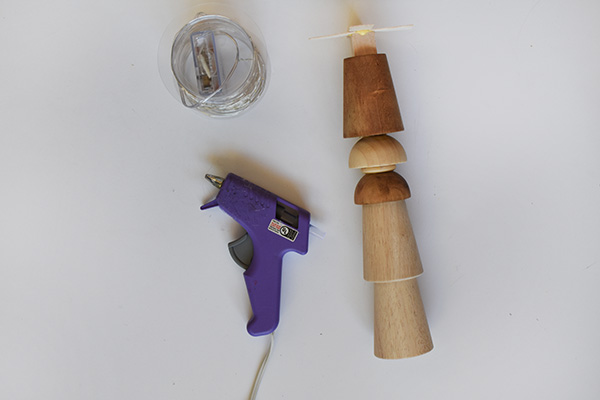 Then, using hot glue I glued the container to the wooden cross… they now sit right where a lightbulb would typically go.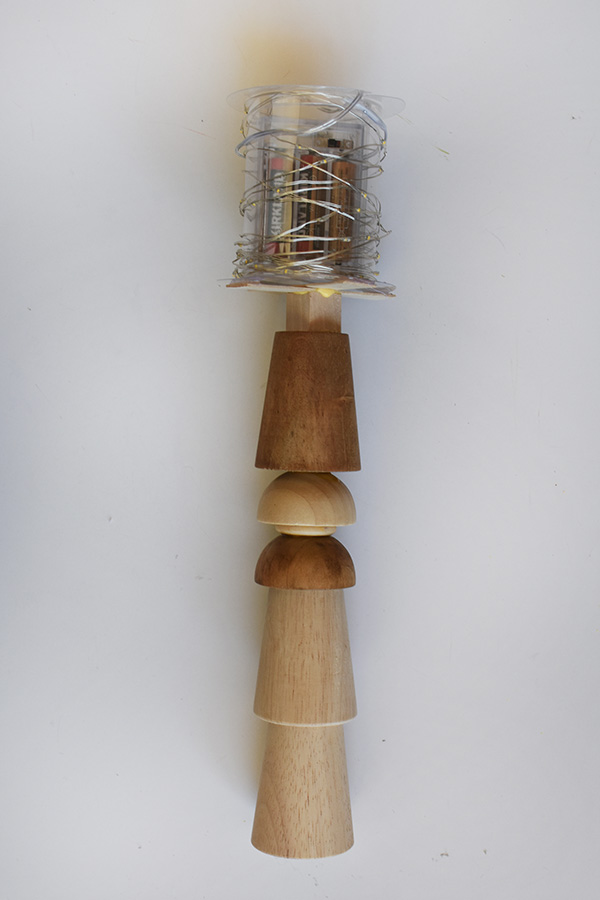 I then hot glued the fairy light's container lid to the inside middle of my lampshade. Now I can turn on the fairy lights and place the lampshade "lid" right on the container with no wobbling or tipping at all.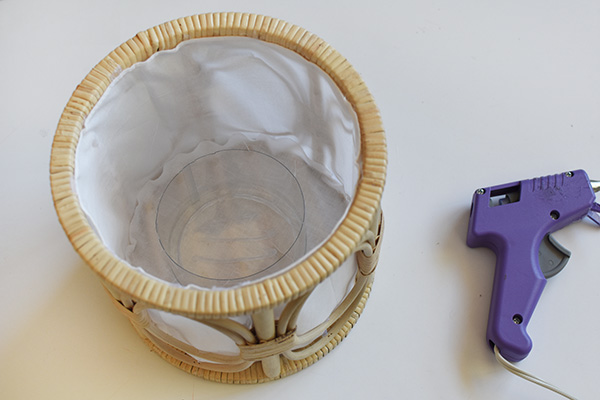 Looking to simply buy a small table lamp? Check out these beautiful lighting options.

Can you put a Lamp on a kitchen counter?
Yes, lamps provide that perfect soft glow and direct light on the counter surface itself. They also are great on a table, kitchen island or on a countertop as an unexpected element and night light.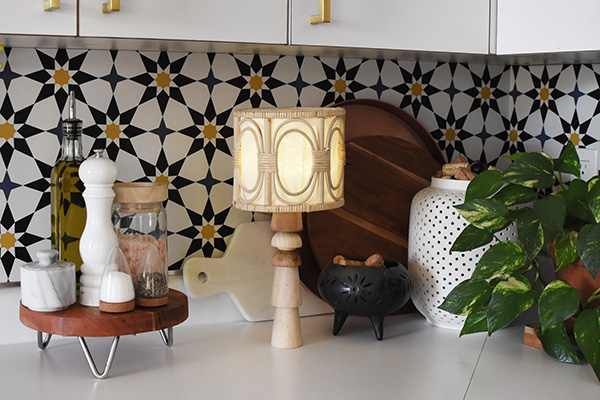 Finding this fun basket, makes the lamp look beautiful with or without the light on. It's a perfect addition to our kitchen.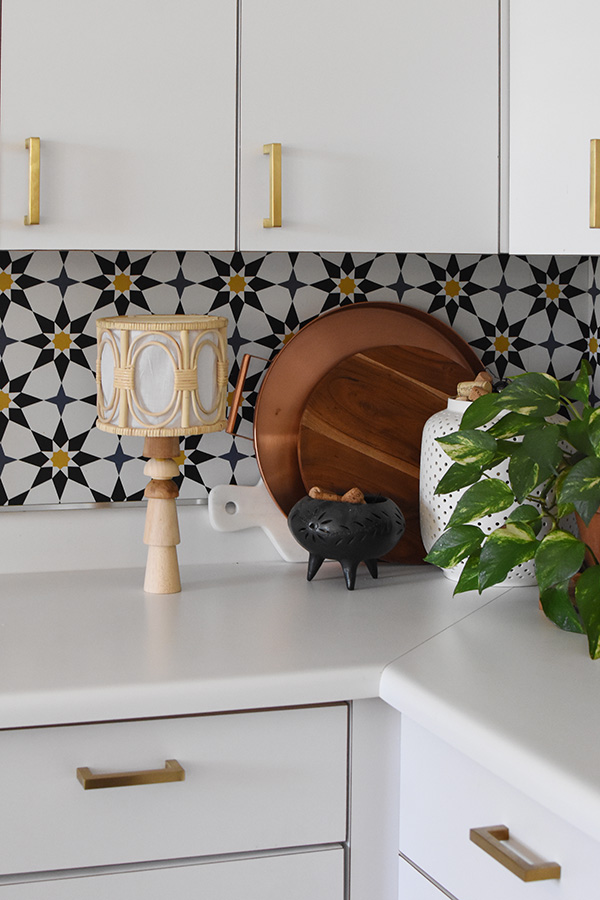 How do you light a kitchen countertop?
Looking for other ways to add light to your kitchen countertop, here are a few clever ideas.
Natural light from a nearby window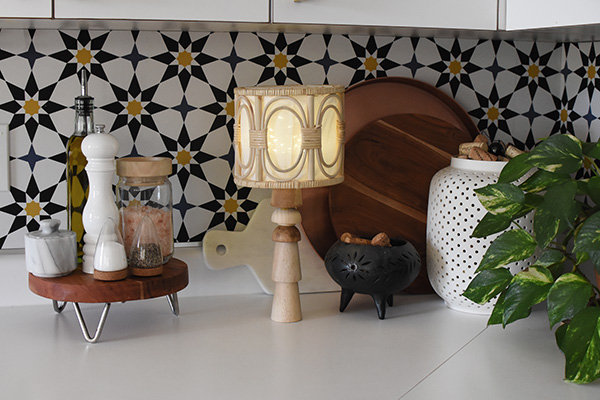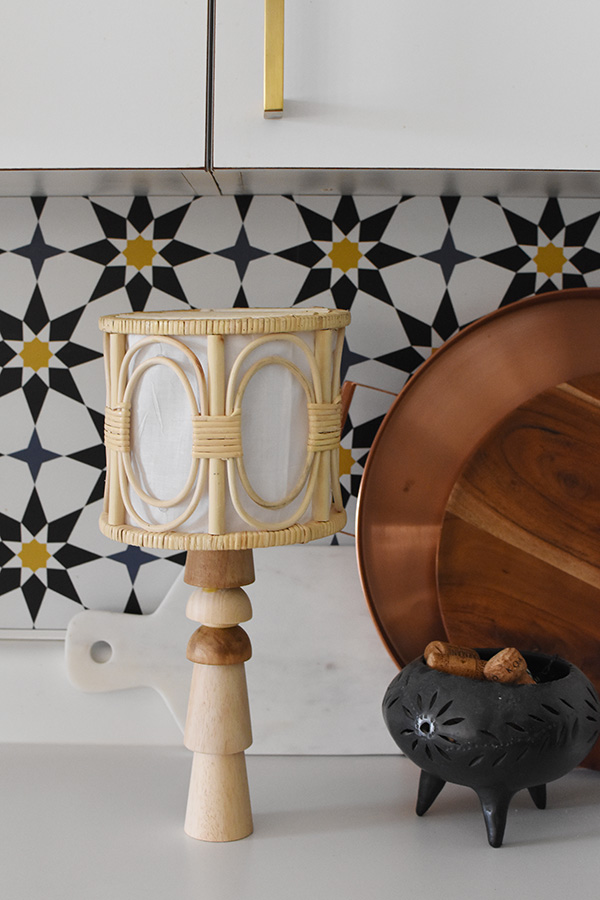 Looking for other creative builds like this? You might enjoy these…
Painted Leather Fringe Planter Pot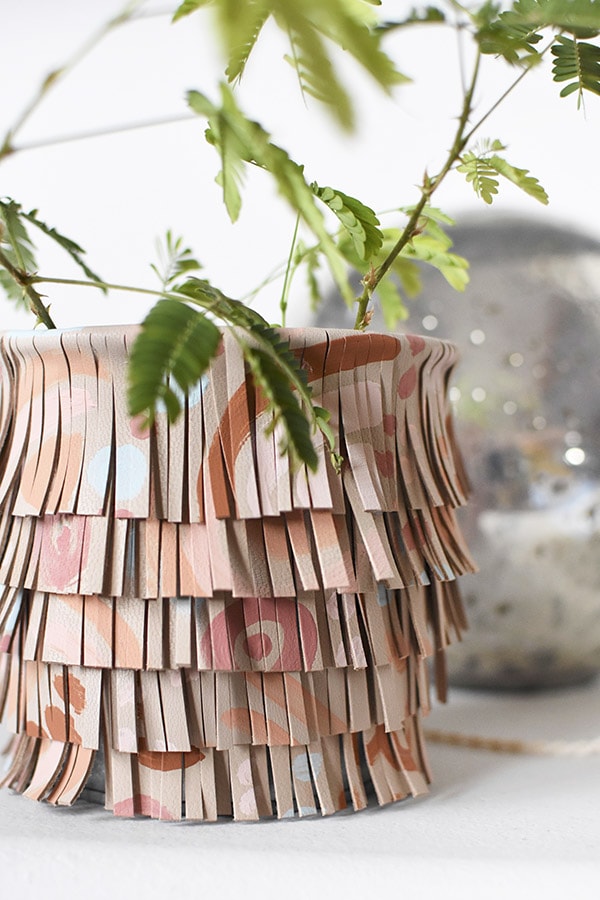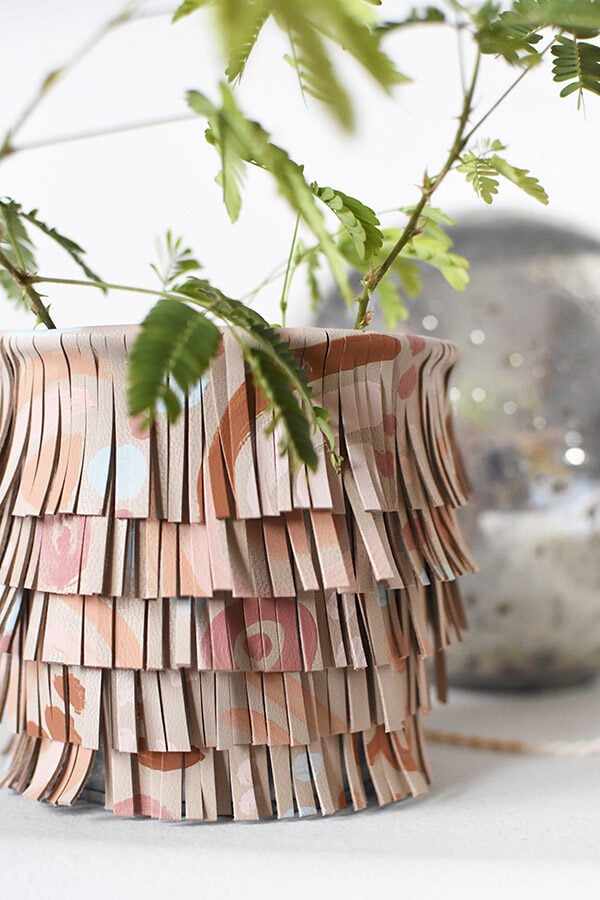 DIY Ring Planter with Baking Soda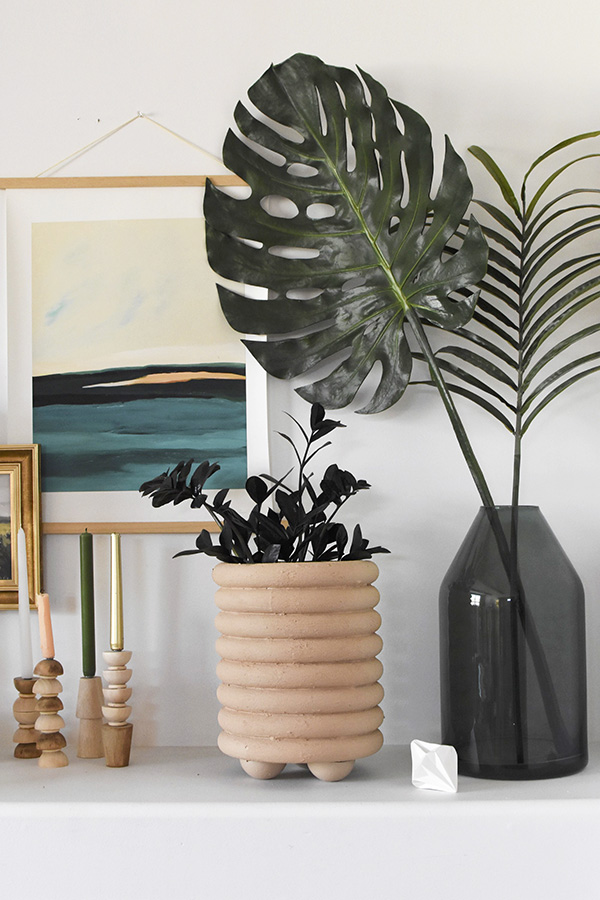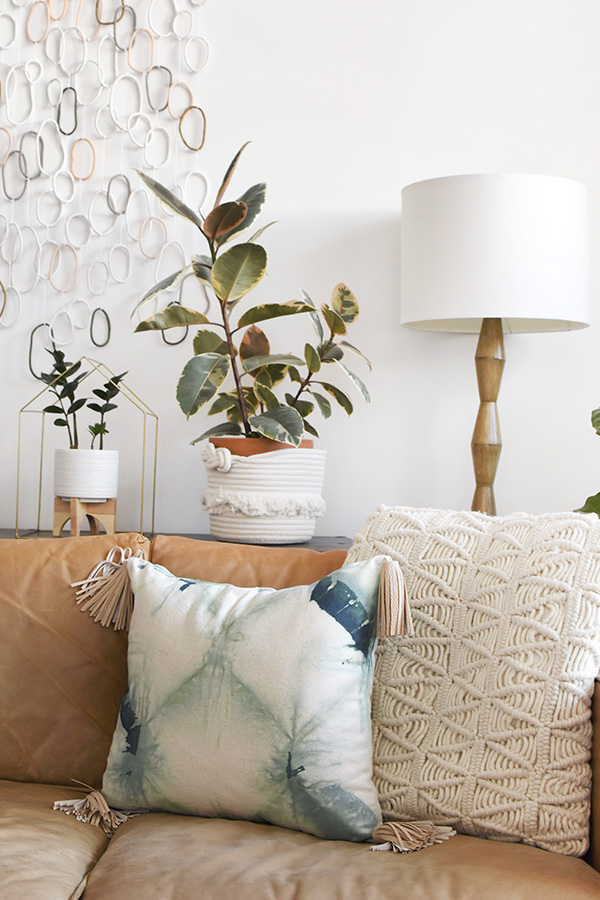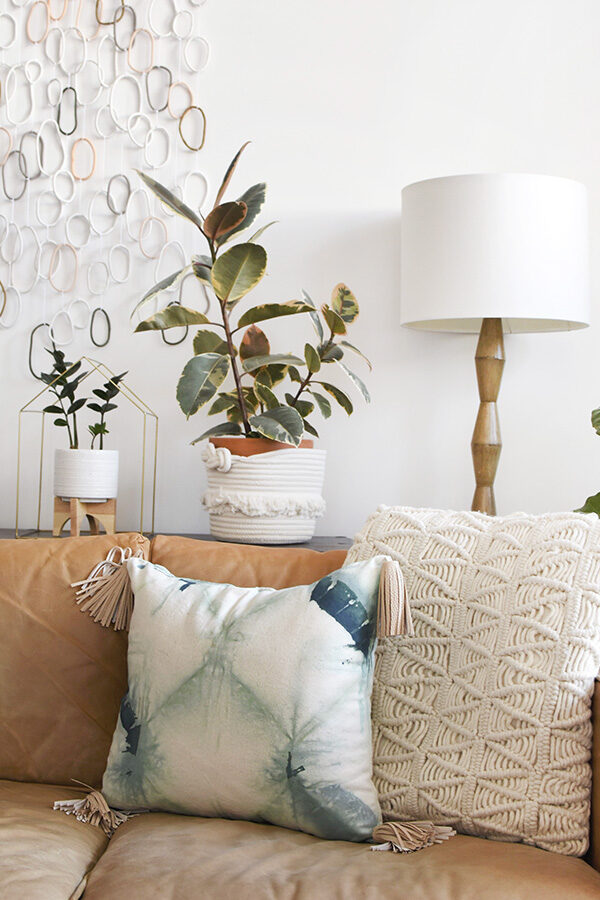 Create Abstract Flower Paintings