DIY Colorful Painted Lampshade
INSIDE : Give an old lamp shade a completely new look with minimal cost at all. Learn how to create a painted DIY Lampshade with colorful shapes for your home!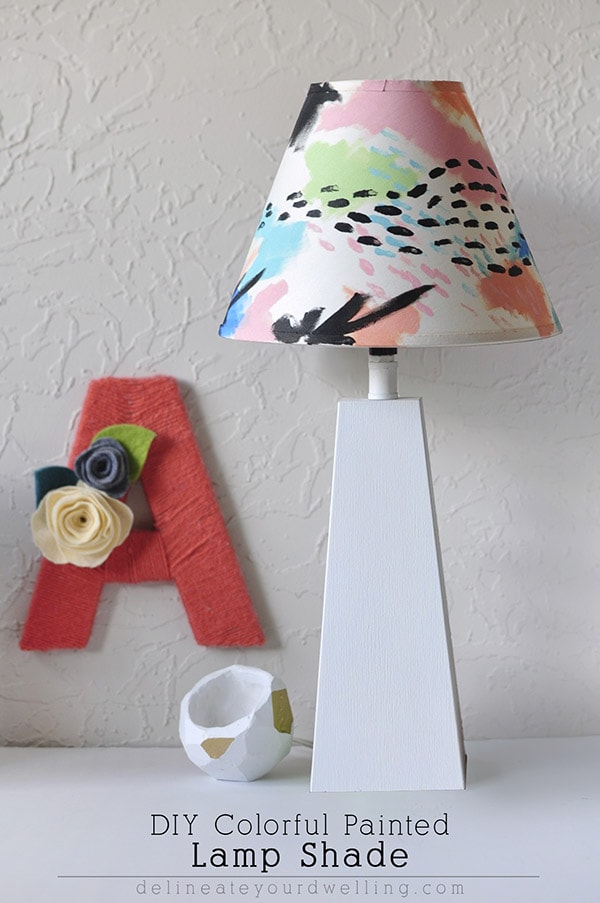 This post contains affiliate links. See my full disclosure.
Today is the second of our Inspired By challenge and we are being inspired by one of the coolest stores, Land of Nod (now Crate and Barrel kids). I have been a huge fan for a while and today am excited to share my DIY Colorful Painted Lamp Shade inspired by one of their items.
And if you are looking to buy colorful lampshades, you might like these:

You might be thinking, isn't Crate and Barrel kids just a cool store for kids? Well, yes and no. They have stunning lamps, awesome artwork and amazing storage. I would furnish my entire house there if I could afford it.
I actually pinned this colorful lamp shade forever ago and when our knock out knock off challenge came up, I was thrilled to already know what I was going to make!

I already owned the white lamp base from Target. Then, I went to my local Goodwill and bought the white lamp shade for $7. However, if you were to buy these two items new it would still cost quite a bit less than Land of Nod's $49 price.
What supplies do I need to paint a lampshade?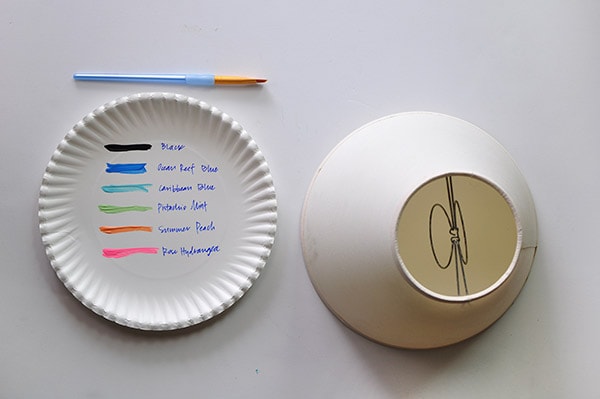 This DIY Lampshade could not be an easier project.
HOW TO PAINT A DIY LAMPSHADE:
First, don't be nervous to paint a colorful lampshade! Simply color by color, I added layers of splots, lines and dots.
Sometimes it can be hard to be random and abstract but have fun creating this happy whimsical pattern inspired by my shade. Isn't it lovely seeing it slowly take shape?!! I love it.
I started by adding a soft sherbet green acrylic paint color. Next, I added in some soft orange and sky blue shapes and lines.
Then add a bold contrasting color, like a bright blue paint. At the very end, I added some black to really set off the colors.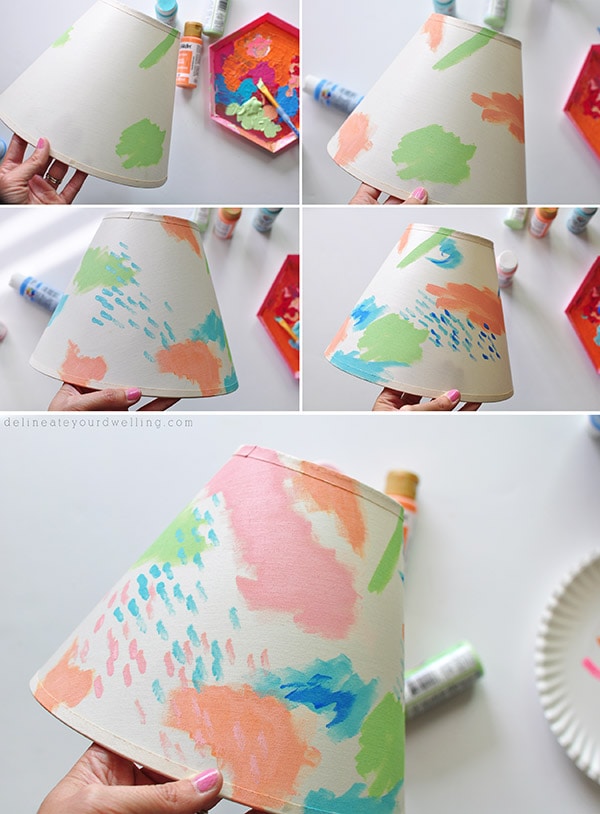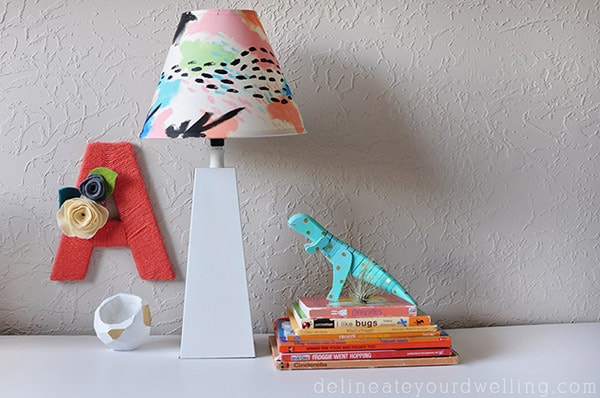 Once the acrylic paint had dried, the lampshade was ready to install and put back on the lamp. It has been four years since I originally painted this lampshade and it looks exactly the same today as it did back then. It has held up remarkably well without any issue!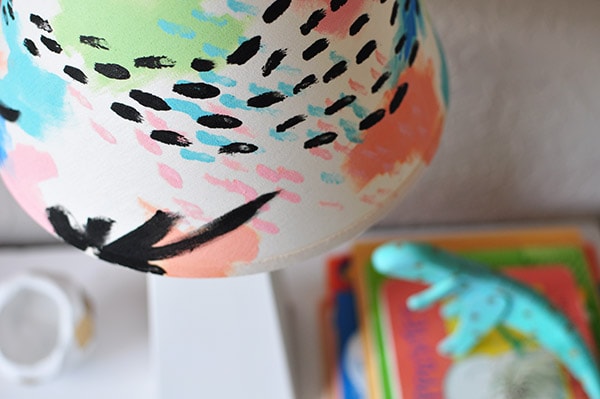 After it was all done, I could not decide for the life of me which lamp to put this on because it's just so fun… so here are my two options! Green base or white base??!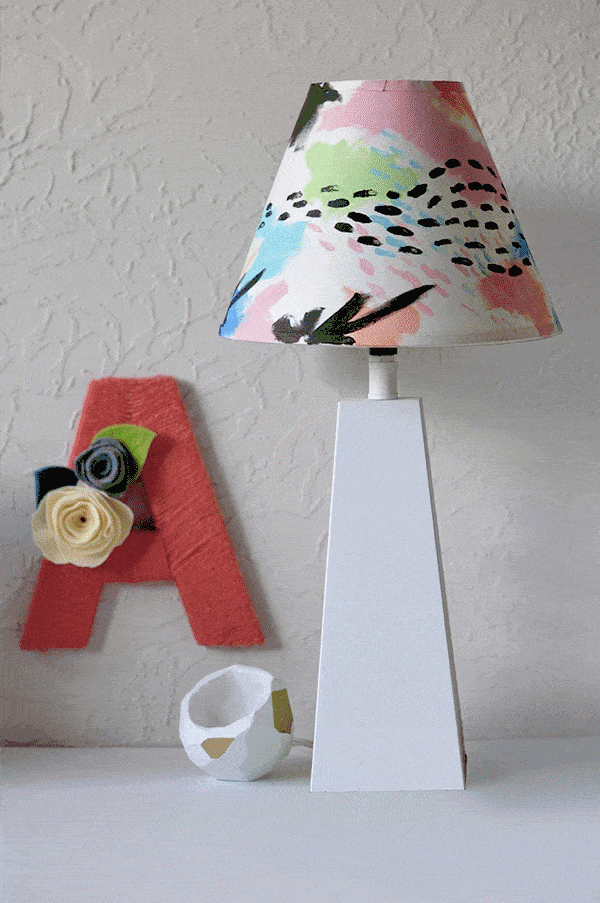 I ended up going with the white base as it lives in my daughter's bedroom.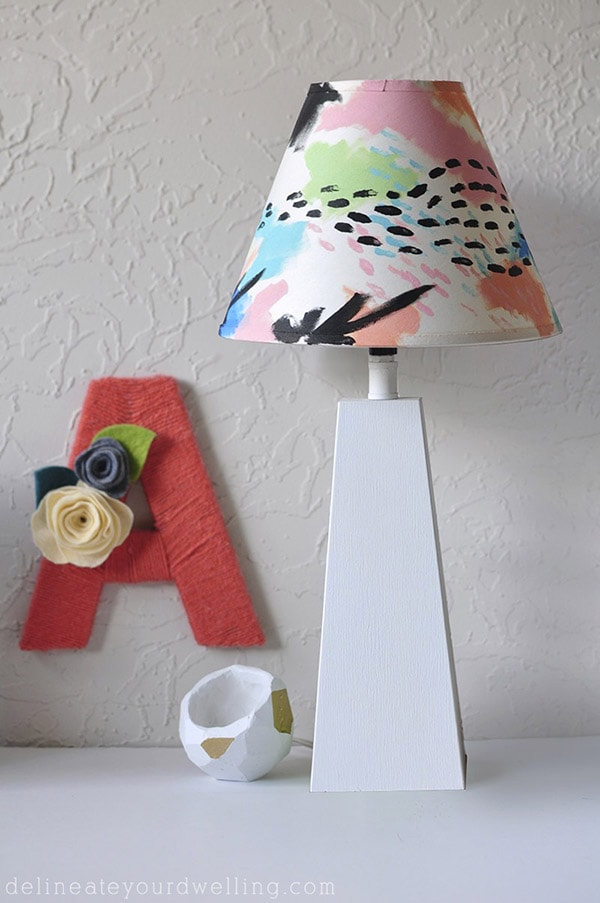 Through August, we will be showcasing an inspired project from a pre-decided home decor store. Be sure to check out the other amazing projects and the projects from last month!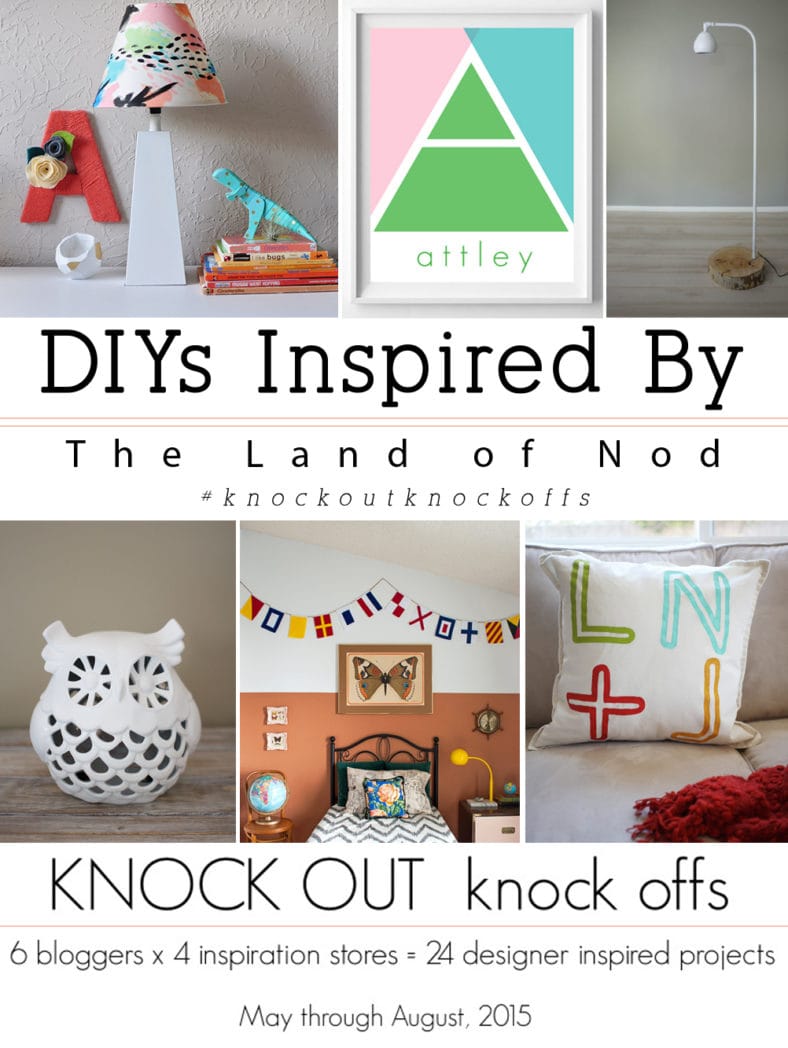 Painted Lampshade / Monogram Wall Art / DIY Modern Floor Lamp
Upcycled Owl Nightlight / Nautical Flag Banner / Monogram Initial Pillow