Creativity Takes Courage : What I'm Reading
INSIDE : Learn how to make a practice in failing well, starting again, to commit to something new and much more! Dare to Think Differently with this darling illustrated book, Creativity Takes Courage.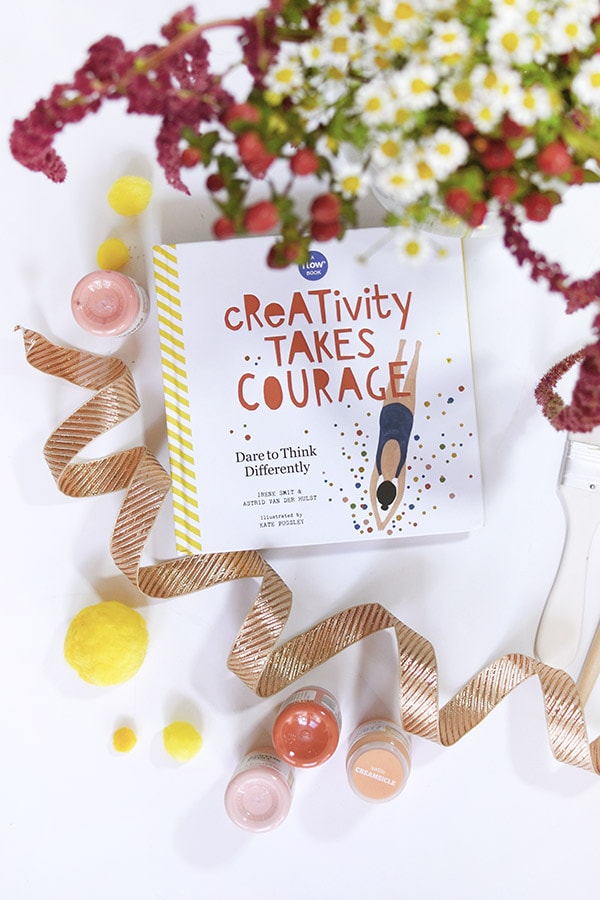 This post may contain affiliate links. See full disclosure here.

"Creativity is everywhere, for everyone, and inside of everyone. Creativity begins when you are able to silence your critical inner voice, and you need courage to do that. Courage to fail, courage to look at the world as a kid, courage to bore yourself to death, and courage to get out of your comfort zone. " -Irene Smit + Astrid van der Hulst
I am so excited to be sharing yet another gorgeous and extremely inspiring creative book by the wonderful creative directors of Flow Magazine. Today, let's take a dive into the book Creativity Takes Courage!
I love that this book, Creativity Takes Courage is organized around a series of twelve different "dares" : Dare to Fail, to Start, to Sleep (more), to Be Bored, to Commit, to Try Something New, to Be a Kid, to Be Alone, to Go Offline, to Be Mindful, to Be Quiet, and to Team Up.
Each dare includes fill-in pages and prompts to go deeper into what motivates us or hinders us. It's an illustrated and fully interactive gift of how to live more creatively and enjoy every minute of the process, no matter what the result. And just like A Book That Takes Its Time (which I was also completely in love with), it's filled with tons of pull out goodies including postcards, notebooks, and posters!
DARE TO SLEEP (MORE):
This chapter talks all about the importance of sleep in creativity, which I always know should be a bigger priority to me, than it is. They talk about how you can only be truly successful when you take better care of yourself and then give you the tools and steps to do just that. I loved at the end of the chapter that you could decorate your sleeping space with tear-out inspirational images of sleeping people!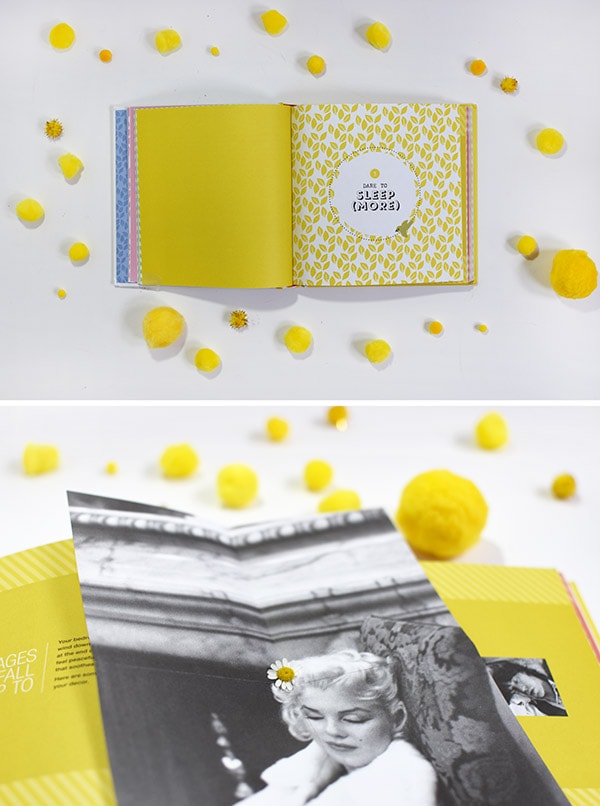 DARE TO FAIL:
We all understand the fear of failing. It can be stifling at times, but as I have said numerous times on my blog, if you don't just try and start you may never reap the wonderful benefits of growing and succeeding.
This chapter talks about embracing failure and even lists 10 people who failed big before they succeeded big. They speak to the world being so focused on succeeding that it gives the perception that most successful people only succeed, when in fact that is completely the opposite.
"Ask yourself: Why does the idea of failure scare me so much?"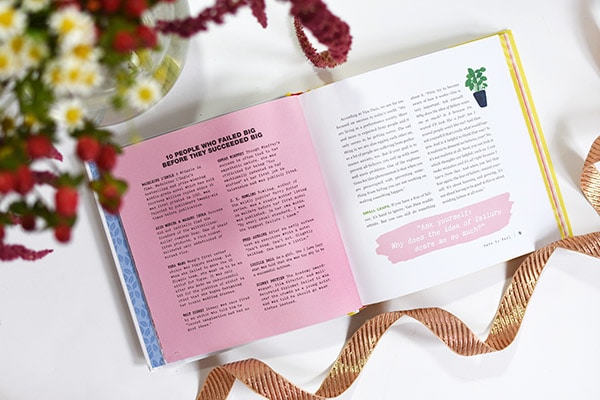 DARE TO GO OFFLINE:
Although there is so much valuable inspiration online, the frequency with which we turn to our smartphones in mindless moments is worrisome. I loved that in this chapter, they really hit home the idea of going offline being the actual luxury.
"Distraction is the enemy of creativity."
The end of this chapter was a 'Now You' section with questions and prompts, as well as these fun snail mail postcards to help encourage non-digital usage!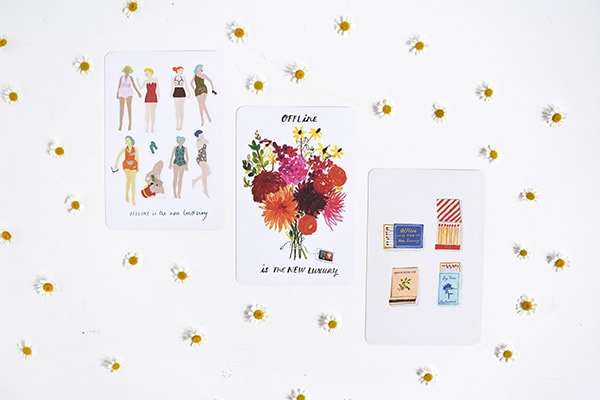 DARE TO TRY SOMETHING NEW:
Often we focus so much on keeping things the way they are. It's comfortable and easy, but doing or trying new things can be refreshing and invigorating! This sections talks about how learning new things is good for your brain.
I loved the 'Now You' section where they showed a Comfort Zone diagram and the following page they asked that you fill out the same diagram for yourself. And then asked you write down what is keeping you from being more creative.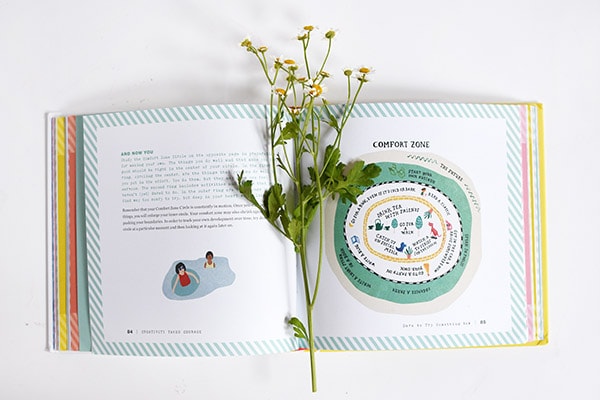 DARE TO COMMIT:
This chapter is about small steps adding up and how doing something creative every day will result in a beautiful collection of your own original and authentic material. For me being a creative blog, sometimes I need a reminder to do something small and creative for just myself.
I LOVED that they included a daily project notebook for getting you started on doing focusing on a single project every single day. The project could be something as simple as saving your shopping list or receipts from each day, drawing a cloud you see every day, or writing something positive on the sidewalk with chalk every day. I have decided to paint abstract colors in my notebook.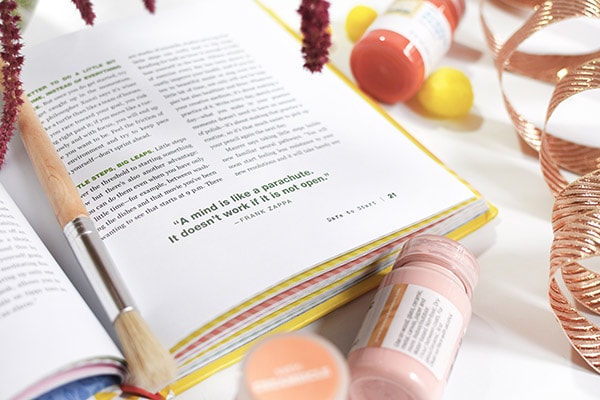 DARE TO BE MINDFUL:
Mindfulness is a kind of training that teaches us to accept being in the here and now. It may sound easy, but it is not. It is almost like putting a spam filter on your mind.
"A calm mind, is a creative mind."
In the "Now You' section, they give a three minute exercise to encourage slowing down, calming your heart and listening to your mind. I loved their three simple tips and plan on using them myself!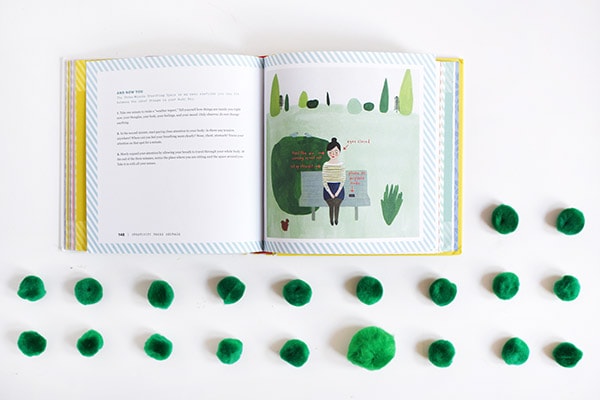 If it was not apparent yet, I really loved this book. Not only are the illustrations absolutely darling, but I really believe in what it talks about. I think if we all could just slow down and dare to think differently about creativity and our minds and our time… big changes would happen in our lives.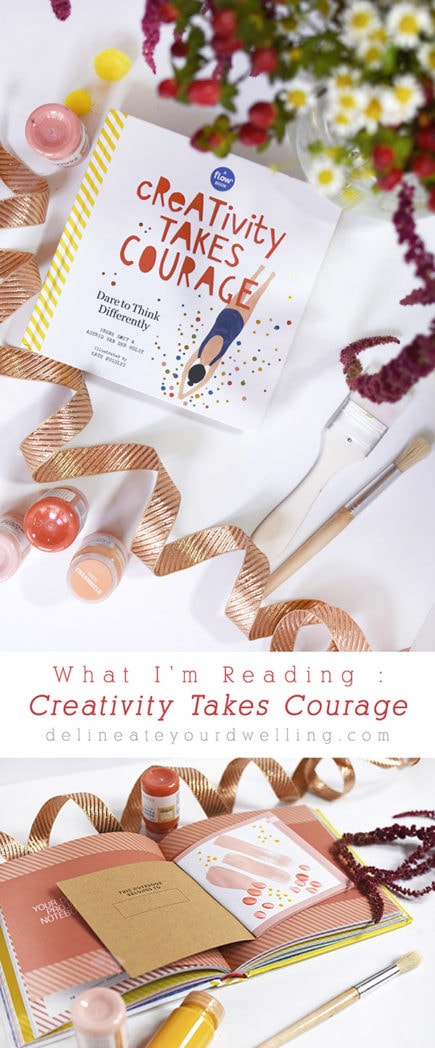 Creativity Takes Courage : Dare to Think Differently is by the co-founders and creative directors of Flow Magazine, Irene Smit and Astrid Van der Hulst. It is currently available wherever books are sold!
Looking to dive a little deeper into Just Starting something new for YOURSELF? I'm SO THRILLED to share my Just Start ebook with you!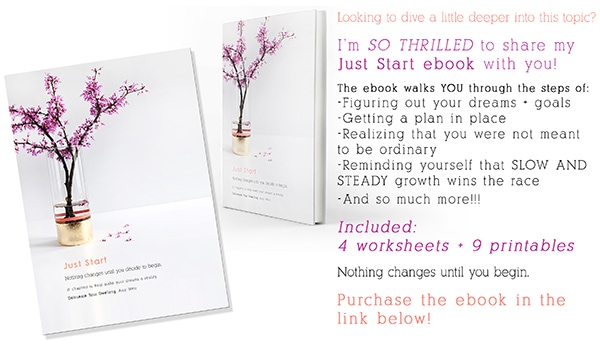 The link to purchase is below!!
Thank you to Workman Publishing for collaborating on this post. I received Creativity Takes Courage : Dare to Think Differently in exchange for a honest review, which I love. All opinions are 100% mine.
Interested in some other great books, you might want to check out these below or shop my favorite books here.
Painted Nature : A Book that takes it's time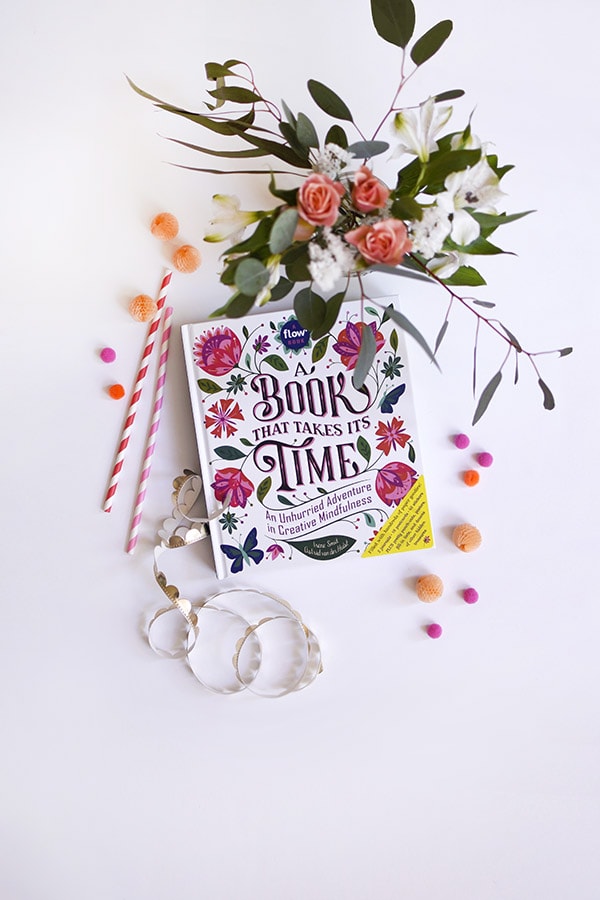 Weaving Within Reach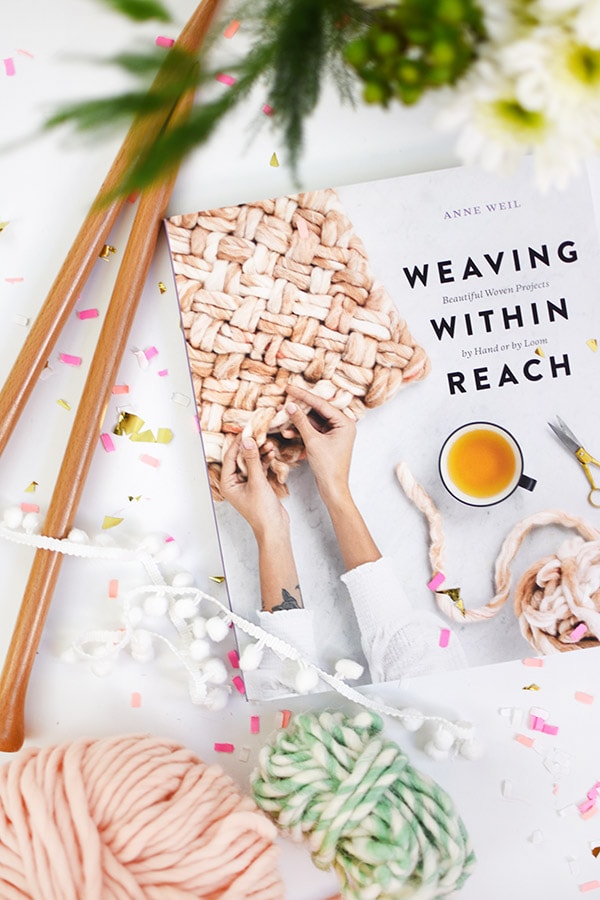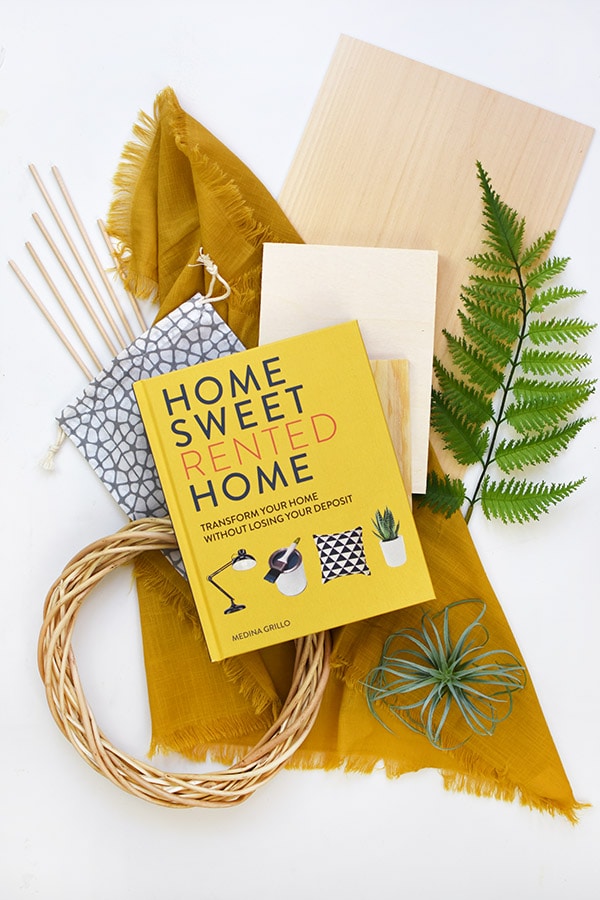 And if you are interested, you can check out all my past gift guides here!