INSIDE : Learn how to update a festive Holiday 'Let It Snow' white and gold sign this Christmas season! From an old outdated sign to a new fresh and modern decor – this is a simple transformation with a big impact.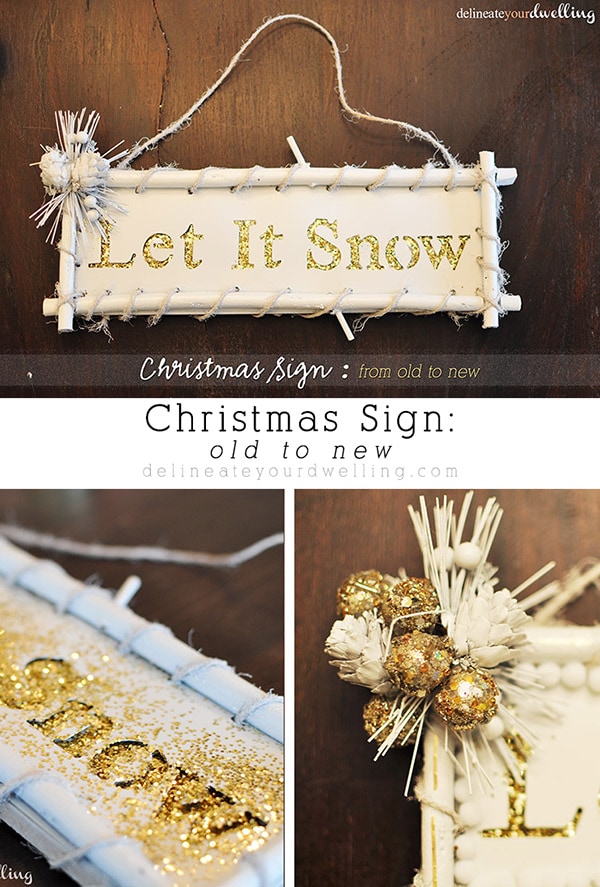 This post may contain affiliate links. See full disclosure here.
This year when I pulled out my Christmas boxes full of ornaments and decor, I gave a little frown when I saw my "Let it Snow" sign. I've hung it for about 6 years and it was starting to show how old and outdated it was.
It was a metal front with lots of soft blues and tans. There was a lot of metal usage in bad ways, lots of odd hanging snowflakes made from sticks. And overall just a very heavy country style going on. Unfortunately I did not get a picture of it in it's original state, bad blogger.
After one of my kiddos who will go nameless (it was totally kiddo #2) ripped off one of the hanging snowflakes, I knew it was makeover time!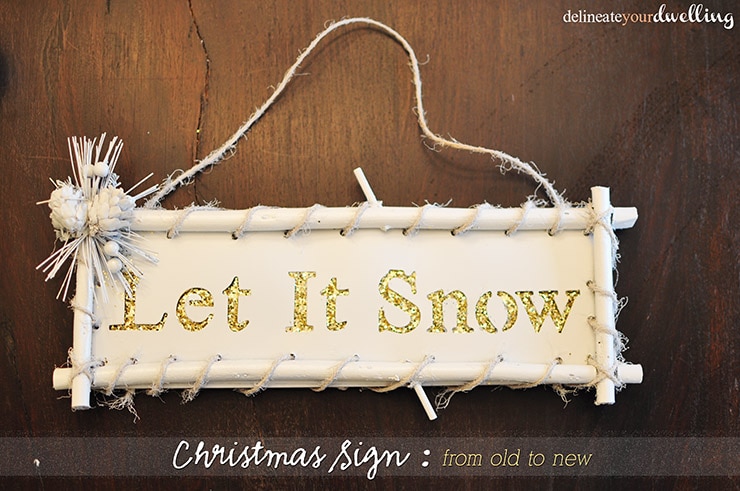 Now, it's time for another confession beyond owning country styled signs… I sometimes craft without a plan. Some days I am super planner with a sketch and an idea. However, other times, I just get out supplies and wing it. Today was a wing it day.
I did know I was going to go simple.
What supplies do I need to update an old Let It Snow sign?
Old Sign
White Spray Paint
Gold Foil Paint Pen
Mod Podge
Miniature White Pom Poms
Gold Glitter
How to make a new Let It Snow sign from old: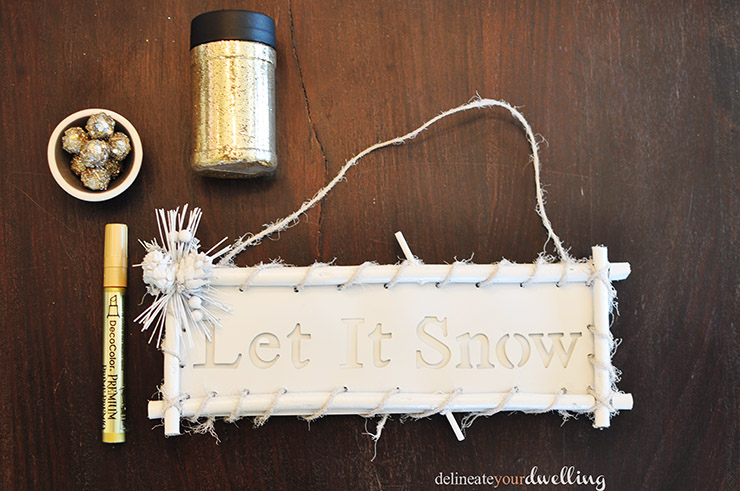 I started off using a
gold foil pen
to paint the inside of the lettering. It looked good, but I decided I wanted even more shimmer.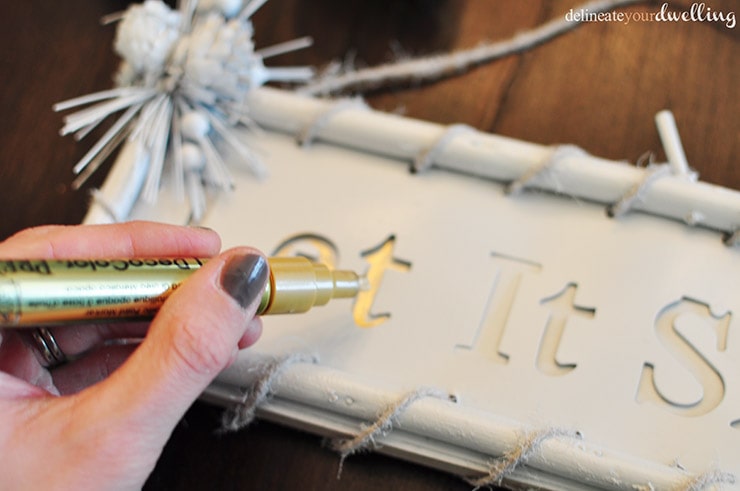 Using a small paintbrush, I applied
Mod Podge
inside each letter and literally DUMPED a pound of
gold glitter
on the letters.
I could probably have pulled back a little on this step as I then spent the next 30 minutes picking fly away glitter from all over the sign, all over my table, all over me, etc…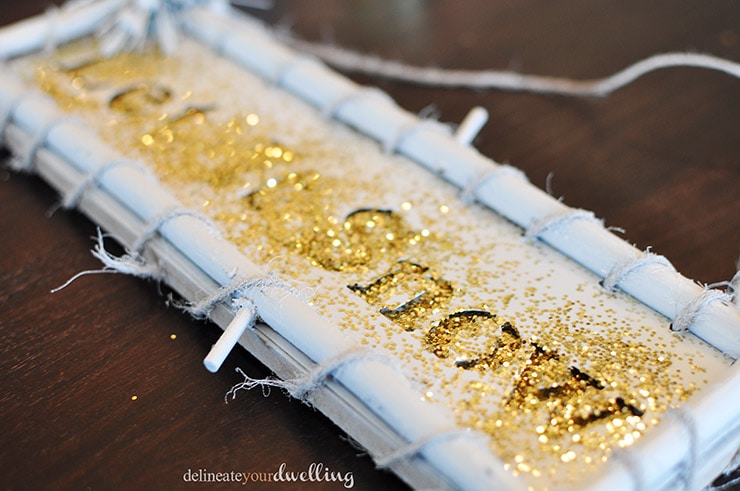 For my final touches, I added some
miniature white pom poms
in a simple line outlining the sign. I also hot glued a few gold glitter balls to the existing pinecone / evergreen accent.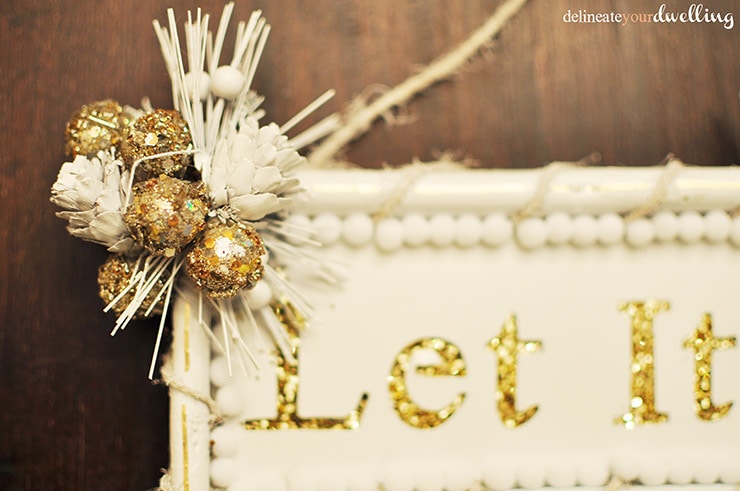 It is SUCH a huge transformation… from country dull to modern fun!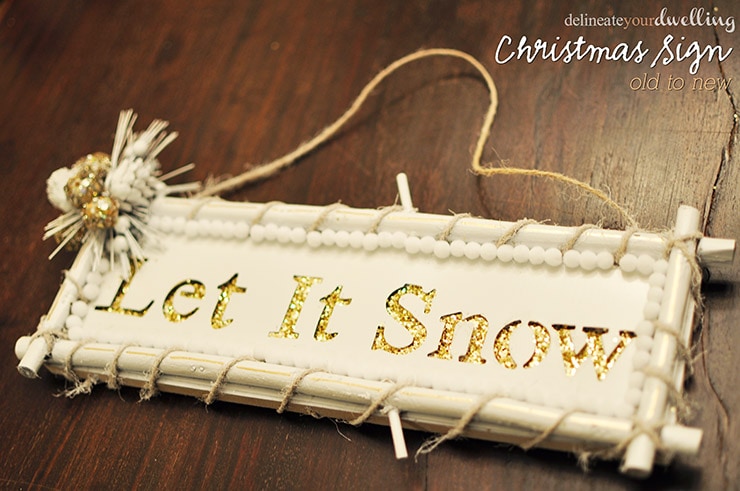 I'm completely re-in love with this sign now! From old school country to new school modern. Have you made any updates to your existing Christmas decor?
Looking for more Modern Christmas decor? You would love my Colorful Modern Christmas Tree!