INSIDE : See the easy step by step instructions to create gorgeous artwork for the fall and Thanksgiving. Check out these simple tips on how to draw and paint a colorful Autumn Leaves in just a few simple steps! You can become your very own artist!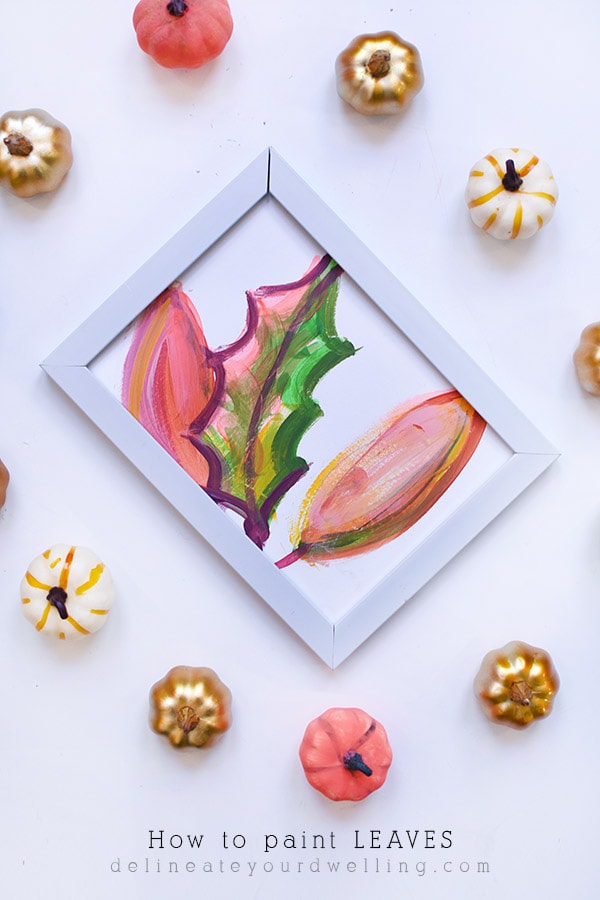 This post contains affiliate links. See my full disclosure here.
One of the things I love doing is painting artwork for my home. A few years ago I did an Easy Art in 1.2.3 mini series of art work. People really resonated with the simple, step by step instructions on how to draw and paint all different types of art… especially my Tips to draw a Succulent and Cactus – wow, you all LIKED that one!! Then last year, I shared how to draw and paint a pumpkin and you loved that one, too.
So, today I wanted to share tips on how to draw and paint a simple and colorful Fall Pumpkin! And if you are looking to simply buy this print, I now have it available to purchase here.
What supplied do I need to a Fall Leaf drawing?
Acrylic Paints in greens, raspberry, orchid and yellow
Pencil
Paint Brush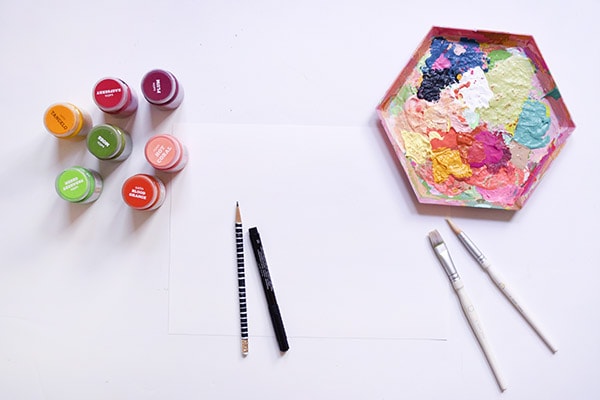 How do I draw Fall Leaves?
This tutorial eventually goes into how to paint fall leaves, but these same steps would work to create a gorgeous black and white fall leaf line drawing, as well.
Note : I highlighted my pencil marks in photoshop with different colored dots for each of the leaves you will be drawing. Hopefully those guidelines will make it easier to see than the pencil marks.
1. To draw fall leaves, start by creating two gentle arching lines across your paper.
2. Start creating the shape of your first leaf. This first leaf is similar to an Oak leaf shape with three or four points on each edge of the leaf.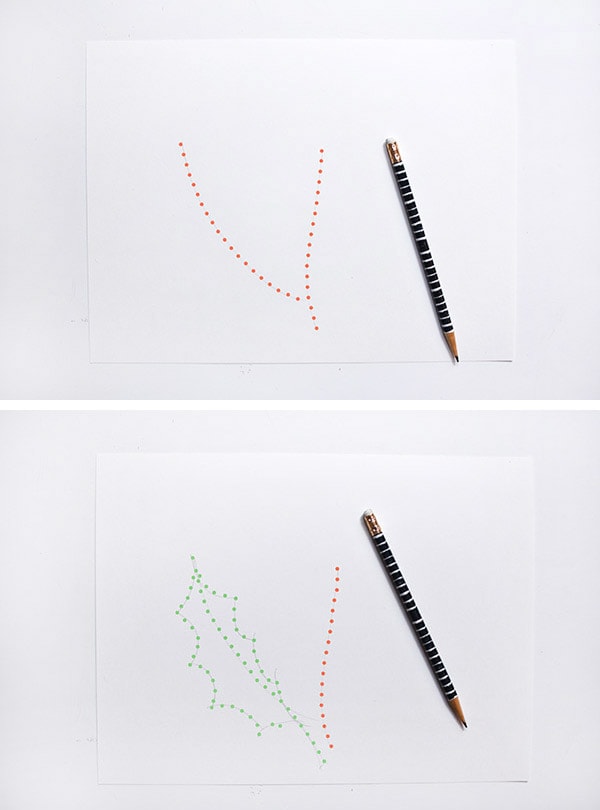 3. Next, let's work on the more graceful shape of our other leaf. Starting at the top of your leaf, draw out two long narrow "C" shapes. It looks more organic if each side of the leaf has a little different curve.
4. Because all things look better when grouped in odd numbers, let's draw one more gently shaped leaf poking out from behind your first Oak leaf.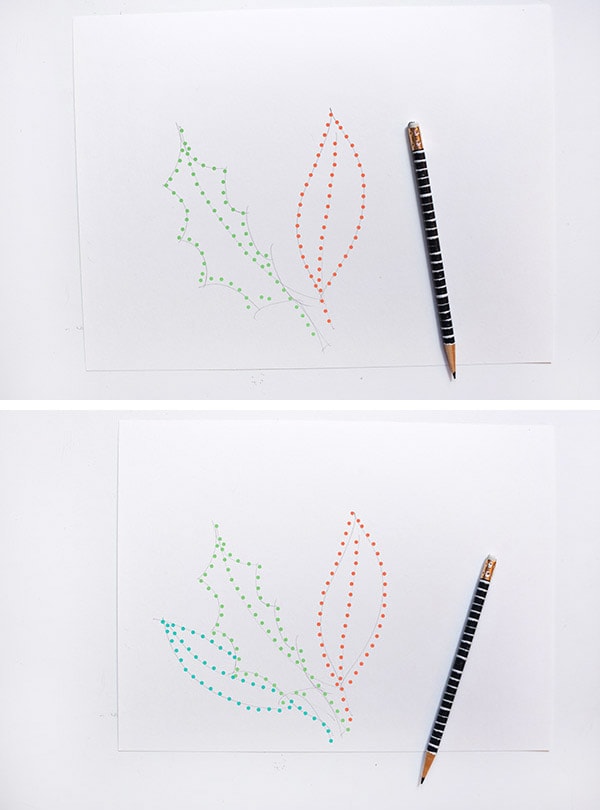 How do I paint colorful Fall Leaves?
Now that you have drawn your Autumn leaves, it is time to add some cheerful color to them! I used various shades of acrylic paint, but feel free to use colors that speak to your heart and home decor.
1. Start painting with your base color. I love layering paint colors on top of each other, so feel free to add a few highlights of this base color to a few of the leaves.
2. Next, use some ochre yellow to the leaves. This is another good base color.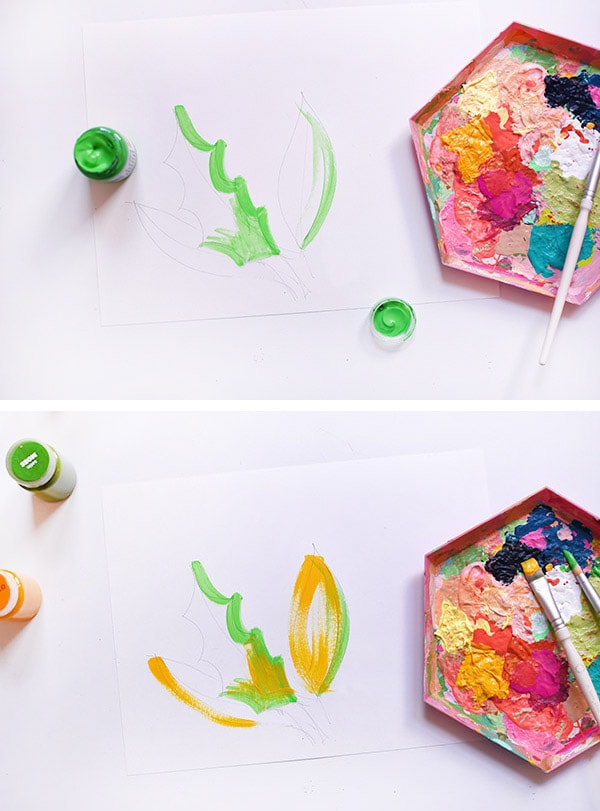 3. I used a coral paint color next to my leaves. Think of each of these colors less like "fillin in" the leaves and more like highlights almost.
4. A deep rust color is perfect for the shadow portion of your leaf.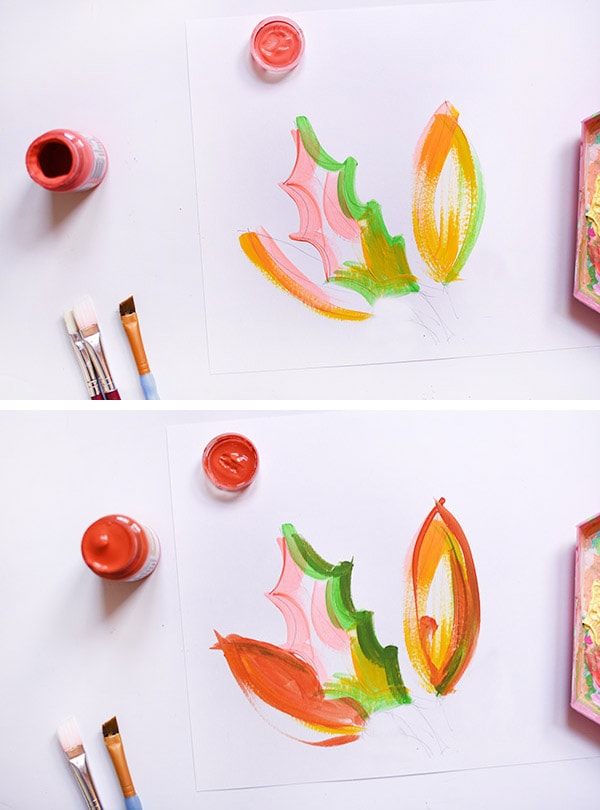 5. Your leaves are slowly starting to fill in simply by adding in small sections of each color. A deep dark orchid color is great to outline your Oak leaf!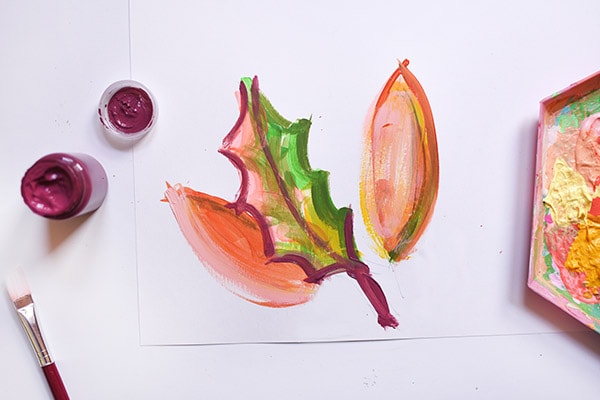 6. Once you are happy with your painted leaves, set them aside and allow to fully dry.
7. After the leaves are completely dry, you can cut them down to size and add to a frame of your choice!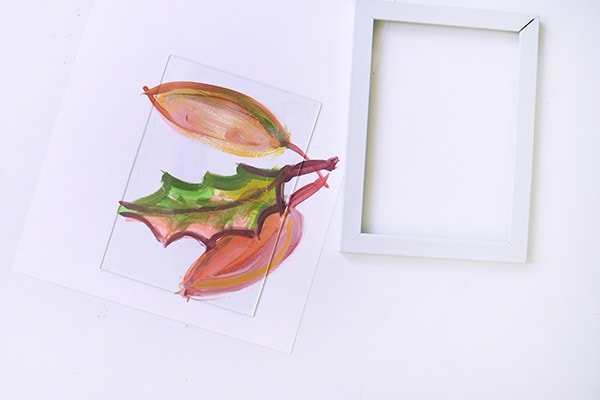 How to draw Fall Leaves with colored pencils?
If you are wanting to use colored pencils for this project, it is not difficult at all to do. Instead of gathering acrylic paints in shades of oranges, yellows and pops of green – you would simply pull those colored pencil colors.
The linework for colored pencils would be thinner but you can still create gorgeous fall leaves using colored pencils and these same methods!
Now that you have mastered the skill of drawing and painting leaves you can configure your drawing in numerous ways. You could make a gorgeous painting of falling leaves or even paint fall leaves on a tree!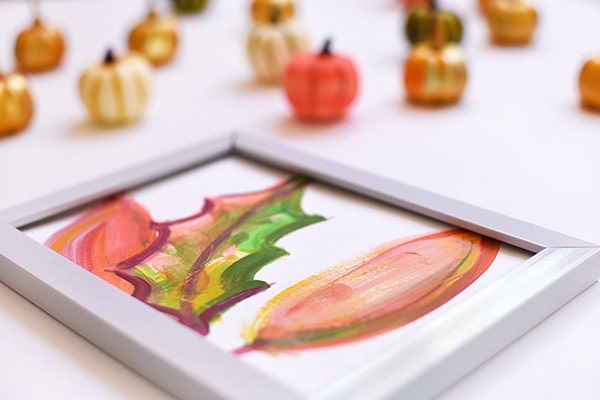 I hope you enjoyed my abstract fall leaves painting!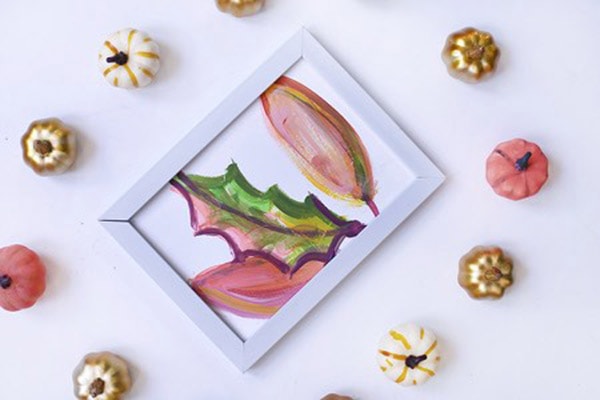 And if after reading this tutorial you decide painting is just not your thing… I am now offering this image as a print for purchase!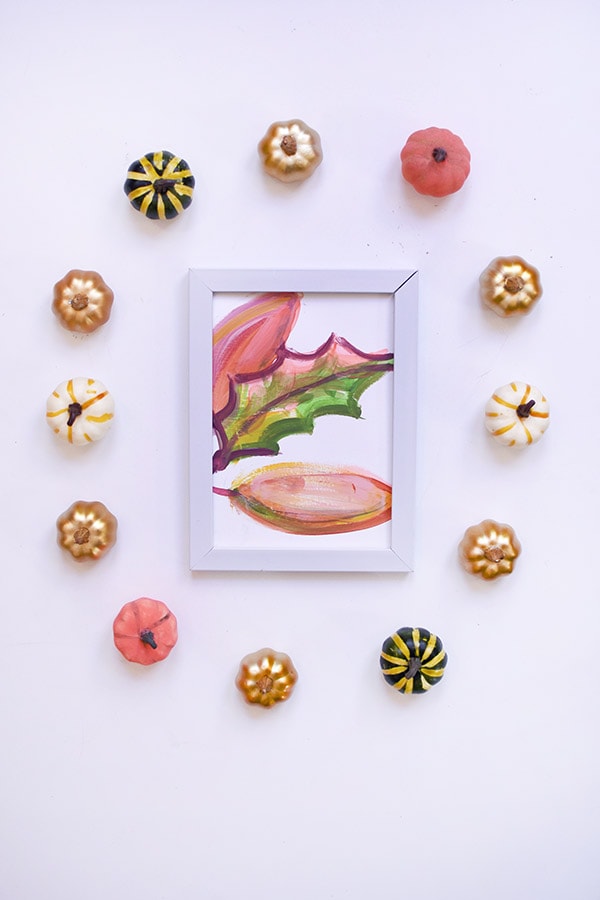 Check out more fall crafts with leaves.