Today marks my first Christmas DIY post of the year!  I did my best to hold out until the middle of November.  My first year of blogging, I introduced a lot of reds and blues in my Christmas decor.  Last year, I stayed a bit more classic in my colors with bold greens, gold and a touch of black.  This year, I am adding in a few softer colors into my decor.  However, if you are one that likes more traditional green and red, then this quick craft is a great one for you!  Today I am sharing my Merry Christmas Watercolor Party Garland and it's completely customizable to your color palette.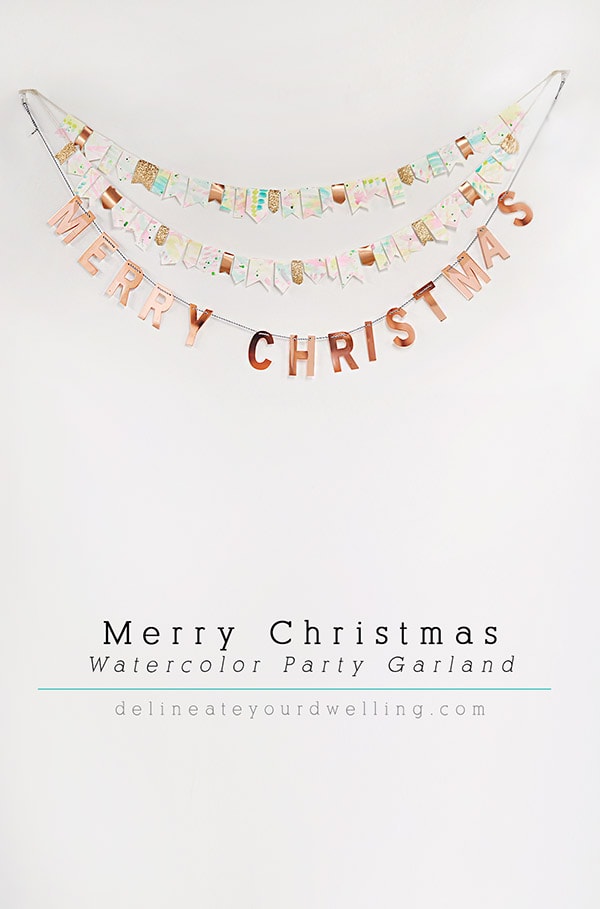 *This denotes affiliate links. See my full disclosure.

Heavyweight Paper
*Copper Contact Paper

*Gold Glitter Duck Tape

Watercolor or Acrylic Paints
Twine
Hot Glue
*Merry Christmas Banner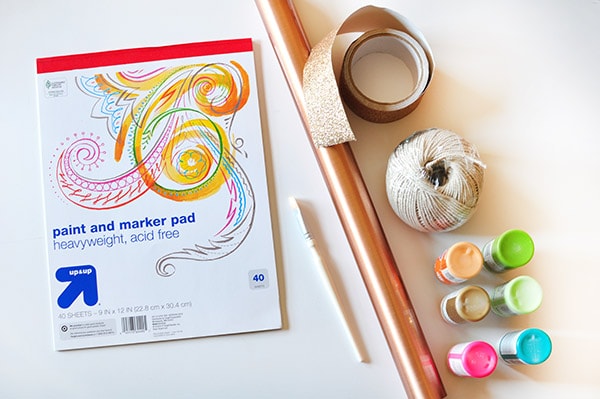 If you have watercolor paints in the colors you are wanting to use, you can skip my first step.  I however, didn't have the correct colors SO, I made my acrylic paints work for me.  To give your acrylic paint a watercolor look, simply add a little paint to a cup and add water.
Next, I painted shapes, stripes and dots all over three sheets of watercolor paper.  Be sure to mix and match your colors on each page for a fun variated look.
Once the paint has dried, cut the sheets into varying widths.  I cut my garland anywhere from 2″ to 3″ in height.  I also cut varying heights and widths from a roll of copper contact paper and *Gold Glitter Duck Tape
.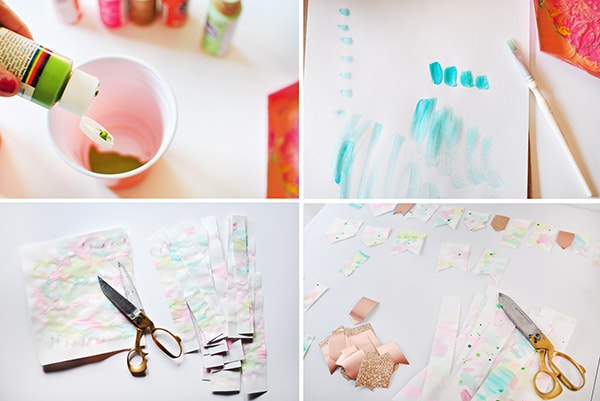 Then, use a hot glue gun and glue your watercolor papers to your string.  I mixed in the *Copper Contact Paper
 and the gold glitter tape every three flags.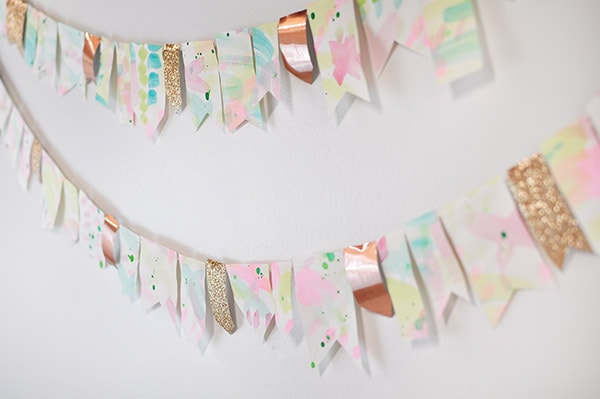 I love these cheerful happy colors and alone, the garland would work for any party!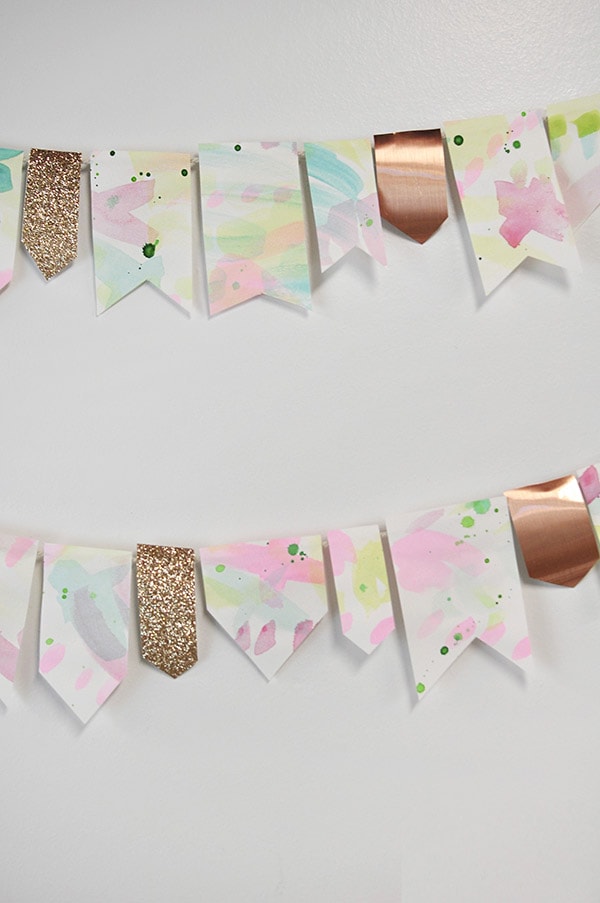 However, when paired with my new metal *Target Merry Christmas banner, this party garland becomes the perfect Christmas item!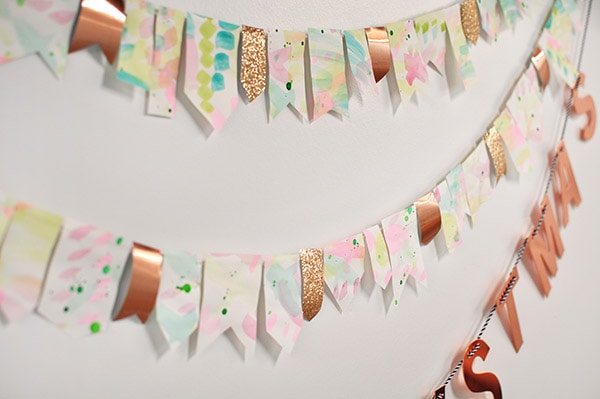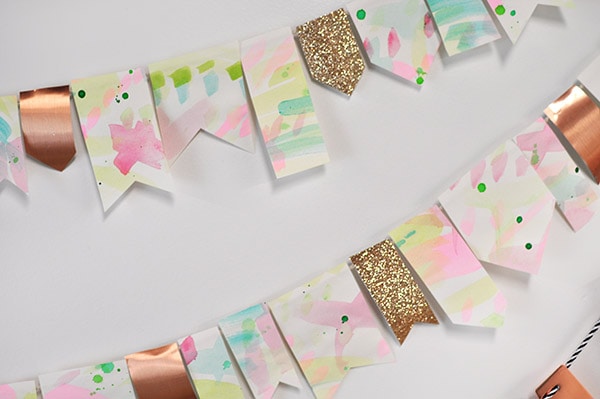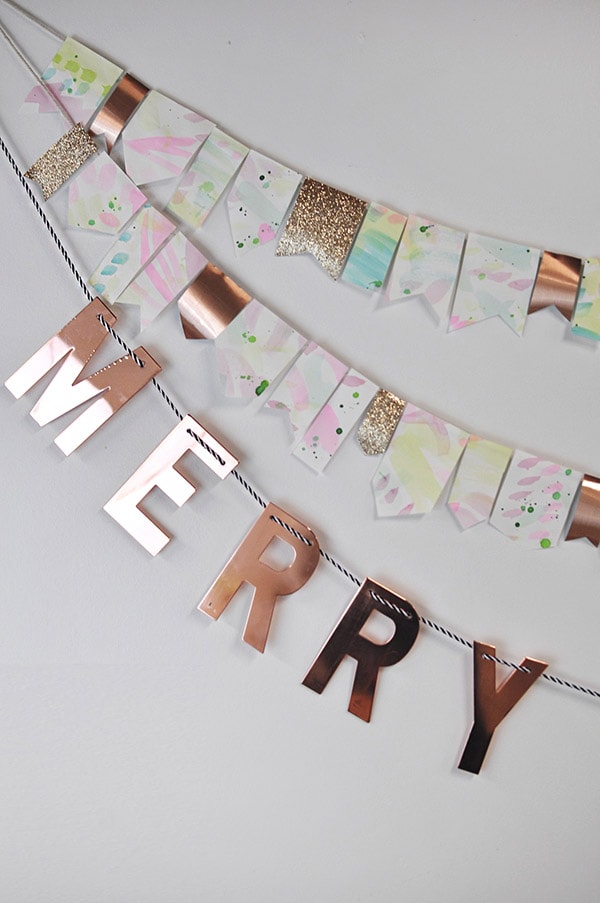 Do you typically mix up your Christmas colors or do you like to stay more traditional?
SaveSave