INSIDE : Learn how to make a dog skeleton into the most adorable Frenchie, the French Bull Dog Skeleton this Fall season! He's sure to warm your heart and will keep your home safe when the trick or treaters coming knocking this Halloween.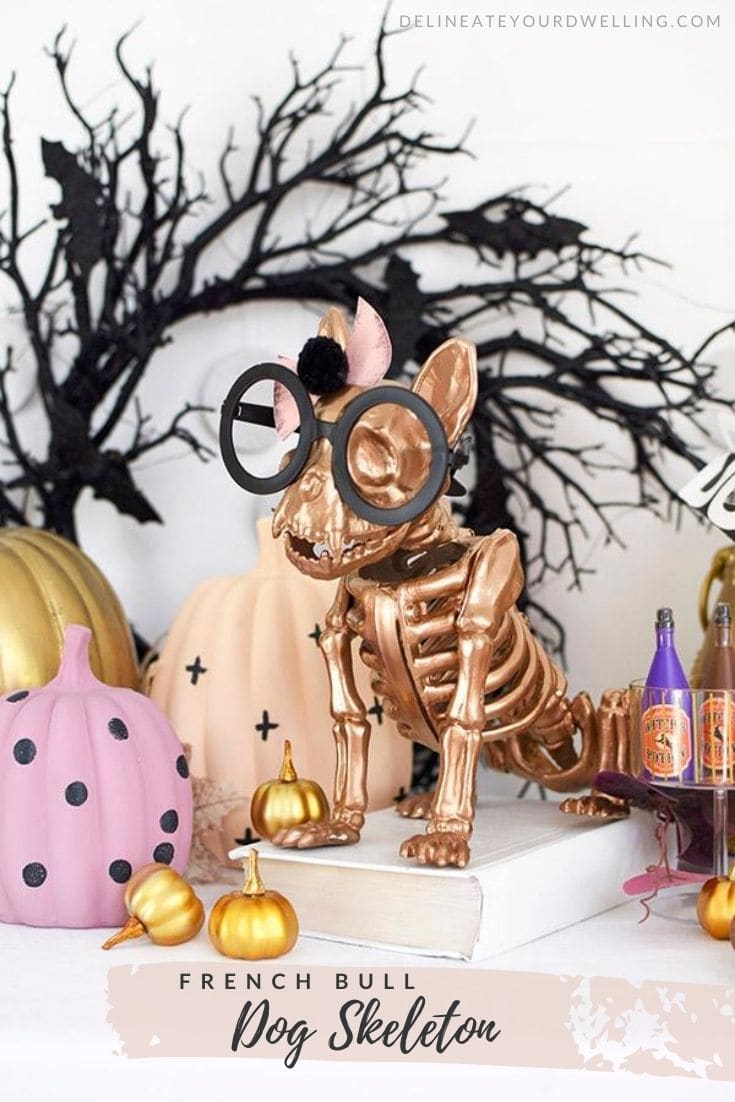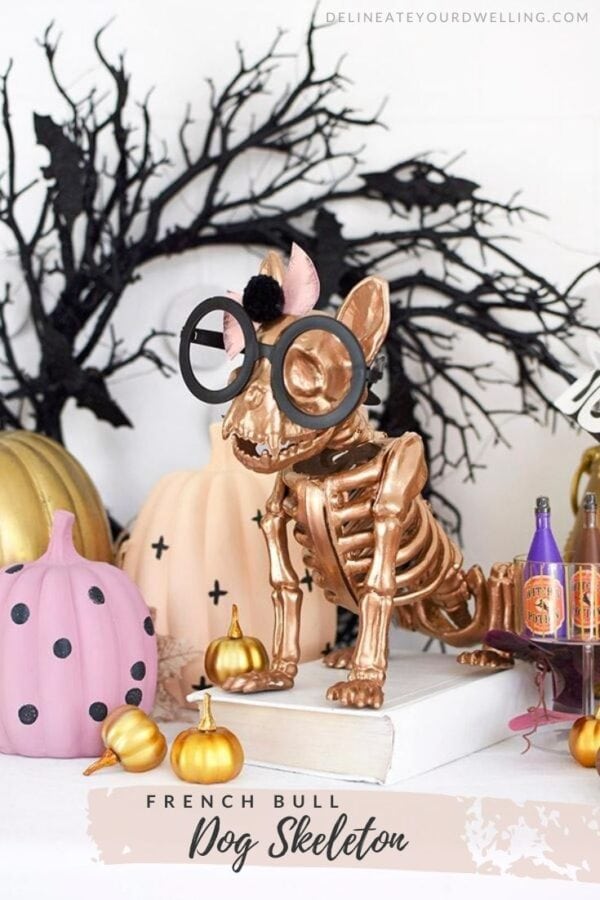 This post contains affiliate links. See my full disclosure here.
Get ready to wow your entire neighborhood this Halloween with the most adorable little Fall Pup you've ever seen! Introducing Frenchie, the French Bull Dog skeleton.
Halloween doesn't always have to be eerie and spooky. You can embrace cheerful inviting fall colors into not only your home decor and pumpkins, but also in your Halloween decor!
What supplies do I need to make a French Bull Dog Skeleton Halloween scene?
French Bull Dog Skeleton – – (Dachshund | Buster Bones | Beagle | Barking Dog / Mini Poodle)
Wizard Glasses
Gold Spray Paint
Scrapbook Paper
Black Pom Poms
Witch's Cauldron
Ceramic Pumpkins
Witch's Potion Bubble Bottles
Acrylic Paint
Hot Glue
Silver Moon Phase Garland
Black Bat Wreath (Black Feather Wreath)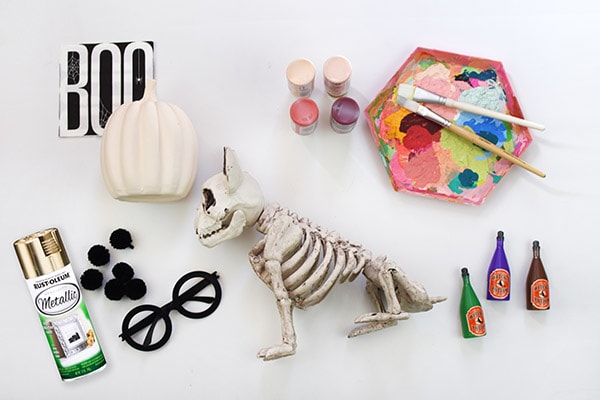 How do I make a sweet Halloween Dog Skeleton?
To start this French Bull Dog scene, grab your favorite spray paint – mine is Rustoleum's Metallic Gold spray paint. I gave my dog skeleton (Dachshund | Buster Bones | Beagle | Barking Dog) two or three light coats of gold paint for a solid even coverage.
While Frenchie was drying, I got to work also painting the Witch's Cauldron. I always have such a hard time finding a basket or bowl large enough to hold all of our Halloween candy to pass out. Last year I made this fun Colorful Fall Basket but this year I am definitely going to try using this gold Cauldron.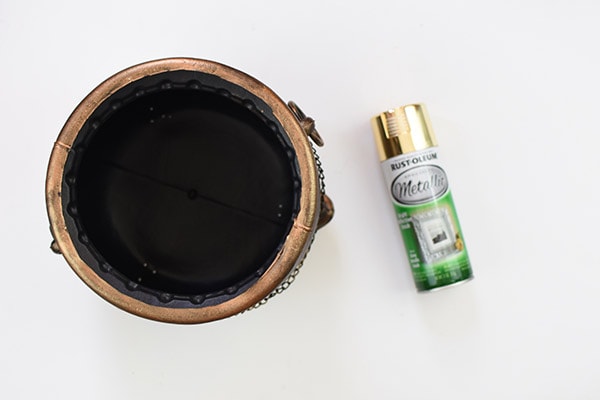 The next step for my Halloween Bull Dog skeleton (Dachshund | Buster Bones | Beagle | Barking Dog) was for her to get her sweet little hair bow. I cut out a bow shape from a piece of scrapbook paper and gave it a slight curl on each end. I then used a hot glue gun and attached a black yarn pom pom to the center of the bow.
Once that was ready, I put one small dot of hot glue on Frenchie's head and glued her bow right down.
And if you are looking for a dog skeleton costume, these two are great : Dog Skeleton Sweater + Dog Skeleton Outfit.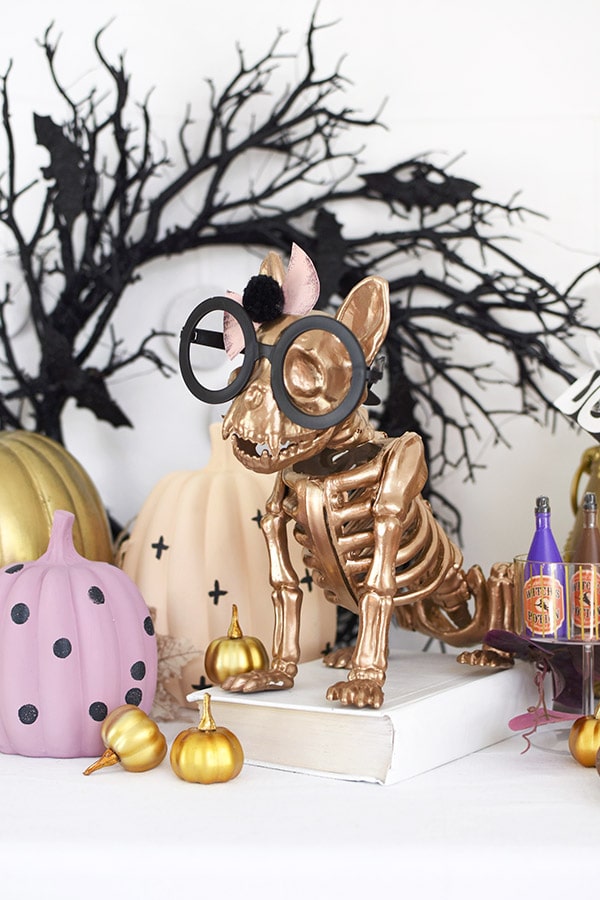 I shared earlier how to create these gorgeous Pastel Pumpkins. I think they work so well with creating a cheerful but neutral backdrop for the show-stopper, Frenchie!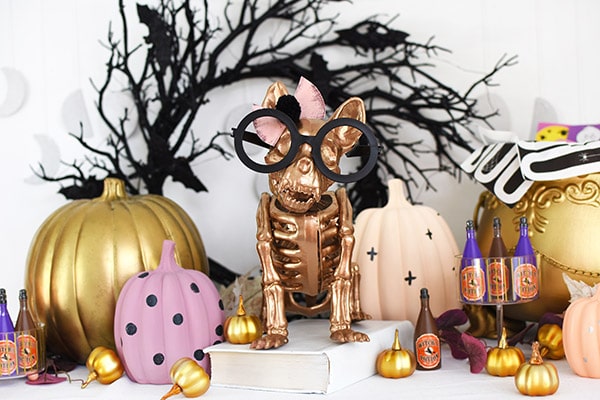 And these precious miniature Witch's Potion Bubble bottles are not only so cute, but they make for amazing sugar-free, no candy trick or treat items! I only wish I had more than one box of them.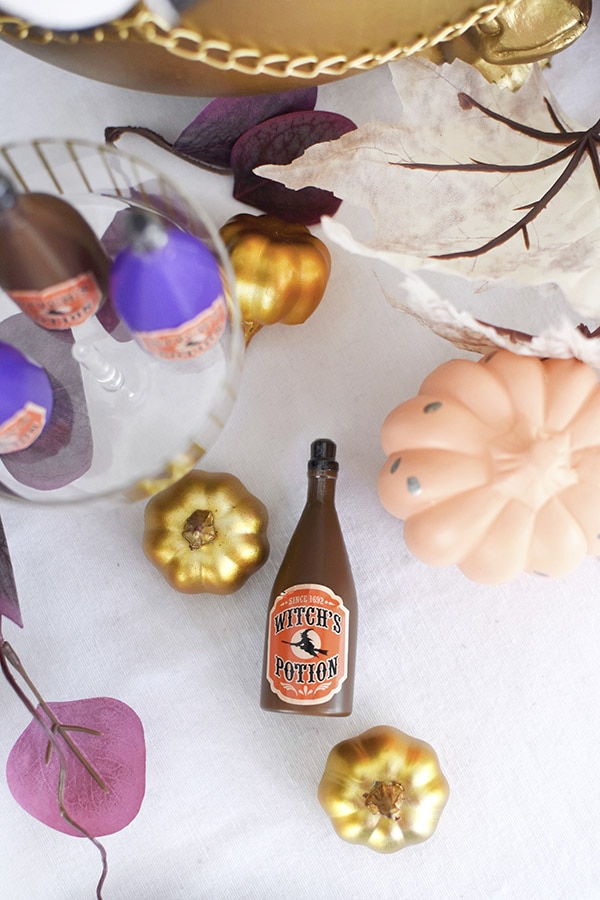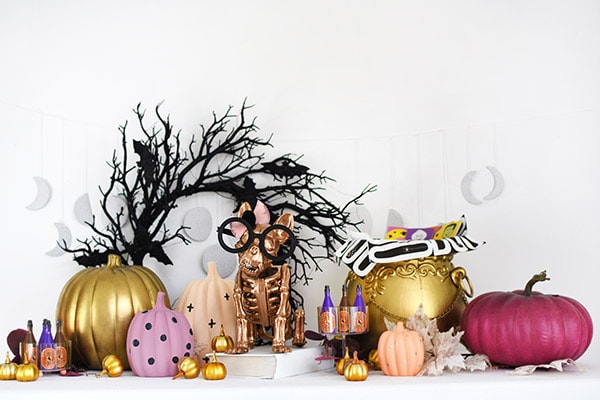 Canine Skeleton :
How could I forget to mention the perfect black rimmed glasses addition! I love that they have a slight Iris Apfel vibe to them. I think they really are Harry Potter wizard glasses to be honest, but I'm much more of an Iris fan!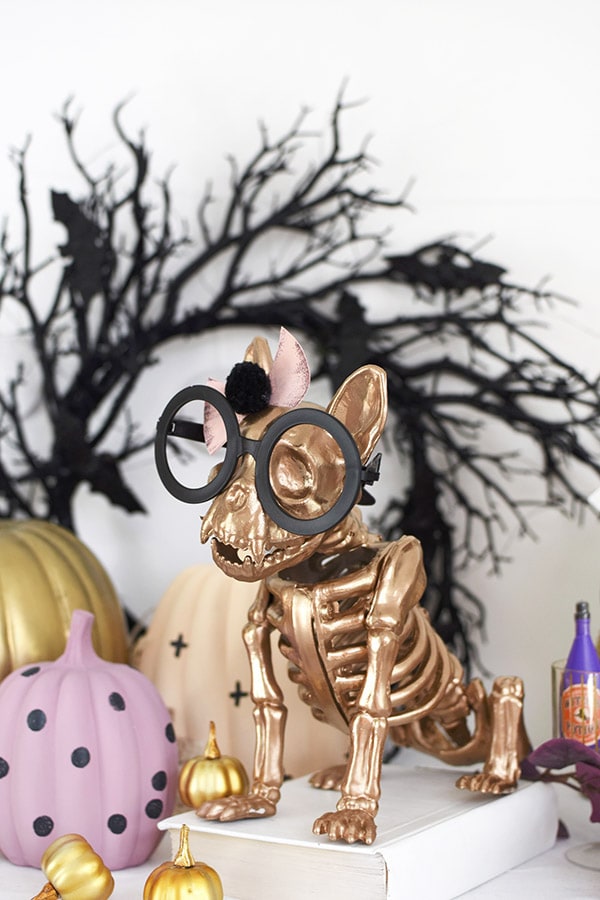 Witches Cauldron :
I also stuck little Halloween coloring and activity books in my caldron with BOO napkins peeking out.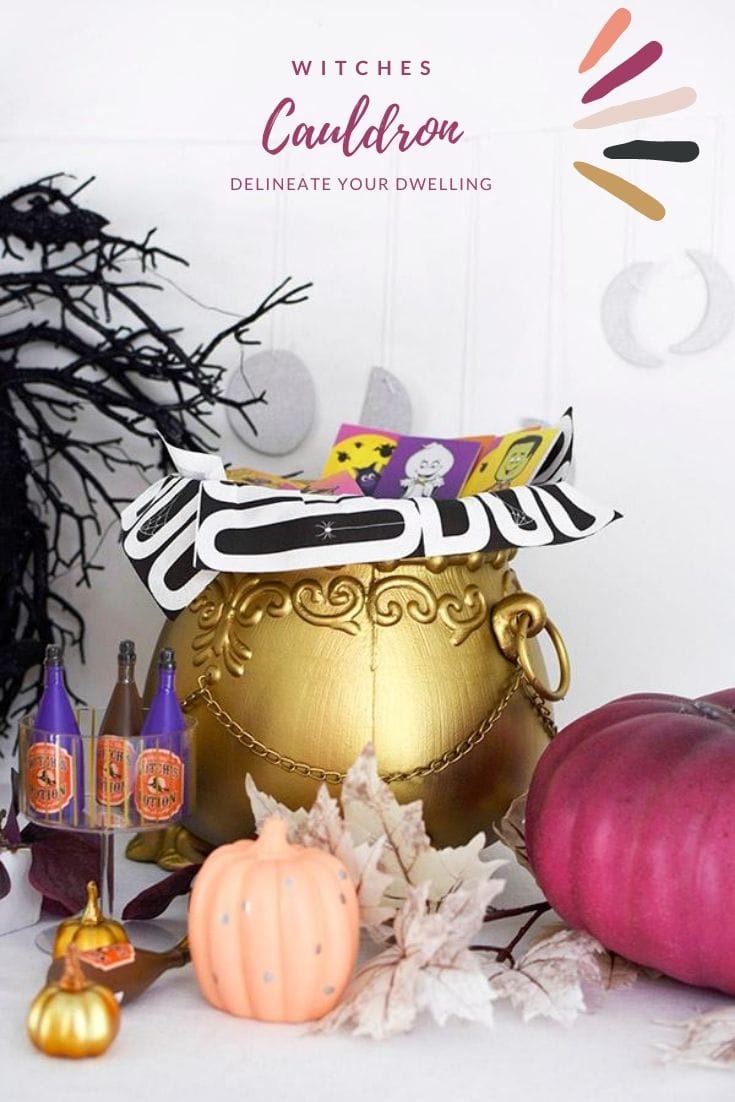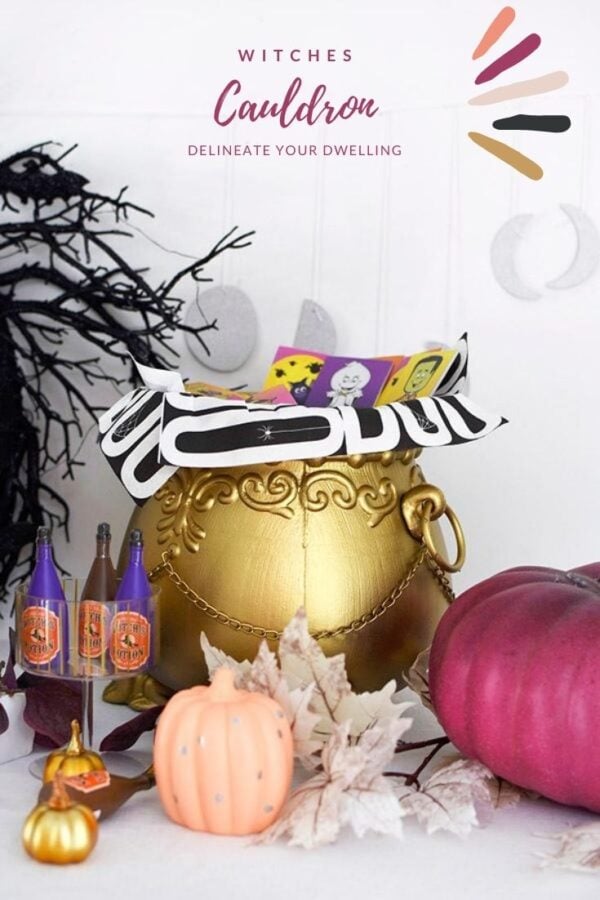 I also included a silver glittered Moon phase garland and a light-up Black Bat Wreath in the background. I think they are the perfect addition to the fall feel.
Looking to add some Fall Bats to your decor this year? Check out these fun ones…


Thank you to Oriental Trading for providing me with the supplies for this post. 100% of the opinions are mine.