Not only am I sharing my home tour with you today, but I am also sharing how to decorate your home for fall without spending more than $30!
If you are a regular Delineate Your Dwelling reader, you already know I decided to move outside the typical fall color scheme this year and am incorporating softer oranges, creams, whites, golds and pops of emerald green.
So without further ado, come on in and get cozy…
Many of the items on this mini gallery wall in my Entryway stayed the same. However, a few items were easily transformed to my new fall color palette with simple paint updates.
I updated the large wooden leaf with some gold paint and was surprised how an item I've had for years and was really getting bored with could take on a whole new look!
I made this geometric bean pumpkin so inexpensively using beans and glue.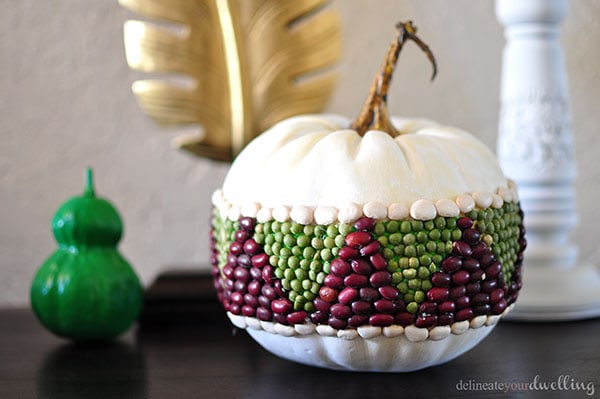 A gold charger plate painted with chalkboard paint I made at Easter, easily changes and shares a great Fall message.
As I mentioned on my Green Beaded Wreath DIY, I had just finalized and completed this fireplace scene. We had friends over for dinner and opened the windows to let the evening breeze blow through. A huge gust of wind came in and knocked everything to the ground, COMPLETELY DESTROYING all of it. I made mention of my Beaded Wreath RIP, but am happy to announce…
That after using 17 hot glue sticks and a few hidden toothpicks, I brought the wreath back from the dead! Who knew a foam form wreath could explode into 8 small pieces when heavy DIY chalkboards land on top of it. Surprisingly enough, with a bit of time, everything was repaired, glued, touch up paint and it was all as good as new.
After the glass shattered into a trillion pieces from the pictures frames I have shown below, I simply hot glued them together, added toothpicks to the back for some added stability and it became a unique sculptural piece.
Using pages from an old book and a stapler, I created this neural backdrop for my fall fireplace scene. The rock on our fireplace is exceedingly busy and this was a quick and easy way to create a blank canvas for my decor.
My tablescape is simple, easy and items I already had on hand. This year I can actually leave it out through the fall, even with my two young toddlers running around!
If you are still here, thank you for sticking around for this picture heavy post.
I hope you were inspired to see how you can transform items from your home to fit for any season without breaking the bank!
Be sure to browse below at all the other amazingly beautiful fall homes being shared this entire week during this blog hop!! And use #fallhometour on instagram and pinterest to see other great ideas shared, too.
Michelle Lea Designs
Southern State of Mind
Crafts by Courtney
SaveSave