INSIDE : Learn how to make a delicious and refreshing Cucumber Mint Moscow Mule, a slight recipe variation from the original Mule recipe!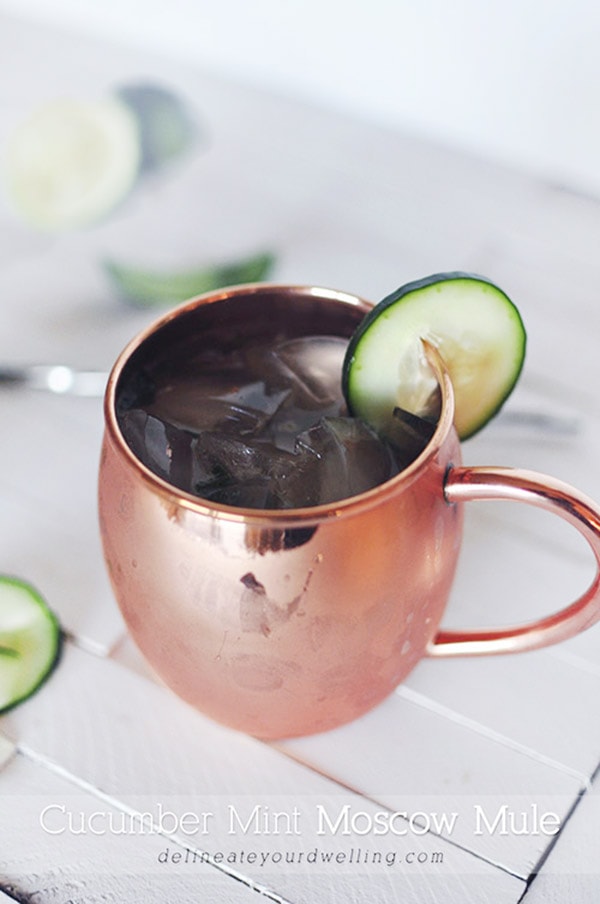 This post may contain affiliate links. See full disclosure here.
This post has been updated since it's original January 2015 publish date.
There is nothing quite like the refreshing taste of ginger beer. It's similar to ginger ale, but has a slight more ginger taste. I love drinking it any time I can and I also love making adult beverages with it!
It feels refreshing on a summer day and just as equally fitting in the fall time.
Does ginger beer taste like regular beer?
Ginger beer is a delicious non-alcoholic beverage. It's a stronger ginger flavor than ginger ale, which is probably a more common drink for most people.
It is brewed and fermented with a "spicy" finish. I think it is wonderful to drink on it's own. My favorite brand is Bundaberg Ginger Beer and I love the little brown bottles and pull tabs that they come in.
Ginger ale has a more mild, mellow flavor and is sweeter than ginger beer.
Beer is also a brewed and fermented beverage, but it contains alcohol and is more of an acquired taste for responsible drinking adults.
Ginger beer and regular beer taste nothing like each other.
What type of alcohol is in Moscow Mules?
Moscow mules are traditionally made with vodka, but not always. You can also use Gin in a Moscow Mule, which gives it a more piney flavor with hints of citrus and spice. You can use Bourbon, but then it becomes a Kentucky Mule or even Tequila, which makes it a Mexican Mule.
All delicious variations of the standard Mule.
Why are Moscow Mules served in Copper Mugs?
There are three main reasons why a Moscow Mules served in Copper Mug.
Temperature – Copper is a highly conductive metal, which means that a copper mug will quickly chill the drink inside of it, and keep it cold for longer.
Taste – Some people believe that the copper mug enhances the flavor of the Moscow Mule. This is because copper can react with the acids in the lime juice and ginger beer, creating a slightly sweeter and more complex flavor profile.
Appearance – Copper mugs are beautiful and add a touch of elegance to any cocktail. They are also very durable and can withstand a lot of use.
Today I am sharing the BEST Ginger Beer beverage you'll ever have, a Cucumber Mint Moscow Mule.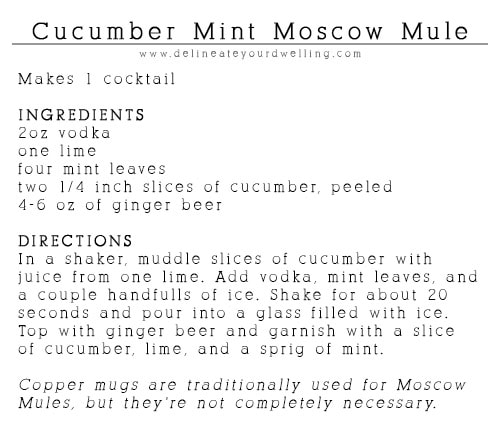 Over the holiday, my mama gifted me four Copper Mugs for Christmas and I was so in love. My brother in law, B Rigg, became our mixologist and I was quite thrilled when he handed over this tasty drink in my new copper mug.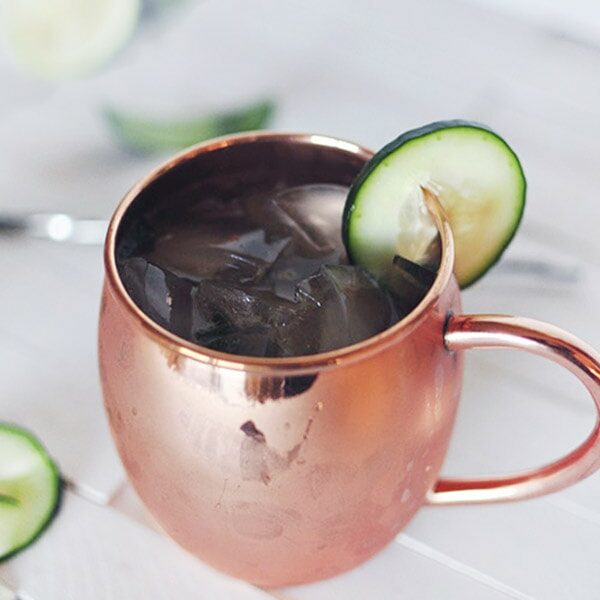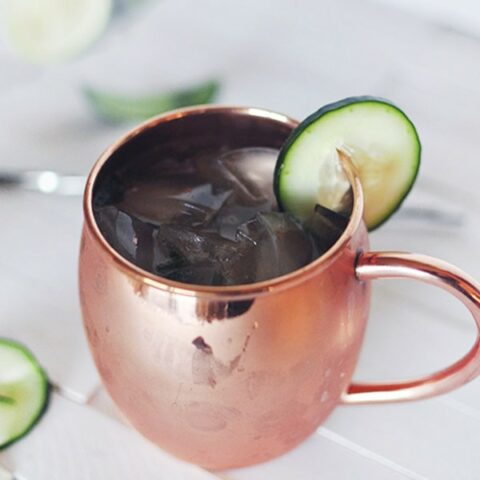 Cucumber Mint Moscow Mule
Learn how to make a delicious and refreshing summer time Cucumber Mint Moscow Mule – slight recipe variation from the original recipe!
Ingredients
2 oz. Vodka
1 Lime
4 Mint Leaves
2-3 slices of Cucumber
4-6 oz. Ginger Beer
Cocktail Tools Needed
Instructions
In a shaker, muddle slices of Cucumber with juice from one Lime.
Add Vodka, Mint leaves and a few handfuls of ice. Shake for about 20 seconds.
Fill Copper Mug with ice. Strain and pour drink into mug.
Top with Ginger Beer and garnish with Cucumber Slice, a lime wedge and a sprig of Mint.
Enjoy!
Notes
Copper Mugs are traditionally used for Mule beverages, but they are not necessary.
Nutrition Information:
Yield:

1
Serving Size:

1
Amount Per Serving:
Calories:

567
Total Fat:

1g
Saturated Fat:

0g
Trans Fat:

0g
Unsaturated Fat:

0g
Cholesterol:

0mg
Sodium:

70mg
Carbohydrates:

113g
Fiber:

6g
Sugar:

100g
Protein:

3g
It's everything I love in a light refreshing (alcoholic) beverage. I honestly decided to grow cucumbers and mint in the garden this next year, JUST so I can have all the ingredients at a moment's notice.
Looking for some other delicious adult beverages? You might like these: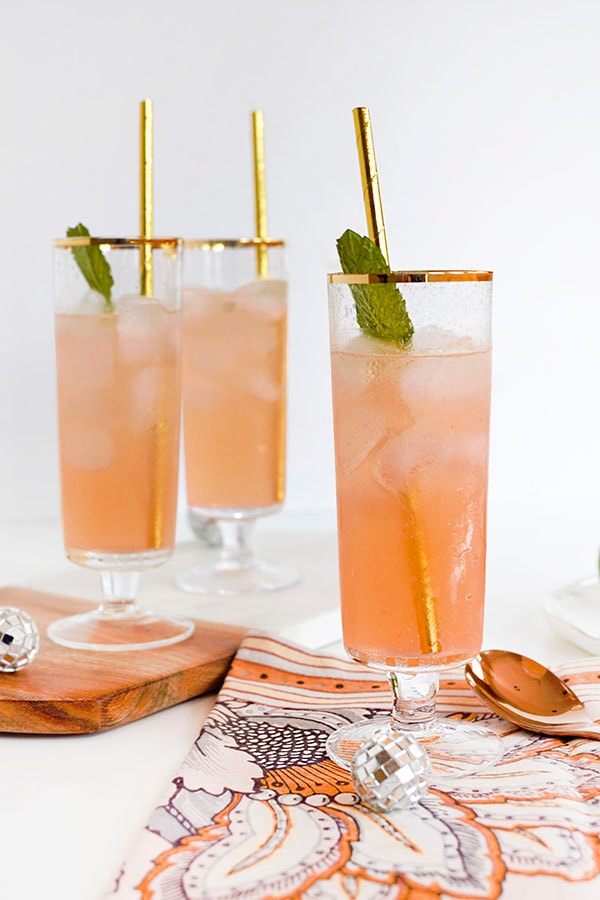 Fall Apple Cider Moscow Mule
SaveSaveSaveSaveSaveSave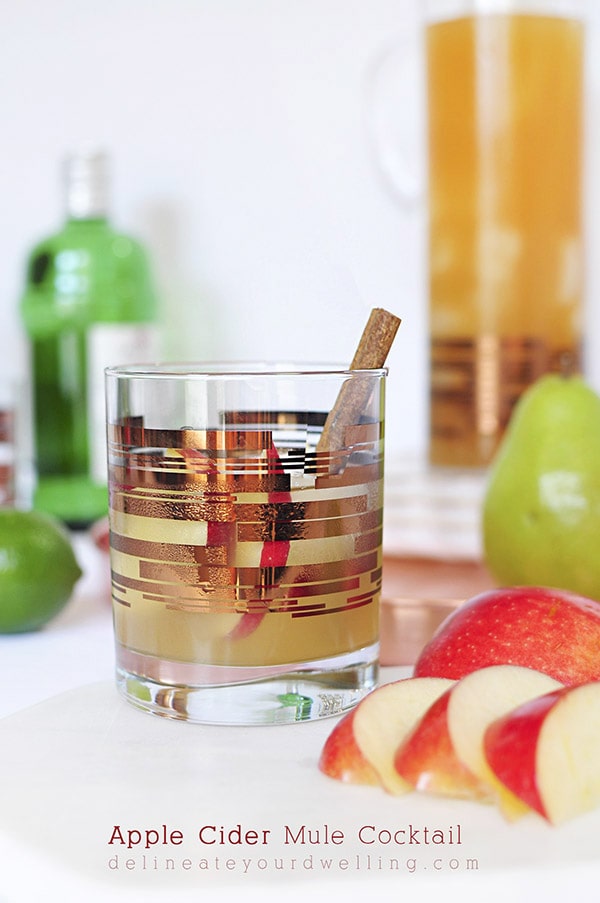 Round up of Delicious Moscow Mule drink recipes