Who says ornaments are only for Christmas?!! Not this lady. I had a few spare frosted glass ornaments leftover from Christmas and decided they needed a cheerful makeover. Check out how easy and FUN it is to make Colorful Glitter Valentine's Ornaments.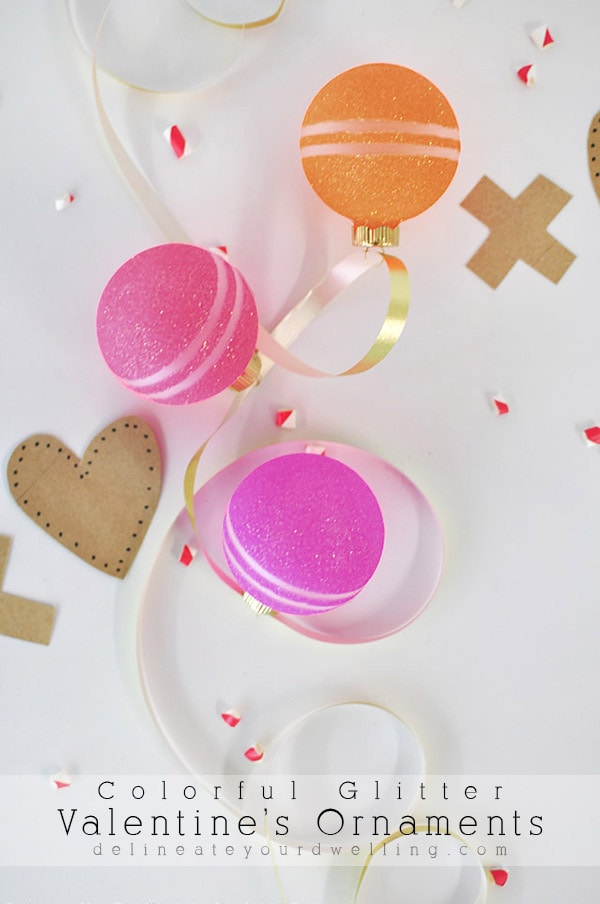 This post may contain affiliate links. See full disclosure here.


Frosted Glass Ball Ornament

Martha Stewart Neon Glitter

Paint Brush
Martha Stewart Patterning Tape

Martha Stewart Crafts Glitter Glue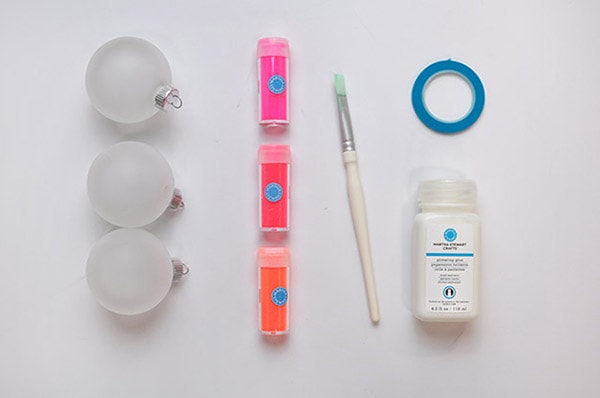 Looking for more creative Martha Stewart projects? Check out the 20+ crafts I've made using her amazing supplies!
I love simple DIYs and this quick project is so simple. It can be done with any color of glitter, so if bright and bold are not your go to colors, you could do a group of blues or greens. I went with cheerful color for Spring and since it's almost the month of loooooove.
First, using Martha Stewart Patterning Tape
, create a ring around the entire ornament. I didn't measure, but as I went just kept a close eye on the distance as equal as possible. Then, I added another line of tape. Be sure once your tape is applied to push hard along the edges for a crisp clean line.
Next, gently remove the metal top to keep it clean and for ease while adding glue + glitter. Then, apply a generous layer of Martha Stewart Crafts Glitter Glue
to the entire ornament.
Once the entire ornament is coated with glitter glue, hold over a paper plate or another container and start sprinkling on the glitter. Do not be afraid to nearly empty an entire glitter container on one ornament. After the ornament is sufficiently covered, set aside to dry and pour all remaining glitter back into container.
Allow for adequate dry time.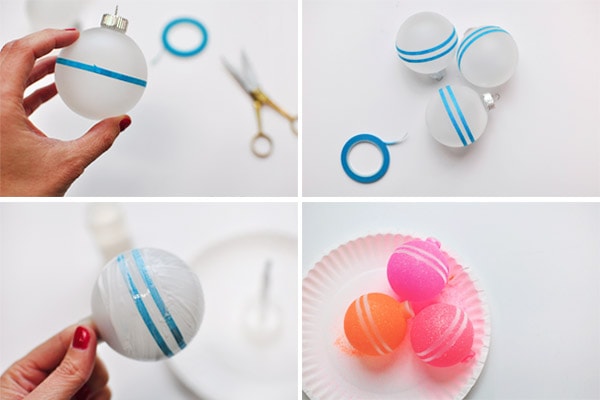 Once the glitter and glue have dried, it's time to remove your tape. I noticed in a few spots the glitter started to pull up when I was removing the tape. So, I went around the tape quickly with an x-acto knife to score the glue and the remainder of my lines were perfectly straight.
Looking for more amazing Valentine's Day projects? You'll love these fun ideas.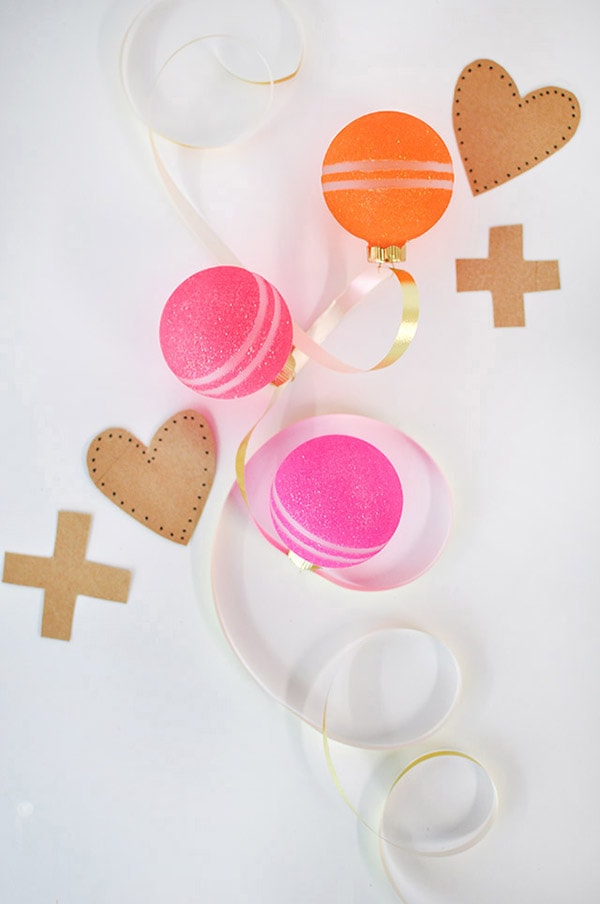 I love the glimmer these colorful ornaments now have.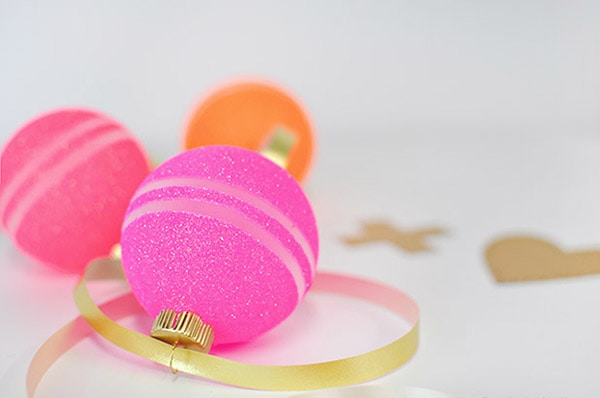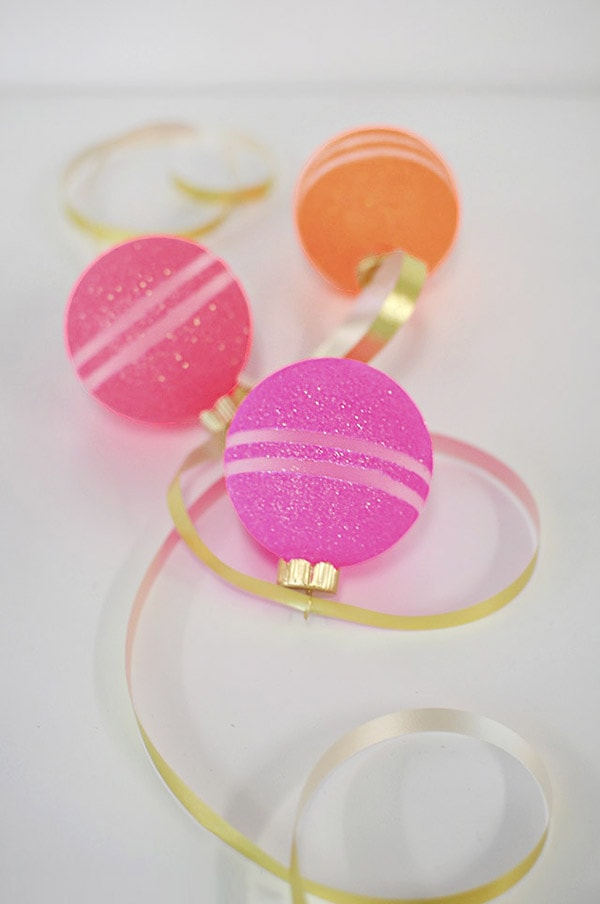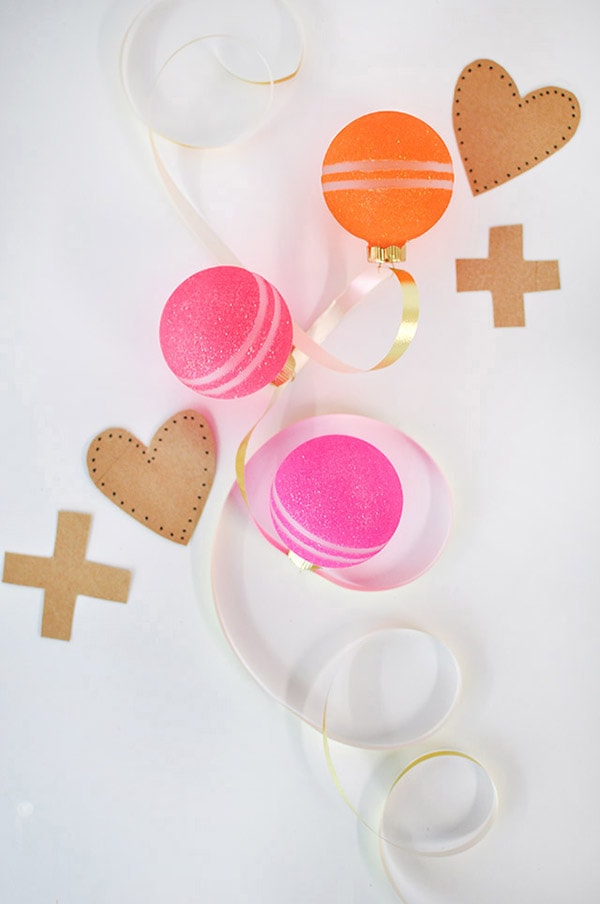 From the cheerful colors and soft glimmer from the glitter, these are the perfect item to set around your home this upcoming Valentine's Day season!
If you liked this projects, you may enjoy a few of my other Valentine's Day projects!