INSIDE : Learn how to make easy, fun and entertaining Homemade DIY Sidewalk Chalk Paint with your kids this summer! Plus, it washes right off for simple and easy cleanup. Mom win!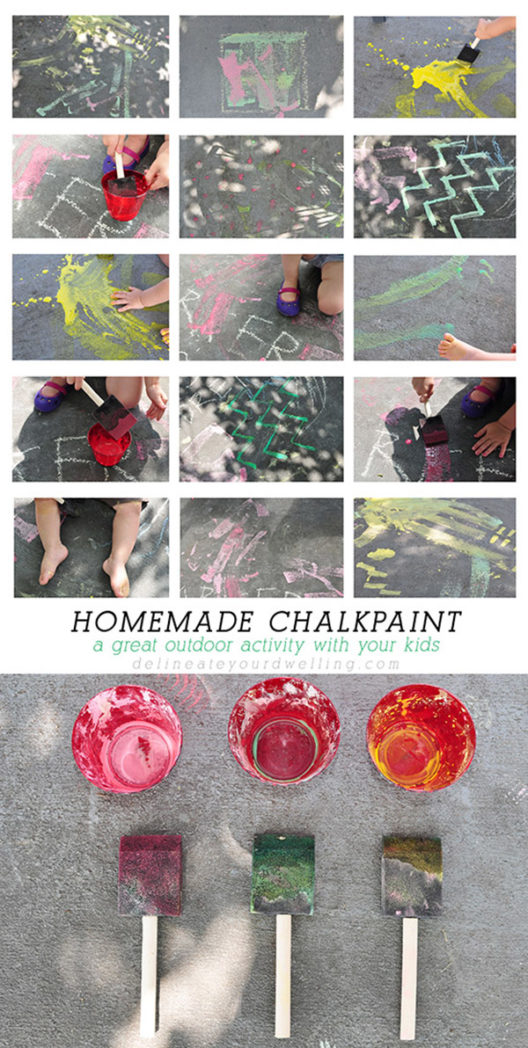 This has to be one of the easiest and quickest recipes I've whipped up to entertain the kiddos in a while. And the entire time, my oldest kept squealing, "More painting, mama! More painting!" Today I am sharing how to make Homemade DIY Sidewalk Chalk Paint for endless hours of fun for children.
This post includes affiliate links. See my full disclosure.
The ingredient list is so simple, which makes me one happy mama. I have a feeling we will be doing "more painting" all summer.
What are Ingredients for Homemade Chalk Paint:
2 tablespoons of Cornstarch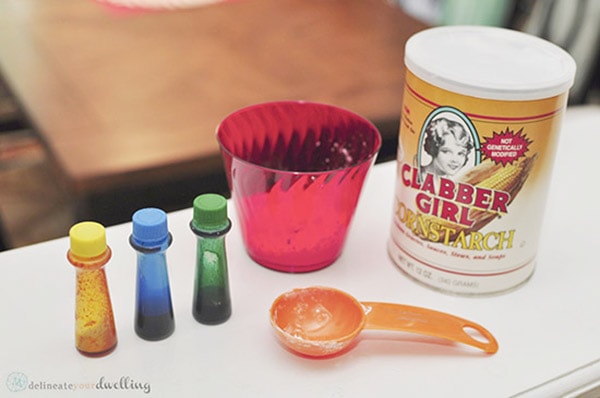 Are you ready for the
Homemade Sidewalk Chalk Paint directions
? Grab some paper and a pencil. Okay, let's get into it.
First, using a small mixing bowl, pour in roughly 1/2 cup of cornstarch. Next, add about 2/3 cups of water and mix.
You can do equal parts cornstarch and water, but you will find the mixture is more chalky than "paint like". Your kiddos will need to keep dipping their brushes into your mixture to achieve a "painted sidewalk" look.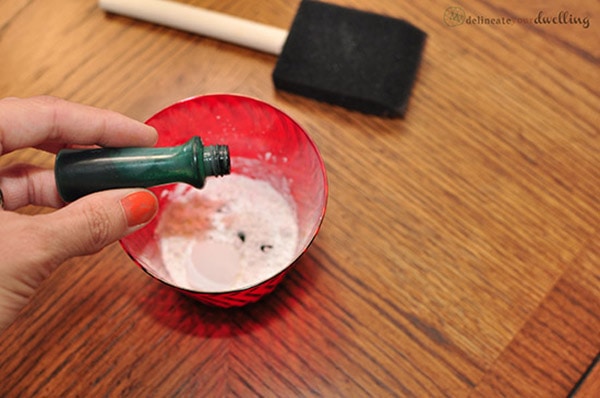 Finally, pour equal parts of your cornstarch and water mixture into disposable cups or even plastic tupperware. You can add
food coloring
to each cup until you have your desired colors. Note: The chalk paint will dry much lighter on the sidewalk than what you will see in your cup.
This is what our chalk paints looked like once we had done all the mixing. The paint colors are so lovely and vibrant!

Did I mention the entire thirty seconds it took to make this sidewalk chalk paint, both my kiddos were standing at my feet screaming? Why is it whenever you are preparing for something fun, they act like wild animals? I swear they can sense that kind of thing – ha.
But on the plus side, this is a really quick project to mix up and in no time at all, your kiddos will be having fun outside.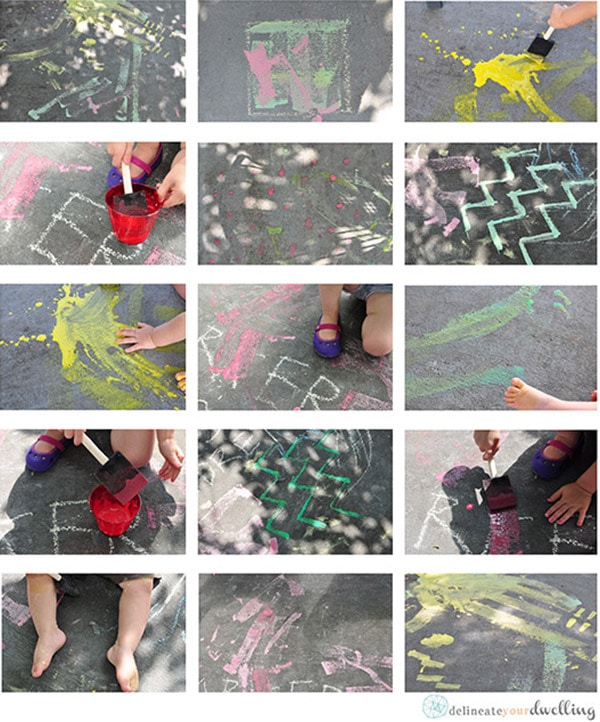 What to do with Homemade Sidewalk Chalk Paint:
Using sponge brushes (or any type of brush you would like to give free reign over to with your child), you can create all kinds of patterns and shapes with your Sidewalk Chalk Paint. My younger guy just painted on everything in random kiddo squiggles. My daughter was a little more interested in creating patterns and basic shapes.
Once we were outside, my kids both had sun a fun time! It was really neat to see how it painted on wet looking and as it dried, it looked just like regular chalk.
Since they somehow ended up getting it on themselves, their clothes, the outdoor table and chairs AND the grill… I was quite relieved to see it cleaned up with no trouble after spraying some water on everything with the garden hose.
Empty cups, equal we used up every little bit of chalk paint.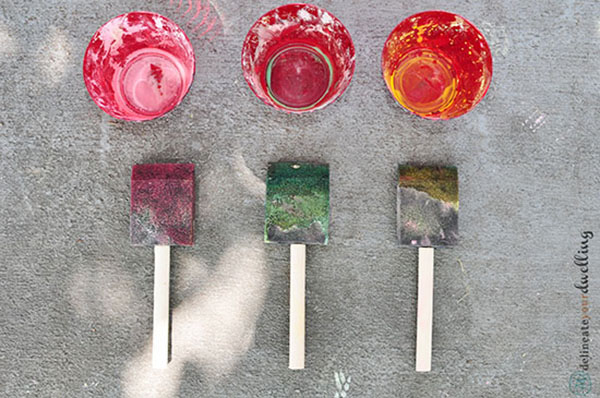 What fun crafts will you be doing this summer with your children?
And if you are looking for more kiddo fun, you might be interested in:
SaveSave
SaveSave
SaveSave
SaveSave
SaveSave
SaveSave
SaveSave
SaveSave