As mentioned in my earlier, Fun with Fish post, we just celebrated Kiddo #2's very first birthday about a month ago.
Similarly to his older sister, I wanted a fun theme for his birthday celebration, even though it was just family attending. After endless Pinterest searching and much back and forth, I finally decided on a fish theme. Now, I'm not one to head to a party store and buy up the "birthday" section so, I started my search for all things blue (water) or polka dot (fish bubbles) early.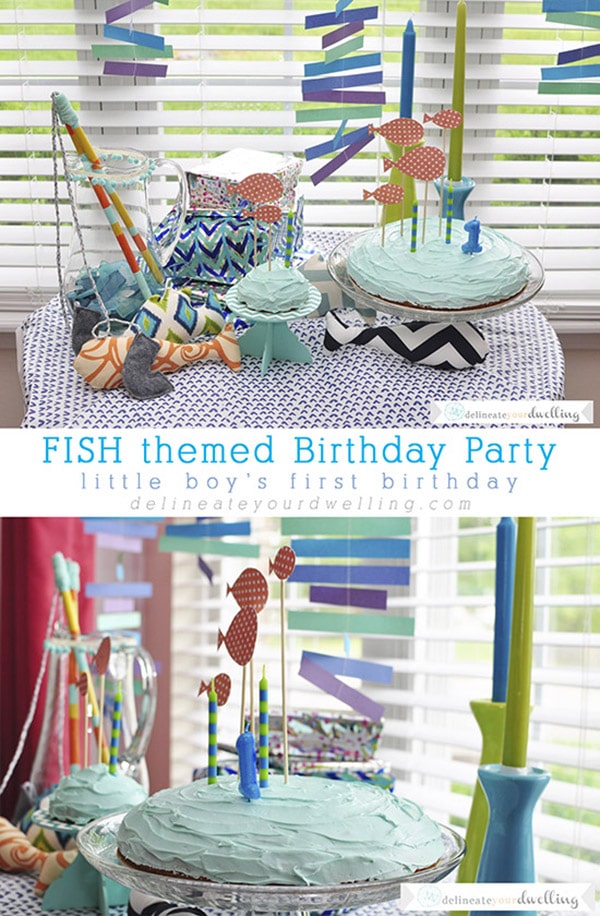 I had such fun finding little items here and there that went with his fish theme. Most everything I found was of course from Target. (This is not a paid endorsement, it just happens that I could survive off all things Target related.)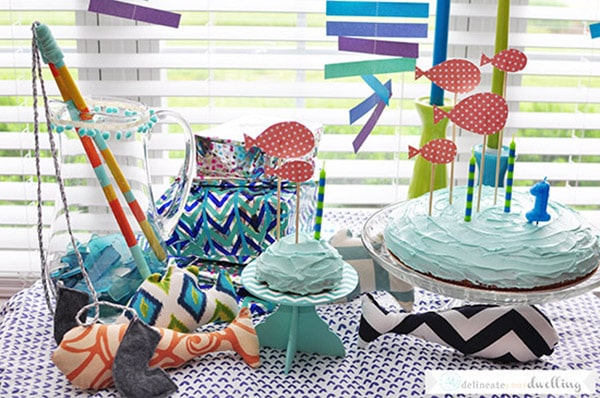 I found these adorable paper garland which I had planned on making myself, but come on, at $2 a piece how could I not pass it up. I think it was a fun way to emulate the way the sun shines underwater in shades of blue and purple. I bought two and they were each about 7′ long. So we cut them in half and were able to get two for the price of one!
The homemade Fish with poles were such a hit. Check out my earlier
Fun with Fish
post on the how-to's.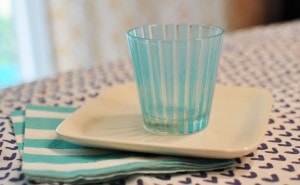 The Marimekko tablecloth was a steal. It's made of a thicker cloth like material so I'll definitely be holding onto this for future parties. The napkins, plates and cups were too great. I loved all the different patterns and shades of "underwater" blue I was able to find.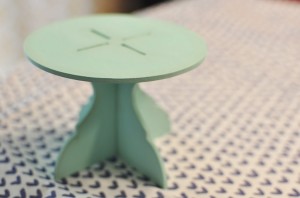 I am a member of
The Plain Barn
(
free membership
) and get daily 'craft deal' emails sent to me. A month or so prior to Kiddo #2's birthday, they were selling cupcake and cake stands in plain brown. I bought one of each size and then painted the cupcake stand. This ended up holding Kiddo #2's smash cake. Then, I simply traced the top circle and cut out a cute chevron paper for the cake to sit on. (
The chevron paper is not shown in this picture.
)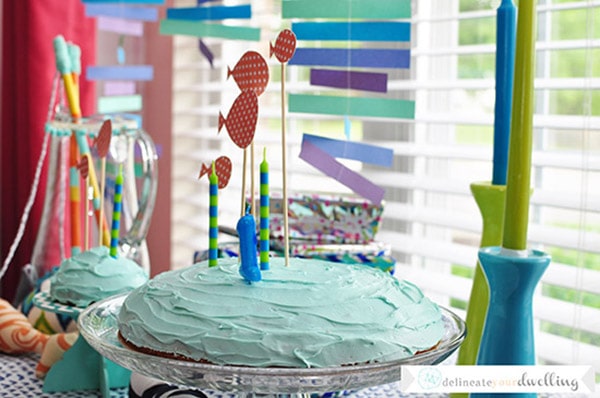 I made a Butter Pecan birthday cake (Lets face it, I eat WAY more cake than Kiddo #2 so it had to be a flavor that mama loved, ha). I have learned my crafty limits and my limit is at decorating cakes. I attempted to decorate Kiddo #1's cake since all my girlfriends make these unbelievable fondant character cakes that look better than life. I can honestly say, it was so-so to poor. Nothing wrong with knowing our limitations.
So, this cake had lightly blue dyed frosting with a little "wavy" thing going on. To keep with the fish concept, I cut out a few fish from orange polka dot paper and taped them to wooden squewers. Easy peasy.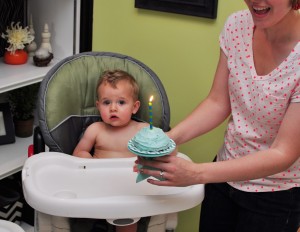 Cake time (Note the chevron paper).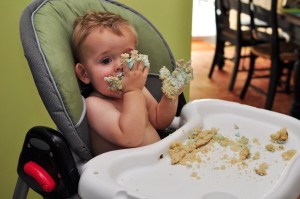 I think he likes cake.
Have you recently put together a few DIY items for a birthday celebration? Pass them along, I'd love to be inspired!
SaveSave
SaveSave
SaveSave