Raining Down Love themed Baby Shower
INSIDE : Learn how to plan and create the perfect "Raining Down Love" themed Baby Shower for that special expecting mama! Plus, a few ideas for party nursery decor.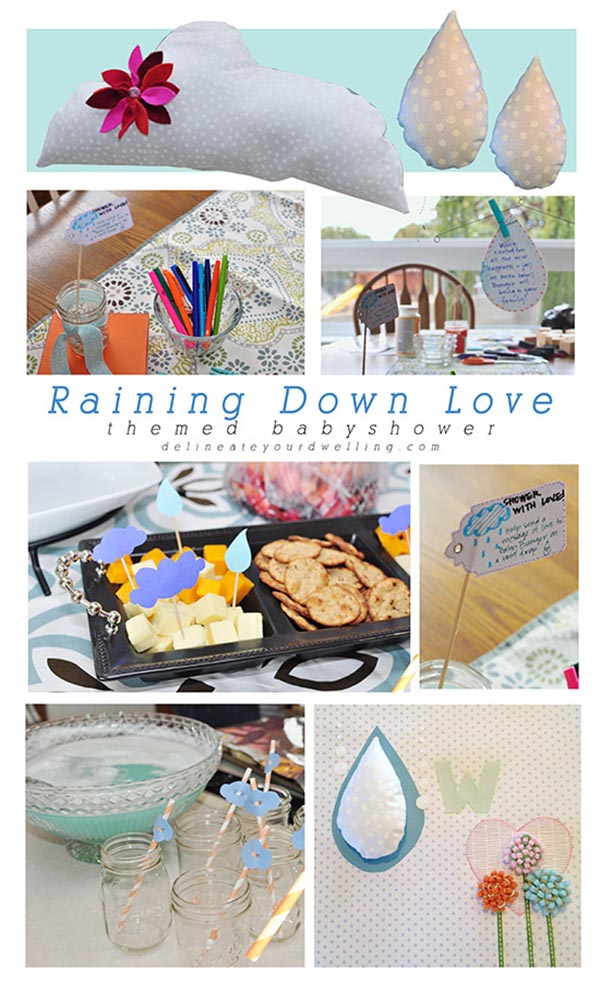 About six months ago, myself and two other lovely ladies, Liliana + Kaitlin, started planning for a sweet friend, Nicole's baby shower! We agreed upon Raining Down Love themed Baby Shower and the ideas started flying.
I might mention that all three of us are a little Pinterest crazed so sometimes we had to reign in the ideas, but it was great fun nonetheless.
I designed the invitations that we sent out, including a little washi tape RSVP card. This invitation design is for sale at Delineate; paper.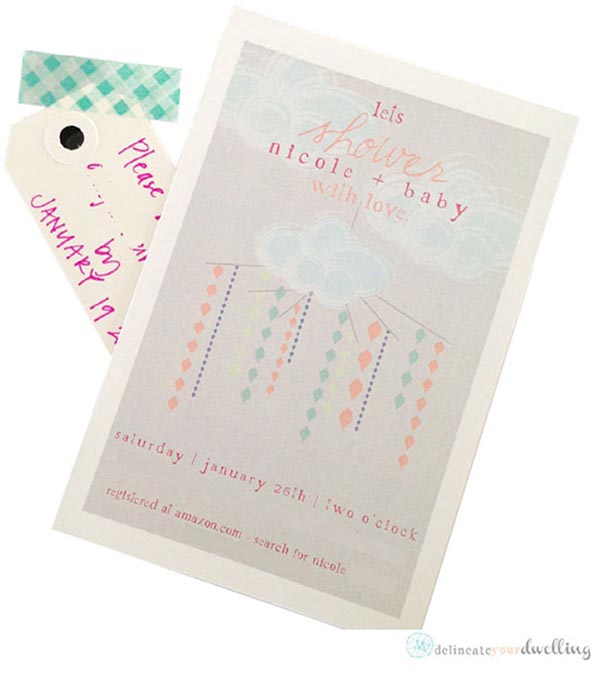 The jumping off point for us deciding to go with this theme was based off the idea of making a cloud mobile. One of the activities at the shower was to have attendees write words of love and encouragement on small paper raindrops, so words of love would literally be raining down on baby N.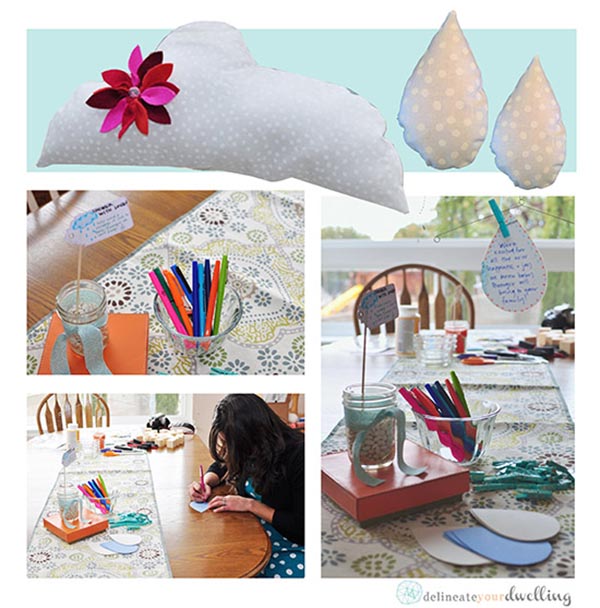 I am not the greatest seamstress around, so even though this is a very simple sewing project, it took a lot of planning for me to get it just right.
Personally, I can't get enough of fabric banners. You can mix and match all types of fun fabrics together and they. always. look. adorable. This one took me maybe an hour to make and I am pretty sure I was watching something like Breaking Bad with the hubs during it. Hey, some of those episodes were high suspense and I needed a little craft to keep me distracted.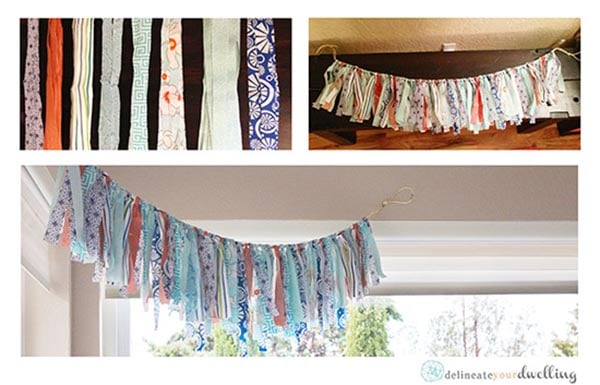 Some of our other baby shower decor.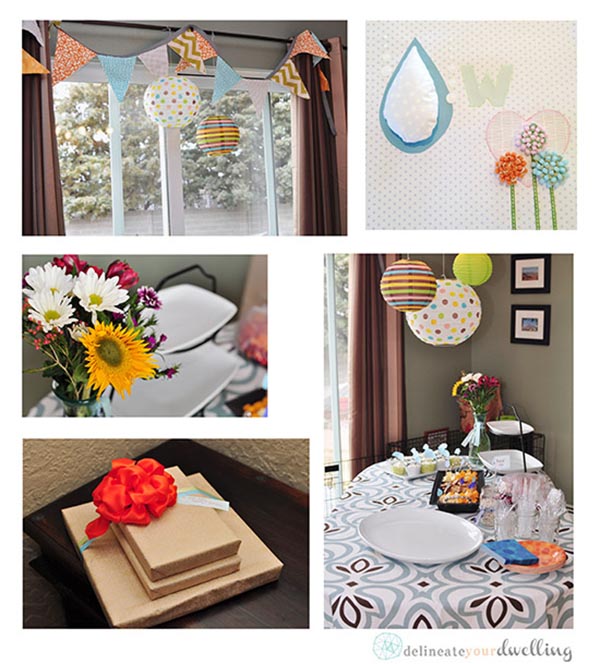 Another wonderful idea was to create personalized wooden blocks as a baby shower craft activity. This turned out to be such fun and everyone truly did an amazing job.
Kaitlin's husband is a master craftsman, specializing in wood so he was able to easily cut us some blocks, but a set of 12 could also be purchased at your local craft store. At the shower we then, decorated the blocks with stickers, markers and an assortment of craft paper. Using Modge Podge we glued them to the blocks and then I applied a final coat of modge podge after the party to insure that all the lovely stuff would stay put.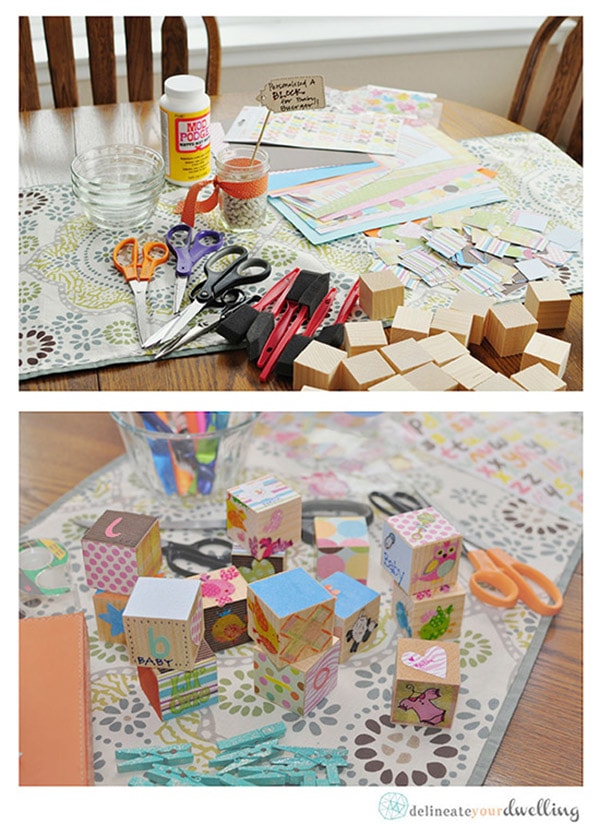 And what party would be complete without mason jar hand-drawn tags. Love them.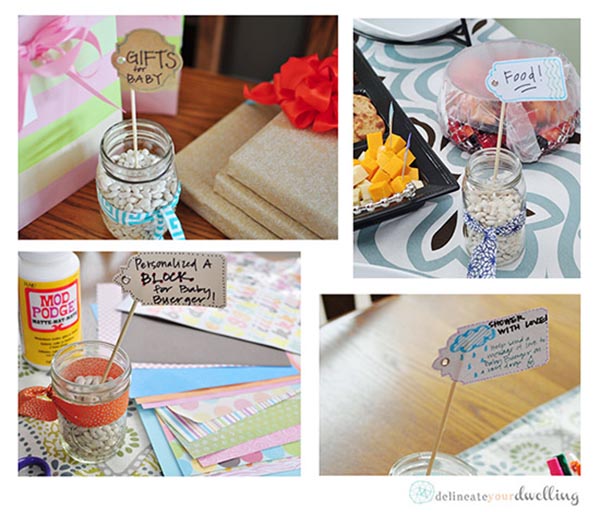 We had a feast of foods and everything was so perfectly decorated with our theme.
(I didn't get a picture of the full food spread, but take my word. It was delicious.)
.
Raindrops and cloud picks in our cheese tray.
.
Adorable umbrellas in our cupcakes.
.
Cloud straws in our "rain" blue punch.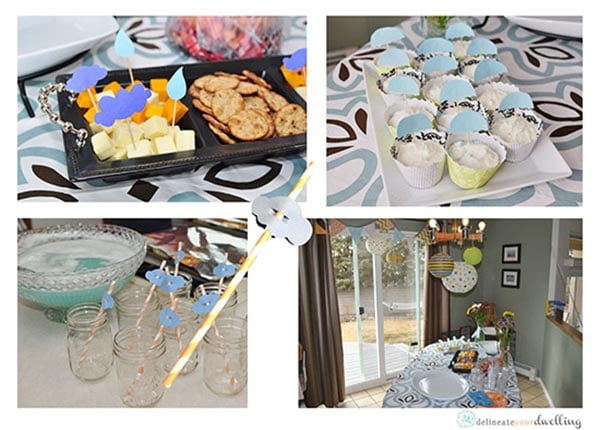 Okay, who is ready to have another baby so I can plan your baby shower?! I'm ready, are you?
SaveSave