INSIDE : Learn how to create gorgeous DIY hanging Prisma Wall decor from simple paper straws! You will love how these dangle and twirl in your room.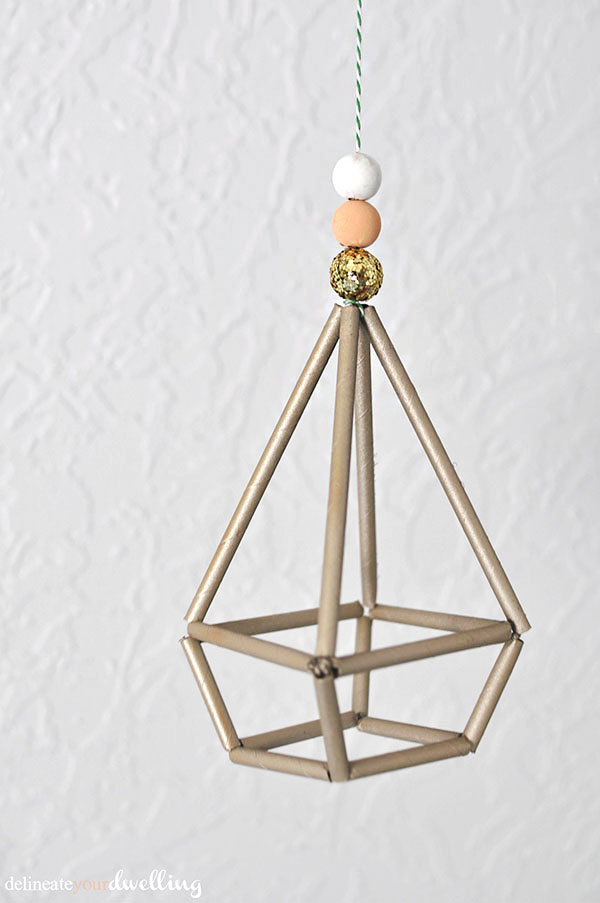 This post may contain affiliate links. See my full disclosure.
Today is our Knock Off Knock Out inspiration day! Our inspiration store this month is Urban Outfitters. The first of each month, five bloggers all share a knock off project from a pre-selected home decor store. Be sure to check at the bottom of this post for the other amazing projects from Urban Outfitters.

My first month's project was West Elm (see my Abstract Geo print here). The second month's project was Zara Home (see my Fruit and Flower picture frame here).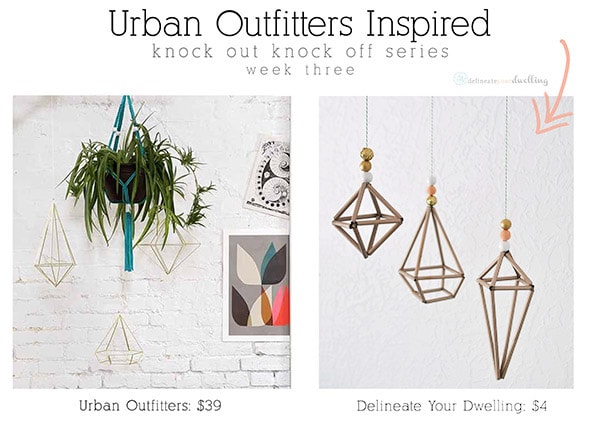 Who doesn't love Urban Outfitters? Even if you're not a fan of their clothing line, you have to admit… they've got some serious great home furnishings. And their rugs, oh my they are good!
For this knock off, I was inspired to try and recreate their Prisma Wall Decor or himmeli sculptures as many people know them. The price tag for this set of three was $39.00 but I knew I could make them for much less…. much much less.
What supplies do I need to craft a hanging prisma wall decor piece?
Paper Straws
Colorful Twine
Scissors
Gold Spray Paint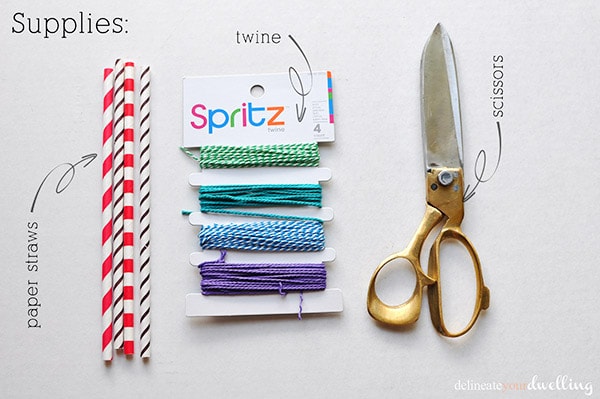 I was surprised, the steps to creating these himmeli sculptures are fairly easy. I am sharing today how to create the simplest of the three that I made.
How to make DIY hanging Prisma Wall Decor:
1. Cut four paper straws into thirds. String one entire straw onto your twine and knot to create a triangle shape.
2. Add two additional straw sections and create another triangle, then knot.
3. Continue adding two straw sections and knotting unil you only have one straw section left. Tie that last straw section back to your very first leftover twine from step one.
4. This is how your straw soon to be hemmeli sculpture should look.
5. Take a long piece of twine that you plan to hang your sculpture from and knot the two flat triangles (from image four) together.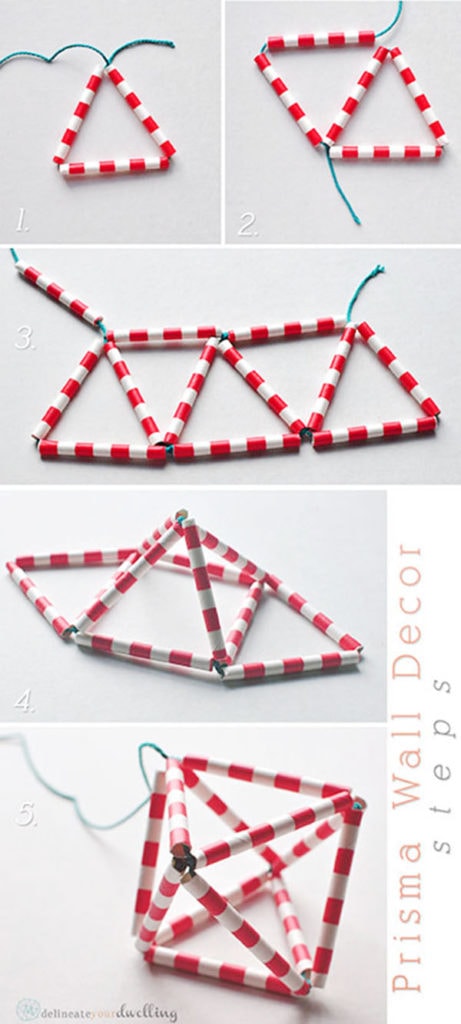 Once my sculpture was complete, I spray painted my straws with a primer + paint combo to get rid of the straw stripes.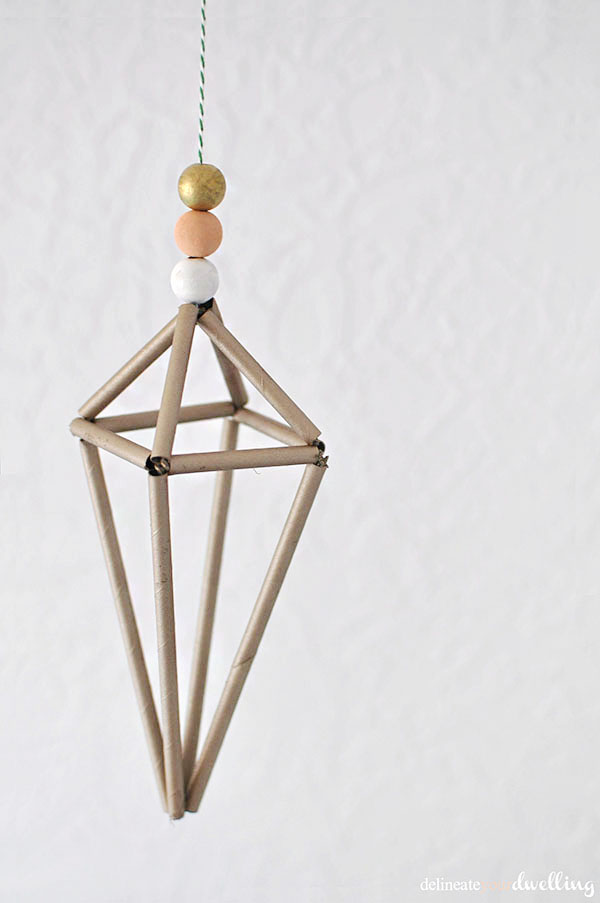 Simply looking at Urban Outfitters image, I was able to figure out how they made the two additional shapes. It was a very similar process.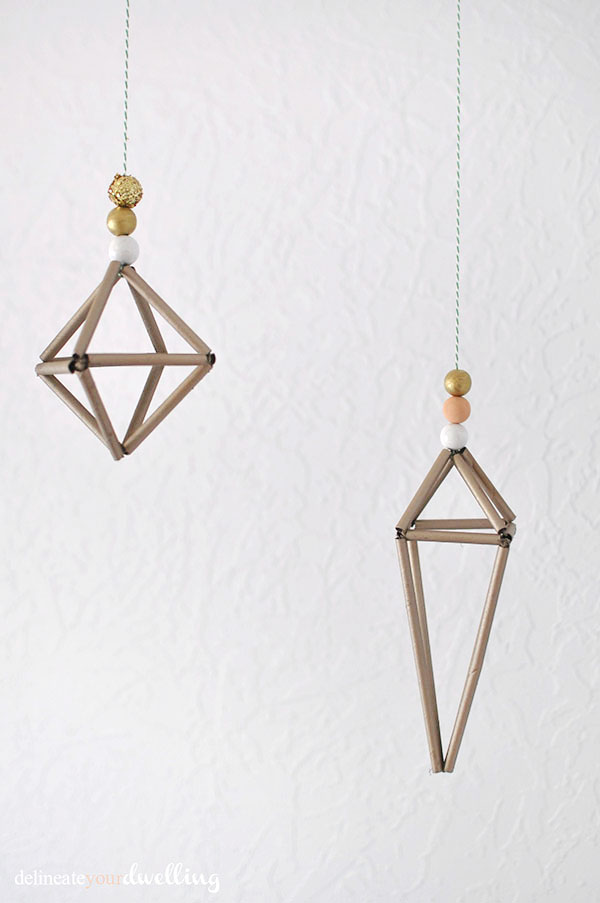 I painted a few wooden balls and added them to my sculptures for some added color and texture.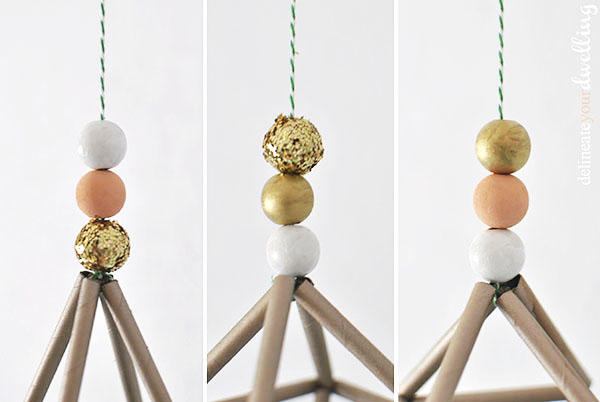 I stated in the very top graphic that Urban Outfitters is selling these for $39 and mine were $4, but… I actually owned every supply that I used, so really this was a ZERO cost project for me. However, if you needed to buy the supplies, it would be about $4. Still, such an amazing deal!!
Be sure to check out the other amazing ladies in this series!
A. The Gathered Home
B. Delineate Your Dwelling
C. Bigger Than the Three of Us
D.
E.Upcycled Treasures
F. Designer Trapped in a Lawyer's Body
You can see my other Knock Off Knock Out projects here!
SaveSave
SaveSave