INSIDE : Learn how to decorate a Polka Dot Mason Jar Easter Basket this Spring! Hide chocolate bunnies and eggs in your mason jar, fill with some shredded green paper and you have the perfect table decor.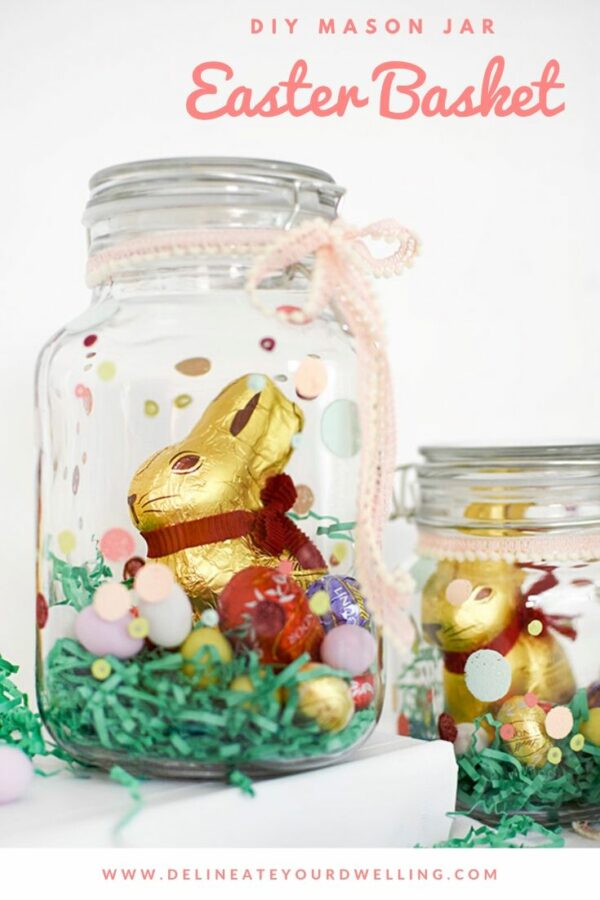 This post may contain affiliate links. See full disclosure here.
As Easter is getting closer, it is fun to have tasty chocolate treats sitting out… but sometimes using a basket is a little TOO MUCH of a temptation! Before you know it, all your chocolates are gone. I decorated a few different sized Mason Jars and being able to close the lid really helped us enjoy the decor, but eat everything a little more slowly!
What supplies do I need to make a Mason Jar Easter Basket?
Mason Jar (multiple sizes)
Acrylic Paint
Paint Pouncers
Ribbon
Shredded Green Paper
Large Chocolate Bunny
Small Chocolate Bunnies
Mini Chocolate Bunnies + Ducks + Sheeps
How I make a Polka Dot Mason Jar Easter Basket?
Start by picking your acrylic paint colors. I used lots of fun Spring cheerful pastels paints and then mixed in a few darker shades, too. Using a paint pouncer in different sizes, add polka dots of paint all around the Mason Jar.
Note, the area where you should like to see your inside chocolate bunny – leave that area more clear from paint.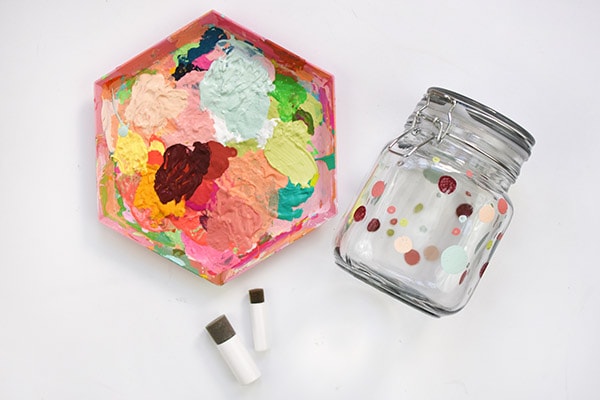 After the paint has dried, you can fill the bottom portion of your jar with shredded green grass.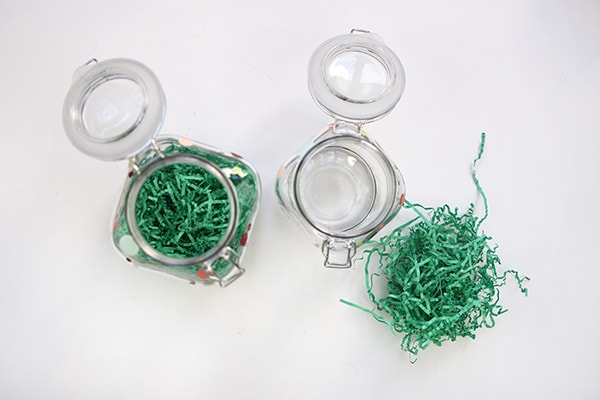 Next, get out all your tasty chocolate treats and prepare to put them in your jar. I did a lot of placing and rearranging to make sure the large Chocolate bunny was most visible from the outside. Then I placed the mini sized bunnies , ducks and sheep.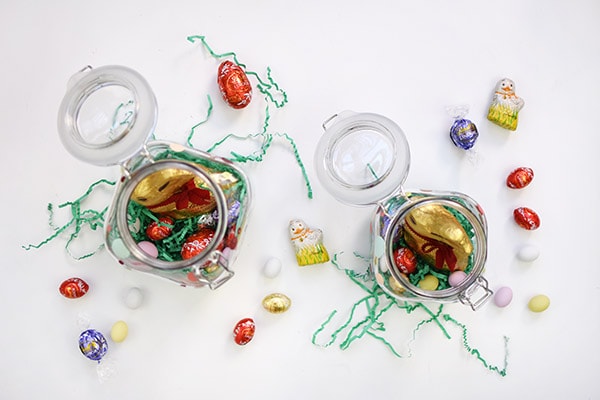 Once I had a few jars painted and filled, I tied an elegant peach ribbon around each of the Mason Jars. Next, stack the jars on a few different heights and you can create the most lovely little Bunny season this Spring season.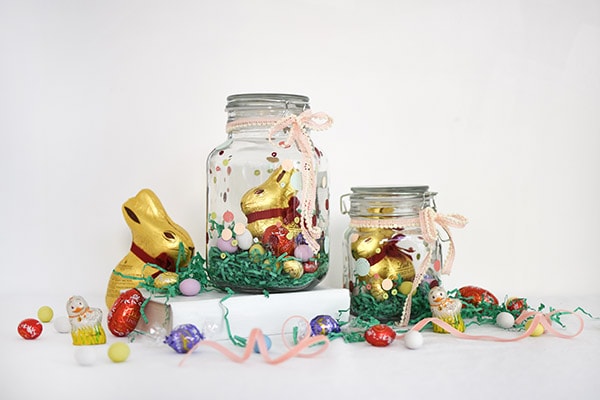 We made these and set them out on our kitchen counter for weeks last year. I just loved how many sweet treats they held all the while, looking so adorable – too!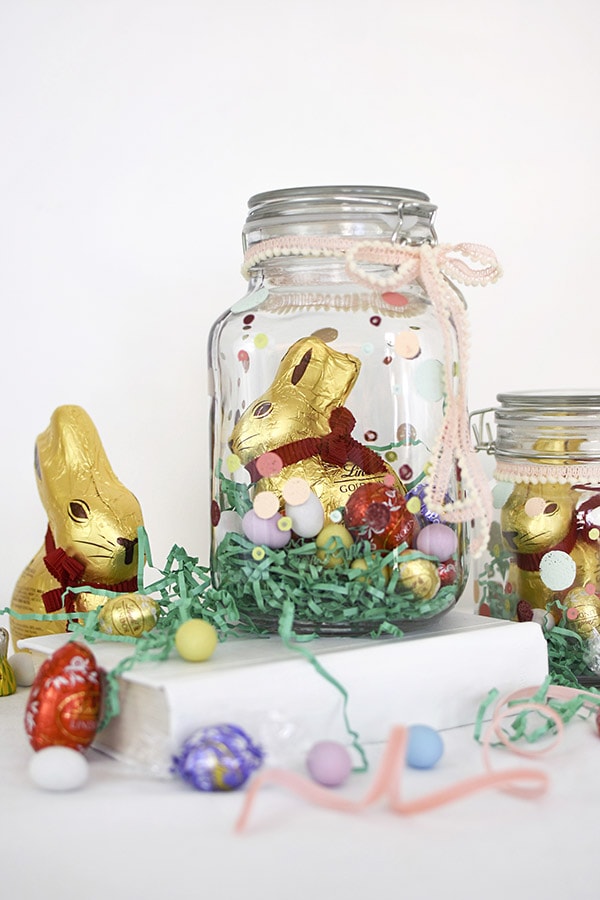 And the best part, is you can hang onto your Mason jars each year to keep the tradition of making your little chocolate bunny Easter extra special.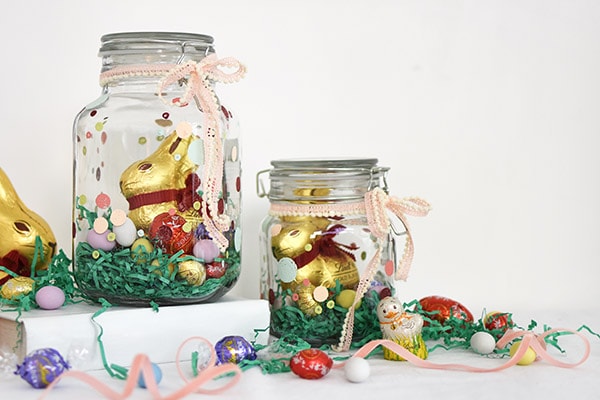 Love this fun project, don't forget to pin for later!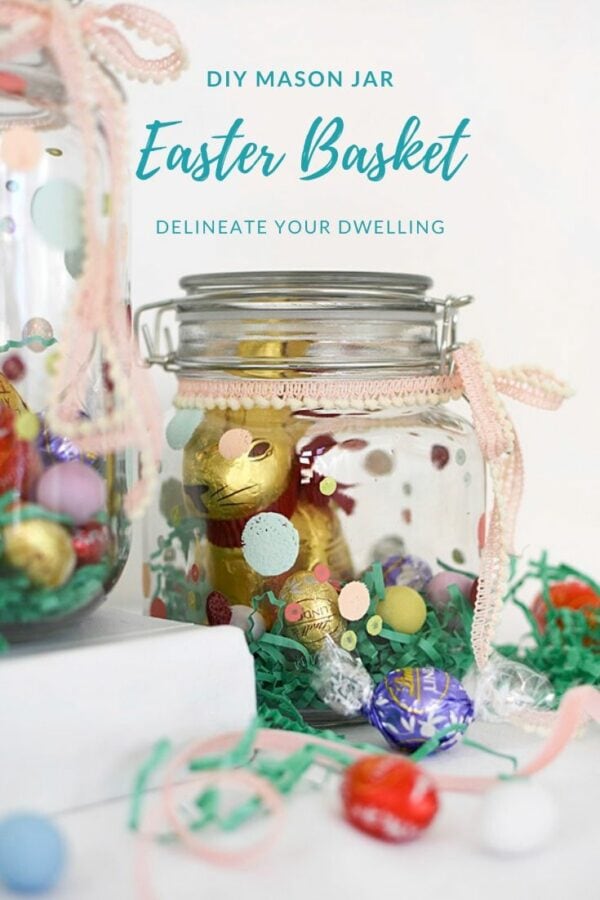 Looking for a few other Easter Baskets?