INSIDE : Learn key things to decide for the best height, style and material for your island chairs. Get tips for picking the right Kitchen barstools at your counter.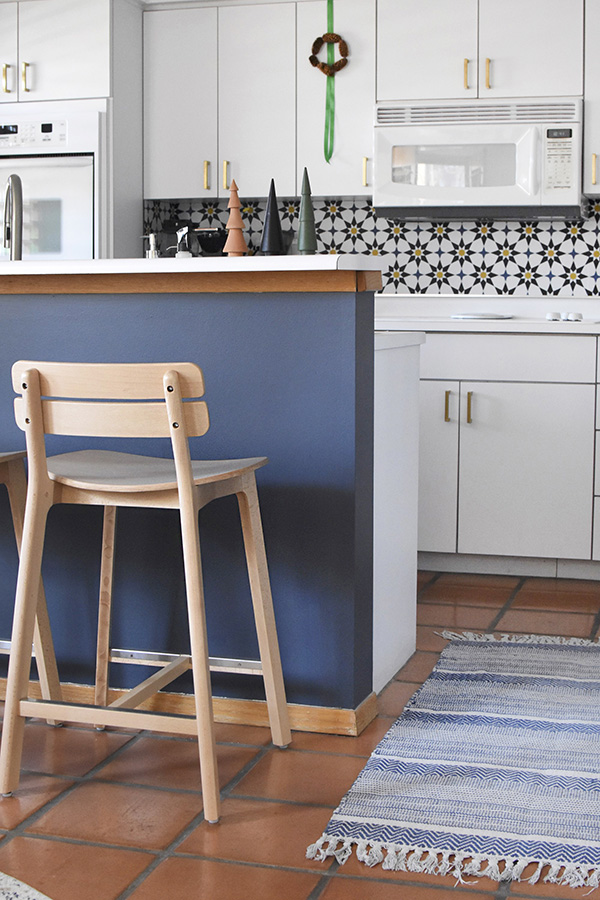 I have been on a three year barstool hunt. I always see barstools in other people's homes, on Pinterest or Instagram and think – WOW. Those look so good, but there is something that always makes me hesitant to take the plunge.
There are five criteria I tried to consider to make sure the chairs or barstools or counter stools would work for our space.
1. How high should barstools be for a kitchen island?
Did you know there is a big height difference between bar and counter stools? Counter stools fit under a 36″ high counter and barstools fit comfortably under 42″ high countertops.
So it is very important that you measure your counter height before you even start your search.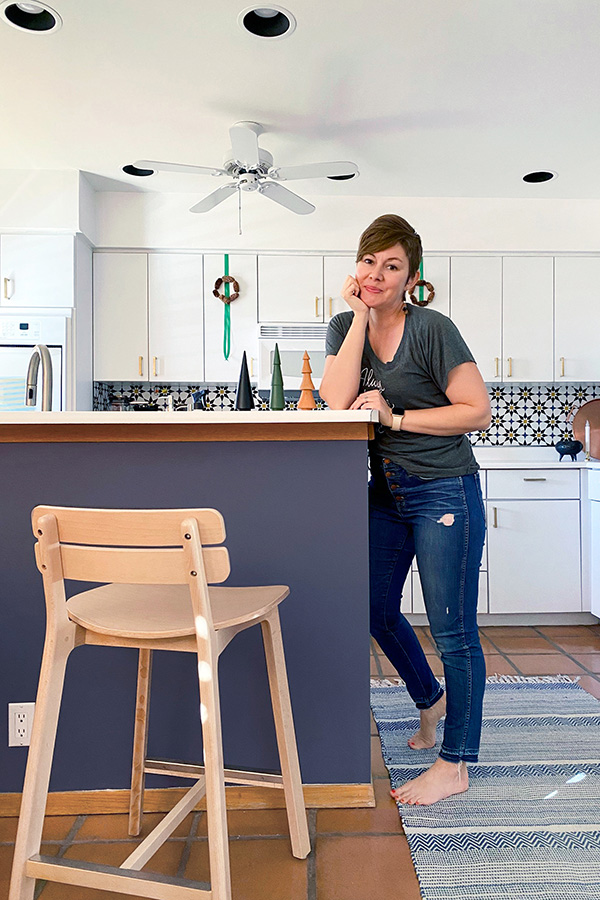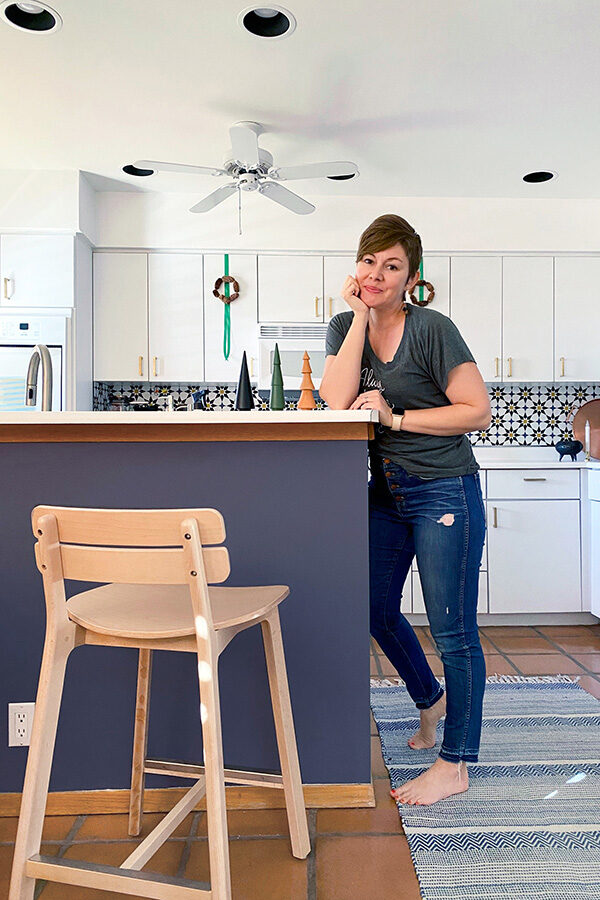 Counter Stools
Between 24-26" high, a counter stool fits best for counters that are 36" tall. This is the standard height of typical kitchen counters and most islands. In most situations this is the type of bar stool to look for.
Bar Stools
Standard bars are about 42" high, so bar stools with a height of 30" are ideal for this situation. This is typically the type of chair you would see in a restaurant or bar.
In our kitchen, the island holds our sink and dishwasher and they raised the back portion up, so we needed barstools for our space.
2. Chairs with a back or no back
Deciding if your new stools will have a back or no back is the next item to decide upon. Previously we had backless spinning stools in our kitchen and although they were functional, it wasn't as comfortable to sit in as those with a back.
Backless will definitely give a cleaner more modern look but, if you are using the chairs for a functional purpose and not simply for looks, having a seated back is important.
Our children are elementary aged now, so we were less concerned with them not falling off randomly at their age. However, that is a factor if you have younger children.
3. Cushions
Similarly with selecting a back versus no back, picking a barstool with a cushion is a comfort choice.
We actually spend quite a bit of time at our island and a cushion would have been wonderful addition to our chairs. However, although my elementary aged children aren't young enough to be falling out of their chair daily… they still create quite a few crumbs.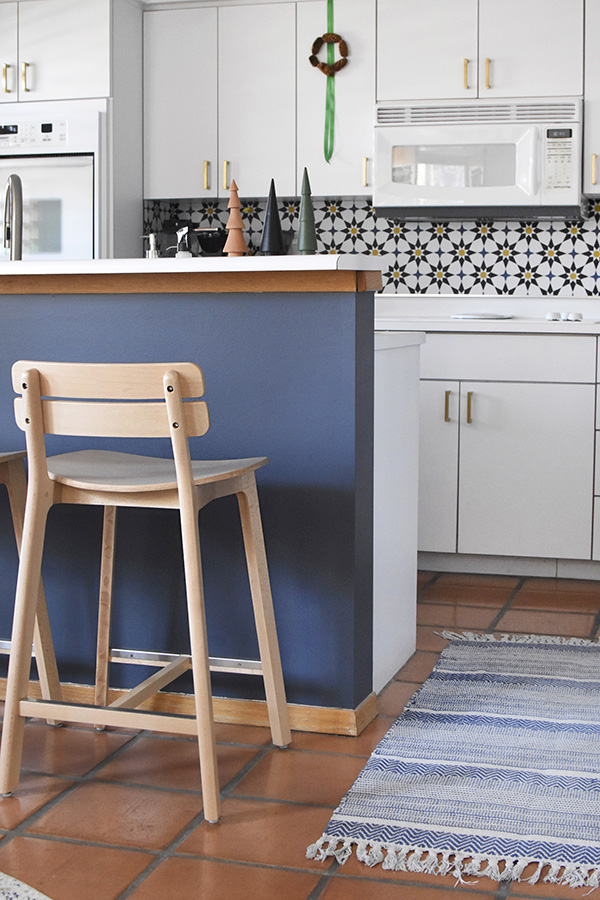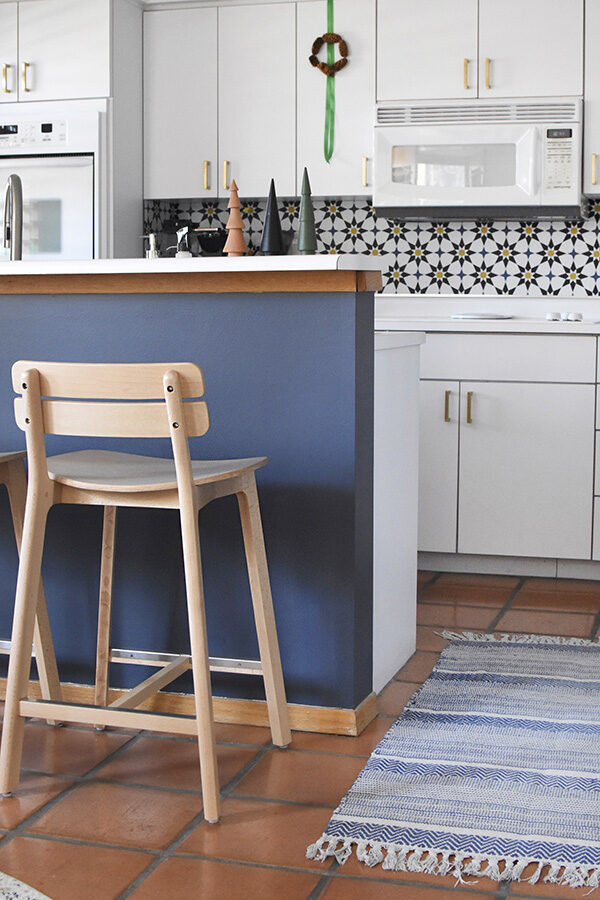 We've had too many dining room chair seats ruined because of accidental spills or little fingers wiping themselves on a fabric chair cushion. So, I decided to be a smart mama and opt out of a cushion this time around.
4. Chair Finish
Whether you are looking for wood or metal barstools, it is important to think about the other finishes in your space. This can include cabinets, flooring, knobs and handles and even the decor you currently have in the room.
I am not a fan of matching all my finishes, as I think it gives the room a more collected modern feel. But either way, this is definitely a consideration when picking your chairs.
5. Barstool Quantity
We have a fairly small area for our stools, so two was the max we could comfortably fit. However, if you have more space it can be difficult to know exactly how many chairs you may need.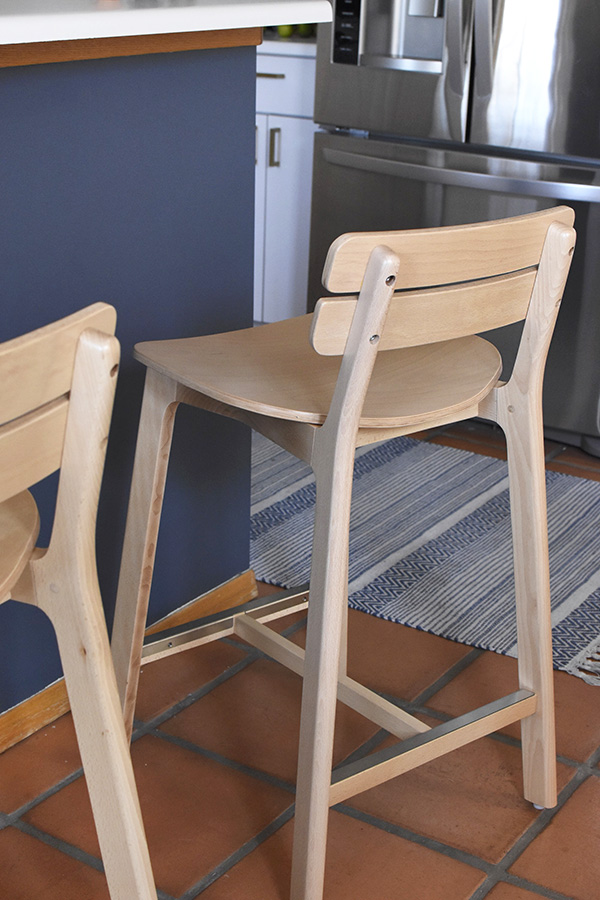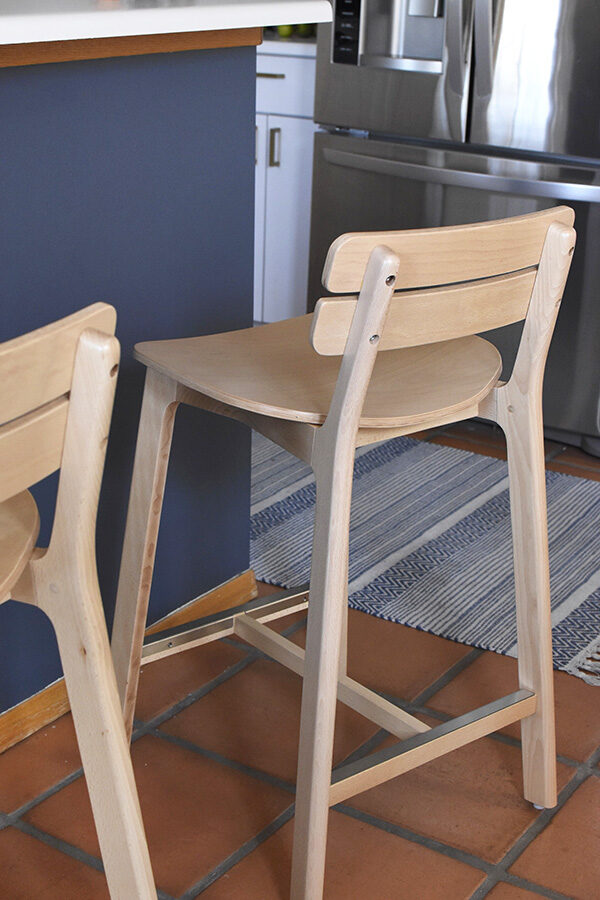 The basic rule is to give about 26 to 30 inches between the centers of each barstool. That translates into about one stool per 2- 2 1/2 feet. This makes sure that there is enough arm room and everyone is able to easily get in and out of their chair.
Also make sure you have at least 15 inches from the end of the counter to make sure the stools don't visually look too crowded together.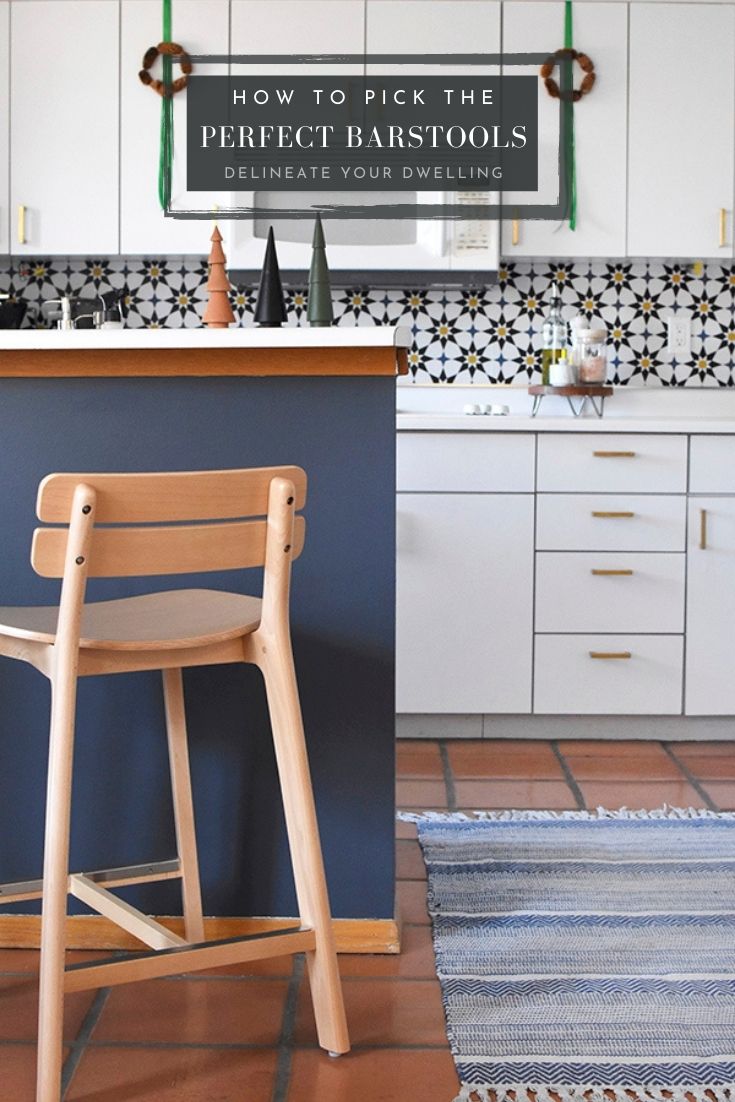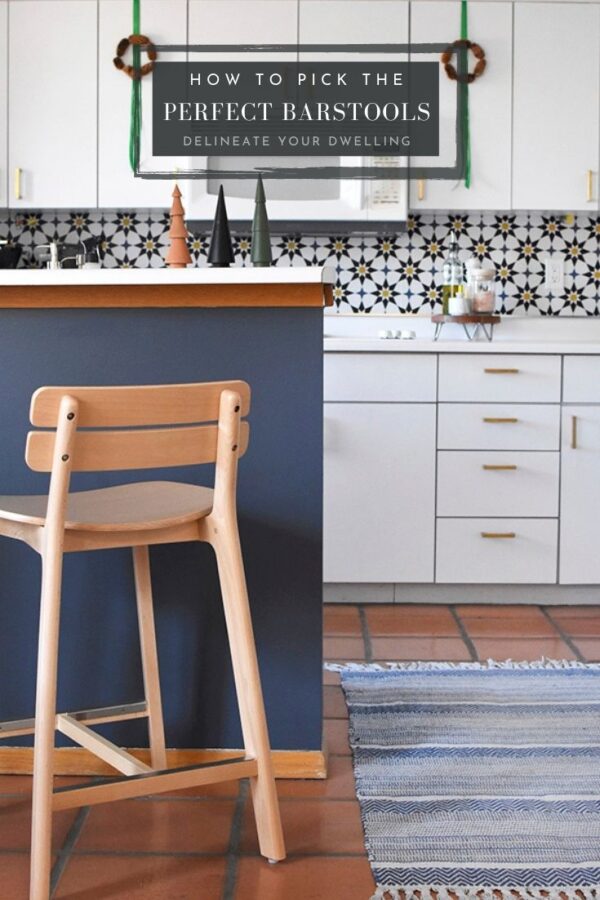 Hope these five items to decide on will be helpful for you as you pick your perfect barstools!
Want to see how I was able to update our entire kitchen's look for under $300? You'll be amazed!
Kitchen Island is BEHR Interior Paint in English Channel PPU14-19.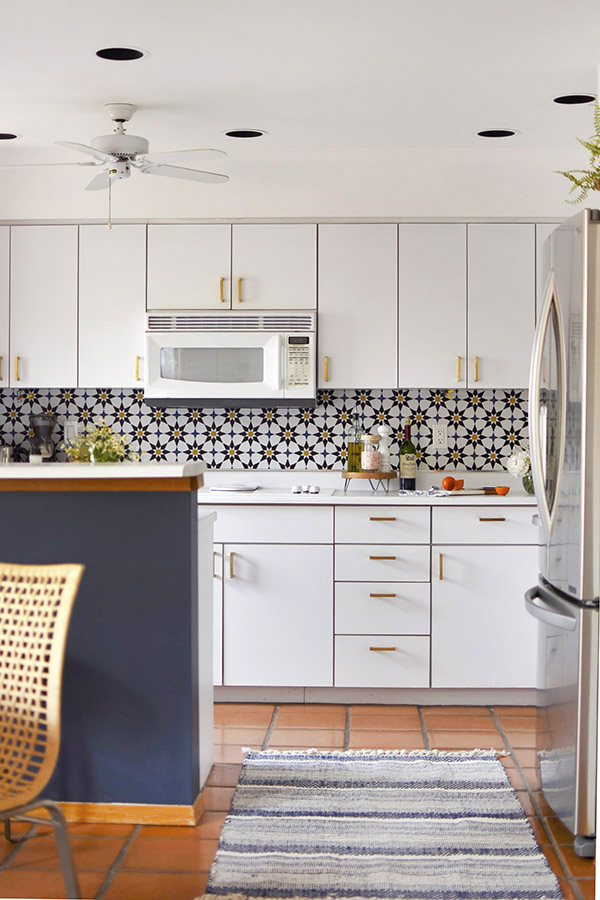 MY Home –> Want to check out my each room in my home?
I have shared inspiration, tips and inexpensive ways to make your home YOU.