INSIDE : Learn how to create a fun and simple DIY Chalkboard Halloween Door Decor! Don't forgot to spruce up your Curb Appeal this fall and Autumn season.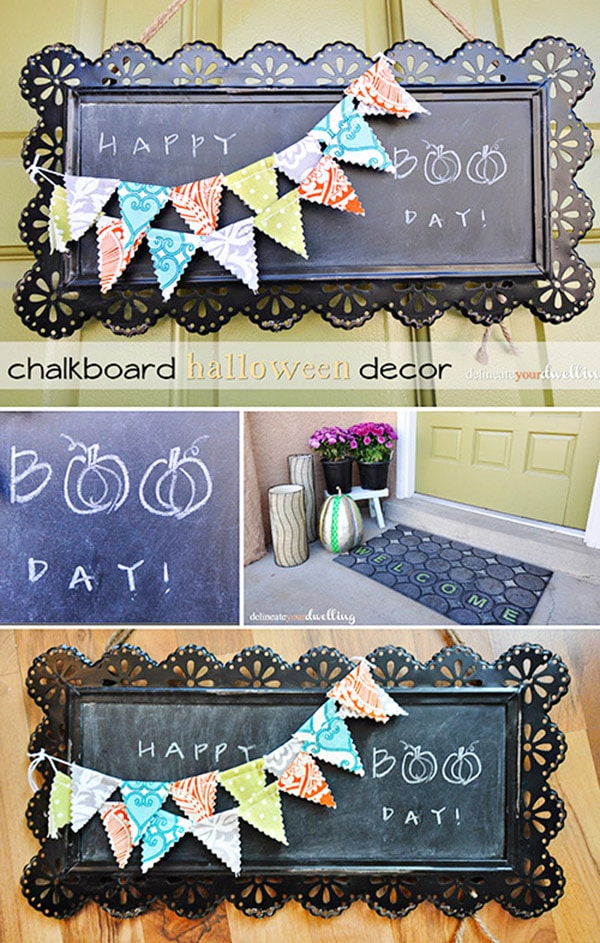 The blogging world has been talking about fall and Halloween decor since July it seems and I am finally getting around to making and putting together my front door. Today I am sharing a super simple way to up your curb appeal during the fall and Autumn season with a fun DIY Chalkboard Halloween Door Decor.
You might also like this colorful Fun Fall Wreath I made using a… plastic plate!
I was making a return to Marshall's the other day and did a quick peek through their seasonal decor section. I found this adorable black chalkboard on sale for $7.99, what a deal!
What DIY Chalkboard Halloween Door Decor supplies do I need?
Hanging Chalkboard (similar)
Fabric Garland (similar)
Chalk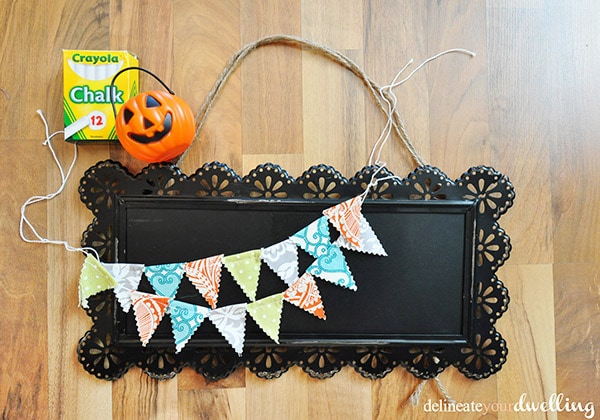 I liked that my metal frame had a few chips and dings on it. It gave it more character especially for the fall time. The first thing I did was to "season" the chalkboard. I didn't want the crisp clean black look.
Seasoning a chalkboard simply means writing all over the chalkboard to give the actual board a more chalky and used look. Once you have written across the entire thing, you can use a paper towel or a chalkboard eraser to clean it up. Don't use water or you will need to season your chalkboard all over again.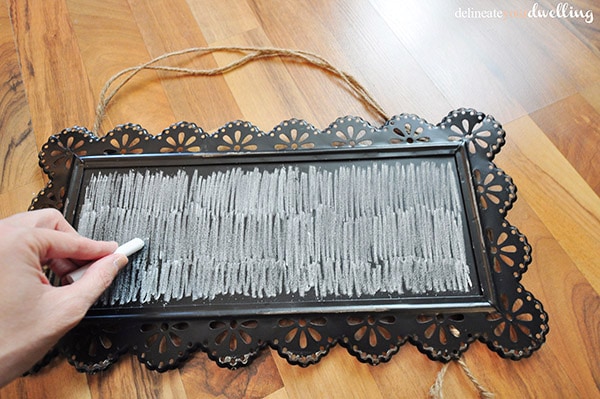 Last year I had bought this adorable fabric cake bunting and have since used it on numerous items as the perfect colorful touch. It came in handy on this project, too!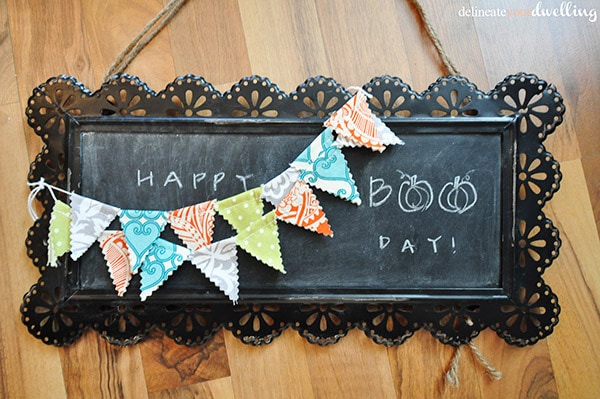 I played around with different fancy chalk type prints, but in the end settled on a very simple uppercase with BOO being a little more special with the O's as pumpkins.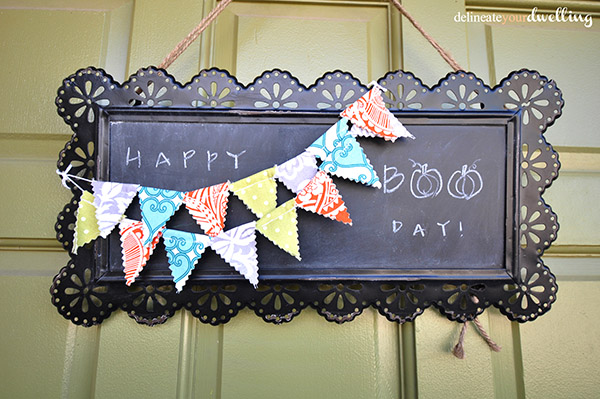 I love the black chalkboard against my green door. So fall and colorful and cozy.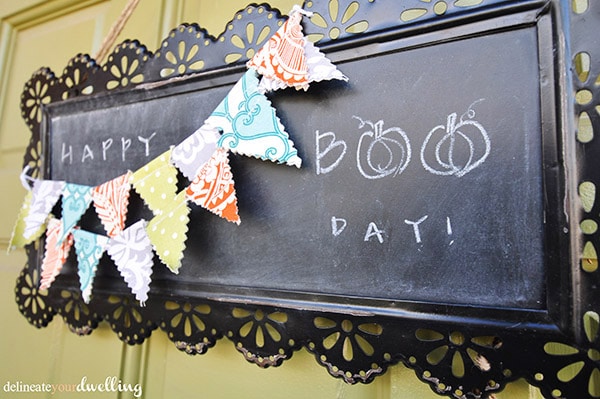 I also added a few small additional items to the front entry.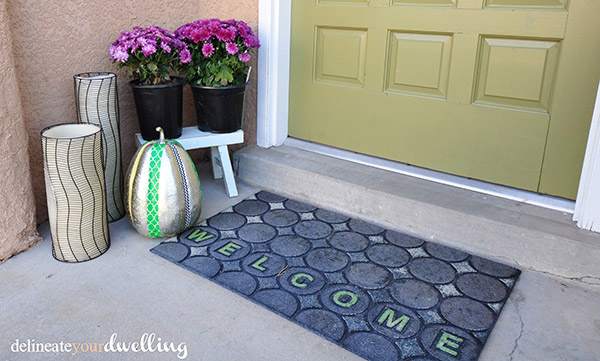 BOO day!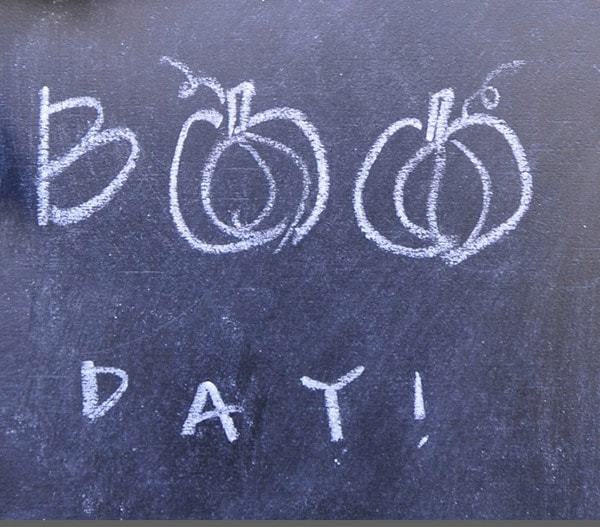 And adding a few mums was the final touch!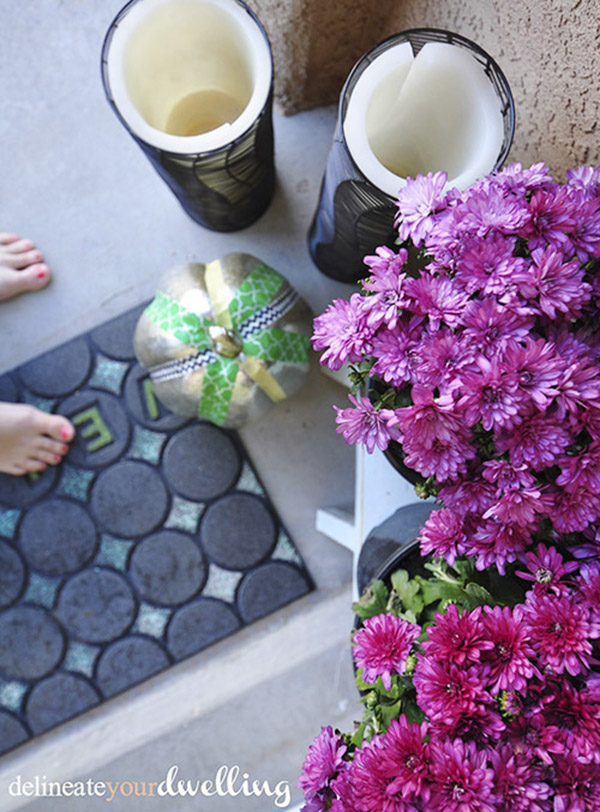 What are you doing to your entry to celebrate BOO day this year?
Looking for other fun FALL crafts and projects? Check these out.

SaveSave