INSIDE : Learn how to cover simple terra cotta pots with fabric for a fun pattern filled decor statement! Fabric Covered Pots make a great party treat or gift idea.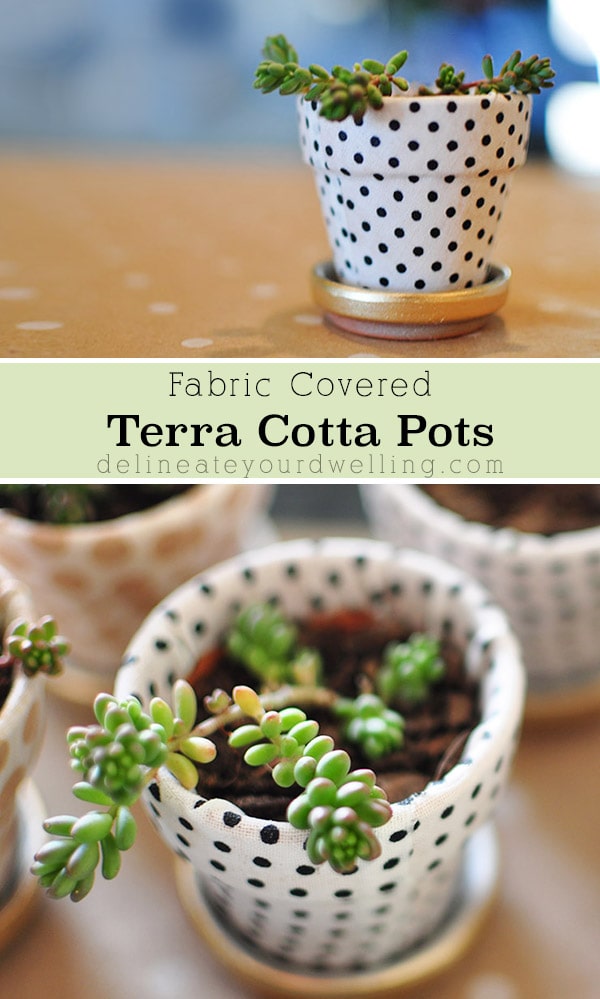 UPDATED from March 2014.
I partnered with Tiny Prints to throw a fun
Garden Party
and it was filled to the brim with all kinds of outdoor garden DIY projects. Today I am sharing how to make adorable miniature
Fabric covered Pots
.
If you like this post about crafting with plants, then you will definitely enjoy my indoor houseplant ebook, Happy Houseplants! It talks about how to not kill all the plants, includes a deep dive on numerous trending "it" plants and has 5 fun plant printables to print and hang in your home.
What supplies do I need to make Fabric covered Pots?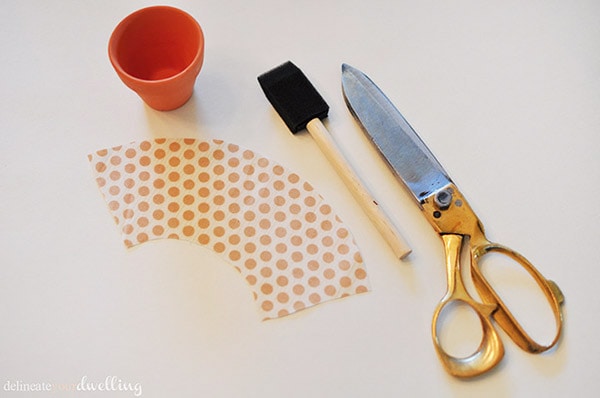 How do I make Fabric covered Pots?
I bought six miniature terra cotta pots from my local Home Depot store. I first gave the bases a little spray paint action. First they got a coat of silver, which ended up not being the color I wanted. You can still see a faint silver tint to the bottom of the bases.
Then, I used my favorite Gold Foil Paint Pen
and painted the rim in gold.
I then used fabric to cover the pots.
First I made a small mark on the pot. Then, I laid the pot on it's side on a piece of blank paper. Make a mark on your paper where the "start point" on your pot is. Then slowly roll your pot along, marking on your paper the top and bottom of the pot.
Is this making sense at all? Sure sounds confusing, but you're basically making a slightly curved template of your pot. Once you hit your original mark, cut out with scissors. This is your template for the fabric.
Next, use a sponge brush and apply
Mod Podge
to a small section of the pot.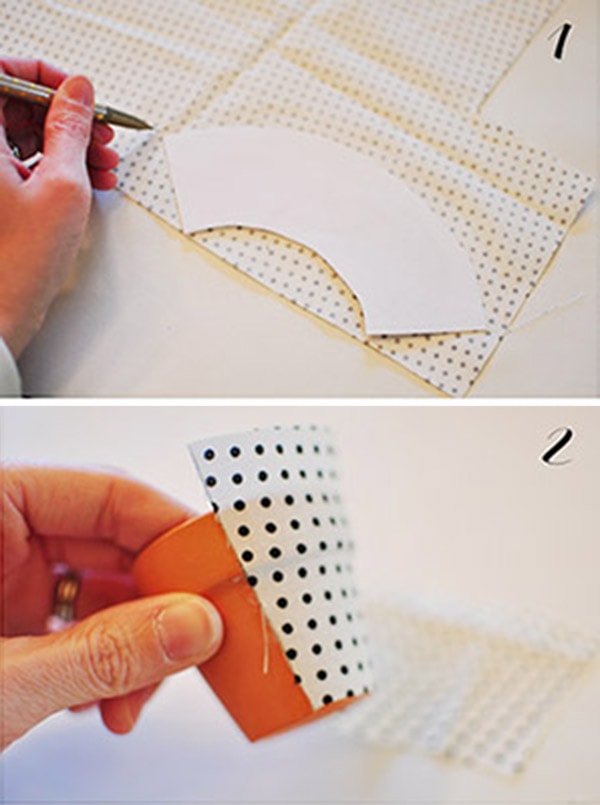 Then start to adhering the fabric to the pot. Just to make sure it all stayed in place, I applied a thin coat of Mod Podge to the fabric once on the pot as well.
Slightly fold your fabric over the top of the terra cotta pot and make sure it's secure with the mod podge.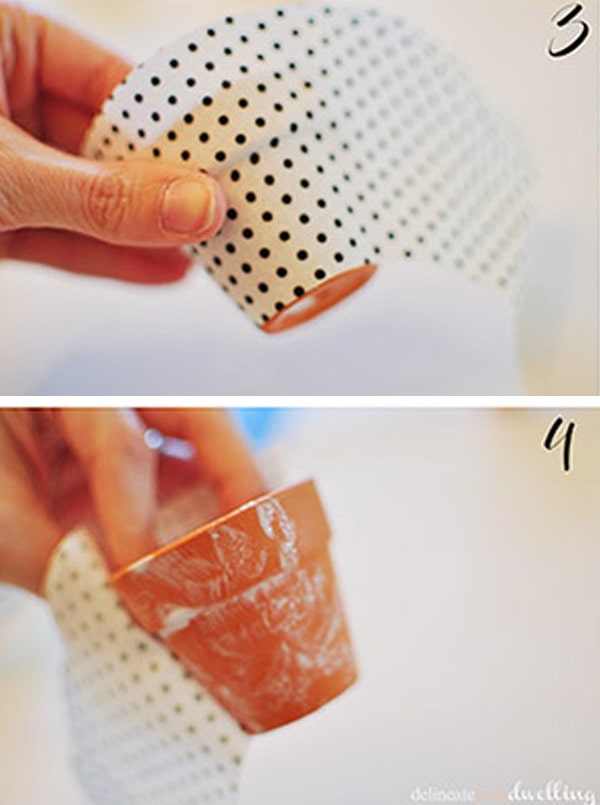 I could not have been more pleased with the outcome of these sweet little pots.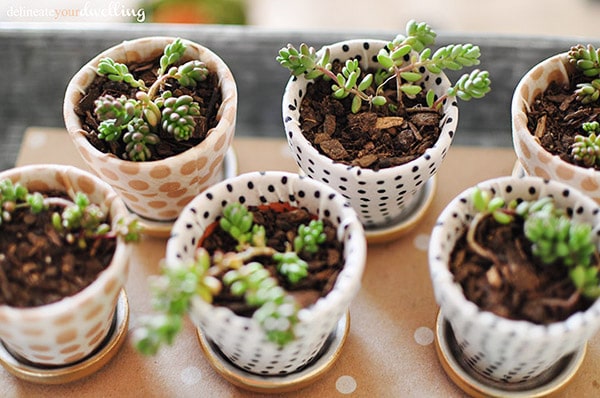 Note : there is a possibility of the fabric coming off if it becomes too damp from watering your plants. This is a great project for succulents, as they need minimal water. I have been watering mine for three weeks now and there has not been an issue.*
Looking to gain insights, tips and methods for not only keeping your plants alive, but to have them thrive? Let's grow green enthusiasts, one plant at a time together with my Happy Houseplants eBook!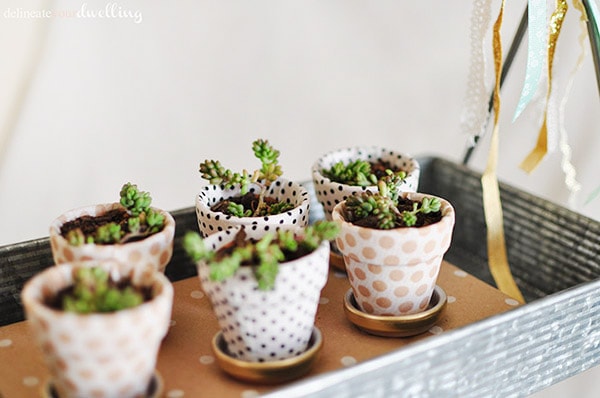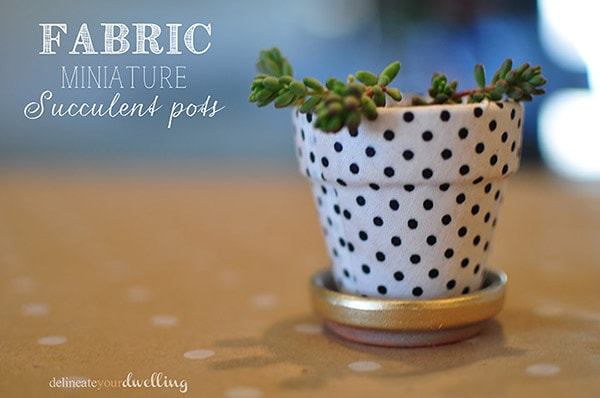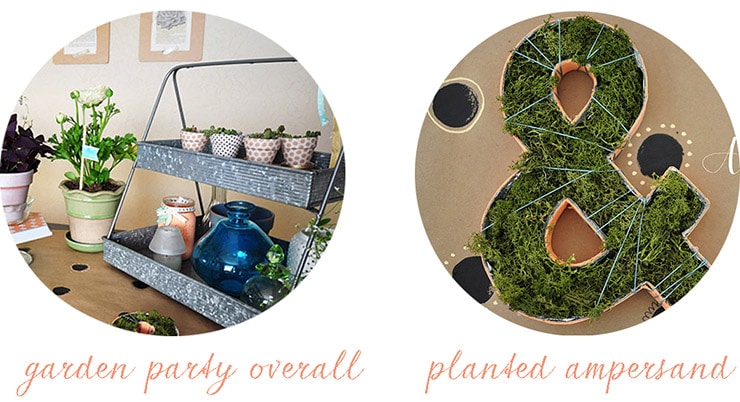 Looking for an easy checklist to help Keep Your Plants Alive? Sign up for my newsletter to get your FREE copy today and access to my how to care for plants ebook coming soon!

SaveSave