INSIDE : Learn how to make DIY Colorful Cork Pennants into a fun banner to hang in your room. Get organized and keep it look pretty!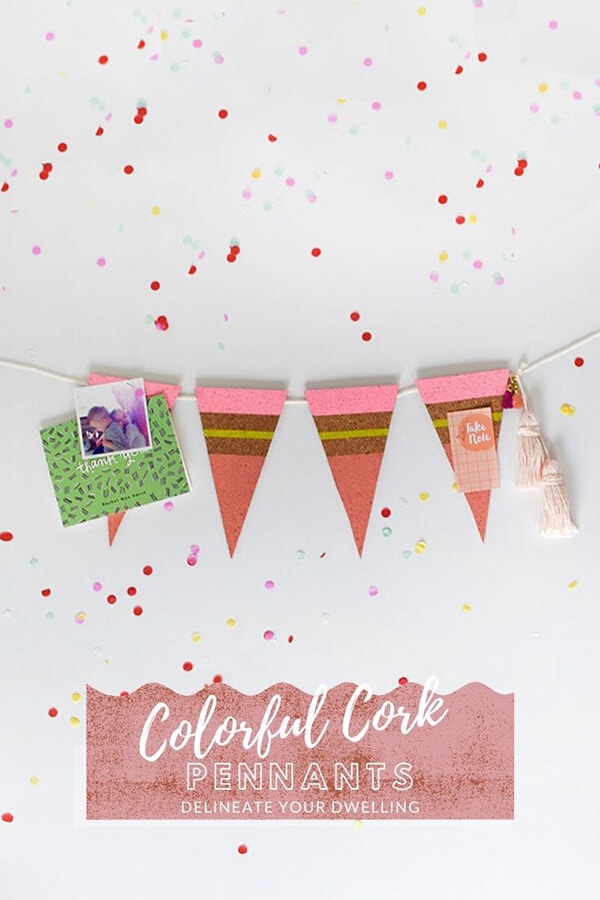 This post contains affiliate links. See my full disclosure.
I love organizing. My family has not received the same memo… so in order to get them all on board with keeping things orderly and tidy, I like to create PRETTY organizing things.
Today, I am sharing the most simple way to keep those papers or precious pieces of art work on display but in a fun cute way! Check out how to make these fun DIY Colorful Cork Pennants.
What supplies do you need to make a Colorful Cork Pennant Banner?
Peach Yarn
Acrylic Paint (3)
Painter's Tape
Sheet of Cork
Paint Brush
Xacto Knife
Ruler (not shown)
Cutting mat (not shown)
Mini Tassels (not shown)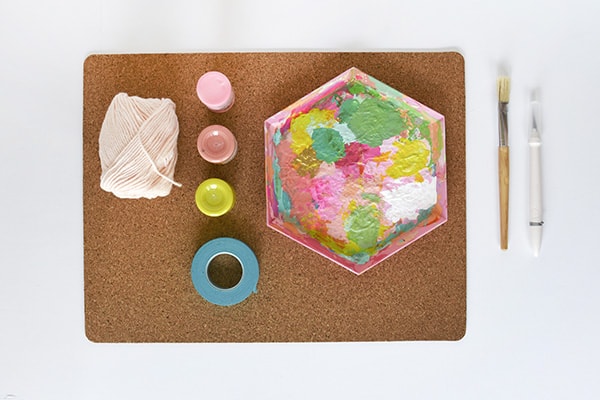 How to make an Organizational Cork Pennant Banner?
To make a cork pennant banner, use a ruler and decide the size you would like for each pennant to be.
Mine are 7″ long and 4″ wide at the top. I started by cutting out four cork rectangles using an xacto knife. Then I made a triangle template with one and cut out the rest into shape accordingly.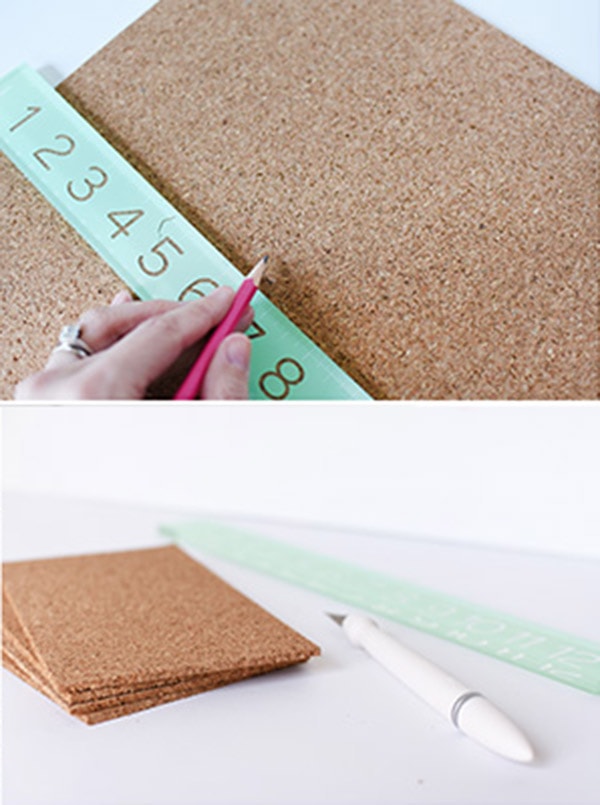 Once my cork triangles were cut, I used painter's tape to create the painted stripe patterns. Using a lined cutting mat was really helpful in keeping the lines consistent and accurate.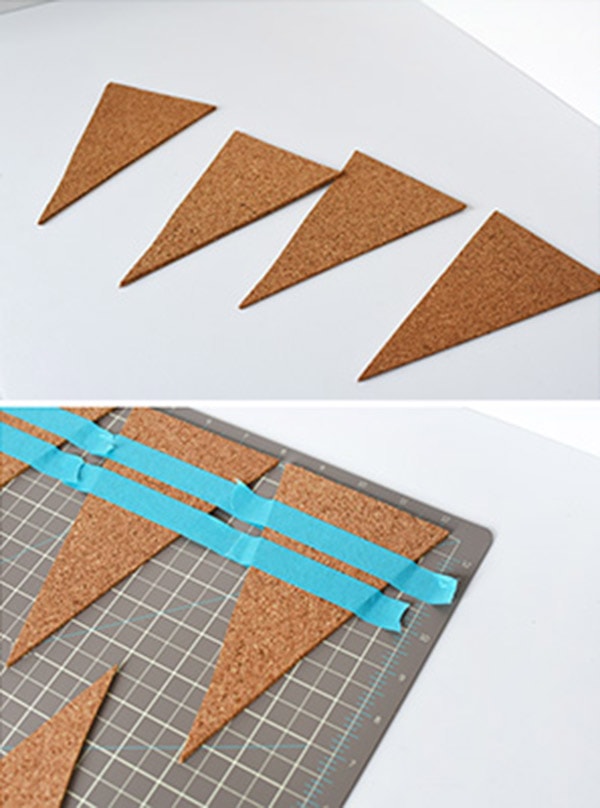 Painting Cork
Be sure to press the edges of your tape and then paint AWAY from the tape. This will help with any tape squeezing underneath the tape and messing up your straight lines.
Once the lines have been painted, remove the tape. Make sure to do this before the paint dries.
Next, use hot glue to secure your yarn to the cork boards. This is mostly decorative. I will be using command strips on the individual cork pieces when hanging it on the wall.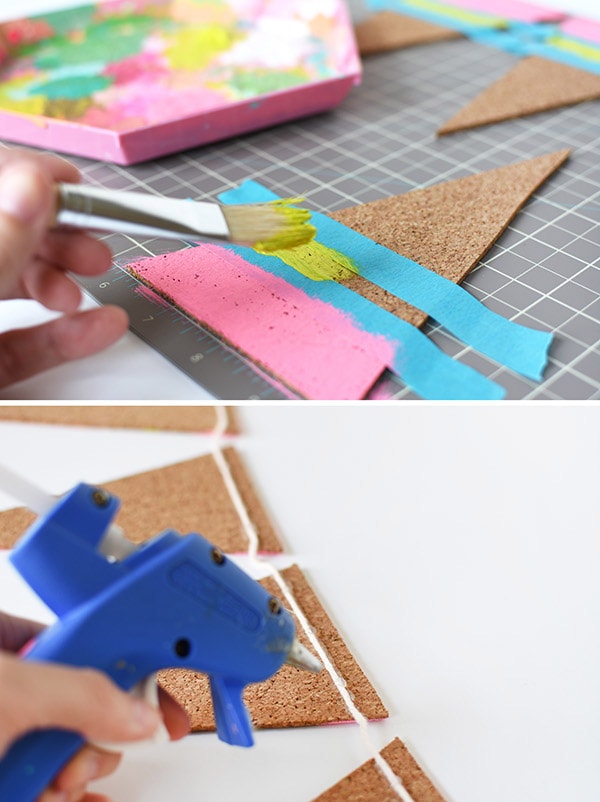 For one last extra flair, I whipped up two easy yarn tassels and secured them to one side of the pennant. I also added these mini tassels… because precious.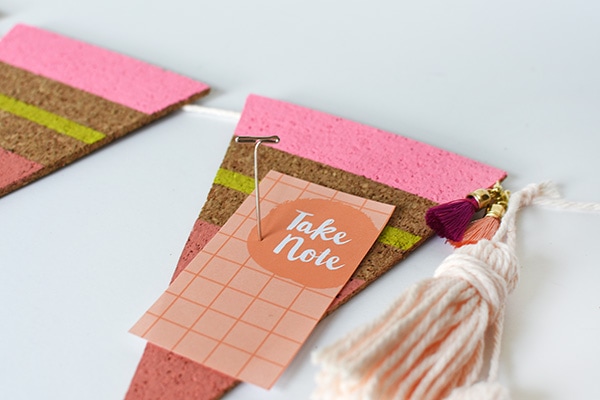 Colorful Cork Pennant Banner
The end result is the most adorable place for my daughter to hang and show off all her special notes, art work and creations!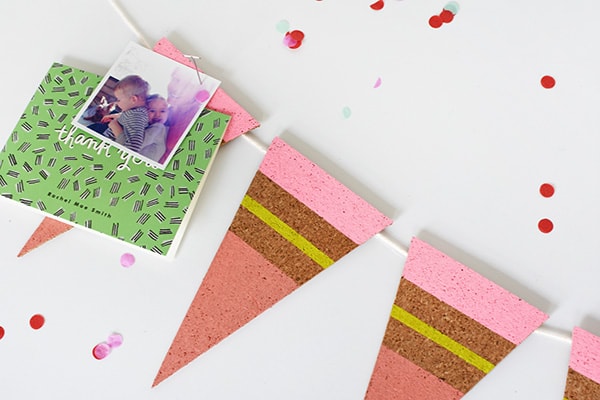 Looking for more pretty organizing? You might want to check out some of these!