INSIDE : Learn how to make a Nautical Painted Wood Anchor Art piece to hang in your home!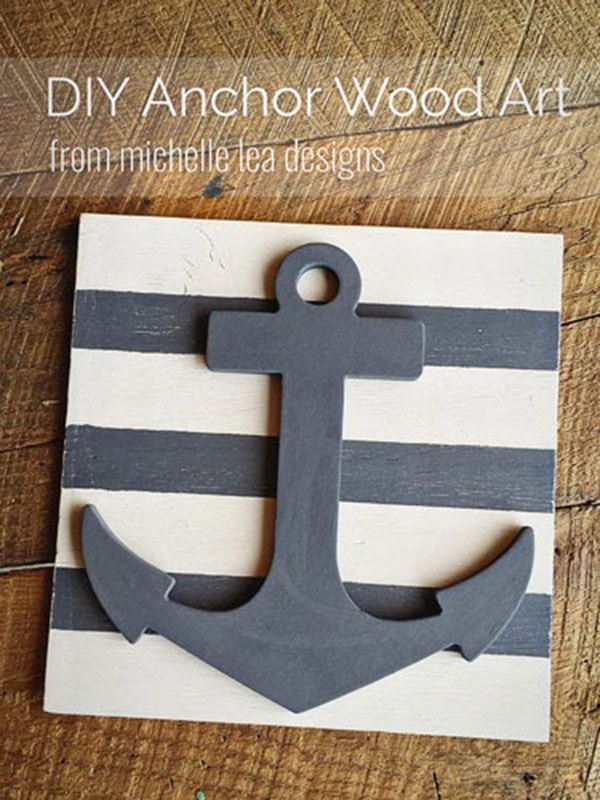 Today I am welcoming my fourth and last guest post! We are finally returning home and I've just loved sharing Persia Lou's Watercolor Agate how-to, Inspired Interiors' shared 5 Design Trends of 2015 and Thoughts from Alice showed us how to repurpose a placemat into a lovely pillow!
Today, I have Michelle from Michelle Lea Designs sharing a DIY Anchor Wood Art project. The moment I first saw Michelle's talent, I was in love. She always manages to create the most lovely parties, the cutest DIYs and clearly takes amazing pictures. Take it away, Michelle!
Hello Delineate Your Dwelling readers!! I'm so excited to get to share a little bit of the crazy world of Michelle Lea Designs with you today. It's been a whirlwind of a new year already and I can't believe that February is almost over. How did that happen?
For those of you who don't know me, I'm a graphic designer and photographer living the country life in Oklahoma with my military husband and our three wonderful and energetic children. I love to do everything creative and life isn't normal if my to-do list isn't full of 50 projects in the works.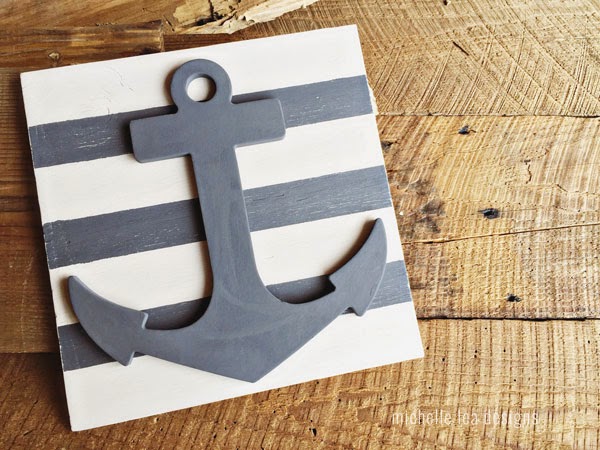 Today's craft is really simple. My husband is having his Change of Command in his Navy squadron in a quick 5 weeks and we are having a large party with everyone at our house… thus I'm a little bit of a crazy woman these days. Like, ohhh lets rent a trailer and drive to Dallas to get a new living room and any other rooms at Ikea.
What supplies do you need for a Nautical Painted Wood Anchor Art?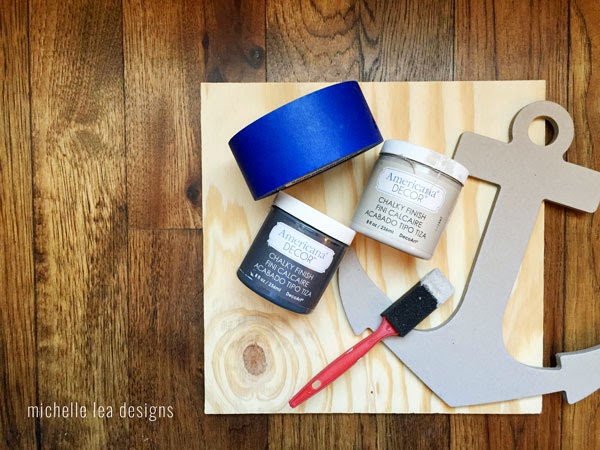 Steps to make a DIY Wooden Anchor Wall Art piece?
The first step is to sand your piece of wood for any rough areas and dangling pieces of wood, aka splinters waiting to happen. I only worry about the front and the edges. After sanding, I take a damp paper towel and wipe off the piece of wood to get rid of the dust.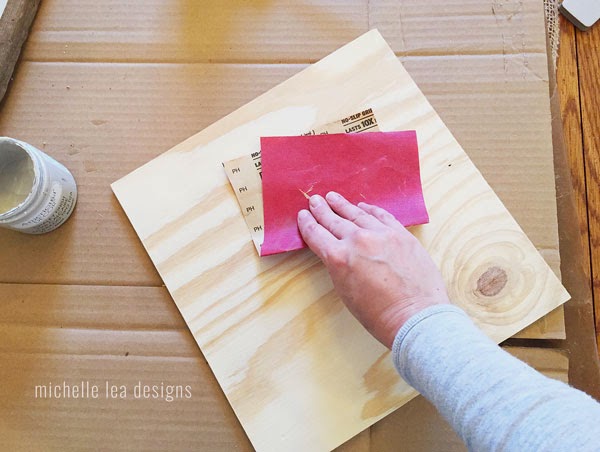 Next, paint the entire piece of wood, including the edges with the lighter color. This particular paint is awesome and only needs one coat and dries pretty quickly. I only waited about 20 minutes before moving to the next step.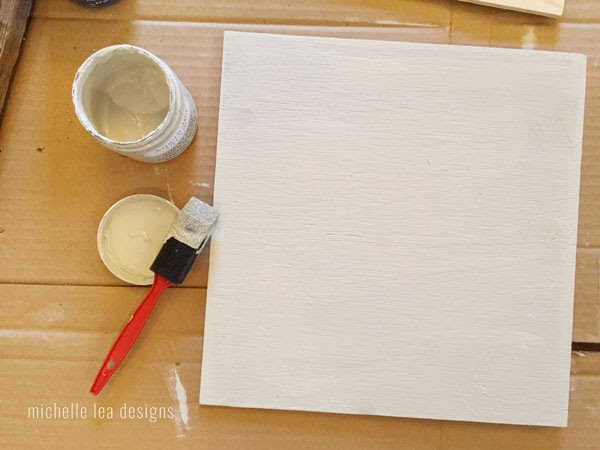 Next, you will start taping off to paint your 2nd color stripes. Here is where it gets mathematical interesting…. i.e stressful. I had two rolls of painters tape and they just happened to work out perfectly to get my stripes laid out. I say go with what you have around the house and just measure out the easiest way to get equal stripes.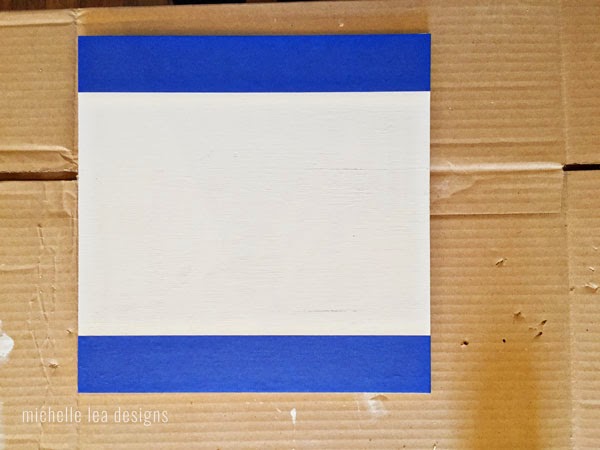 I used the smaller width
tape
to place between the thicker tape as spacers so that my rows were straight.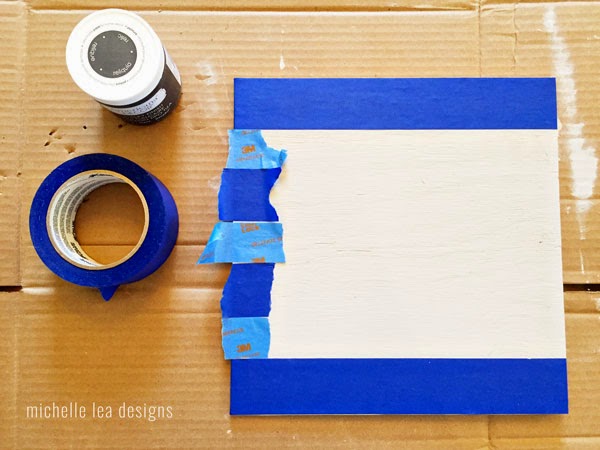 Finally after all of that stress was done, I made sure that my tape was sealed well against the board and started painting my darker stripes.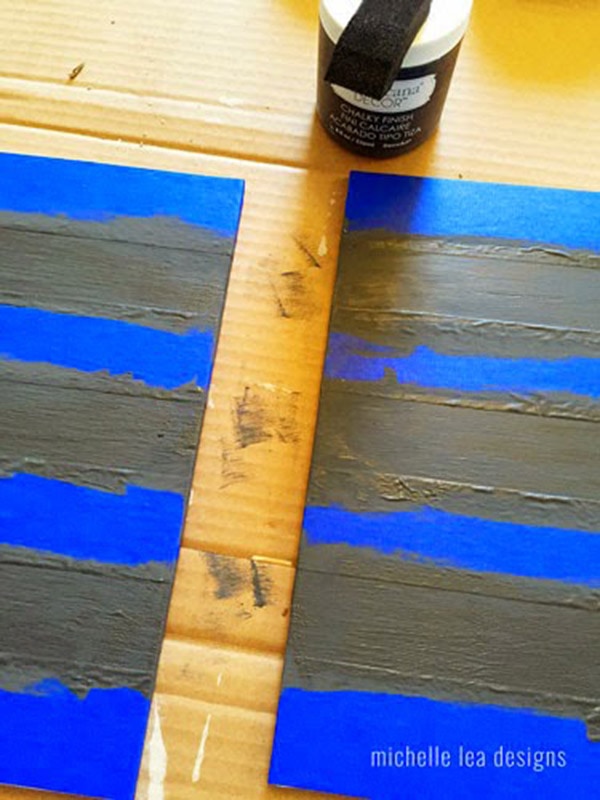 20 minutes later, I removed the tape and then comes the fun part. Distressing. I take my 220 fine grit sandpaper and lightly go over random parts of the board to give it an older, worn look.
You can see the difference in the before and after. I pay special attention to the edge, sanding down to the bare wood in places. Sanding is especially helpful if you have a line that smudged a little under the painters tape.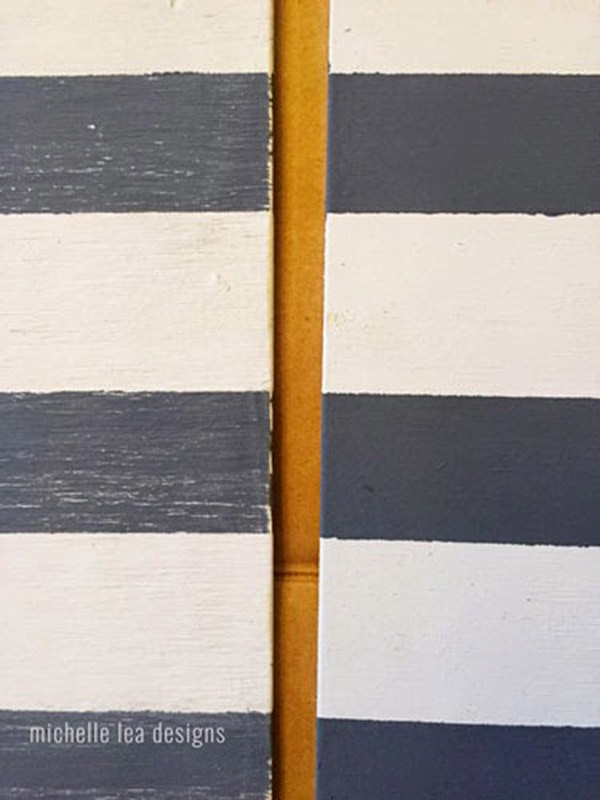 Next to paint and adhere your chipboard piece.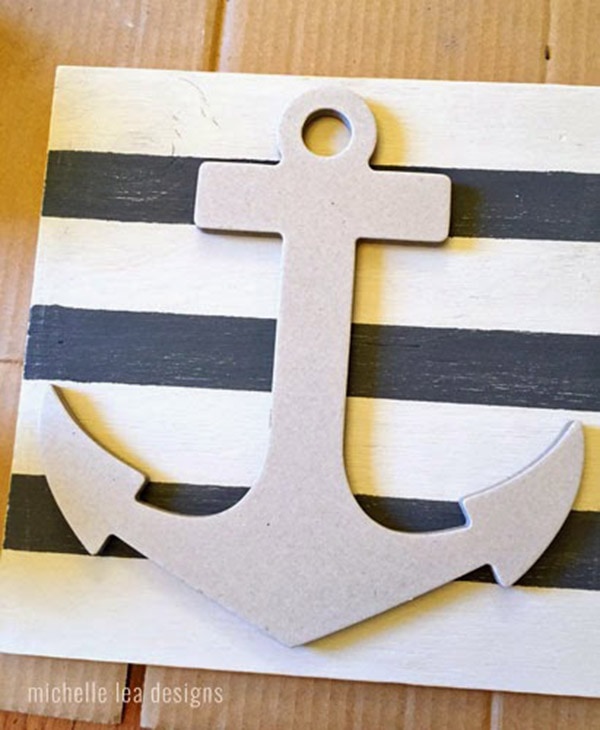 Paint your chipboard piece and let it dry. Make sure that you get all of the edges of the shape. Mine was still wet in this photo.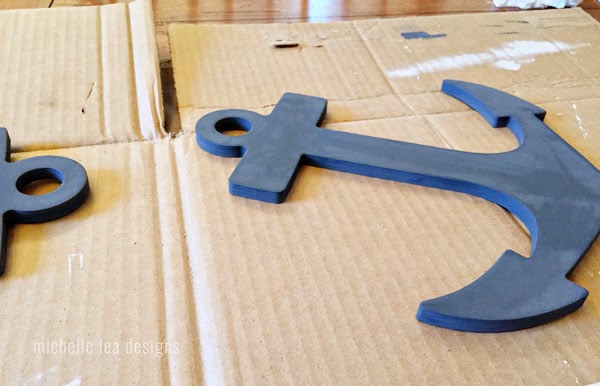 Now to add your painted chipboard object. My anchor. I used E6000 adhesive to adhere the anchor to the wood. Make sure you are in a well ventilated area is you are using E6000. It's a little strong… and guess what? You are all done.
You can add a sawtooth hangar on the back if you want to hang it on the wall or display it on a pretty easel.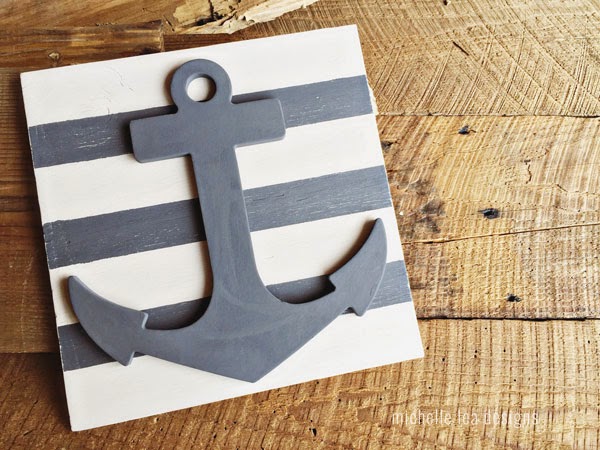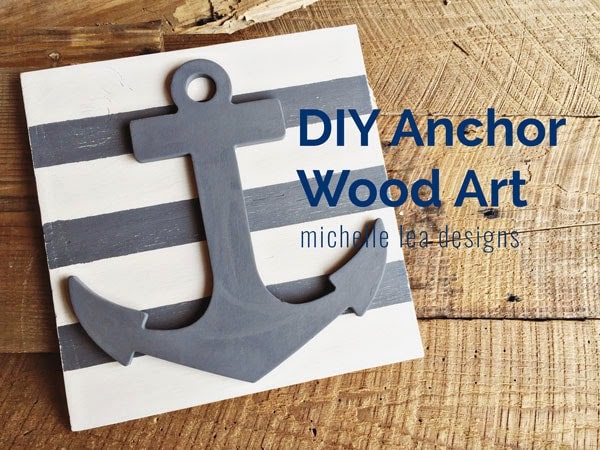 Thank you for letting me stop by today and share a quick little DIY project. Please come visit me at Michelle Lea Designs and follow me on Pinterest. Have a wonderful almost March and hopefully some warmer weather is on it's way!
Well, thank you so much Michelle for sharing that fun project with us. I bet these DIY signs will be a great addition for your Navy party! Don't forget to stop by her site and send her some Delineate love!