INSIDE : Check out over 75+ gift ideas for the plant lover in your life. From planters and pots to plant books and decor. This is the ultimate Plant Lady Gift guide resource!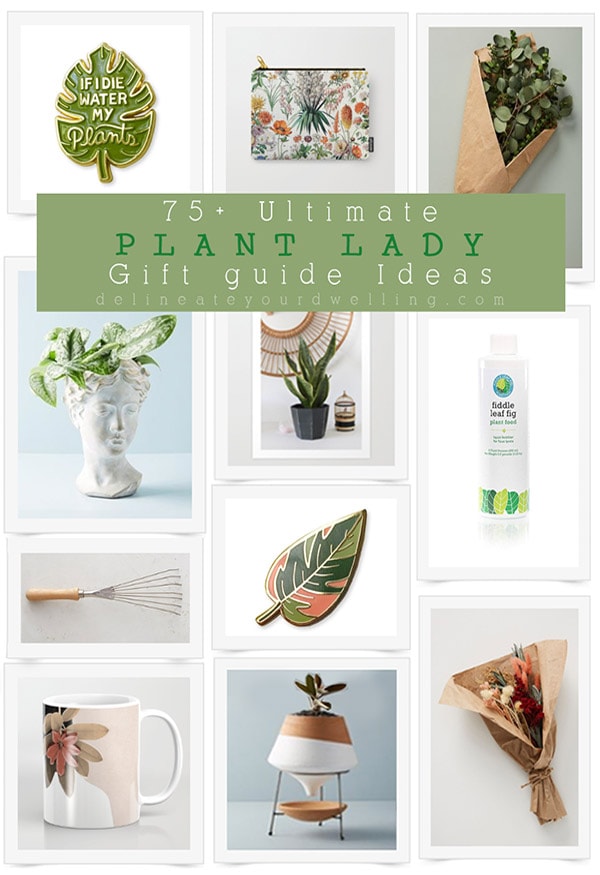 This post may contain affiliate links. See full disclosure here.
Plants plants plants. It's what I have on my mind quite a bit of the time! As the holidays near, I thought it would be fun to share some of my favorite plant gift ideas and then the list grew to be huge – ha.
I have to admit, I went a little crazy because there are so many awesome plant gift ideas out there. So sit back, get ready to do some clicking for those garden loving, houseplant loving, all things green plant people because today I am sharing 75+ Ultimate Plant Lady Gift guide ideas.
This year I wrote an ebook called Happy Houseplants to help guide new plant owners along with an important chapter and checklist on "Not Killing all the Plants", there are deep dives into 7 trending "it" plants and then 5 fun plant printables. During the Holiday season only, you can use code> HOLIDAYPLANTS < and get my ebook for 20% off! It's a great addition to any plant gift you give. You can either print it out or email them the PDF file, easy peasy.
I have broken down all these amazing plant gift ideas into 5 main categories : Plant Gift Supplies, Plant Decor, Plant Paper Products, Plant Clothing and Plant Mugs. Enjoy shopping for those plant lovers!!
1. PLANT GIFT SUPPLIES-
PLANTER POT:
Having gorgeous containers for our plants is almost just as important as the plant itself. From ceramic face pots to simple concrete planters, there are so many good ones to pick from.


PLANT ACCESSORIES:
Pruners, hand rakes and moisture meters are great gifts for those gardener types in your life!


PLANTS:
What is the best plant gift to give a green thumb? Why not give them an actual plant!!


AMAZING PLANT FERTILIZERS:
Give the gift of growing big healthy plants with fertilizer! I am completely obsessed with my Fiddle Leaf Fig fertilizer . Others I love are : Jack's General Plant Fertilizer and Air Plant Food Spray.
2. PLANT DECOR-
PLANT PRINTS:
Fun plant posters that help you identify what plants you have are such a fun way to celebrate the plants you love most. Also included are stand alone Snake Plants, Christmas Cactus prints and much more!


DRIED FLOWERS, GRASSES + PLANTS:
Looking for a great online Pampas Grass resource, I shared some of my very favorites here. I have fallen deep in love with dried grasses, they are a statement piece that you can hold onto for years to come!


3. PLANT PAPER PRODUCTS –
PLANT BOOKS:
Other than my Happy Houseplant ebook, there are a ton of great plant books out there for those who like to read, color and learn more about their plants. And don't forget during the Holiday season only, you can use code > HOLIDAYPLANTS < and get my Happy Houseplants ebook for 20% off!
Some of my other favorite plants books are : Wild at Home: How to Style and Care for Beautiful Plants, Mindful Succulents Coloring Book, Cactus Coloring Book.


PLANT PAPER GOODS:
Notebooks are just THAT much better when you can stick a plant on them.
Fiddle Leaf Fig Notebook
Leaf Box Notebook
Christmas Cactus Notebook
French Vintage Flower Notebook

PLANT STICKERS + DECALS:
Add a little fun and whimsey to your notebooks, pictures and even clothing when giving plant stickers, decals and enamel pins.


4. PLANT CLOTHING + BAGS:
I love plants so much, I own two plant tee shirts. But I think it may become more soon, these plant tees are amazing! And don't even get me started on tote bags – they are my life blood, ha.


5. PLANT MUGS:
Drinking your morning coffee or tea just got a little better now that you can drink it out of a lovely plant mug. The perfect gift for those who are coffee and plant lovers!
Flower Coffee Mug
Palm Leaf Mug
Agave Cactus Mug
French Vintage Flowers Mug


Want to see this as a Google Web Story Plant Lady Gift guide?
Want to shop everything all together? See below.