INSIDE : Learn how to easily send Thanksgiving Leftovers home in FUN ways with markers, tape and some brown paper bags!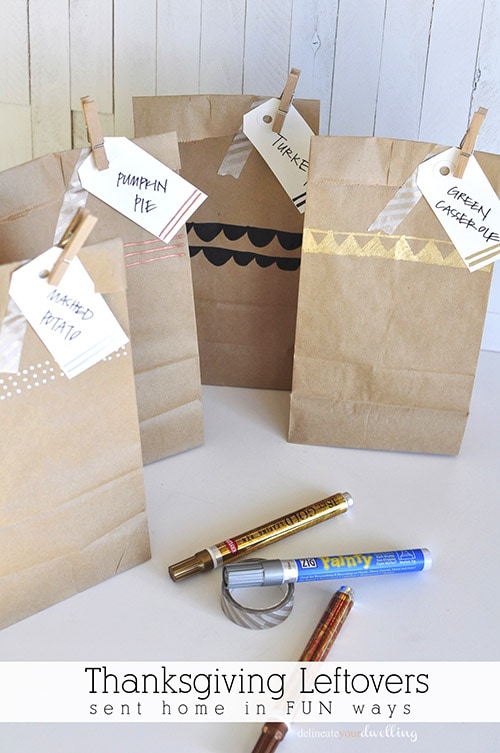 Updated post from November 2014.
In case you've been living under a rock, Thanksgiving is almost here in the US! Hopefully that does not come as a huge surprise to you.
Today I am sharing how I will be sending Thanksgiving leftovers home with my guests as well as a roundup of other fun Thanksgiving Leftover container ideas at the bottom of the post.

Let's be real here. After pretty much an entire day of cooking for just one meal AND all the grocery shopping and prep for that meal, the last thing we all need is some fancy pants leftover craft to make. I went for super simple but still fun.
This post may contain affiliate links. See full disclosure here.
What do I need to send home Thanksgiving leftovers?
Black sharpie
Copper Paint pen
Gold Paint Pen
Silver Paint Pen
Multiple Sizes of Brown paper bags
Washi tape
White card stock tags
Mini clothespins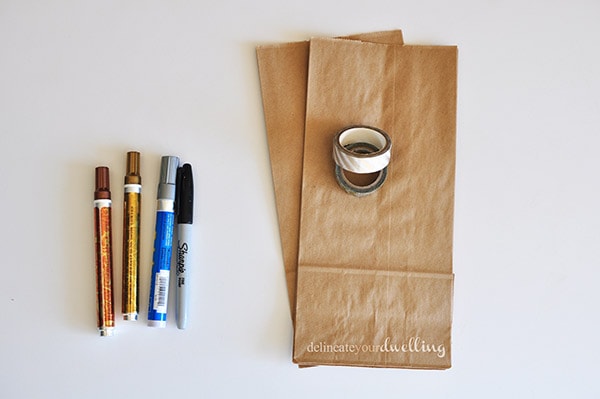 How do I make Thanksgiving leftovers sent home look cute?
The first step to sending home Thanksgiving leftovers is drawing on your bags. If you are using smaller paper bags, lightly fold your bag over as if to close it. Then you will know how far down to draw your pattern so that it is visible once food is placed inside and closed up.
I used a black sharpie to draw a whimsical scallop design.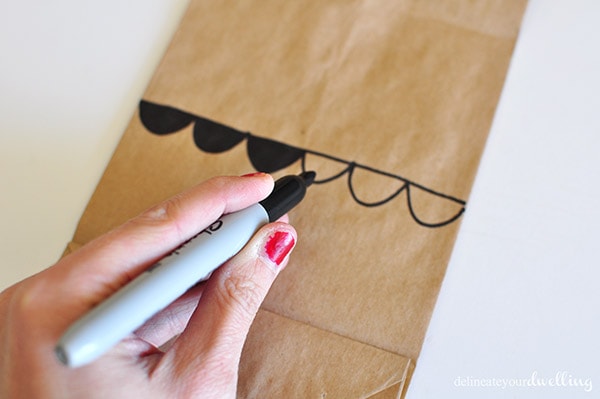 Continue adding patterns to all of your bags!
I did lines of dots with my Silver Paint pen. A geometric triangle design with my Gold Paint pen. And simple stripes with my Copper Paint pen.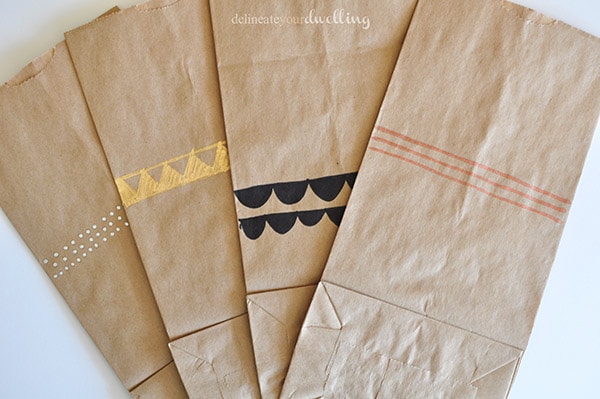 Next up is the labels! You can save this part for while you package up your leftovers or if you know there will be various leftovers like turkey, green bean casserole, sweet potatoes casserole, mashed potatoes, rolls, etc… (anyone else getting hungry yet??!) then you can write them out in advanced.
I used these simple white cardstock tags and added some color detail to match each bag.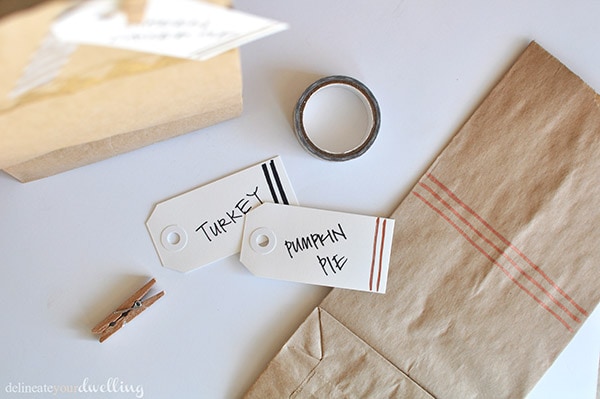 I especially love this pack of three different brown paper bags with handles because they can hold much more food than just a small paper bag. Plus, the handles really come in handy when taking home leftovers.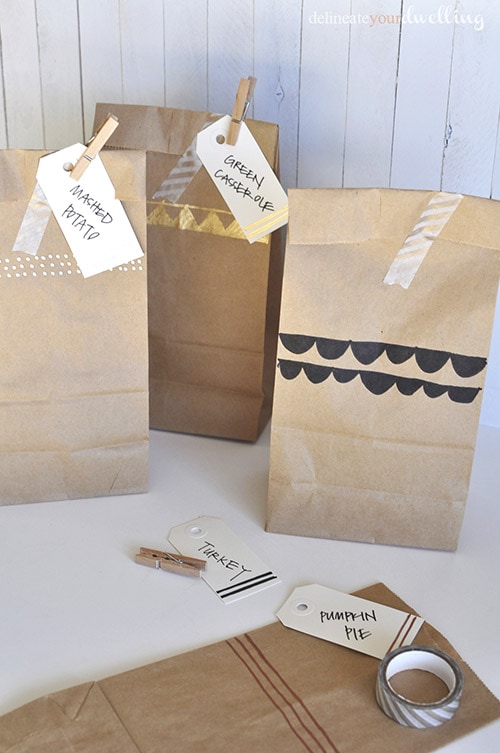 To secure your bags and your food labels, you can use washi tape or just a mini clothespin. Presto, easy but cute Thanksgiving food leftover containers!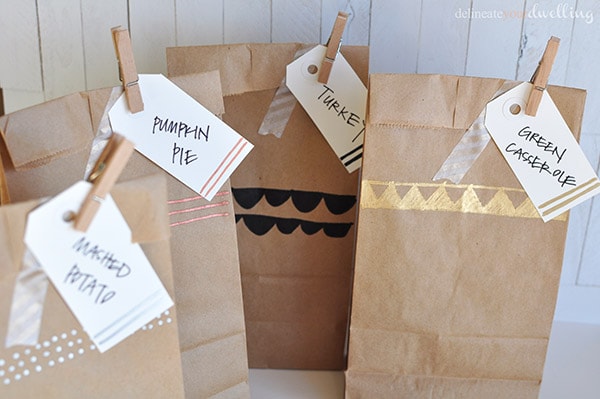 If you are looking for a fun roundup of other creative ideas for sending yummy leftovers back home with your guests check out these below!
Some of these require easy printing labels, others just added colored polka dots.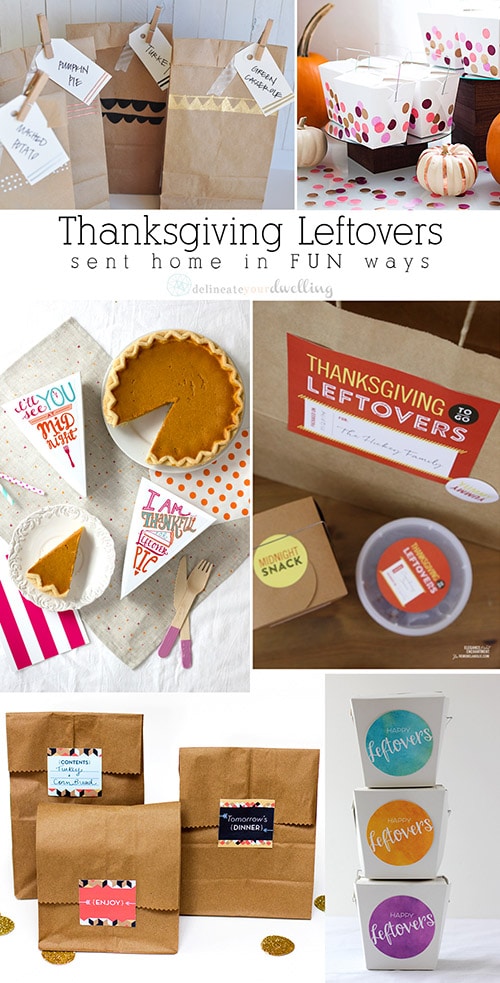 Delineate Your Dwelling
Homey Oh My
Potterybarn
Remodelaholic
Sarah Hearts
Julep
Looking for creative ways to set your Thanksgiving table? Check out this post.