INSIDE : See the step by step progression of taking a dull unused space and making it usable and fun with a simple Sun Room Redo project!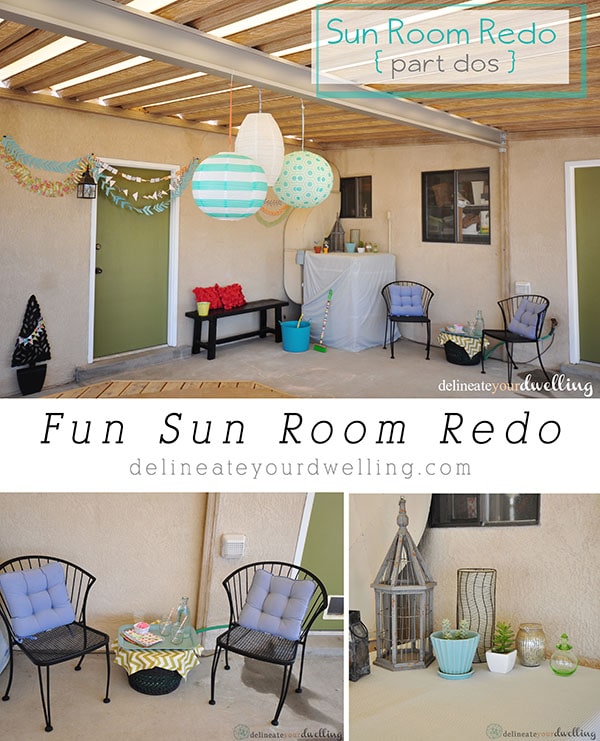 As I posted last week here our sun room was a dirty, unused, trash collecting place in our home. I decided to take on the challenge and brighten + lighten it up. Could I take it from dull to a place I actually like being in? I give you the new and improved Fun Sun Room Redo!
Just a quick refresher for those of you who didn't see the before pictures. I give you… blah.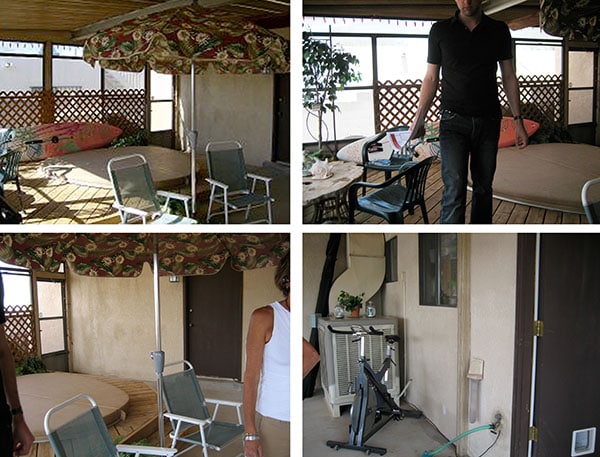 Blah Picture 1 from when we were house hunting.

Blah Picture 2 a few weeks ago, after we worked day and night to clean out the space.
The kiddos and I have been actually playing in the Sun Room every day since I started some of the beautification process. It just seems lighter and happier, I can't think of a better way to say it.
The first thing I did was decide the uses I wanted in our sun room. I wanted an area for the kiddos to use their sidewalk chalk. I wanted an area for adults to sit and have munchies + snacks. I wanted an area for kiddo #1 to ride her new tricycle and for kiddo #2 to play with his trucks. Space planning done, it was time to get to work.
First item on the list was wrapping my ugly mustard yellow swamp cooler like a lovely birthday present. For those of you who don't live in a dry desert climate, swamp coolers are like the desert "air conditioning".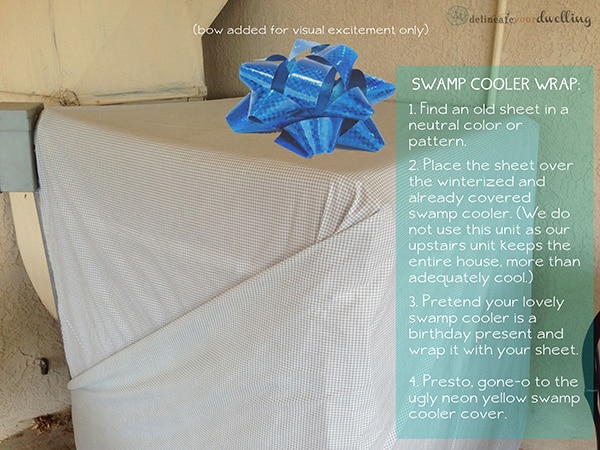 The next piece of business sadly took way more of the week than I had thought it would. Painting the two doors and their associated trim moldings was a job. I could only paint during the kiddos naps and by the time they went to bed, it was too dark out there. BUT, wows. As everyone says, it's amazing what a little paint can do to a space! Major improvement over the weird raspberry brown doors and trim.
Next, I wanted to try and eliminate the huge blank stucco walls so I made paper garland.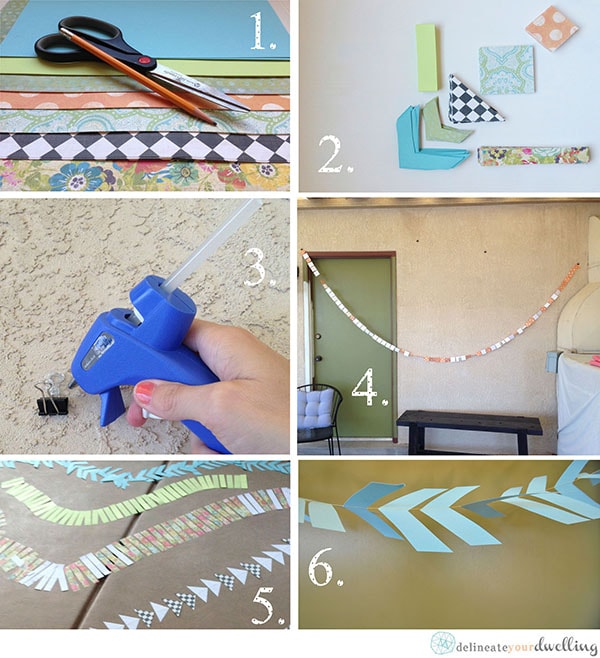 1. Collect 4-5 sheets of craft paper in the colors of your room.
2.
Cut the sheets of paper into all different shapes.
3.
Hot glue a paper clip to the wall (in my case, I had to hot glue to the stucco wall. Normally a command strip would work perfectly.)
4. Clip the front and end of the garland to your first and last clip. Then you can see where to clip the other areas more easily.
5.
Based on the length of the other garlands, one by one put them all up.
6. Step back and see the loveliness.
I took some leftover fabric and covered our hose basket. This then became the adult seating area.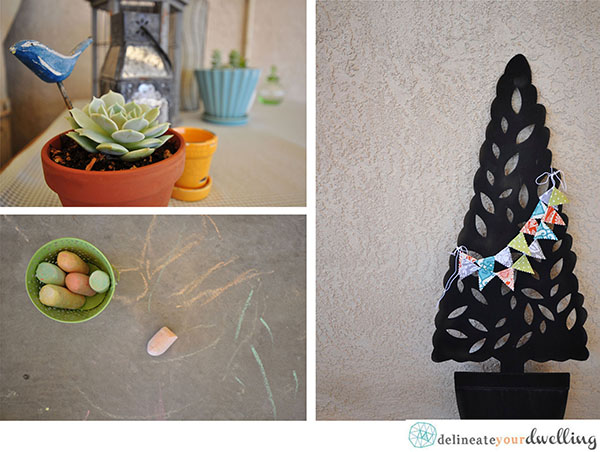 You might have remembered I was planning on repainting my little red table and I still intend to, but after doing a few strokes of the brush…. I realized I would need to do some major sanding. Time slipped away from me and it will have to be a project I get back to. I've got some fun geometric painting ideas for it, though!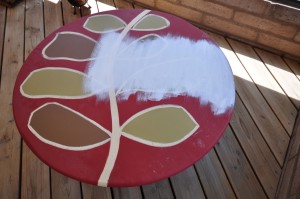 I can't tell you how thrilled I am with the way this room has turned out. I actually don't cringe every time I walk past it now. Have you transformed a room of yours from cringe to cute?