Organize Me Pretty Home Tour
INSIDE : Join me today as I participate in the Organize Me Pretty Home Tour series, where are talking about Organizing our Home. It is hosted by the amazing Ursula from Home Made by Carmona. She has gathered 12 talented ladies, who every day so far have inspired me to keep organizing in thoughtful ways!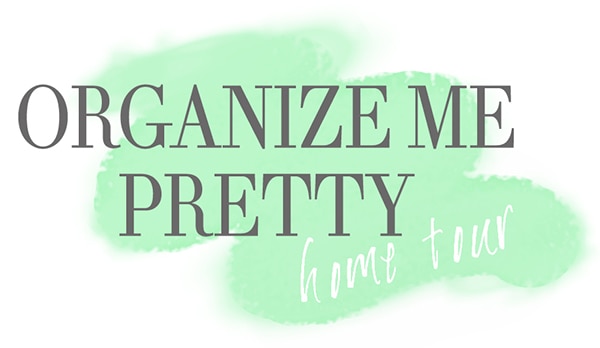 This post may contain affiliate links. See full disclosure here.
Having a two year old and a three year equals constant mess, but in order for me to keep our family running as smoothly as possible, organization is key. And I've noticed for me, if I can make a space pretty – I can keep it organized.
Today I will be sharing four keys areas in my home that are essential to have well organized.
Organized Message Center:
This is often called "the drop zone" but we call it the message center in our home. The last space we see before heading to our cars is this Message Center space.
This compact zone is encompasses so many functions. As I'm running out the door, I can easily grab keys, sunglasses, grocery lists, scarves and any out-going mail.
Our message center is a Martha Stewart 'customize as you need' kit from Staples (I'm also a HUGE fan of this one, completely different look – but so good!). I simply added some paint, washi tape, a few quick vinyl decals and of course gold thumb tacks to take it from store bought vanilla to a little more personalized for our needs.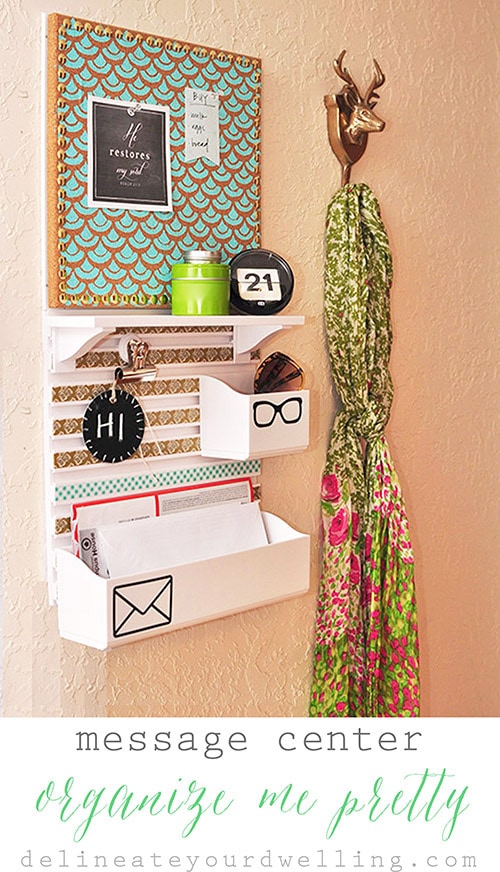 As in most cases, our kitchen is the center of the home. I recently moved this buffet table from our foyer into the kitchen to hold many of our daily used items like laptops, chargers, the dog leash, our
updated pencil holder
, notebooks and a coffee related items.
It really is a game changer to have these types of items stored within closer reach.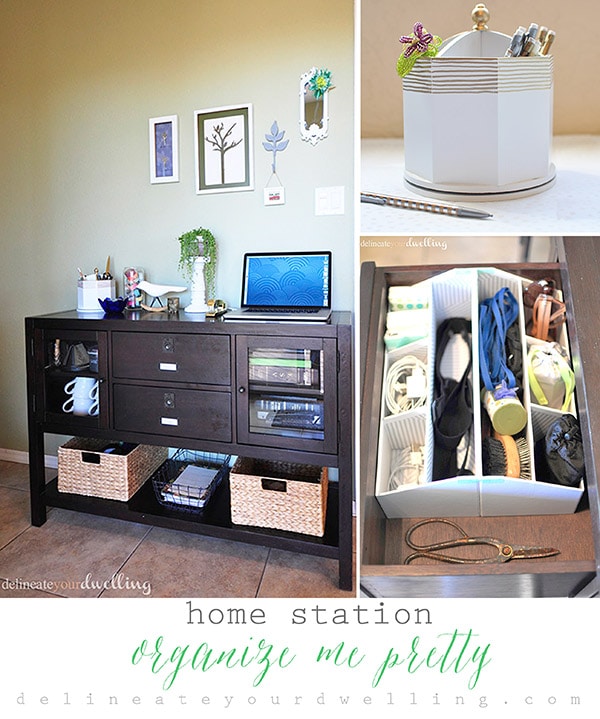 Daily Use Craft Supplies:
Being a creative person and having a desire to spend time painting and coloring with my children, these
Ikea lockers
have become a god sent storage items for my daily craft supplies downstairs.
I had such fun adding
number decals
to the fronts and love changing out items displayed on the side.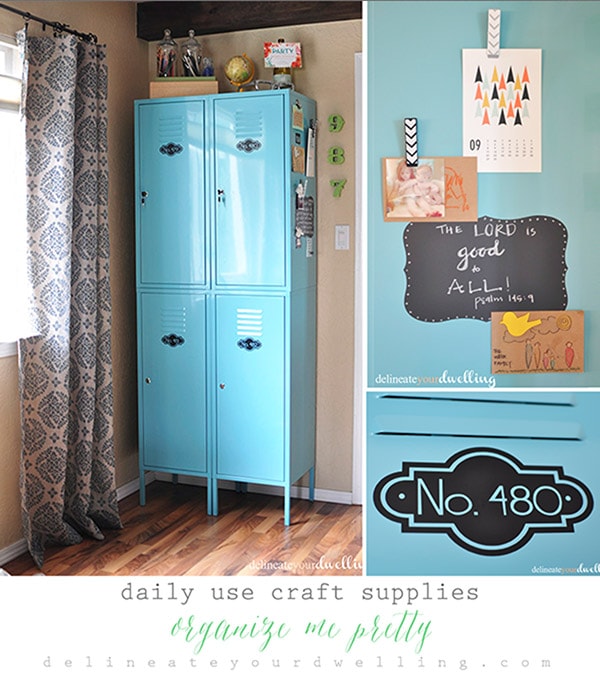 Without a doubt, we use numerous craft items from these lockers multiple times a day so when my three year old is "joyfully" asking to watercolor, knowing exactly where to go to find the materials is VERY important.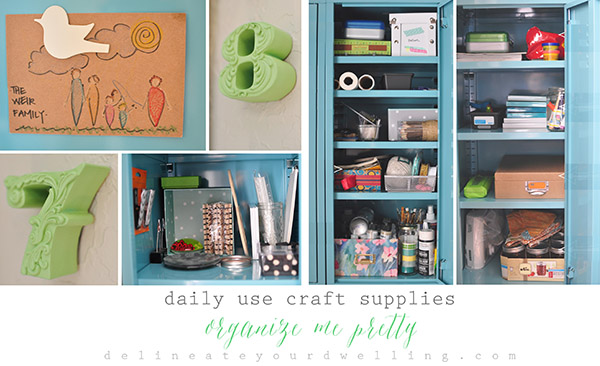 Organized Office and Guest Room:
My last space, is by far my favorite in our home. I just completed the
update to this room
about a month ago. It previously held the leftovers from eight years of living in this home and I was tired of sending guests to stay in a cluttered, unorganized office space with a bed thrown in the middle. Other than buying three Ikea shelves, I was determined to repurpose old items and give them a fresh feel and spend little else!
A new coat of paint on the walls and rearranging furniture was a huge first step. I was able to create four functions within this room: my office area, a crafting zone, a
printing space
and an area for guests.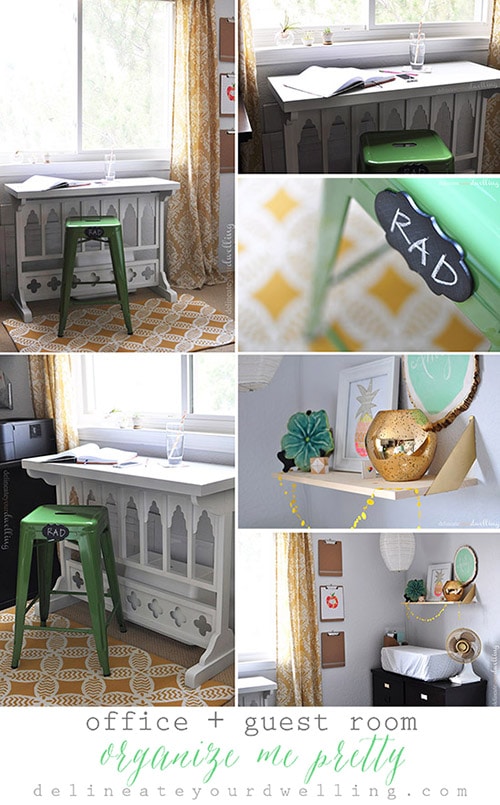 Many of the pieces on the shelves are projects that inspire my creativity. But I also have many great organizing gems in this room, my geometric thread box, my chalkboard cassette case and my gold and white striped chest are just a few.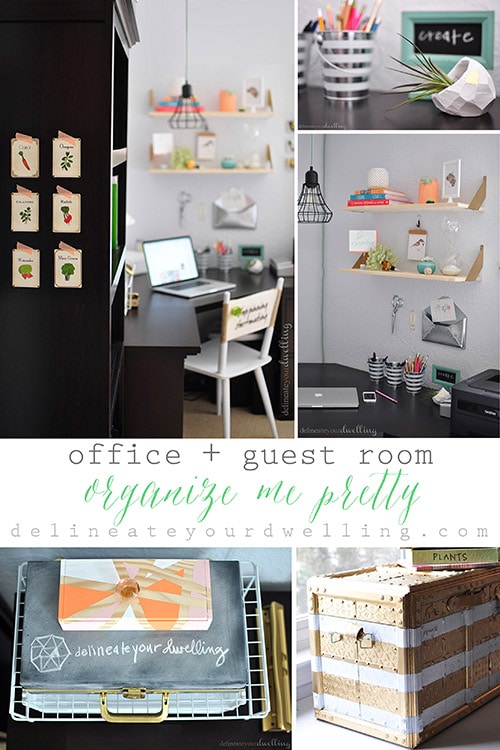 Thank you for stopping by Delineate Your Dwelling for my Organize Me Pretty house tour.
Be sure to stop by all the other lovely home tours previously shared and upcoming,
it will be worth your while!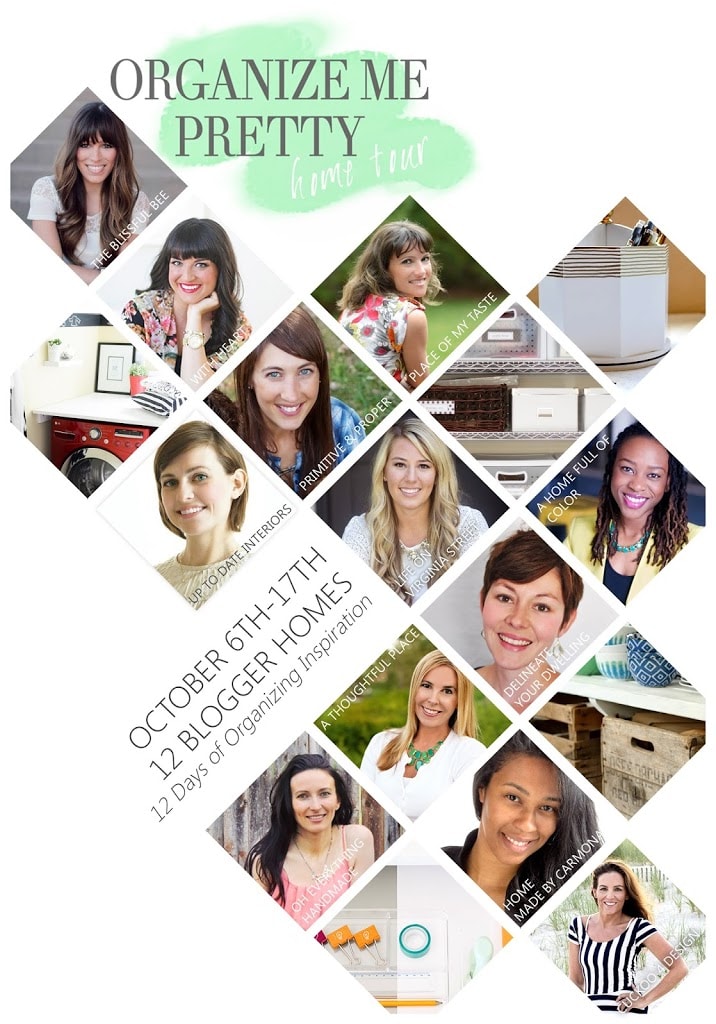 Monday, Oct. 6th | Home Made by Carmona
Tuesday, Oct. 7th | A Thoughtful Place
Wednesday, Oct. 8th | Primitive & Proper
Thursday, Oct. 9th | Oh Everything Handmade
Friday, Oct. 10th | Up To Date Interiors
Saturday, Oct. 11th | Delineate Your Dwelling
Sunday, Oct. 12th | Life On Virginia Street
Monday, Oct. 13th | with HEART
Tuesday, Oct. 14th | The Blissful Bee
Wednesday, Oct. 15th | Cuckoo 4 Design
Thursday, Oct. 16th | Place Of My Taste
Friday, Oct. 17th | A Home Full of Color