INSIDE : Learn how to create adorable DIY IKEA Chalkboard Desks for your children. Find out how to get a colored chalkboard paint and let your imagination run wild.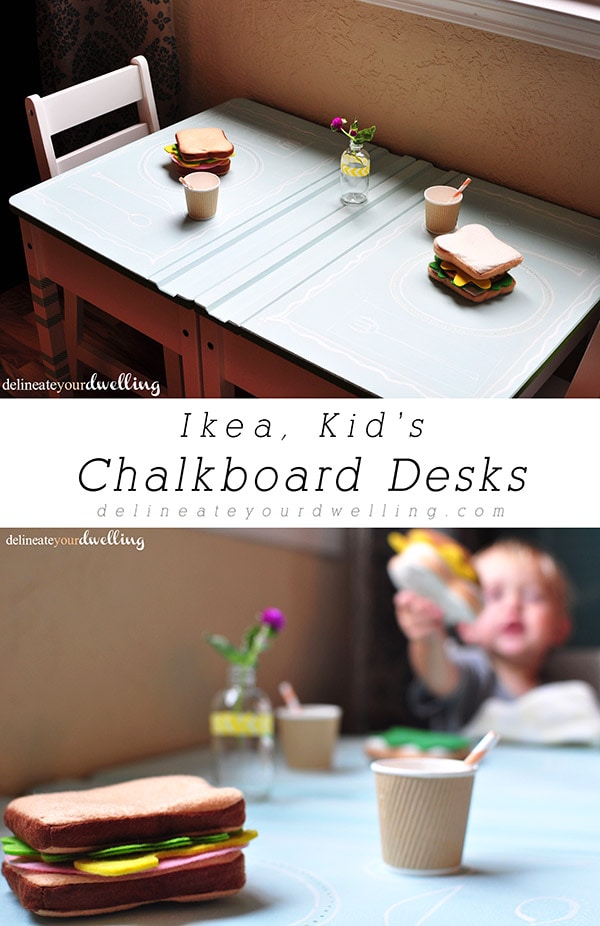 This post may contain affiliate links. See full disclosure here.

As you may remember in my IKEA Kiddo Desks post, my plan was to paint the tops of my kiddo's new desks with a black chalkboard paint. I was really excited about finally jumping into the chalkboard paint world. But, who knew a DIYers "plan" could take so many twists and turns.
As I've said before, I'm learning as I go here… and honestly, the desks were about to go out a window until I took a moment and started in on plan B. I'm pretty thrilled with the end product.
I did one coat of the black chalkboard paint and realized as much as I loved the concept of it… it wasn't going to look very cheerful in the context of the room.
Zoom out two feet and I have a dark espresso cabinet holding some of the kiddo's toys.
Zoom out two more feet and we have a dark espresso table and six chairs. I'm doing my best to lessen the dark brown/black colors in our downstairs and move towards white and light in color… it just feels more fresh and uplifting to me.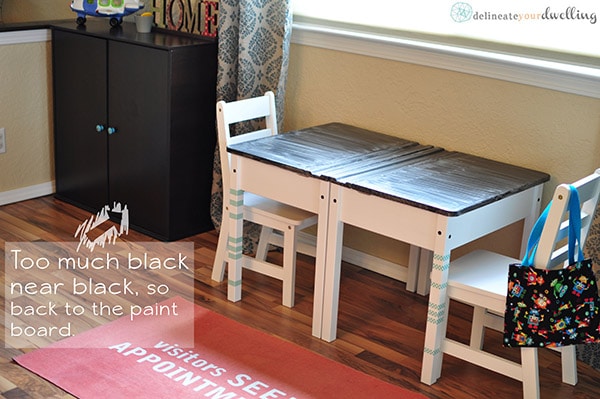 So, after one coat of black chalkboard, I headed off to Home Depot to look for a colored chalkboard paint. This turned out to be much more difficult than I anticipated. I explained my situation to the helpful people at the paint counter. After much talking among themselves and lots of head rubbing (and about 30 minutes) they were able to do it!
I asked them to match Behr's "spa" color and using Rust-Oleum Chalkboard Paint
, they did a color match and made my new batch of lovely soft blue chalkboard paint. FRIENDS, ANY COLOR YOU WANT IS NOW AVAILABLE IN CHALKBOARD PAINT!
TIP ONE: Even though the box says "Comes in 12 tintable colors!" you can make any color you like!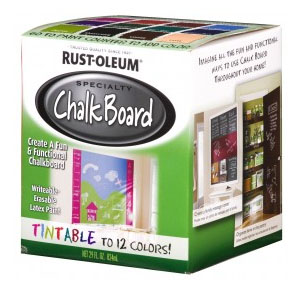 I painted two coats of latex primer to cover the BLACK and then followed the chalkboard directions.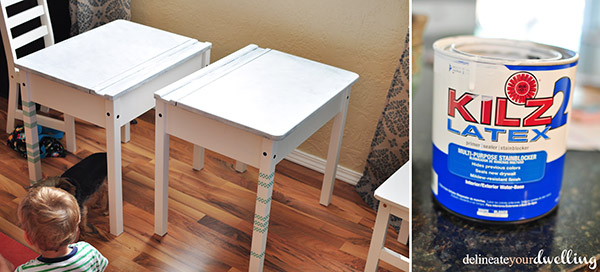 I ended up doing three coats of the blue chalkboard. Sweet kiddo #1 proceeded to "accidentally" color across the entire desktop with a purple crayon. So, after another two coats, it was finally covered up.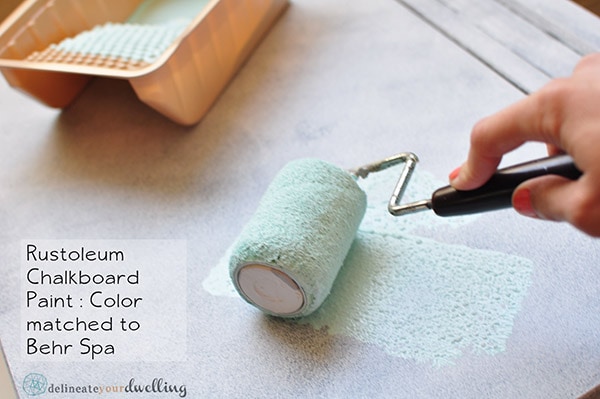 After the paint had dried for 36 hours, you "season" the board by rubbing a piece of chalk over the entire surface. The only chalk I had on hand was colored chalk, so I used a piece of yellow chalk.
TIP TWO: Let me recommend that you DO NOT use colored chalk for this step. Afterward, even after wiping down the desk tops with a damp cloth, I could not get the yellow look to go away.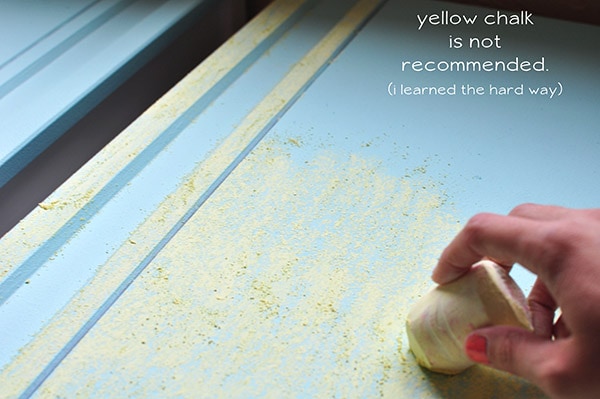 Fast forward a few days and a few more coats of chalkboard paint after more crayons were used on the desks (lets repeat, "we only use crayons on the paper") and that is about where I started getting ready to throw these desks out the window. I took a day or two away, picked up some WHITE chalk and was ready to season the desks.
TIP THREE: Whenever seasoning a chalkboard, it is highly recommended to do this step outdoors. I had done this the first time inside… it was a dust farm in my dining room.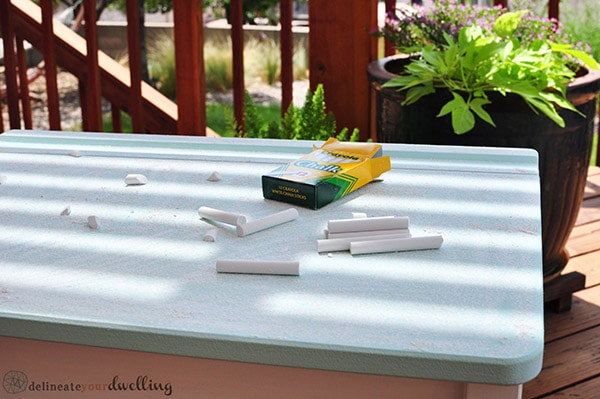 I sketched out the basic layout for the table settings on a large piece of paper. Then, I held my sketch up to a window and used a pencil to color the backside of the paper where the lines were. Sixth grade graphite transfer method.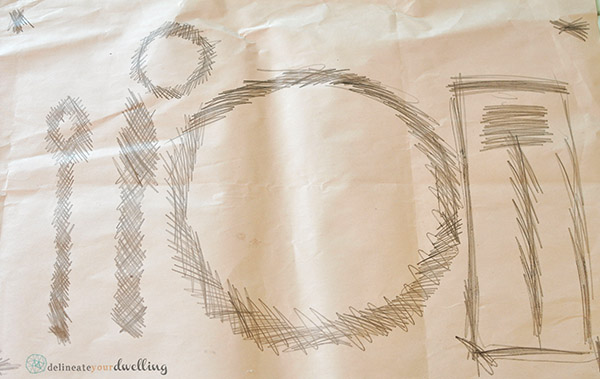 That made a nice transfer of my design so that both desks would have similar spacing and layout. After all this prep work, I was able to start painting the place setting using a white paint pen.
I even added a small detail of gold to the plates for a little sparkle. I also painted the edge of the desks with a bright green color for a contrast of pale blues and white.
I am in love with the end result.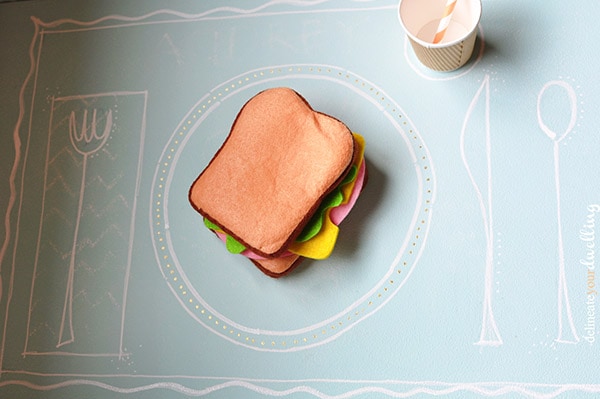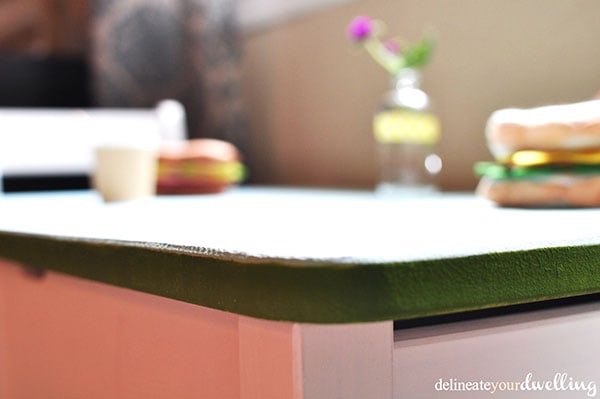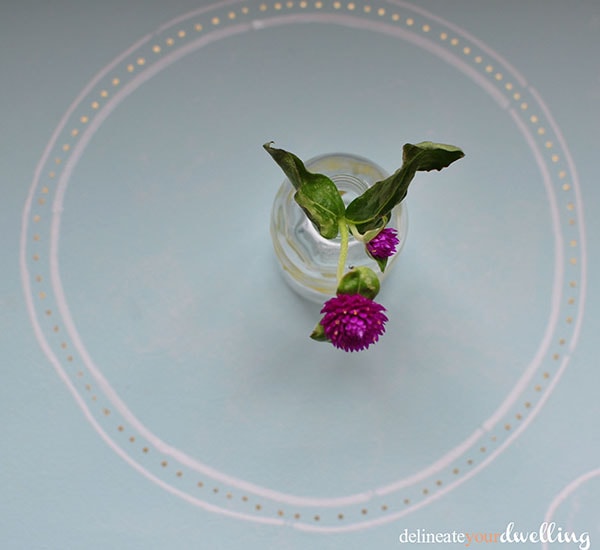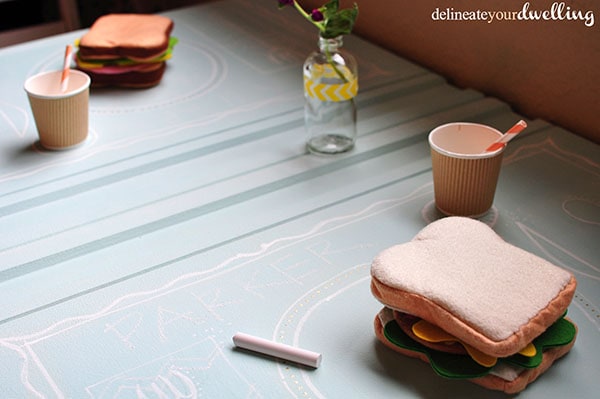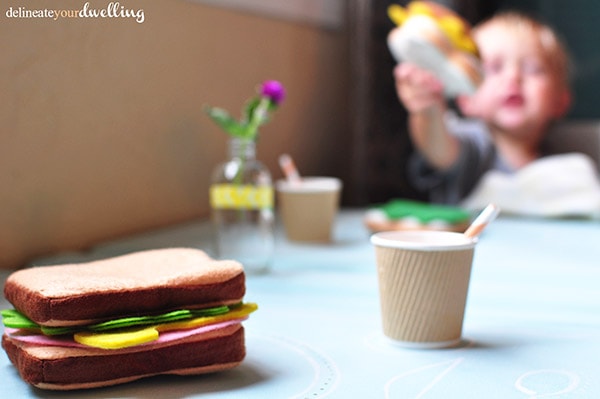 Phew, who knew this easy project would take so many coats of paint? Hopefully if you attempt this project, you'll keep all purple crayons up high from your little ones. We don't want anyone's adorable IKEA chalkboard desks to go out the window – ha.
Interested in seeing from start to finish?
SaveSave