Every so often it's good to round up your girls and let your creative side run free. I love spending time with friends and it doesn't get much better than being able to relax during a fun crafting afternoon with them. Today I am sharing my tips on How to host a Crafting Afternoon with girlfriends… and ps – there is one secret ingredient that always is a hit!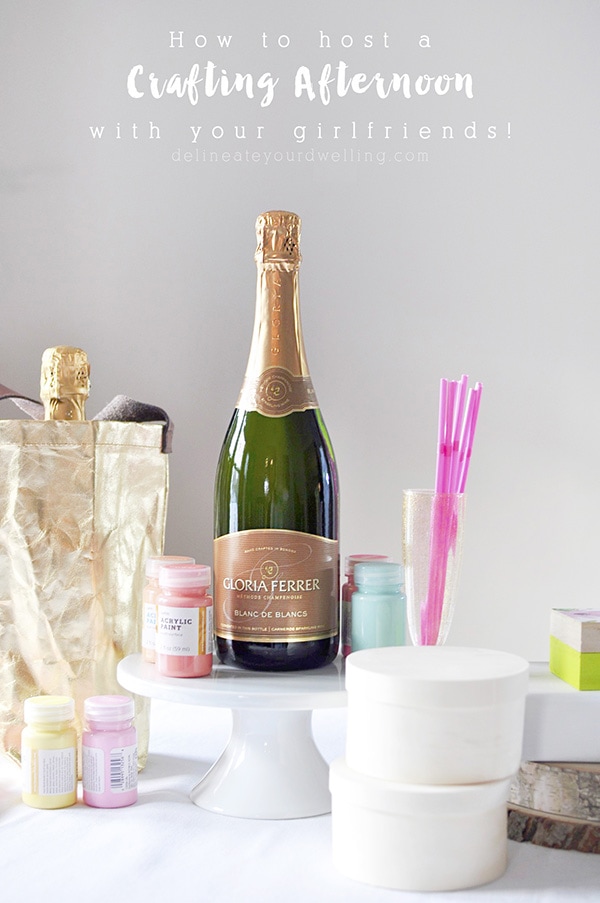 There is something about using your hands and creating with a group of friends that instantly can transport you away from the craziness and hustle of life. And my secret ingredient for creating an atmosphere where everyone is relaxed and able to enjoy themselves is a bubbling glass of Gloria Ferrer Sparkling Wine and a few light appetizers.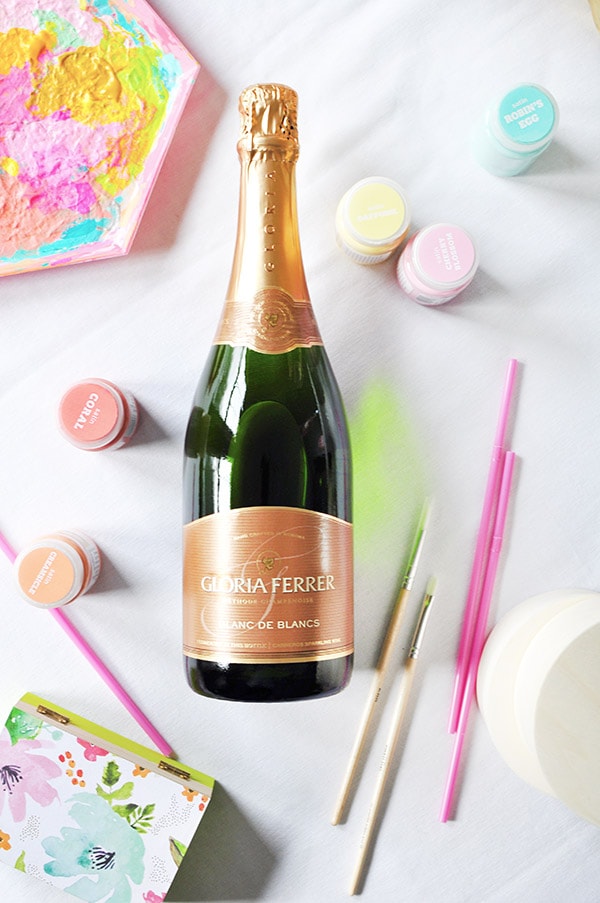 Gloria Ferrer Caves & Vineyards is Carneros' original sparkling wine house, owned and founded by the Ferrer family of Spain. Named for José Ferrer's wife, Gloria, the winery opened in 1986 in the breezy, now-famous region in southernmost Sonoma County.
Currently with 335 acres under vine, the estate vineyards at Gloria Ferrer is known as experts in the production of Pinot Noir and Chardonnay, and produce estate grown still and sparkling wines that rival some of the world's finest. Gloria Ferrer wines have earned over 500 gold medals and 50 90+ scores in the last 5 years.
After all your girlfriends arrive, it's time to open the wine and pour each friend a glass! I always love the loud POP of opening sparkling wine.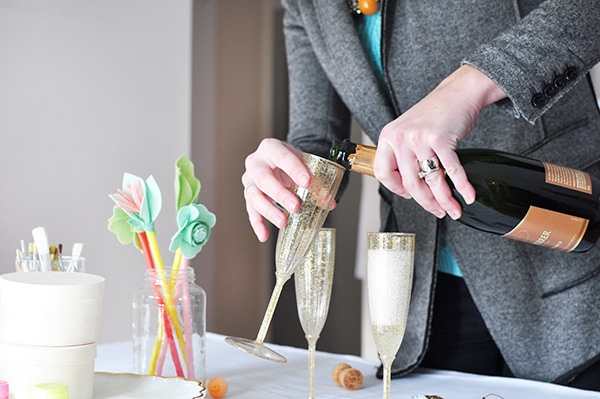 My favorite crafting parties, are when you can display all the materials being used in fun ways. I always start with a white table cloth. People tend to get nervous about white, but it's just like they say… you can easily throw it in the wash!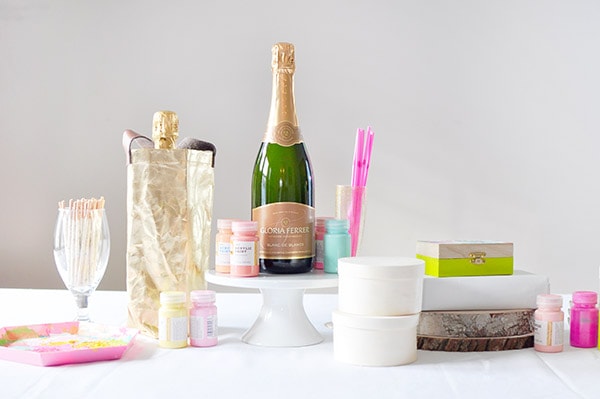 I set out brushes in fun glass jars, put straws in an extra wine glass and small Pokey treats in a pretty container.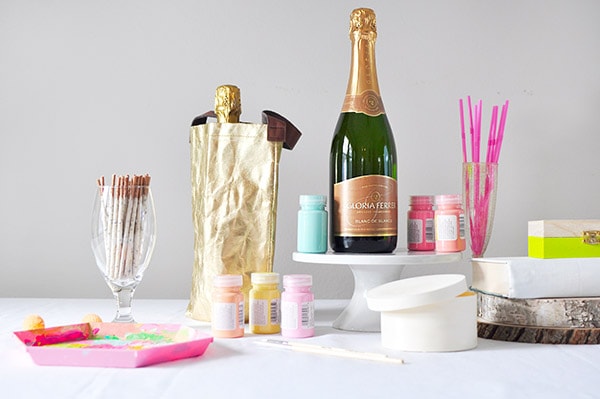 For this crafting session, we were all going to make simple modern painted boxes. I purposely set out paints in a similar color palette. There were tons of directions for my girlfriends to go with the craft, but by keeping the color palette tailored, everyone's finished product would now look pretty and cohesive when completed.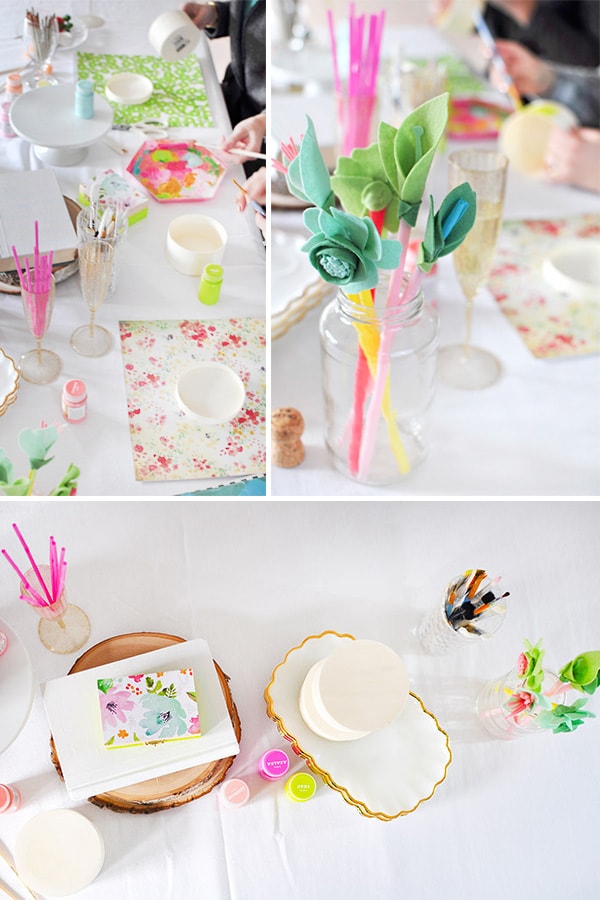 The first step for this craft is selecting a scrapbook paper that will be secured to the top of your box lid.
Once your paper is selected, it's paint time!

To keep the boxes having a modern simple look, only the bottom portion of the box is painted.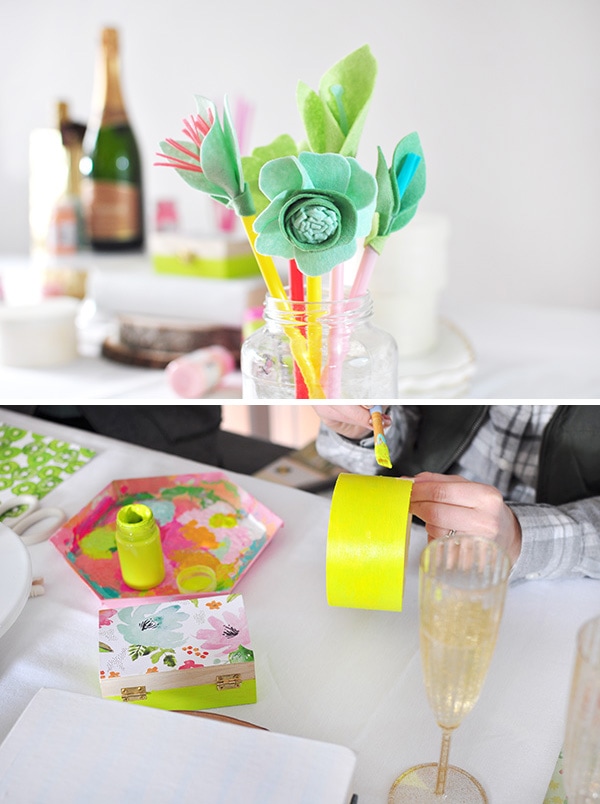 And did I mention another craft party tip is tasty treats! I had fresh strawberries, Cookie n Cream Pokeys and mini powdered donuts. I always keep the food simple for these types of events.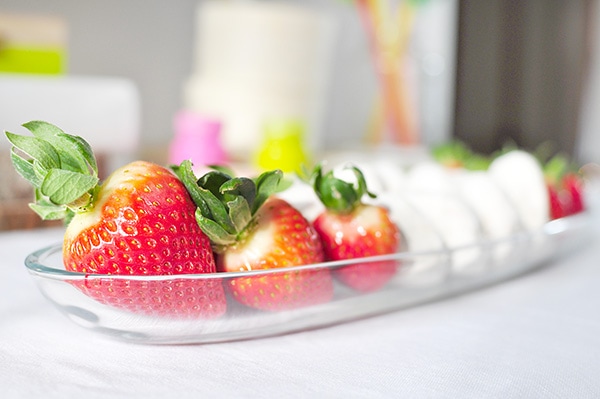 While the paint is drying, it's time to work on the paper top. I had the ladies, place the box lid on their scrapbook paper and trace the exact shape. Then, it was as simple as cutting it out and adhering to the lid with mod podge.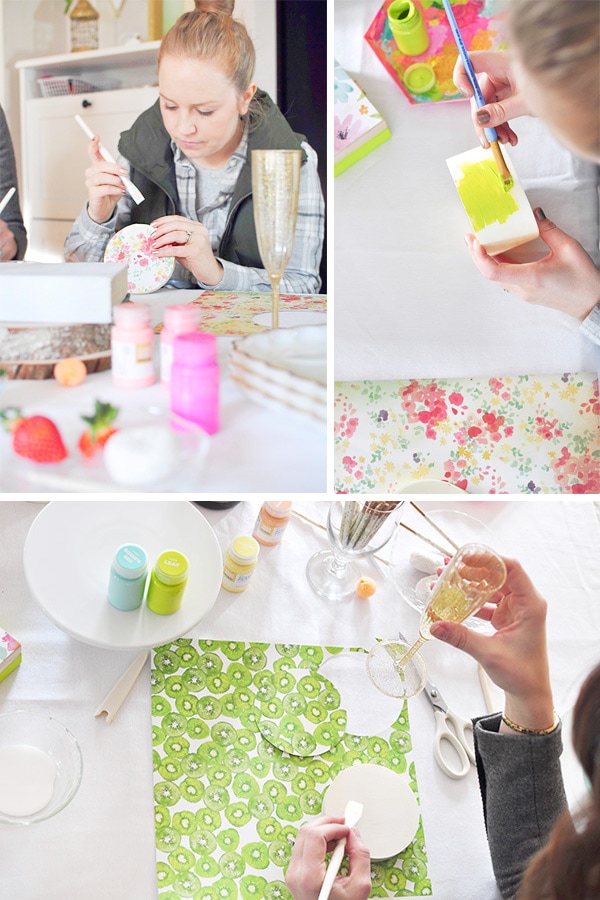 A little bubbly break…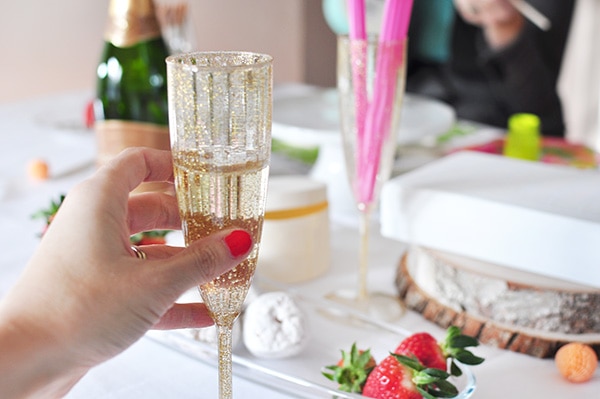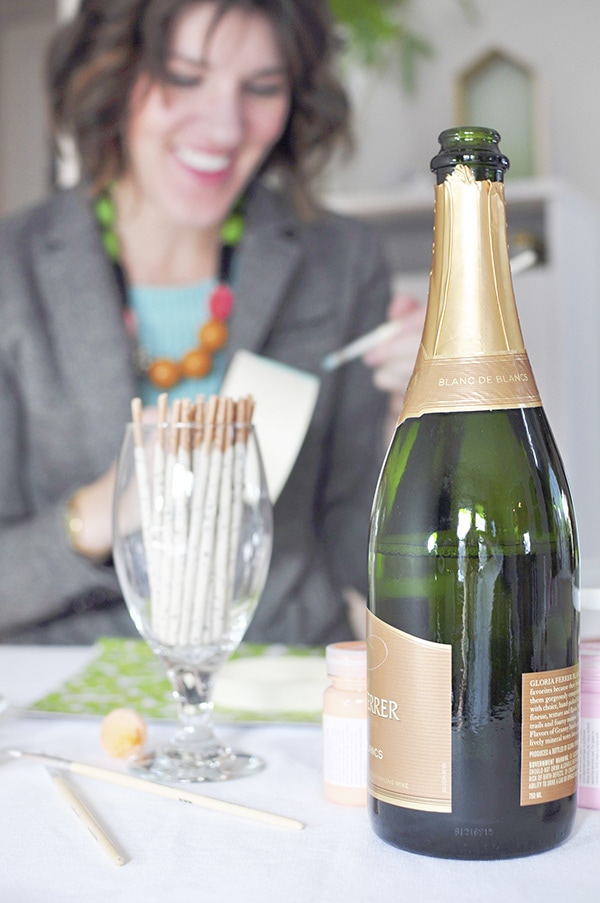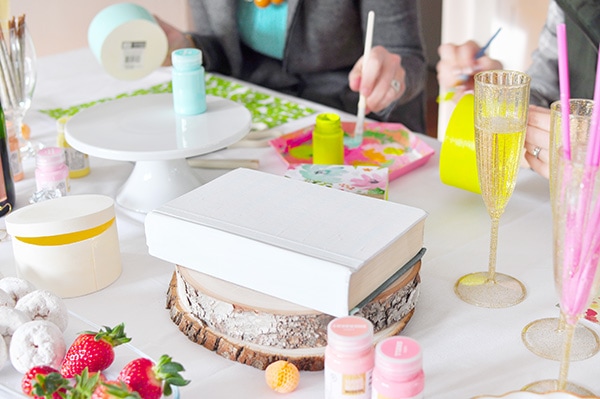 And the best part of a crafting party is, once the craft is done – the drinks, munchies and chatting can continue!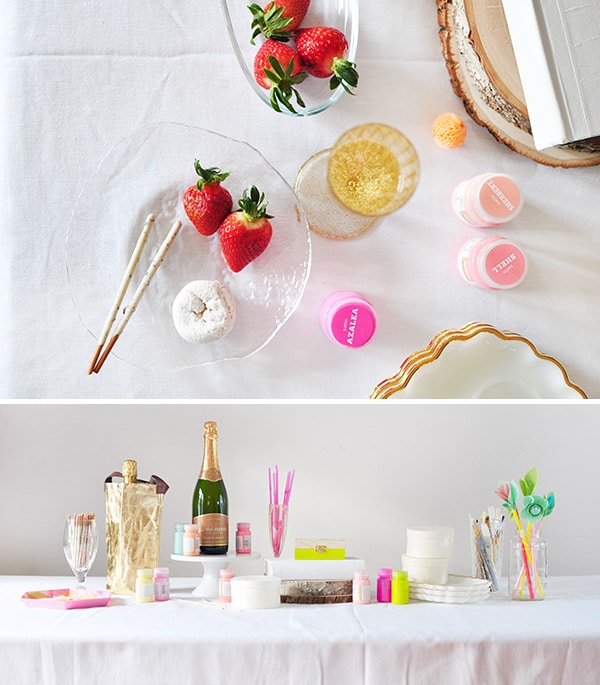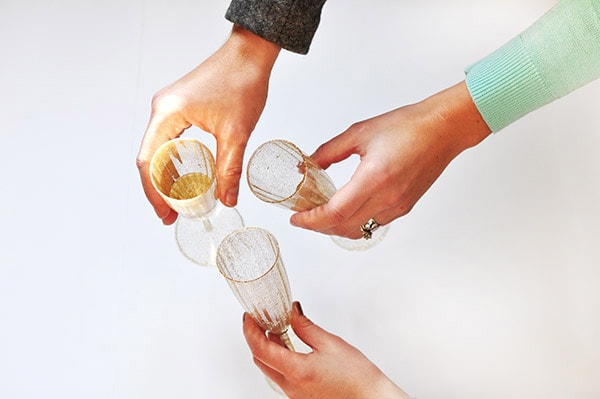 Cheers!!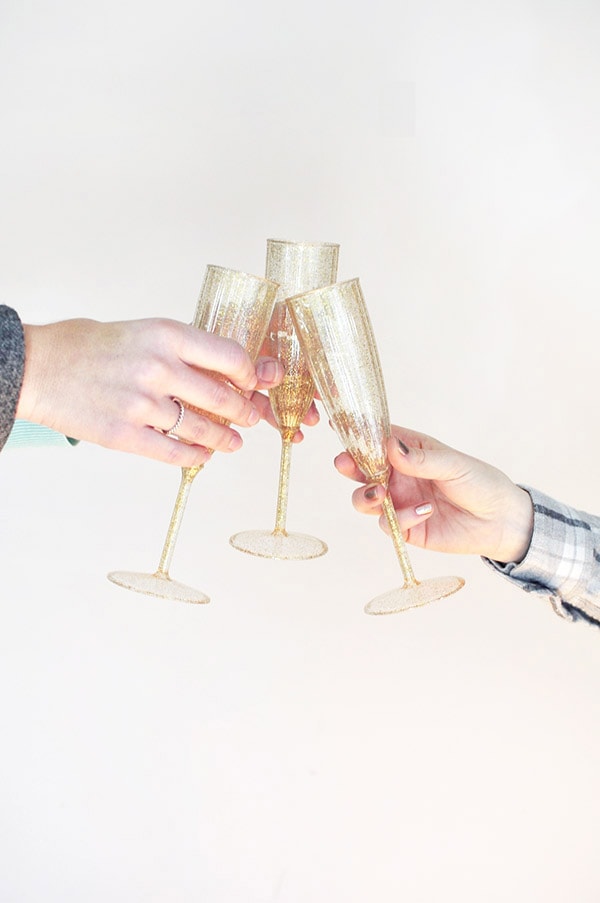 And the final product from our crafting afternoon…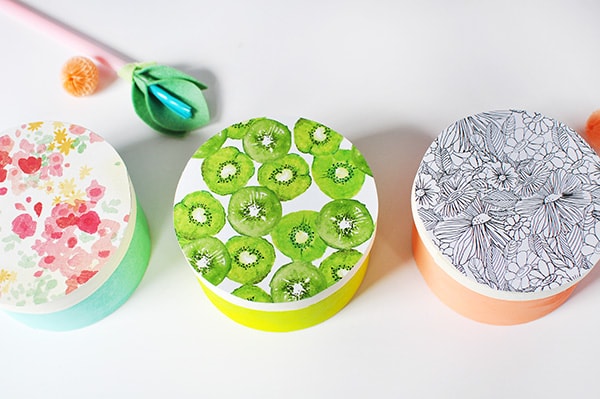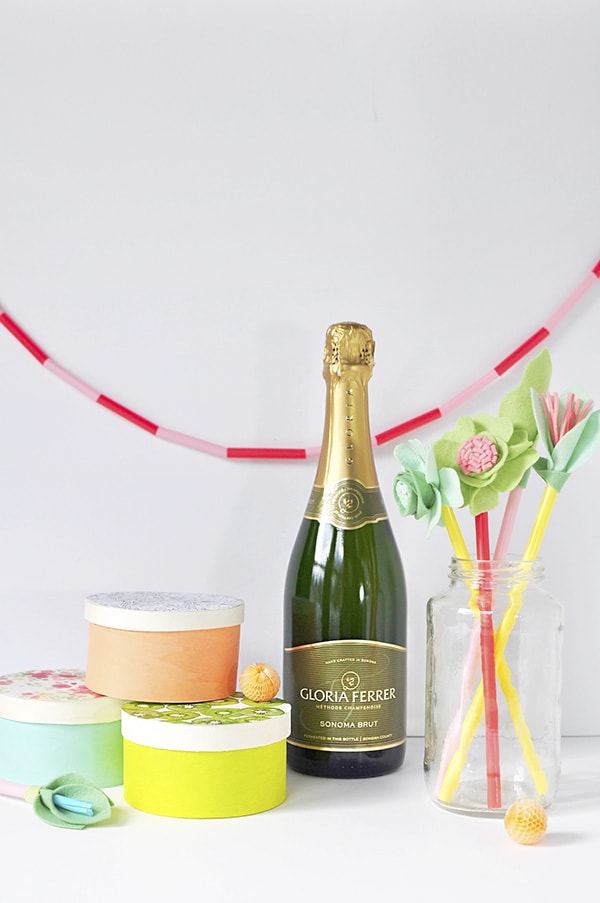 Every occasion can be made glorious with Gloria Ferrer!
I was selected for this opportunity as a member of CLEVER and the content and opinions expressed here are all my own.
If you are looking for more ideas on Savoring Time spent at the Table, check these out…

SaveSaveSaveSave