INSIDE : Have you fallen in love with Pilea Pepperomia? You can now enjoy a hand drawn Pilea Digital Print without any concern for plant care. This black and white print is great for green thumbs, plant lovers and those who can't seem to keep a plant alive!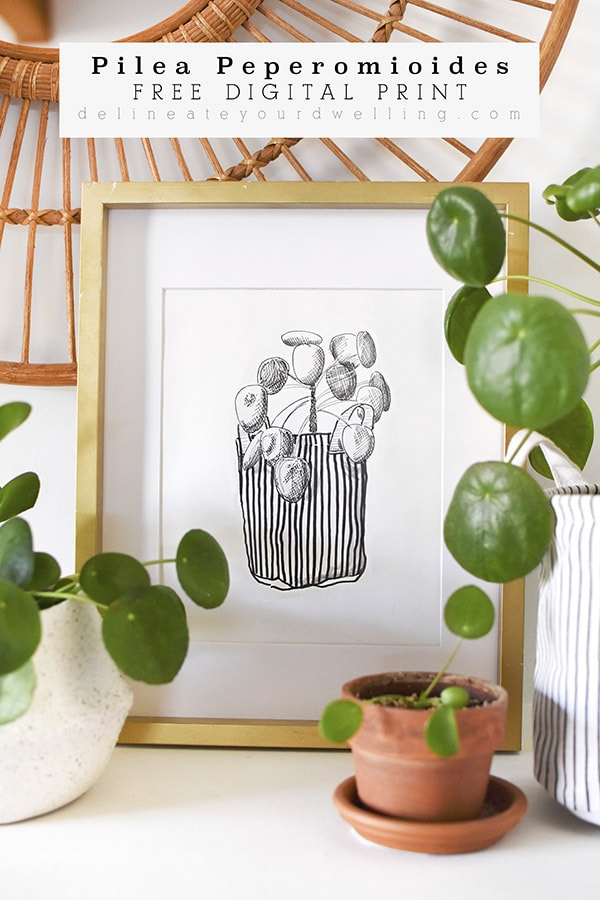 If you have been around here for long, you know I am a big plant enthusiast. I have done well over 50+ plant crafts, have written numerous plant care posts and even came out with a plant care ebook, Happy Houseplants!
Also there is the being a practicing landscape architect for eight years, that really shows… I love indoor AND outdoor plants a lot, ha!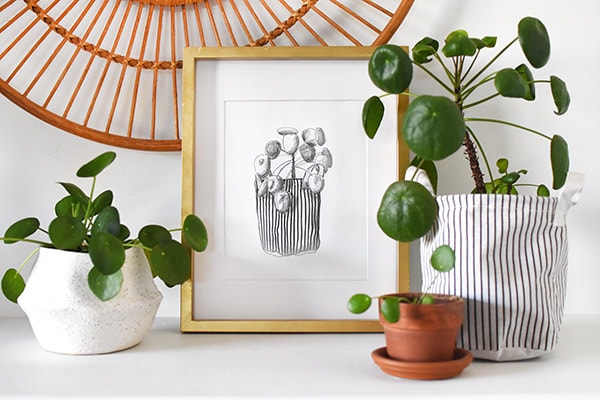 If you like plant prints, you will definitely love my recent Fiddle Leaf Fig Black and White print, too.
One of more recent indoor houseplants is the Pilea peperomiodes, also called just Pilea or Chinese Money plant. I wrote a huge in-depth post all about the care tips needed for Pilea. I also have a post on Propagating Pilea.
I mean, look how cool that plant is!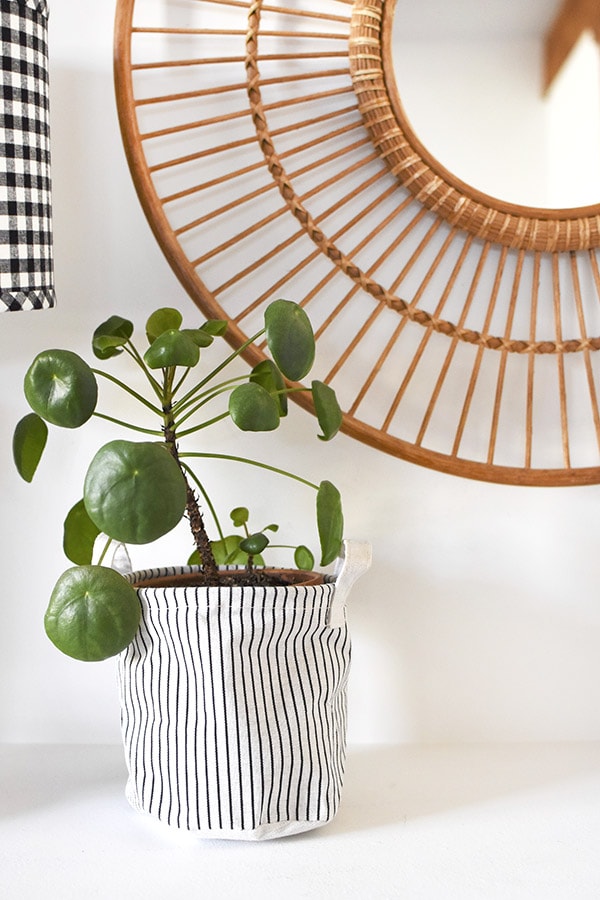 From my love for this gorgeous Chinese Money plant, I decided to spend some time drawing it out. I even drew the fun black and white striped cloth bag that I keep mine in!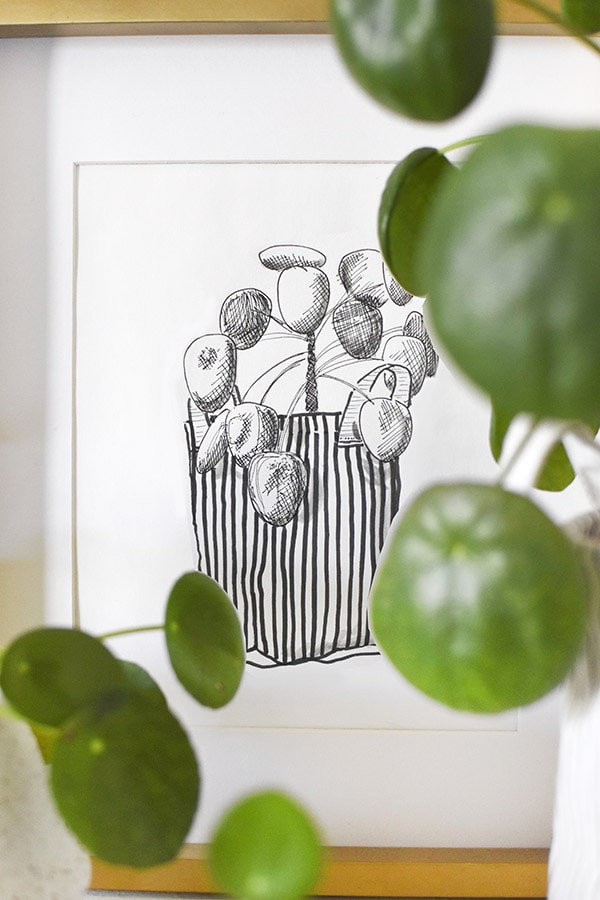 I adore their saucer like disc leaves. I have three of these plants and they just keep having babies… so before you know it, I may have a Pilea plant farm going on over here! And I don't think I'm mad about it.
Looking to gain insights, tips and methods for not only keeping your plants alive, but to have them thrive? Let's grow green enthusiasts, one plant at a time together with my Happy Houseplants eBook!
My Happy Houseplants ebook talks about how to not kill all the plants and includes:
– A helpful checklist for the 6 steps to keep your plants alive + thriving.
– A deep dive on 7 trending "it" plants (like your finicky Fiddle Leaf Fig!)
-5 plant printables to hang in your home.
Buy it below.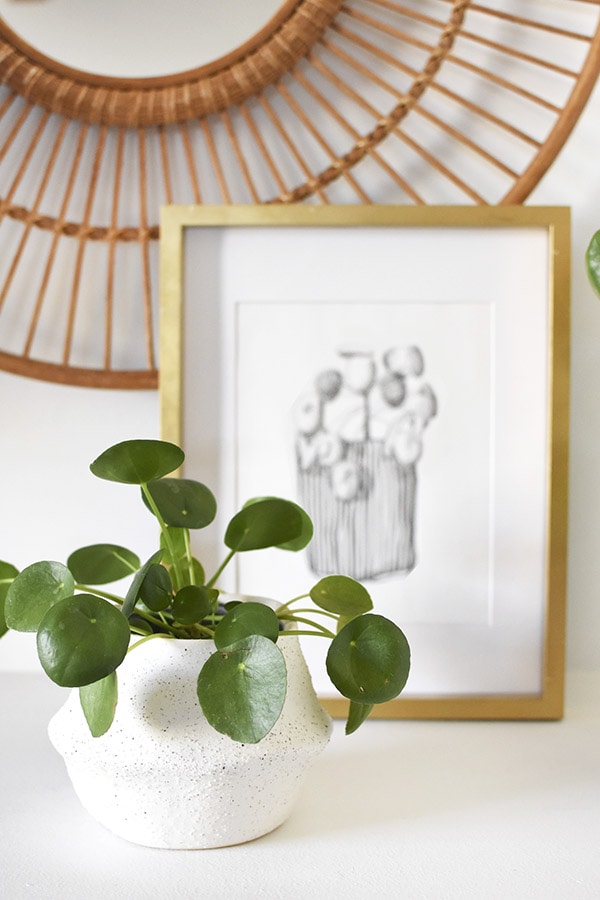 I kept this print simple in black and white pen for a classic style, that will complement any home decor.
This digital print comes as an 8.5 x 11 digital .JPG file. You can download it onto your computer and print at home or at your local print shop.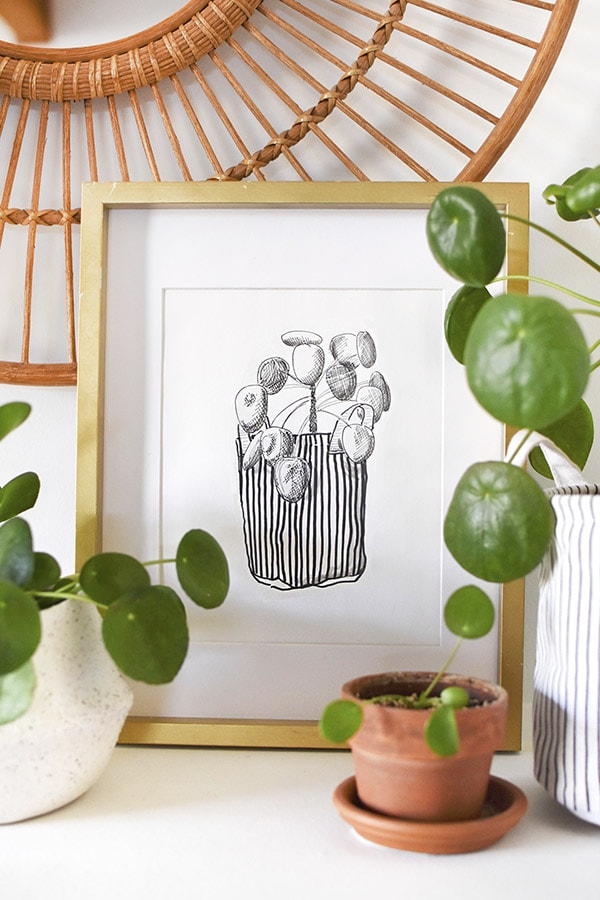 Okay are you ready to download your print now?
IT'S DOWNLOAD TIME:
Sign up for my DYD Insider newsletter to receive access to my ENTIRE DYD Printable Library along with this gorgeous Pilea pen and ink print!!!
Already a DYD Newsletter Insider? Click on over here to access the printables library using the password found at the bottom of any email I've sent you.
And be sure to tag me on Instagram if you hang this print in your home!
I'd love to share it on my IG Stories!