INSIDE : The Top 10 Romantic Free Fonts to use for Valentine's Day invitations, cards and special love notes! Easy to download and fun to use.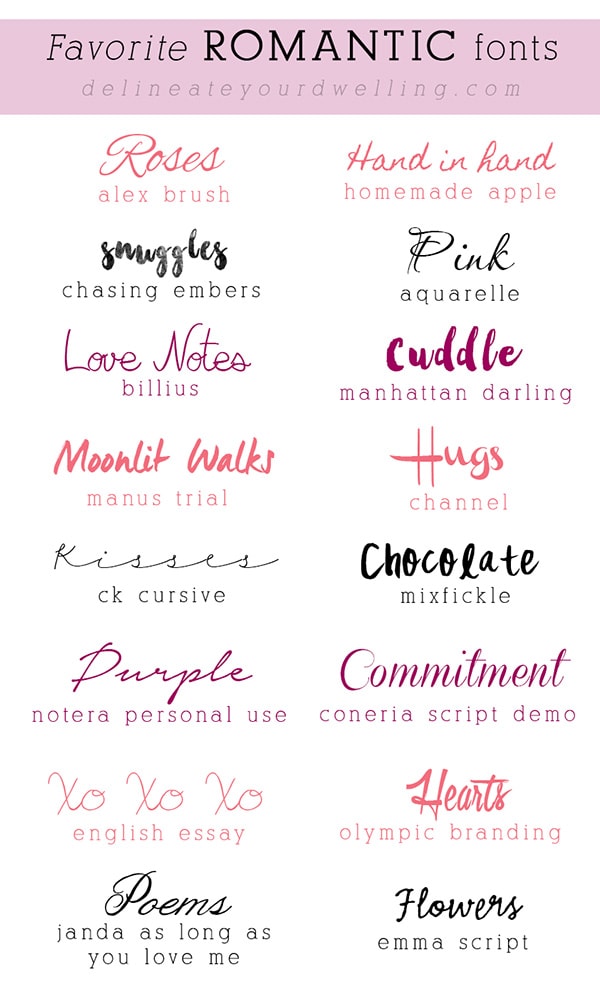 I LOVE love fonts. There is something a little magical to me about getting a new font. You can download it and immediately it's like you have learned a completely new way to write.
I don't know if it is the artist in me or just liking things to look pretty, but I'm a total font junkie. Today, I am sharing my Top 10 Romantic Free Fonts… because we could all use a little more scripty, cursive, romance in our lives – whether Valentine's Day is coming soon or not!
Looking for more amazing Valentine's Day projects? You'll love these fun ideas.
And if you get a font but then need some help with how to install fonts on a Mac computer I can help you with that, too.
You can download all the below fonts below for FREE!
manus trial | channel

ck cursive | mix fickle
notera personal font | coneria script font
english essay | olympic branding
janda as long as you love me | emma script
What are your favorite fonts? Be sure to share them in the comments below because
I'm ALWAYS looking for new ones!
Be sure to sign up for my DYD Free graphic printable group for more fun like this.


SaveSave