This post is in collaboration with Brother International Corporation. All opinions are 100% mine.
INSIDE : Learn how to create elegant holiday ribbon candles. Elevate your candles with this simple look for endless colors, patterns and looks!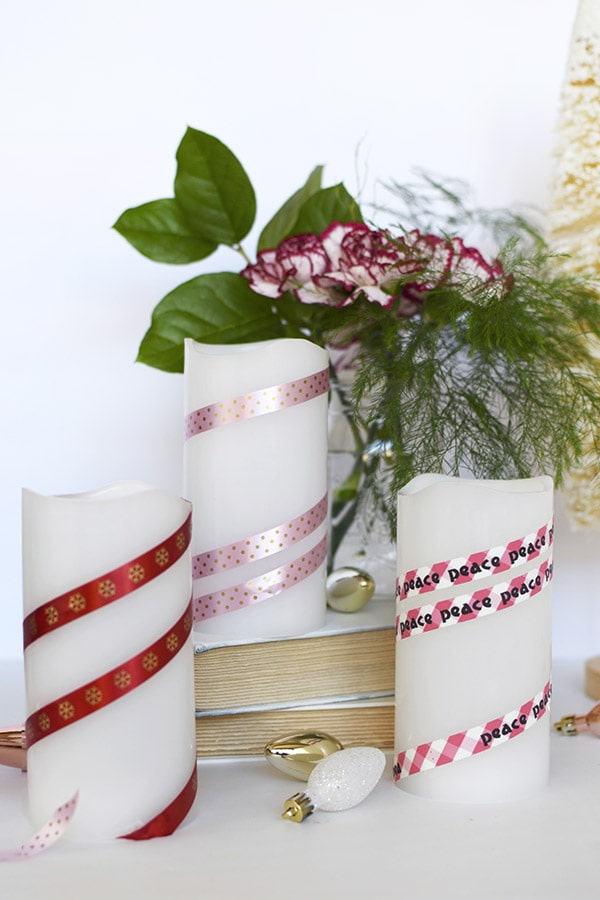 There is such a wonderful simplicity in an effortless holiday craft. As my family gets ready to break out all of our decor and welcome in the Christmas season, I decided we need just a few more quick holiday crafts.
I'm excited to share my new Elegant Holiday Ribbon Candles with you today!
What supplies are needed for Ribbon Candles?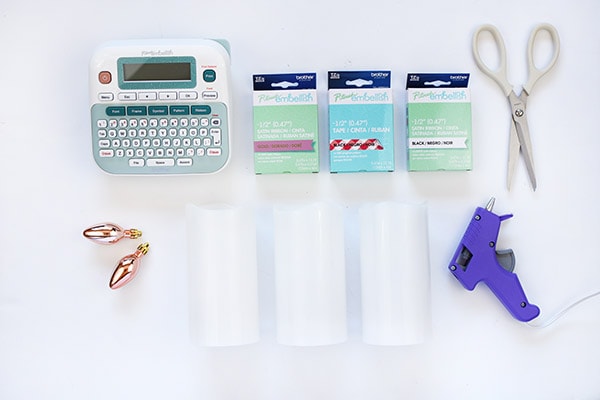 How to decorate a candle with ribbon?
The first step to creating these simple candles is exploring all the amazing options on your P-touch Embellish. With 14+ fonts, 90+ borders, 400+ symbols and 25 patterns to choose from – making a personalized ribbon projects is a breeze!
I had no idea how much fun it would be create patterns for my ribbons using the P-touch. I was immediately hooked with creating more ribbons than I would ever need for this project.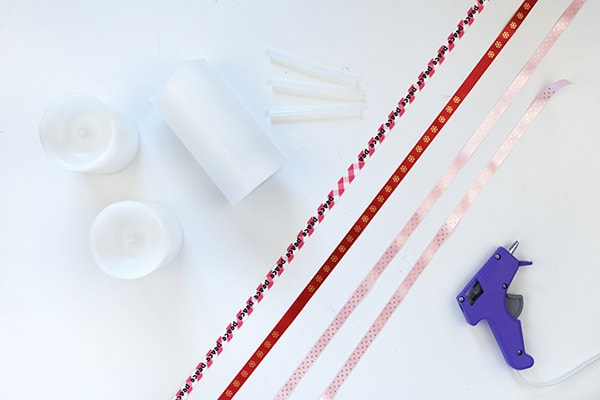 Not only were the satin ribbons and the patterned tapes easy and fun to make, but I was so surprised with the speed at which they were printed out – sixty seconds or less!
For these candles, I used three different patterns and color combinations. I used a red satin ribbons with gold snowflakes, a soft pink satin ribbon with gold polka dots and Red & White Gingham with the words Peace printed on it.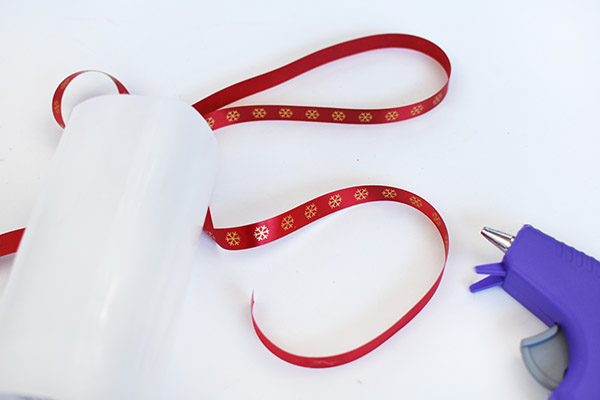 How to put a ribbon to a candle?
Starting at the top of your battery operated candle and add a small amount of hot glue to secure the ribbon in place.
I found it helpful to play around with the ribbon a bit before gluing it down to see the best position of the pattern.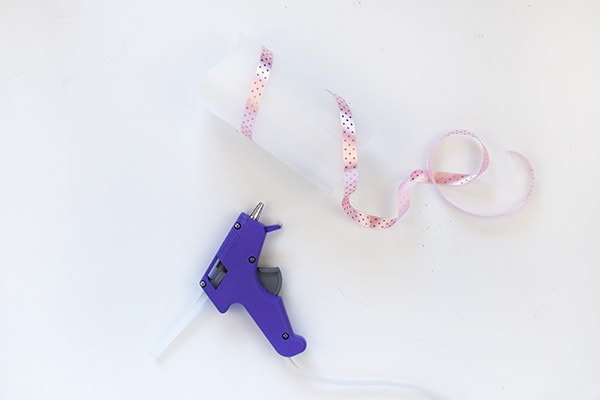 With endless patterns, words and even emojis available on the P-touch Embellish, the options are as wide as your imagination! This also would be a fun way to add a personal touch to holiday-themed DIY gift.
Make sure to keep the ribbon snug against your candle and add small dabs of hot glue along the way to keep everything secure.
I loved how these bright ribbon colors pop against the simple white candles.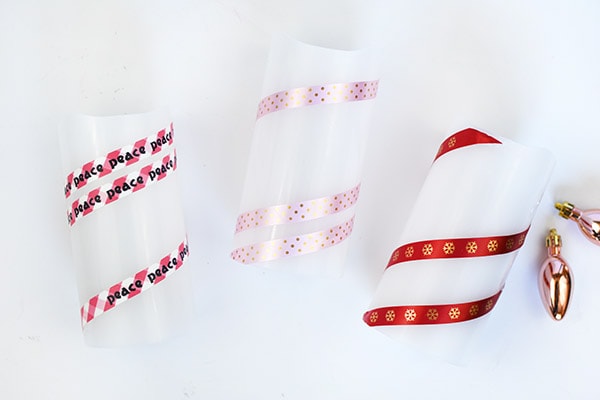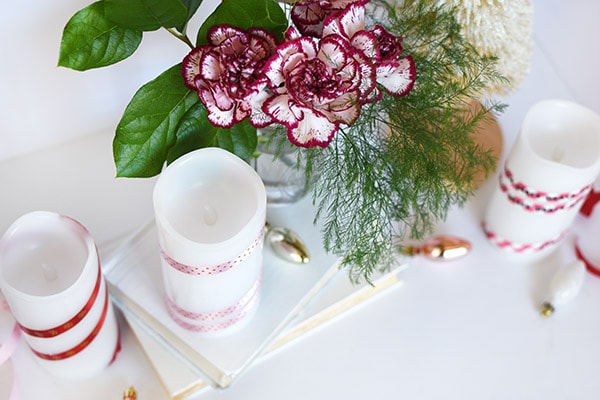 I added my candles, a few bulb ornaments and a vase of fresh flowers for an elegant winter display for the holidays!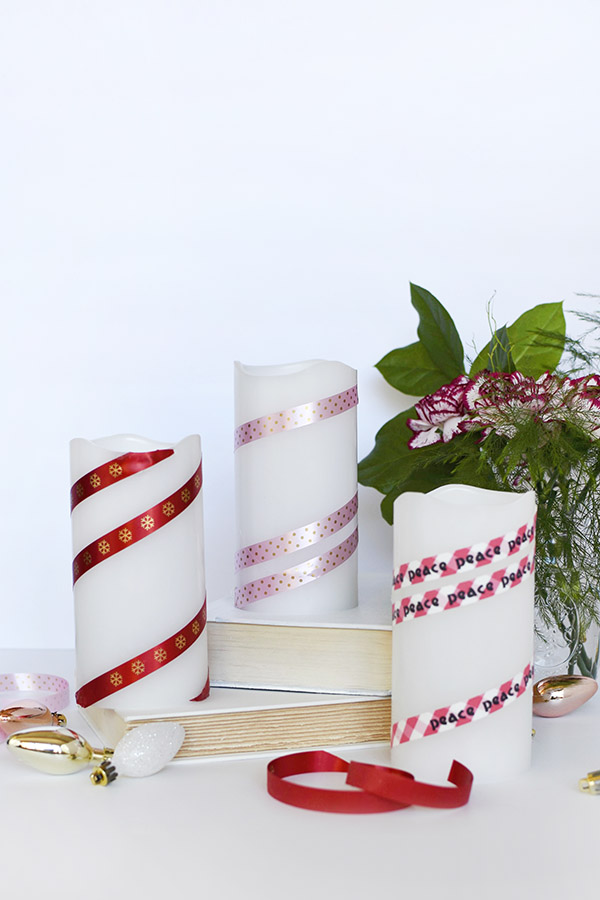 You can find the P-touch Embellish printer, ribbons, 9 patterned tapes and 3 pastel tapes at your local US Michaels stores or at Michaels.com.
Looking for more P-touch Embellish projects? You might like my Printed Fan Ribbon Ornaments DIY.
You might also enjoy my DIY Felt Ornaments.