Today is our third month of the '2015 Knock Out Knock Off challenge' and CB2! is the lucky inspiration store. Each month, four other bloggers and I pick items from our selected store and try to recreate them for a lesser cost. So far this year we've done Anthropologie and The Land of Nod. If you know me at all, you know I'm a plant lover and more specifically a succulent and cacti lover! So, today am here to share my Easy Cacti Wall Decor!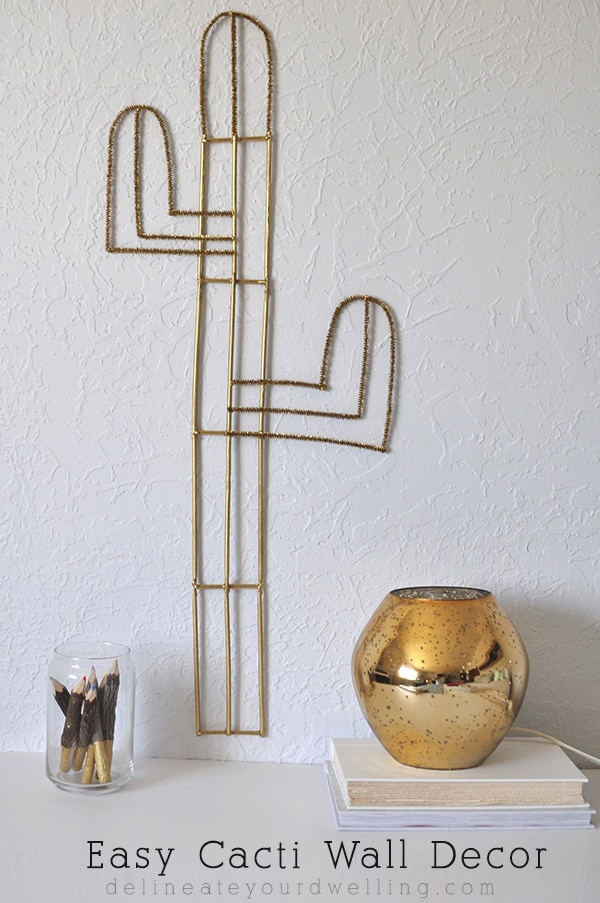 This post contains affiliate links. See my full disclosure.
When I saw this CB2 *Cactus Coat rack, I simply fell in love. It's made of wire and the cacti arms are 3d so as to hold scarves, coats and hats. However I made mine to simply replicate the overall look of CB2's. Also, I had to go gold instead of the metal wire look they did.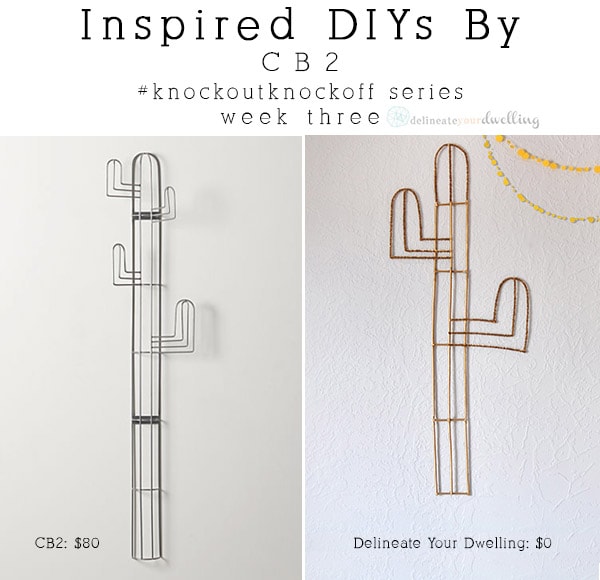 I already owned all the materials needed for this project. So, I did a little happy dance at the ZERO price tag. However, if you were to buy these few craft items it would still cost quite a bit less than CB2's original $80 price.
SUPPLIES:

Pipe Cleaner / Small Wooden Dowels / Wooden Skewers / Glue Gun / Rust-Oleum Metallic GOLD Spray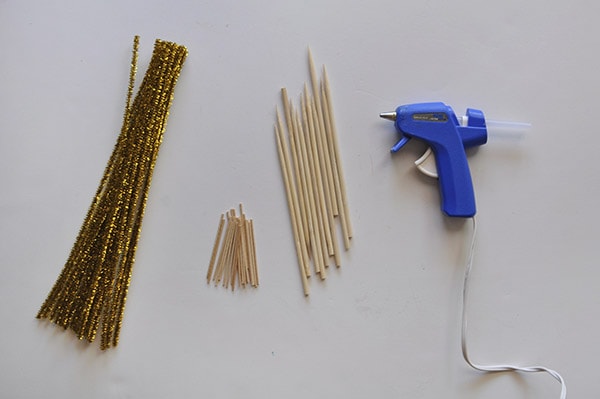 This project is quite simple to create, it just takes a few moments of pre-thought before starting to decided upon the design layout.First, I decided upon the size (height) and laid out the wooden skewers accordingly. At each joint, I glued with hot glue two of the smaller wooden dowels. Once my main shape was glued together, I added a center skewer in following with the CB2 inspiration.
To replicate the curved cacti portions, I used pipe cleaners. They were so easy to bend and shape the curves and then also to give a very strong 90 degree angle.
Once all the pieces are glued together, I used my favorite Rust-Oleum Metallic GOLD Spray
to give the entire cacti a uniform color.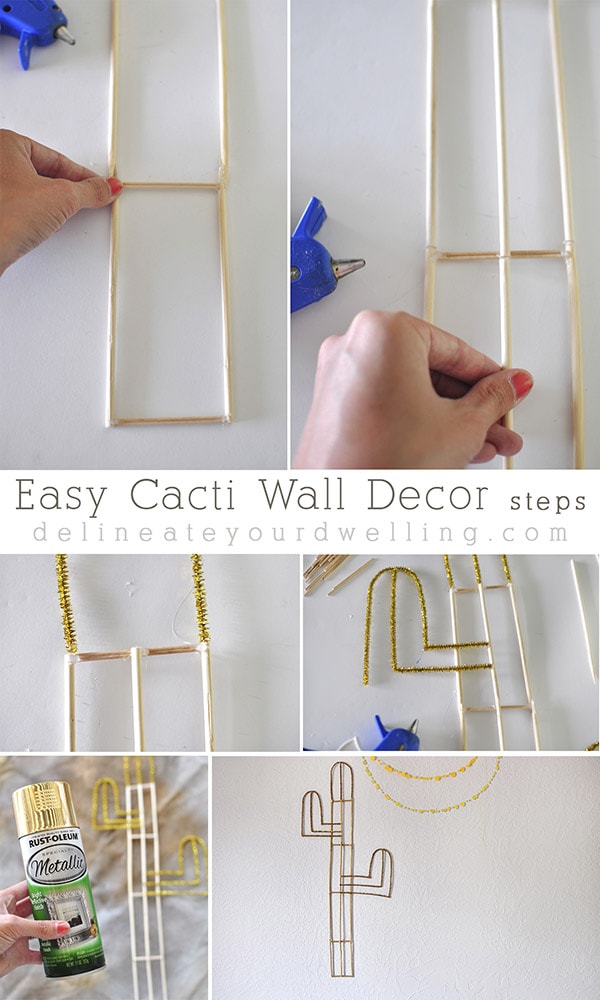 Here is what it looked like before the spray paint. Once the cacti is all the same color, the different textures of the skewers and pipe cleaners seems to disappear.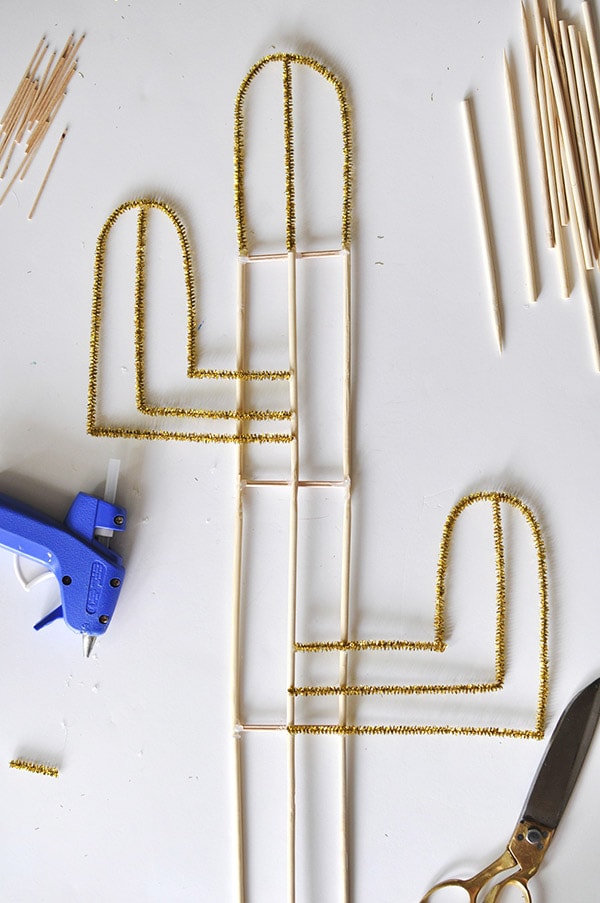 And the finished look.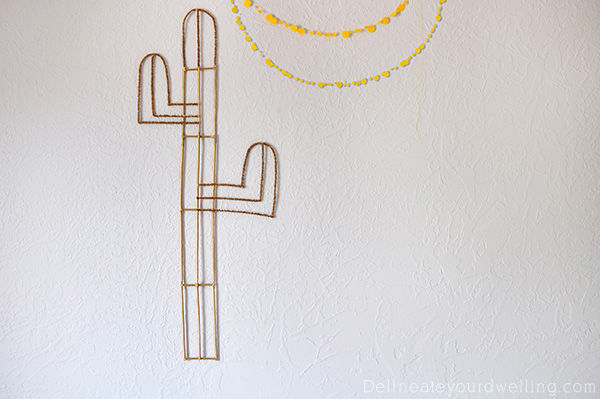 I've added my Easy Cactus Wall Decor to my Guest Room + Office and I love how perfectly it fits in!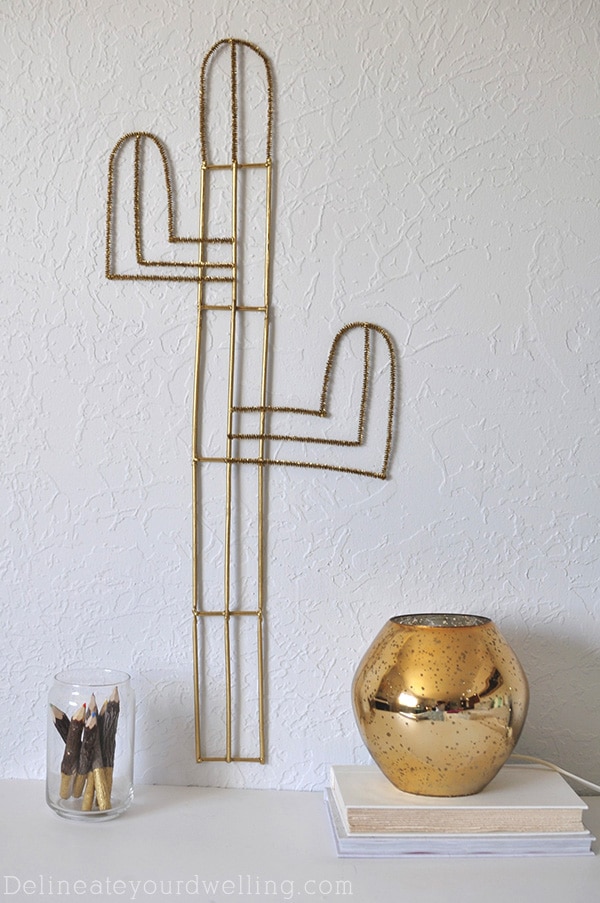 Through August, we will be showcasing an inspired project from a pre-decided home decor store. Be sure to check out the other amazing projects and the projects from last month!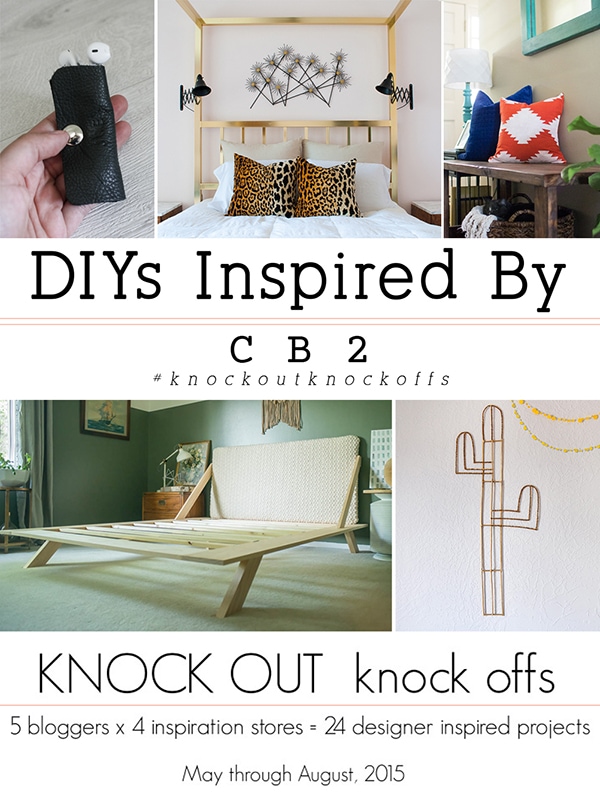 DIY Earbud Holder / DIY Metal Flower Wall Hanging / Kilim Inspired Painted Pillow
Mid-Century Inspired DIY Bed / Easy Cacti Wall Decor