INSIDE : Learn how to make gorgeous DIY Wedding Invitations on a budget. Even if you want to take the inexpensive route, you can still have a lovely wedding invite!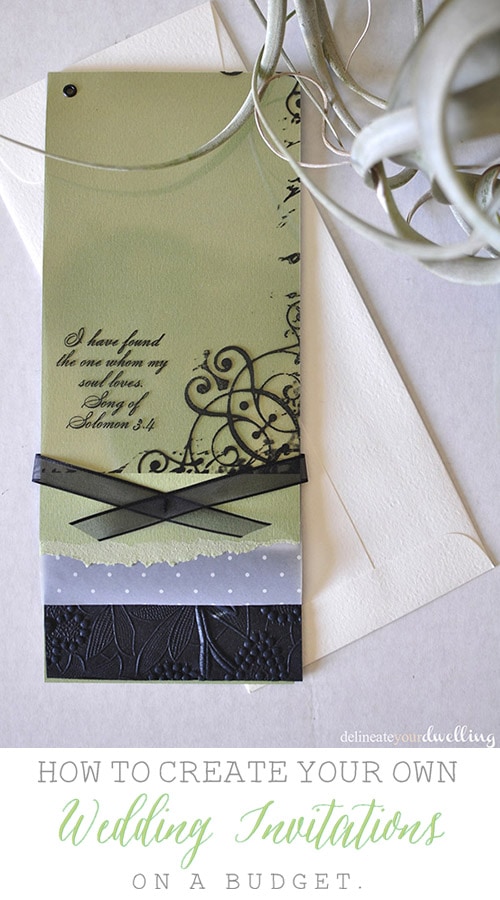 This post may contain affiliate links. See full disclosure here.
Today marks a very special day – I am celebrating my eighth wedding anniversary. We have had loads of highs and our fare share of lows. However, without question, I have been blessed beyond measure by having him in my life.
We married two years after graduating college and made the decision to pay for our own wedding. My mother helped with my wedding dress and the husband's parents paid for our delicious rehearsal dinner. Otherwise we covered all of the remaining costs.
I think most would be surprised to know how much we were able to DIY, do things on the cheap and still have a lovely and elegant wedding. Also I think it was a foreshadowing of my eventual love as a DIY blogger, finding ways to make my home beautiful in easy and inexpensive ways – ha.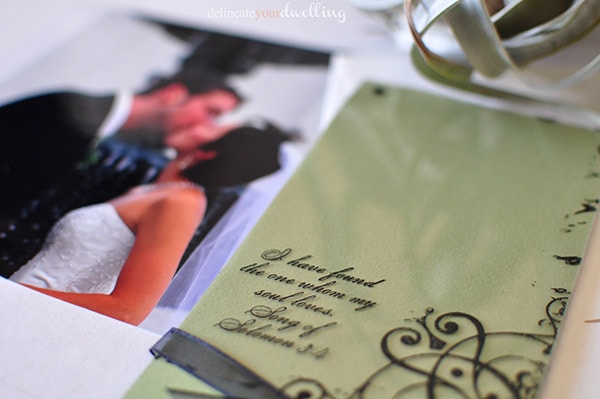 We included Song of Solomon 3:4 I have found the one whom my soul loves on the front – I love that Bible verse.
How to pick the important to YOU wedding items:
If you've been reading this blog very long, you know I have a paper love that runs deeply with my Customize any Notebook and Scrapbook Paper Doll House. I was not a bride who had been dreaming of her wedding day since birth. I didn't really care what food was served or what music we played.
However, I chose a few items and really focused my time and effort into making those me/us. Those items were the invitations, the decor and most importantly to us, having Christ as the center of our ceremony.
Sit down with your partner and make a list of the things that are non-negotiable for your special day. Do you need to have the "SAY YES to the dress" dress? Is music a big part of your life and really important to your wedding day?
After you have chosen those items, you can make sure those are priority items and although the rest is still important, you can give them less attention.
How to start planning for your DIY Wedding Invitations:
My mother traveled out for a wedding planning session. I knew my invitations would be the starting point for the overall color and styled theme for our wedding, so that's where we started. We went paper shopping in every local paper supply store I could find.
Then began the brainstorming process. I sketched and then eventually mocked up this invitation. Next, I had to figure out how to create the invite as inexpensively as possible.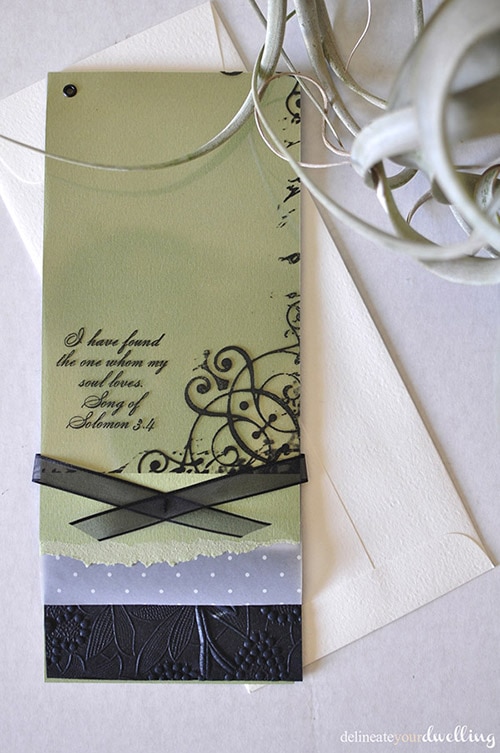 How to create an expensive looking Wedding invitation on a budget:
The huge key to this very paper heavy, but inexpensive invitation was that it was all do-it-yourself. My most amazing roommate at the time, Liliana, was such a stellar bridesmaid and night after night we sat cutting paper by hand while watching tv.
Please note, these were NOT quick throw it together invitations. But if you have the time and patience, I would highly recommend creating something you can cherish for a lifetime.
What are the supplies needed for inexpensive DIY Wedding invitations?
Lots of beautiful papers (I found mine all locally)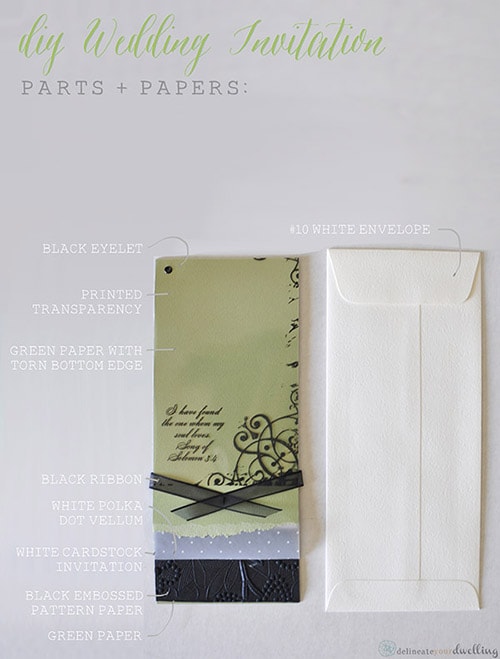 Incase you didn't count… I used SIX layers of paper, like a crazy person. Maybe slightly overdone, but I couldn't help myself. We saved a ton of money by buying five inexpensive papers at local craft stores and using coupons.
The actual white invitation paper was a heavier quality (still just got it at Hobby Lobby) and the black floral embossed paper was bought in large 24 x 36 sheets. This black embossed paper was my splurge and it was bought at a local paper shop. I bought two sheets of this paper, to be safe.
Every single word and graphic printed on my wedding invitation was printed on an inexpensive home printer. And full disclosure, it was not completely smooth sailing.
I used Photoshop to design it and then the husband did the actual printing at his apartment. Printing at home is not for the faint of heart, but it is doable. It was a very time-consuming task, but we saved SO MUCH MONEY by not having a professional print shop do this for us.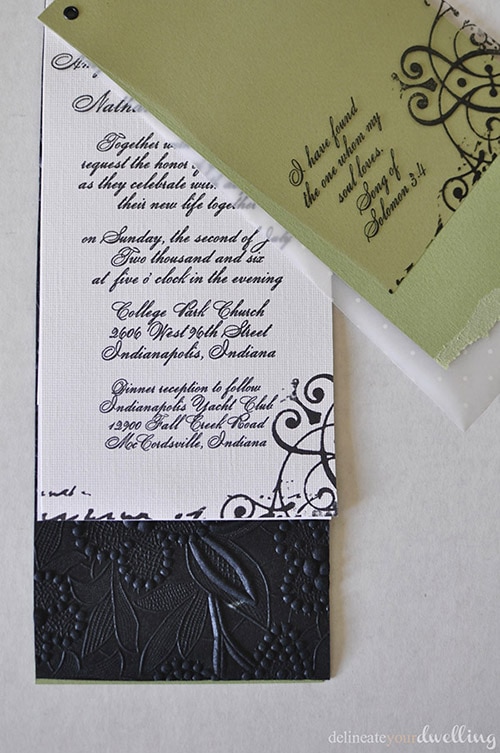 Oh that lovely embossed black paper. I forgot how much I loved it. See me petting it in the below picture? I am so in love, I don't even care that three of my five fingers have different nail polish on them. (I was just trying out new colors before I decided to do this little post yesterday, whoops!)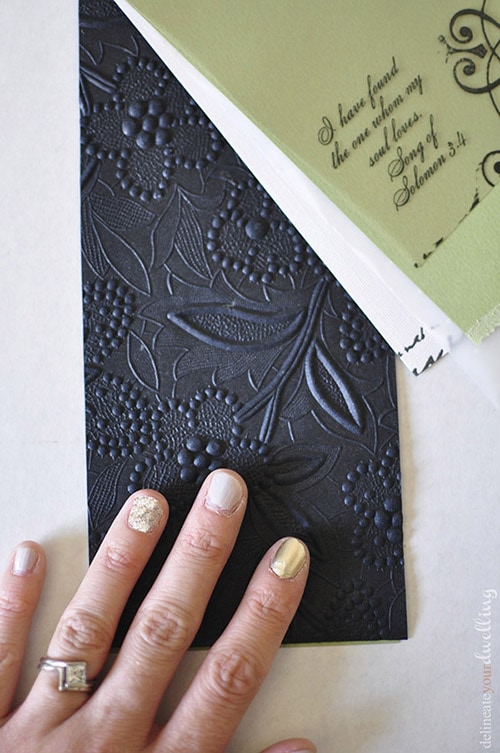 This just goes to prove that there is nothing that some elbow grease, a lot of time and a serious desire for DIY can't accomplish.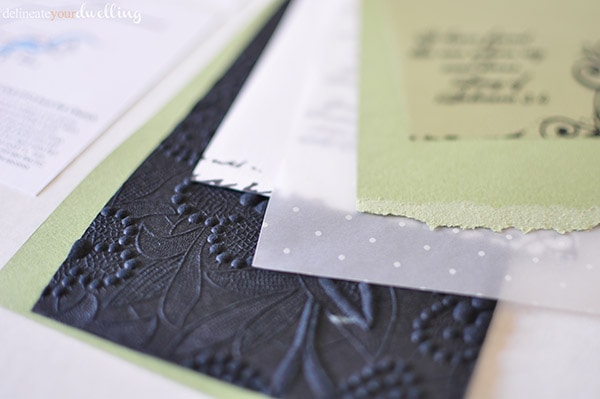 The entire set. My six layer invite, the RSVP card, a map to our ceremony + reception locations, the ribbon that tied it all together and the envelope. Wow, that was a lot of work. To get something like this from an actual wedding invitation company would be THOUSANDS OF DOLLARS, ours was a fraction of that cost!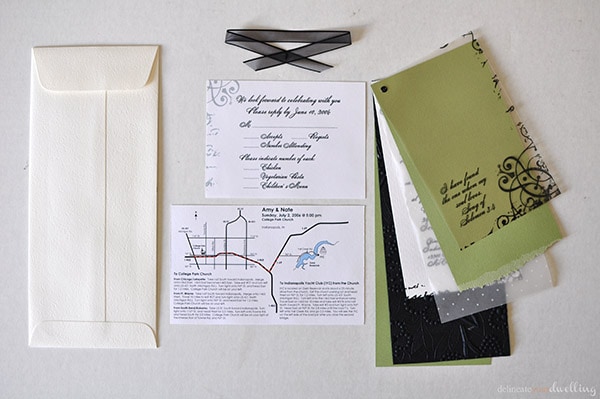 Be sure to pin this DIY for your big cost saving wedding day!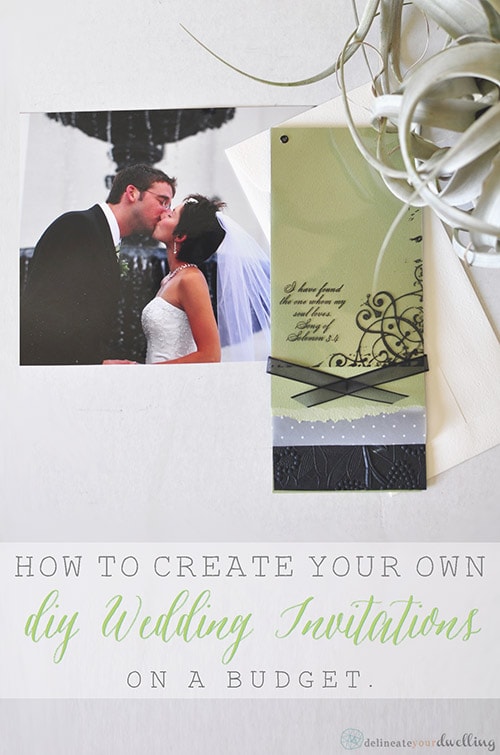 And eight years later, there are many memories of all the friends and family that helped make that a special day, an amazing marriage, two wonderful kiddos… I'm blessed beyond words.
Did you DIY your wedding invitations? I would looove to see them! DM me on Instagram and I'll happily share your invitations on IG Stories.