INSIDE : Working with Modsy, an online Interior Design company was a dream as they helped me create the perfect Dining Room plan. You will never believe how realistic their incredible designs look!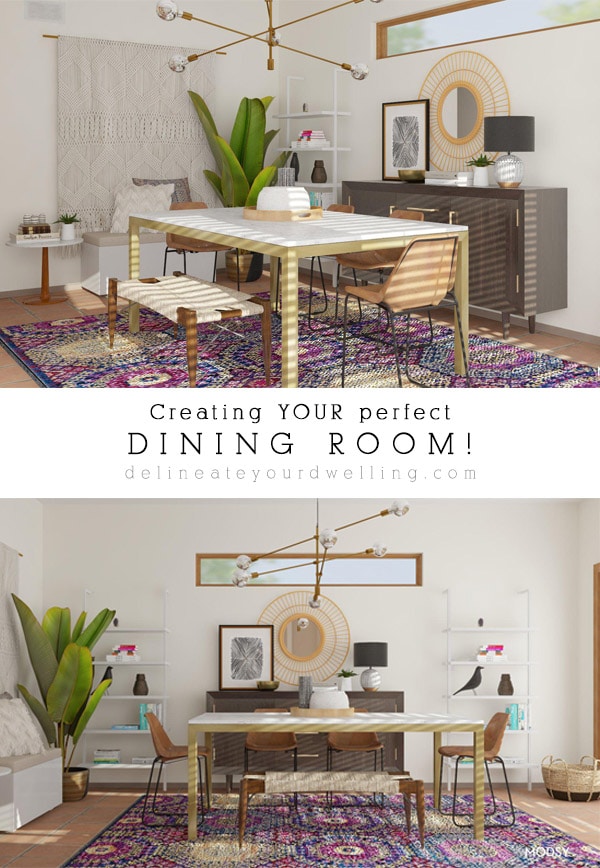 I consider myself a creative. I love making and crafting. I have spent endless hours thinking up home decor crafts and bringing them to life. I worked for years as a landscape architect laying out the perfect outdoor spaces.
However, when it comes to designing and bringing interior spaces to life, I freeze just a little bit. Introducing the company that has completely won my heart and made it do little happy dances, Modsy!
Check out today how I partnered with them to help bring my ideas from just ideas, to a real actual design and plan!! Let's check out how they helped Create the perfect Dining Room plan below.
Modsy
We moved into this home in August of 2017 and other than moving in the furniture so we could have a functioning dining room, the space really has not been touched much otherwise. The walls are still cream, I have brown on brown on tan on brown on cream going on in there. I keep waiting for the perfect plan before I started on anything… and at 8 months it is still pretty dull, boring and very unexciting.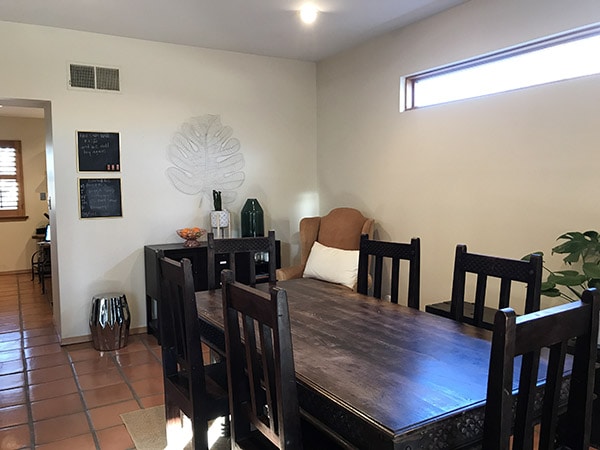 Modsy design process
My experience working with Modsy has been nothing short of thrilling. You start the design process online by taking a fun interior design quiz. Even if you don't know or have a specific style in mind, this quiz was so user friendly and guided you along on your style preferences.

After the quiz, Modsy informed me that I was Mod Visionary, which combines Minimalist and Mid-Century Modern with a touch of Eclectic. Yes, yes, yes! They said, "I dig a retro look, almost as much as I crave a clean space." I was only just begining the process, but was I hooked.
Next, you input information about the space you are having them assist with. They give very exact instructions on pictures of the room to submit, measurements to take and which pieces in the room you want to save and which you are okay with replacing. This is also the time to share budgets, color preferences, your favorite home decor stores and much more.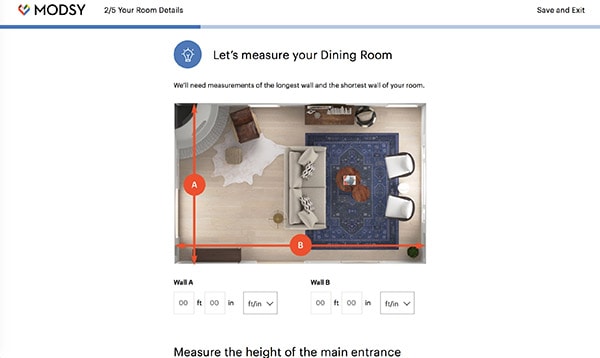 It was finally time to submit my information, sit back, relax and let Modsy take over the design work and "heavy lifting"!
Digital Interior Designs
About a week later, I got an email that two designs had been completed and were ready for my review. Both spaces were amazing!
One had a more relaxed coastal vibe with lots of rattan (which you all know I love!) and the other was a bit more bold and eclectic. Since my living room has a predominantly relaxed soothing vibe, I decided to move forward with the eclectic design.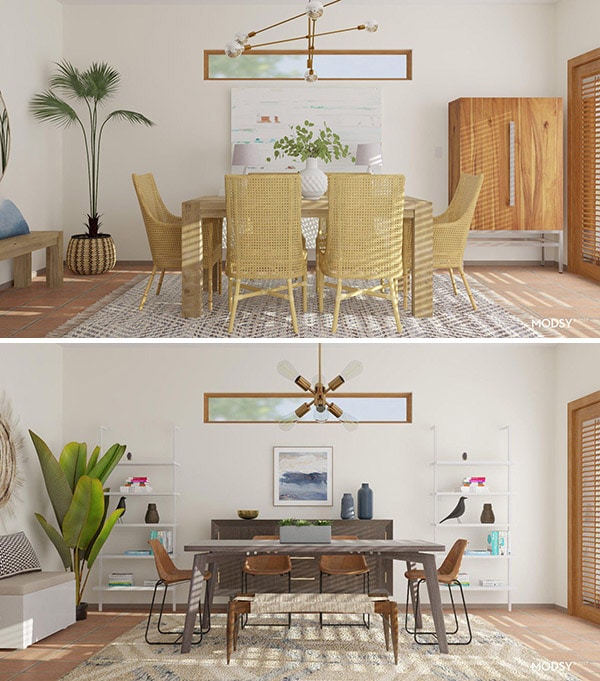 I set up a live chat with my designer to do a final tweak on my preferred design and we talked through what I loved and didn't, then in real time she swap out a few items here and there based on my personal taste. I was so impressed with their knowledge and skill in bringing my room to life.
Dining Room Final Reveal
Here is a look at the final design for my dining room. I mean, I honestly could not love it more!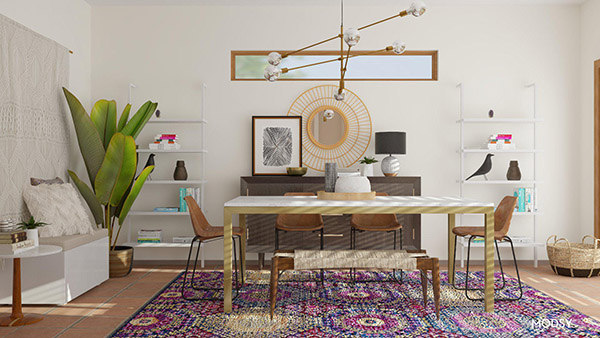 I wanted to keep with my living room and have a light and airy feel to the space, but thought our dining room was an opportunity to have a little more bold color.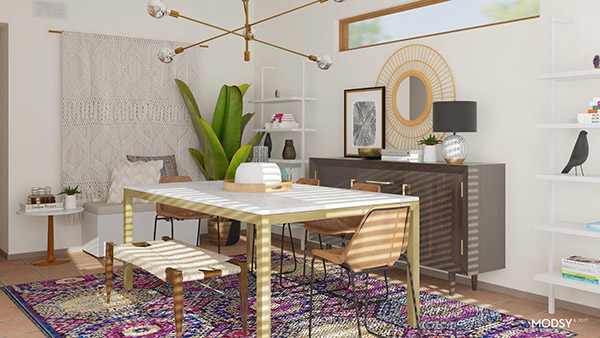 The orchid colored rug is really the colorful pop the room needed! Then bringing in accessories like my rattan mirror and black and white prints and decor helped to ground the room.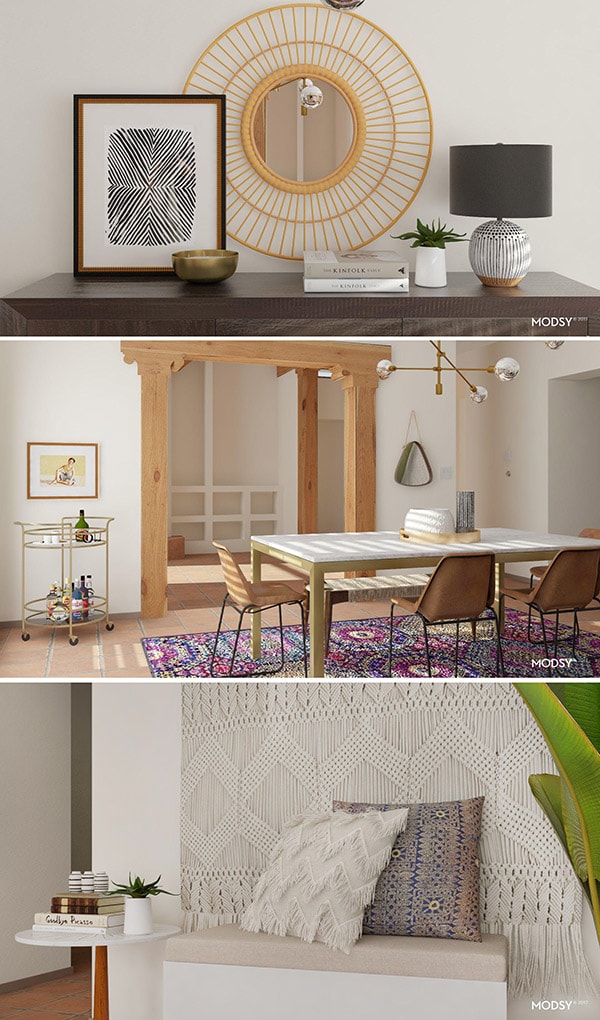 And my heart does flips about the chandelier we selected! The perfect combination of simple, drama and a modern flair.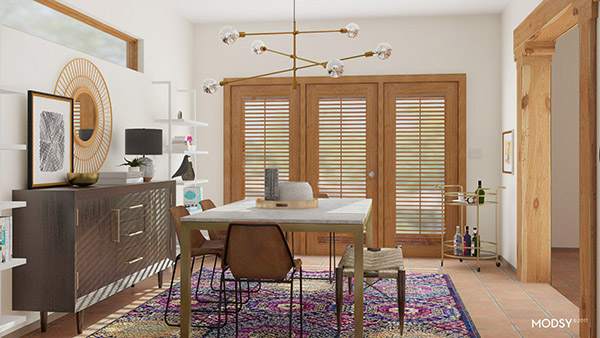 Modsy Perks
The other amazing thing about Modsy is you can design and shop for your home, in one place, with products from hundreds of partners! They will help you get the best deals for each of the products in your room. They really do take the guesswork out of buying furniture.
And ready for the surprise, my dining room is still dull and cream and brown. These STUNNING graphics were created by Modsy. They look so real, they could easily be mistaken as photographs. But don't you worry, with a plan like this, my room won't be dull much longer!
This post is in collaboration with Modsy. Thank you to Modsy for providing the design services used in this post. All opinions are 100% mine.
MY Home –> Want to check out my each room in my home?
I have shared inspiration, tips and inexpensive ways to make your home YOU.