Today I will be to opening my coat closet door for you all and sharing how easy it was to go from a very disorderly closet to tidy and organized in this Coat Closet Cleanup post. It's not a pretty process, but I know you can do it!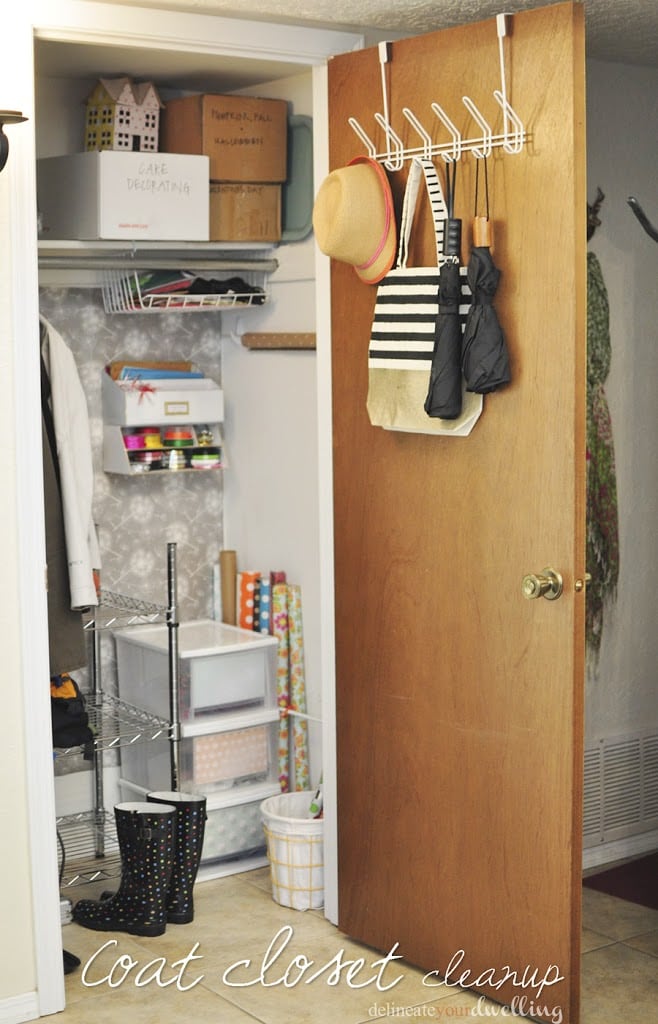 About two years ago, I saw the most lovely
gift wrapping station
Better Homes and Garden's had done using over the door hanging spice racks. I bought a set off Amazon, installed it and was happy as a lark at how organized all my tissue paper, wrapping paper, ribbons, etc… had become.
But, as such is life… there are three other bodies living in this house and all of them seem to love to open this coat closet. They never have as much regard as I do with knowing to gently close the door. SO, before long the wrapping paper rolls were bursting out with every door swing.
Beyond the wrapping paper, coats, all winter gear, my steam mop, ironing board and NUMEROUS seasonal home decor items were jammed into this closet. I'm sure there was order at some point, but with time it all had become one crazy hot mess of a closet.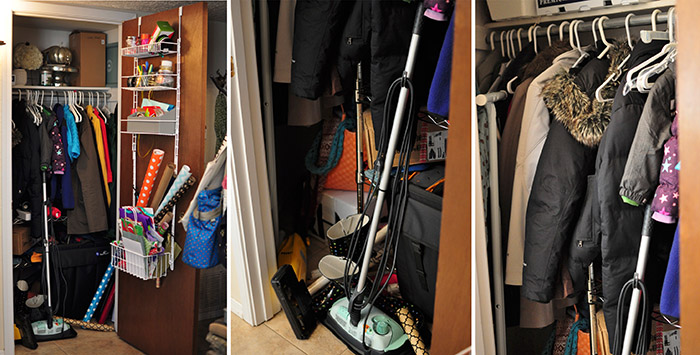 My first order of business was to remove everything from the closet. It never ceases to amaze me how much "stuff" can be jammed into a single closet. However, I love a good purge and after a quick run to my local Goodwill, I was feeling much lighter.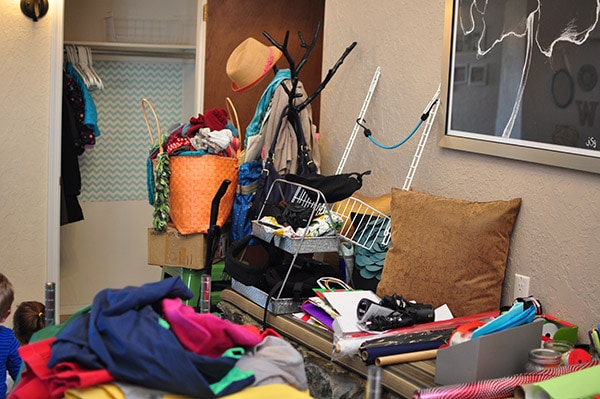 1. I bought two of these desk paper organizers at Target a while ago and thought with some creativity, they could be put to good use on this project.
2. Using packaging tape, I stacked the organizers and taped along the sides and back to secure them together. I also applied five velcro command strips to the back.
3. Using spray paint, I gave the organizers a nice coat of white.
4. I broke out my
(affiliate link)
Krylon Gold Paint Pen
and traced all the front facing edges, along with applying a gold label holder.
5. My completed tissue paper, ribbon, gift tag center!
My hubs gets very
worried
,
excited in a bad way
,
anxious
, hesitant when I start painting anything. But, I wanted to give our closet some color or a punch of pattern, so I got creative and went for an easy temporary route! I cut this cute gray and white floral wrapping paper to fit my back wall and used thumbtacks to hold it in place. It's been up a few weeks so far and there hasn't been a single issue with it!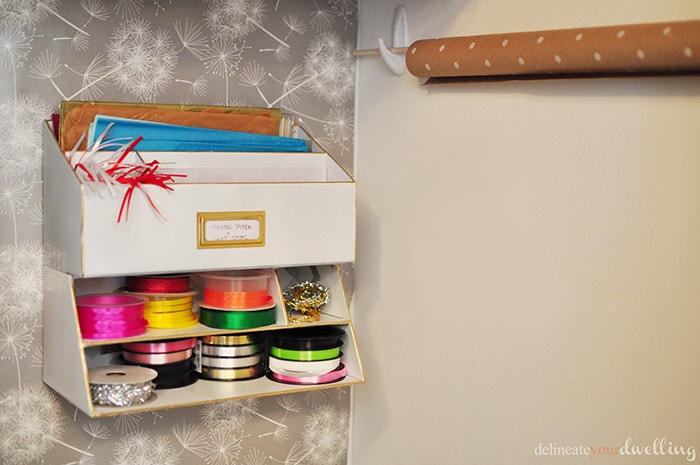 Doing my best to keep things neat and tidy with labels on boxes.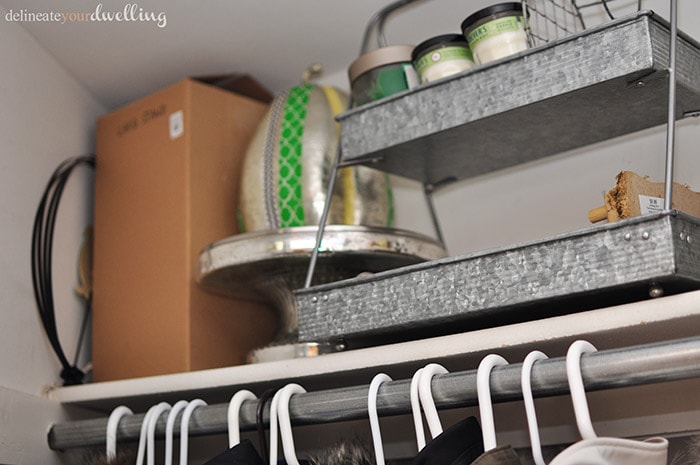 I bought a simple
(affiliate link)
28 to 48″ Width Tension Rod, White
and have all my tall wrapping paper held up be that against the wall. All my shorter wrapping paper now sit in a fun container in the corner.
On the far left of the image below, you can see my solution to all our winter gear. We had just one massive box before with all of our gloves, hats, scarves, etc. When one person needed something, EVERYTHING was removed to find it. Now, the kids have a shared pull out drawer, as do I and the hubs.
I would have never guessed how a few simple containers and mounting wrapping paper to the back wall, could give my dark messy closet such a cheerful look!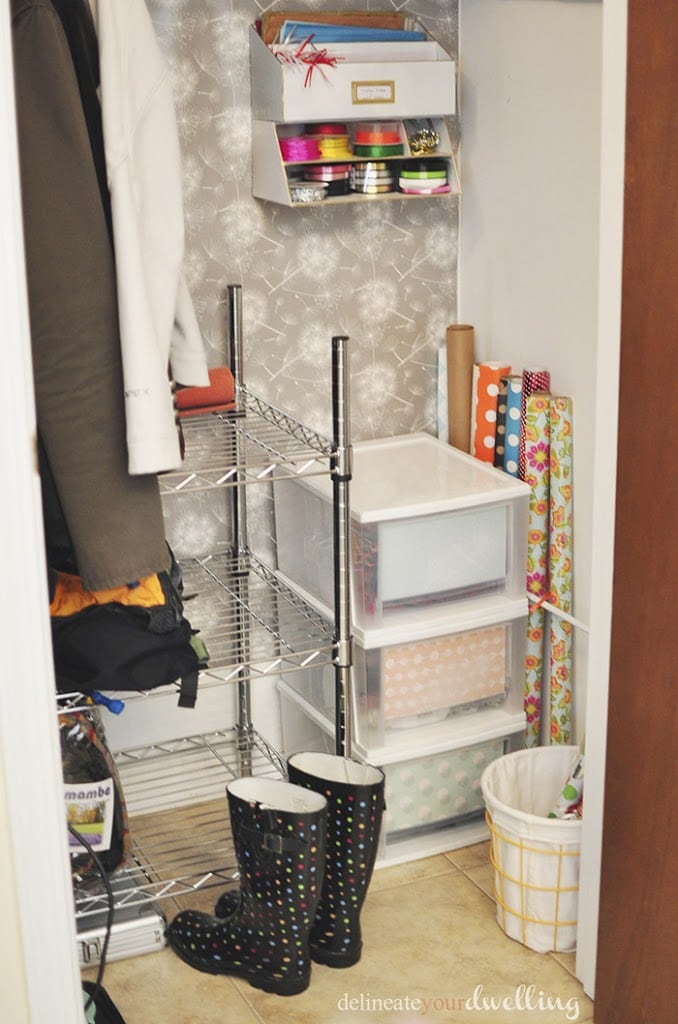 How have you updated your coat closet?
SaveSave