INSIDE : Learn how to make delicious Chocolate Heart Bark with sprinkles and chocolate Whoppers. Perfect chocolate bark to make for Valentine's Day celebrations.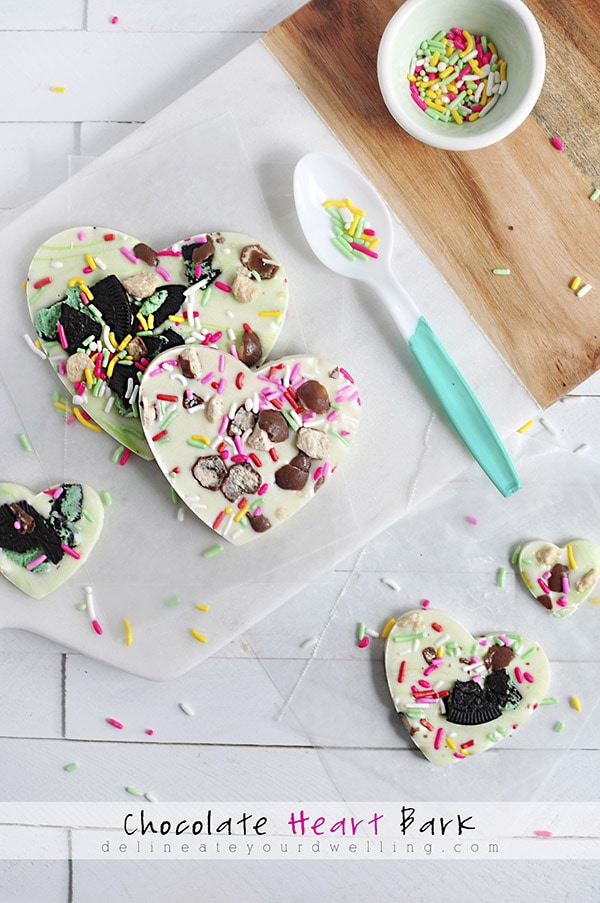 This post contains affiliate links. See my full disclosure.
Do you remember a few weeks ago when I shared 30+ Creative takes on Chocolate Bark? Well ever since that post, everywhere I go, I have been on the lookout for fun Chocolate Bark ingredients!
Today I'm showing you how crazy simple it is to take it up a notch and create Chocolate Heart Bark (kind of perfect for Mother's Day or Valentine's Day, too).
Also, I'll be sharing how this post went utterly wrong and then at the last moment, did a complete 360′ and was redeemed. So… that should be fun.
What ingredients do I need to make Chocolate Heart Bark?
White Chocolate Melting Wafers
Malt Ball candies (Whoppers)
THIN Mint Oreos
Sprinkles
Green Food Dye
Baking Sheet
Wax Paper
Spatula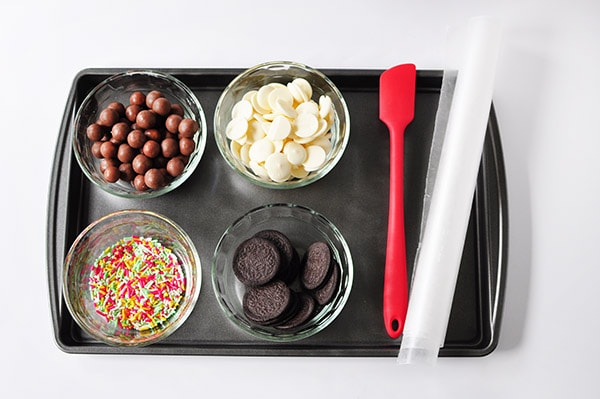 I had visions of this being the most lovely green marblized minty fresh chocolate bark ever… but this bark had a mind of it's own.
How do I make Chocolate Heart Bark?
First, I crushed the Malt Ball candies into smaller pieces and then attempted to crumble the THIN Mint Oreos. But, if you've ever tried to crumble oreos (and the thin ones probably even more so), you will know… they don't crumble… they just stick together in a not so pretty, more-so clumpy way. I was a little concerned but kept moving forward.
Next, I divided my chocolate wafers into two small bowls and melted the chocolate per the directions. I added just a little bit of green food coloring to one melted bowl and it turned a lovely mint color. I proceeded to pour all of the plain white chocolate on my wax paper covered baking sheet. Then I drizzled the mint green on top and using a spatchula started to swirl it for that marbleized look. After doing this, I decided that white and marbleized mint green don't really give off the "delicious vibe". My concern was growing, but there isn't much that sprinkles can't fix so I continued.
I added the malt ball candies, the stuck together chunks of oreo and lots. of. sprinkles. Panic time. It looked like a plop of messy, unappetizing chocolate and I had no spare ingredients to start over. Somehow I had to redeem this chocolate bark!
HEART SHAPED COOKIE CUTTERS to the rescue! I pulled them out, as the chocolate was beginning to set and completely was able to redeem these beauties! I think cutting them into heart shapes somehow simplified the crazy and lessened the green marble look that wasn't my favorite. I left the cookie cutters on the sheet pan and put the entire thing in the fridge to harden.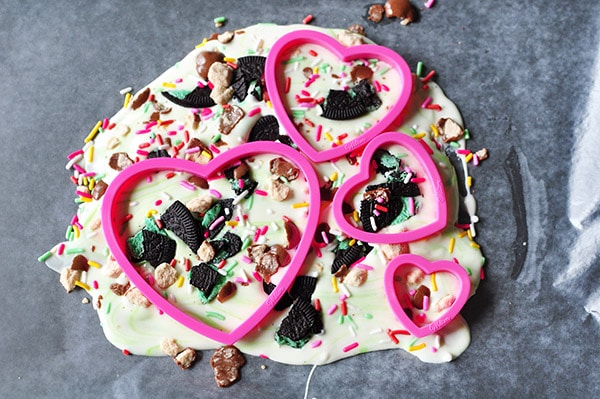 Once the chocolate was hard, it was a breeze to pop the chocolate out of the cookie cutters.

And even if there are large chunks of mint oreo, they sure do taste delicious.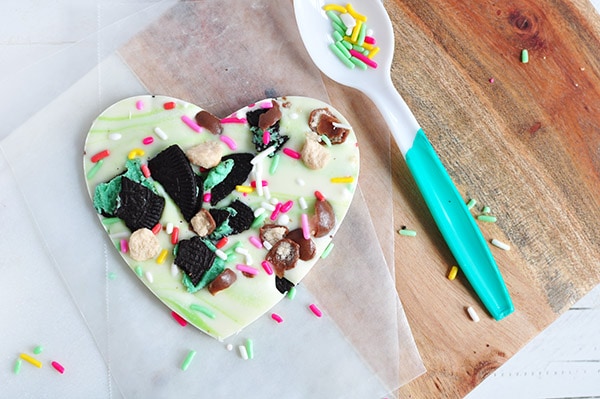 In the end, I was really pleased with my first attempt at chocolate bark. I would recommend thinking through the color and ingredient options before starting.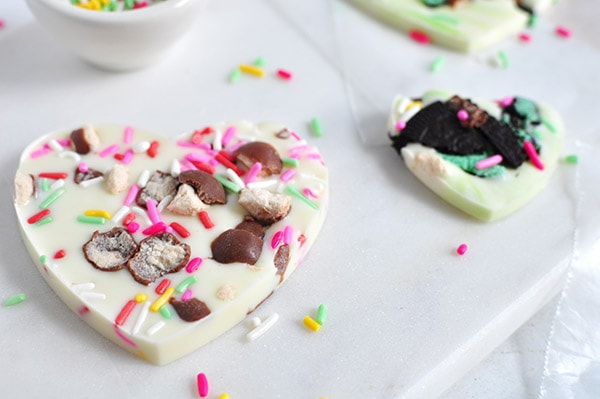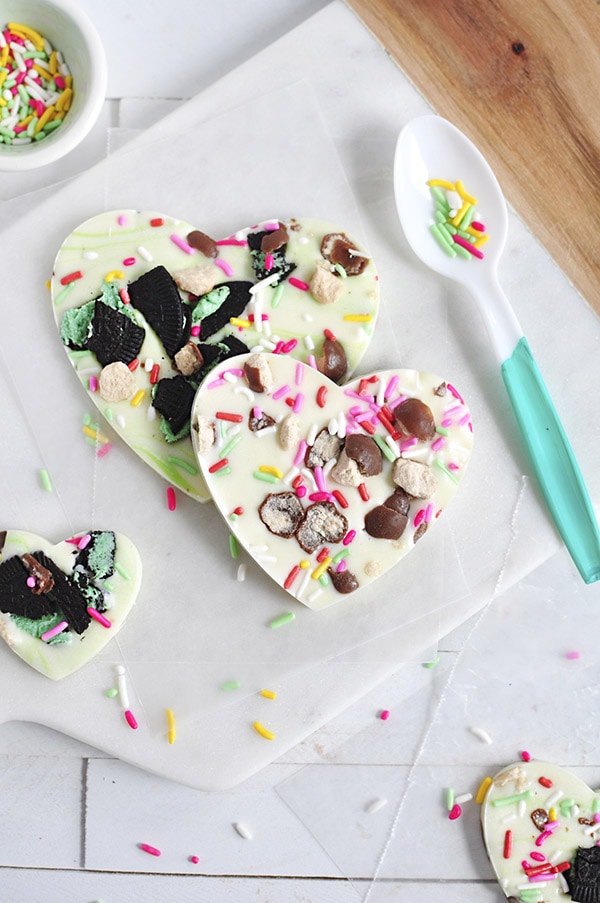 For being what honestly, is the most simple dessert recipe I've ever made… this one gave me some troubles. Thankfully they were all just cosmetic user errors and no matter their look, it still tastes like chocolate heaven!
Have you made chocolate bark? What did you include in it?
Looking for other delicious dessert recipes?
White Chocolate Mousse Dessert