INSIDE : Learn how to create a stunning Round Beaded Wall Mirror using only a few simple materials! Hang this colorful DIY Mirror on the wall to admire every day.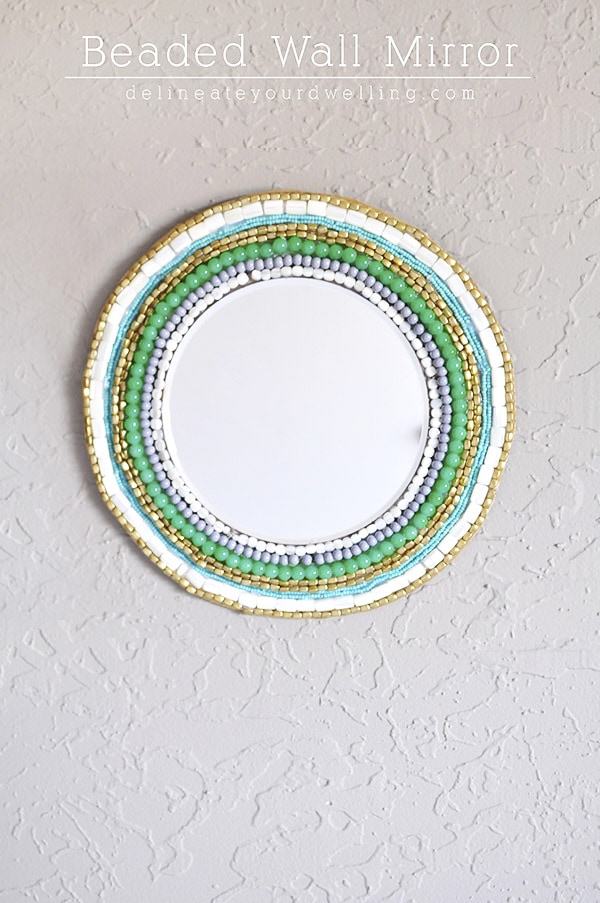 A few weeks ago, I was in West Elm and about fell over when I saw the most lovely navy and white beaded mirror hanging on the wall. It was stunning and was hand beaded in India. I was not in love with the price, however. I promptly looked to my mother in law and said, I could totally make this! Today I am sharing my own West Elm inspired Beaded Wall Mirror.
This post may contain affiliate links. See full disclosure here.

Cardboard Circle
Round Mirror, 6-Inch
Four different sets of decorative beads
(gray . green . white)
(the quantity of beads depends on how big your mirror and cardboard is)
I also used an inexpensive beaded necklace with gold and aqua.
Color coordinating acrylic paints
Hot Glue | Facto Knife | Command Hooks to hang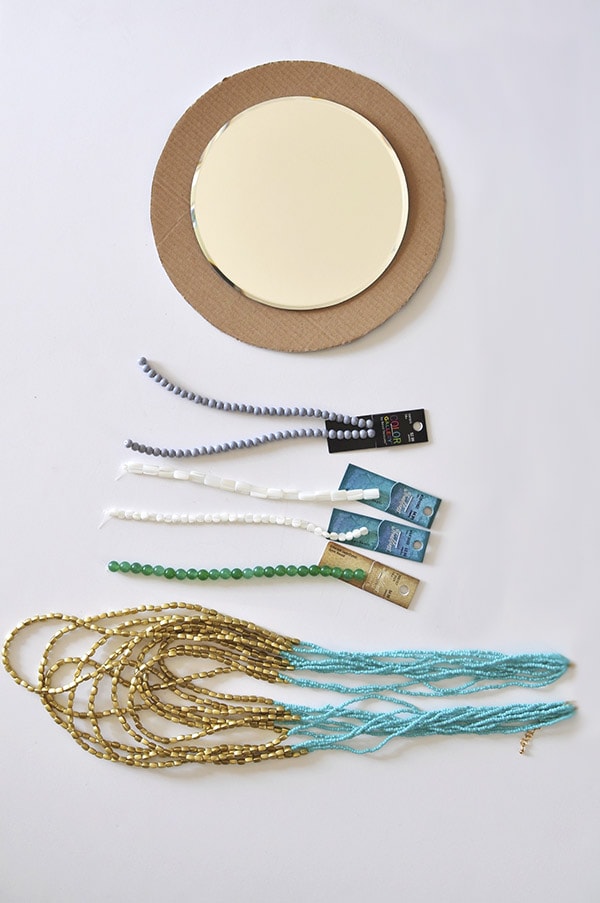 Using a large bowl, I traced a circle onto my cardboard and cut it out with an xacto knife. I used hot glue to secure the mirror back to my cardboard. I also added a line of hot glue to the mirror perimeter. (NOTE : If you are using a larger mirror, you should use a stronger adhesive glue like e6000.)
Before each row of beads that I glued down, I painted a thin strip of acrylic paint underneath it, so if any cardboard was seen, it would blend in with the beads. After the paint was dry, I simply glued the beads down section by section. It was easiest to just keep the beads on the strand that they came on.
Next was a gray bead, so I painted a gray line along the outside of the white beads.
Row by row, this is how I created my mirror.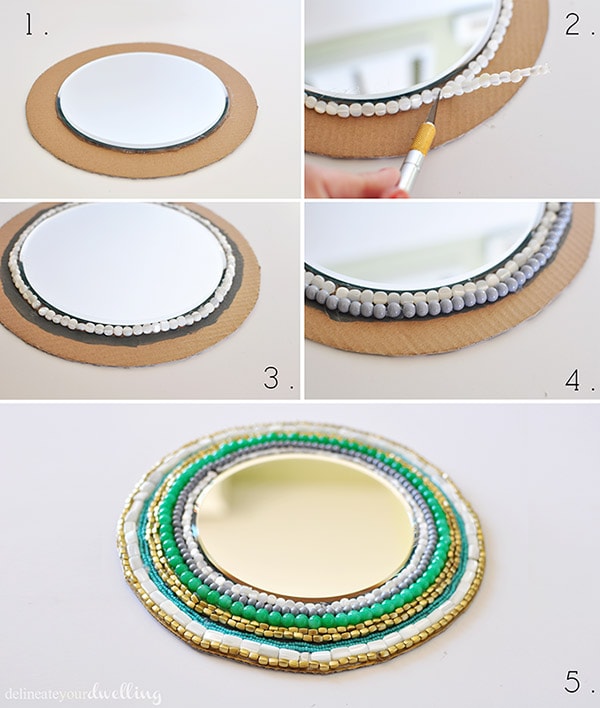 This was not a quick project. I worked on it off and on for two days. The painting takes time to dry and then I ran out of the green beads, so I had to go to the craft store to get more. It certainly could probably be done in an afternoon if you were uninterrupted.
Another tip I learned was to cut your cardboard bigger than you will need. I ended up having to cut an additional piece and glue it down so I could have a 3″-4″ strip of the beads. It ended up working just fine, but this was also part of the reason it took me so long.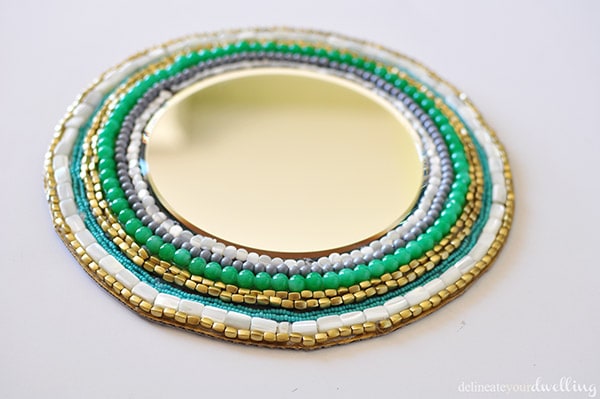 Once all the beads were in place. I simply took my Xacto knife and cut the cardboard right along the edge of my last row of beads.
I added a picture hanger to the back but it's so light weight, I could have easily used a Command Strip, too. And after the fact, I think a command strip would have worked better.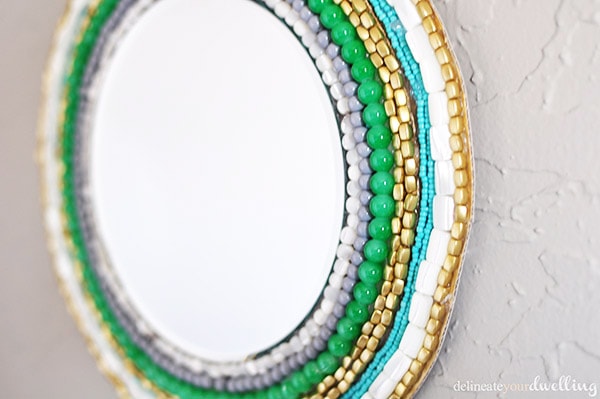 This mirror turned out better than I could have expected. It proudly hangs in our updated master bedroom. Goodbye to burnt orange and hello to blues, greens, gold and whites… ah, guys it's looking good so far.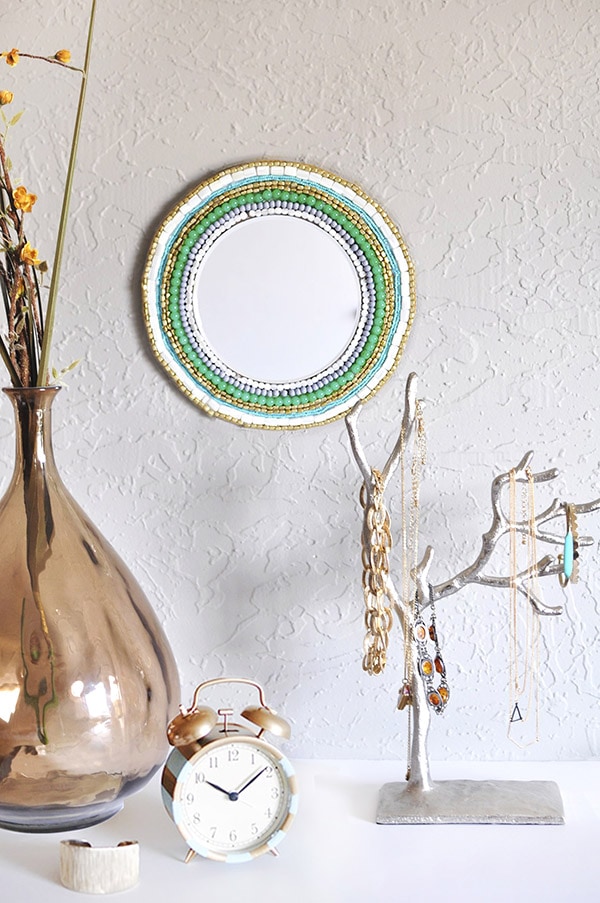 You might have seen on Instagram where I shared a sneak peek into our Master Bedroom plans.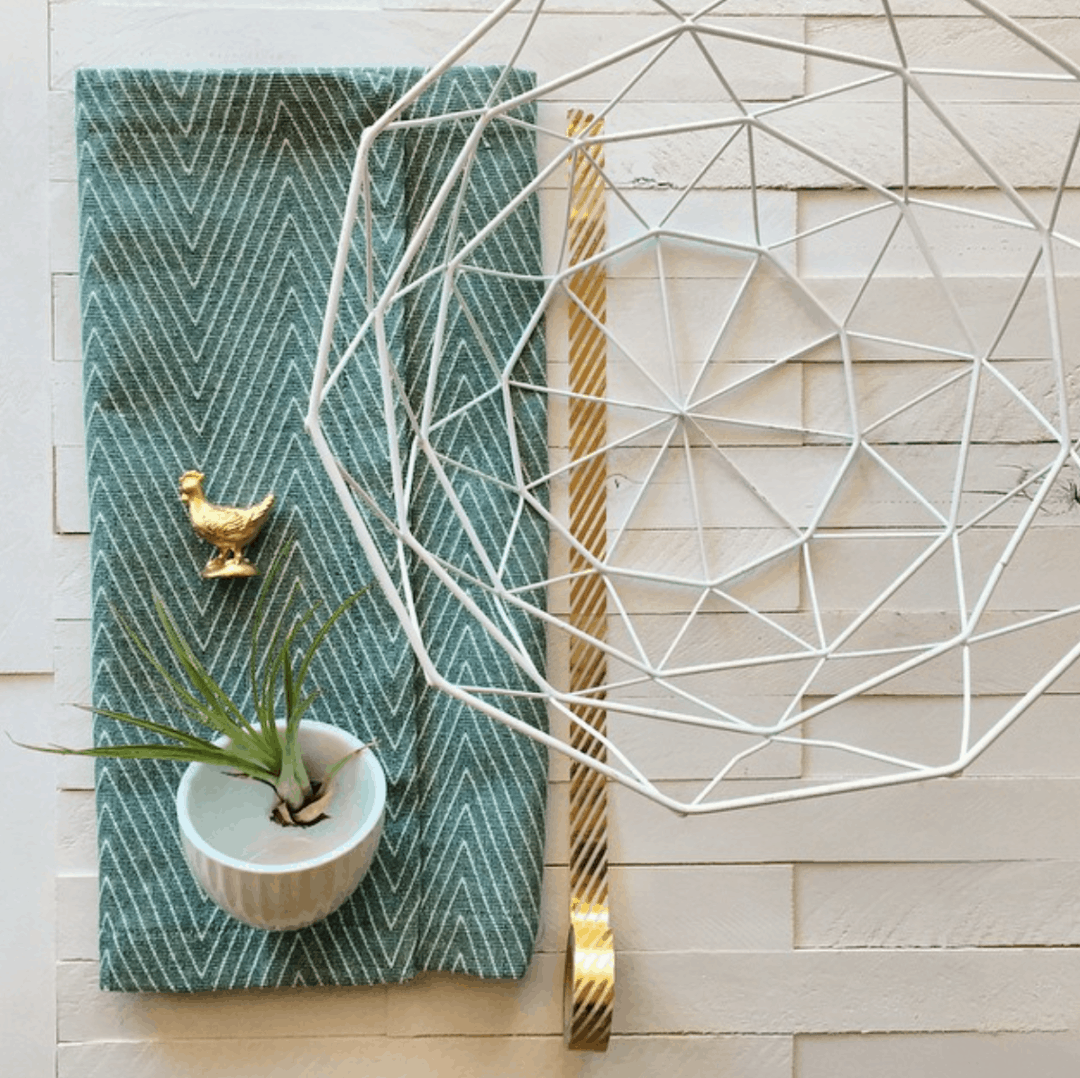 Here is the start of my Master Bedroom DIYs! Slowly but surely it will get there.
Update : To see the completed room, go here!
SaveSaveSaveSaveSaveSaveSaveSave