Back to School Checklist with First Alert
INSIDE : School is back in session and it's time to get organized again! Take a look at these five tips to help you prepare for a smooth Back to School transition. Get yourself and your family ready for the school year with this quick checklist!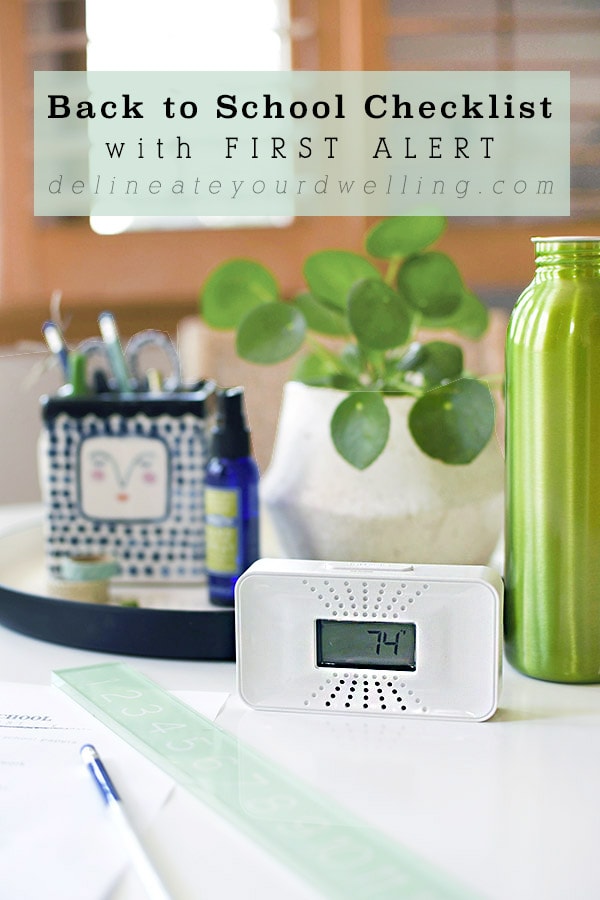 Thank you First Alert for sponsoring this post. Know CO!
As summer comes to an end and the school year starts up again, there are many things we need to do in order to get everything organized, setup for success and feeling safe! Today, I am talking about five tips to help you prepare for Back to School Checklist.
And be sure to read to the bottom of the post to get your free checklist download.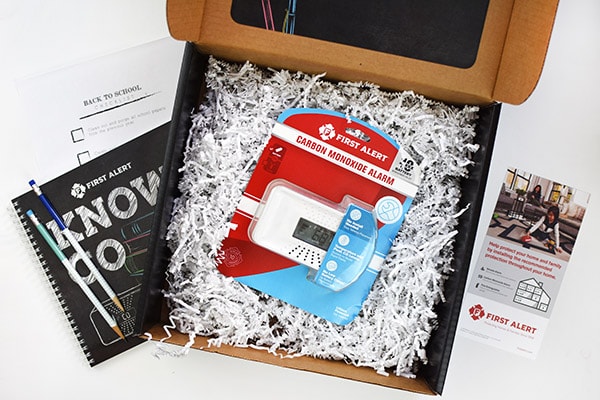 1. Back to School checklist – Purge all your old papers from last school year.
It is amazing how quickly those classroom papers can add up in our homes. And I always have the best of intentions, but it seems until the new school year comes around… all that excess paper ends up sitting in my house.
So, as you prepare for your children's next school year, be sure to pull out, sort and purge all the miscellaneous and non-important papers. We have a basket to hold the daily papers and then a big plastic bin that holds the special or important papers from each year. It feels so good to get the paperwork under control again!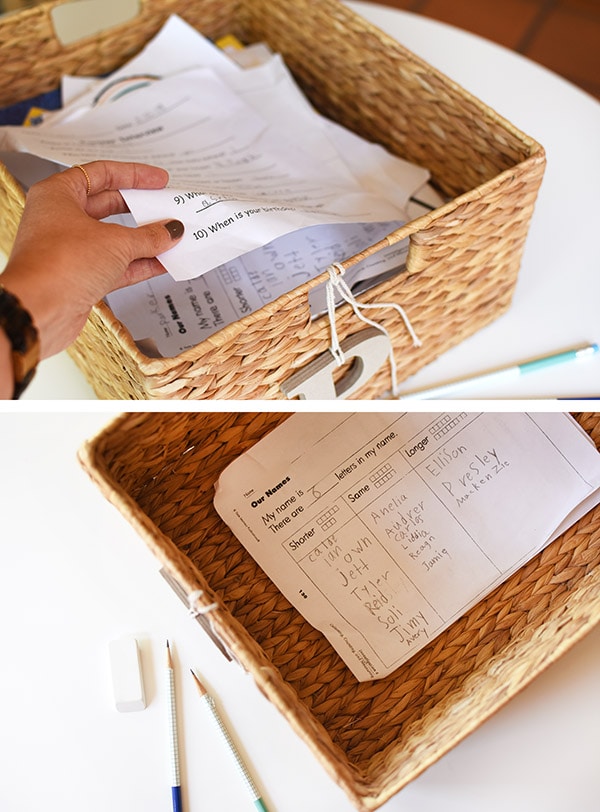 I love having bins or baskets for each kiddo to store their beloved artwork, Spelling tests or math homework. It's easier for me to toss the daily papers in there and monthly go through and sort out what we need to keep and what we don't need to keep. These are some of my favorites : Cotton Rope, Woven Basket + Wire Storage.
2. Create and Organize a homework station for your children.
It is so important to have a zone that is specifically set up with homework and studying in mind for your kids. I make sure we always have sharpened pencils, a pair of scissors, washi tape, lots of erasers and some hand sanitizer.
There is plenty of space for my children to spread out their books, folders and papers so we can all make sure to get homework done and done well each evening.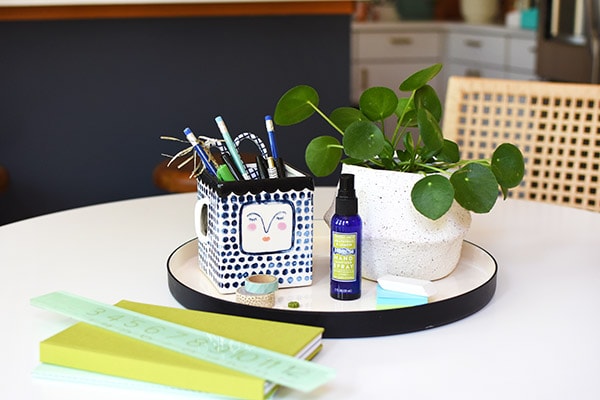 3. Back to School checklist -Setup a place to hang back packs, lunch bags, and sweaters or jackets.
This task item always seems to be a work in progress, but when I can get my kids to walk in the door and immediately hang up all their gear from school – not only am I a happier mom, but we can find exactly where things are later in the evening when it's homework time.
Whether you have hooks for your children's backpacks or a cubby for everything to go – it's so helpful to have them assist in putting their school items up.
4. Prepare for mornings with a school lunch routine.
Mornings already are tricky time of the day, so setting yourself up for success with packing lunches is ideal. We have the monthly lunch calendar printed out and know which days they are buying a lunch and which days we need to pack something.
Having all your lunch bags, thermos, ice packs and silverware in a nearby area helps to keep this process running more smoothly. Here are some of our favorite lunch time items : Adult lunch bag, kid lunch bag, kid lunch bag + blue thermos, teal thermos + green thermos.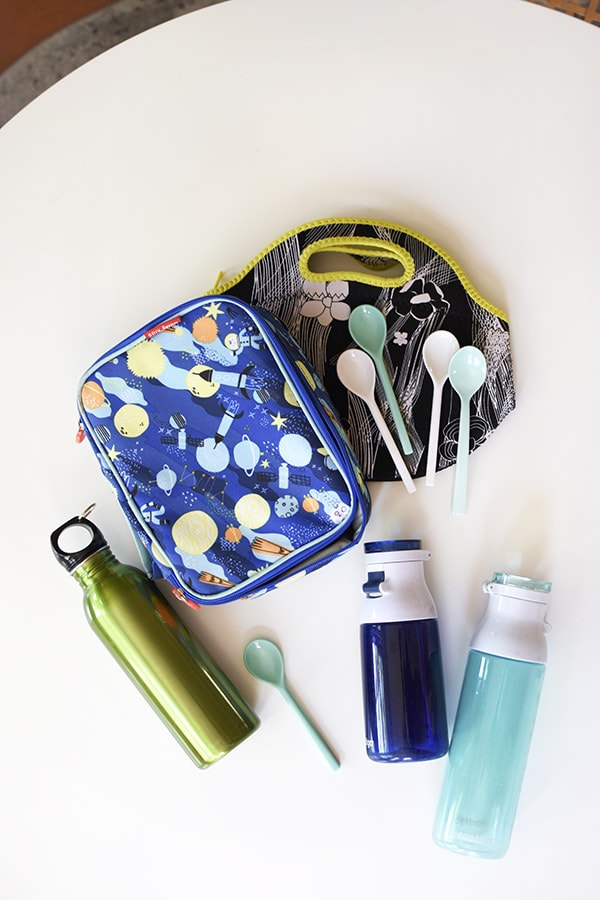 5. Back to School checklist – Setup and use a First Alert Tabletop CO alarm.
And just as equally important is keeping your family safe by setting up and using a First Alert Tabletop CO alarm. Adding that into your home and routine is so important for everyone in the family.
Known as the silent killer, carbon monoxide is an invisible, odorless deadly gas that can be produced by any fuel-burning device. The only way to detect CO in your home is by installing a CO alarm.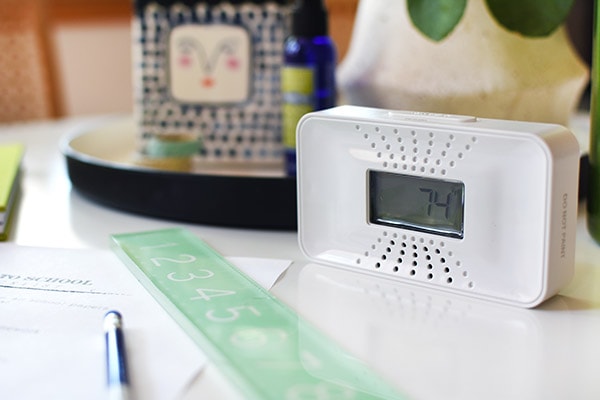 The First Alert 10-year sealed battery carbon monoxide alarm detects dangerous levels of carbon monoxide. This stylish white CO alarm is designed to sit on top of a dresser or tabletop, and it has a backlit digital display that shows temperature and peak levels of CO (when detected).
It provides hassle-free protection by eliminating the need for battery replacements for 10 years. After 10 years, you will hear an end of life warning, letting you know it is time to replace (alarms don't last forever and need to be replaced every 10 years).
But, it gets even better – no installation is required. You simply place the alarm on a table top/ dresser and start protecting your home and family from CO. Win win in my book!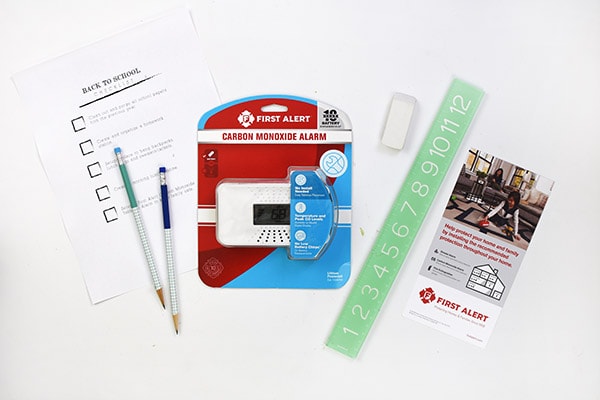 And since the First Alert CO alarm doesn't need to be plugged in, you can move it all around your home with ease. Look how nice it looks in our living room, nestled in with my home decor!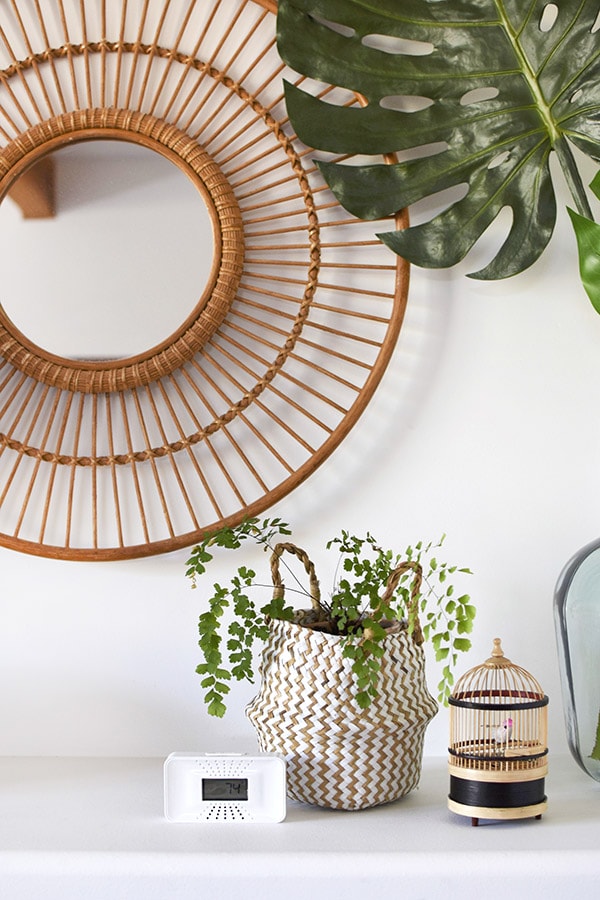 Be sure to download your Back to School Checklist with First Alert here today!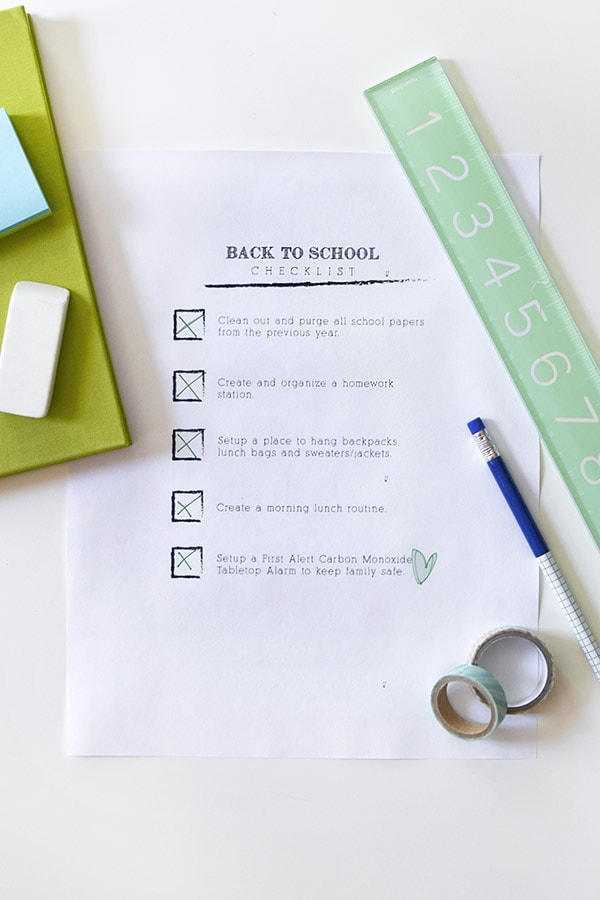 Thank you for supporting great brands like First Alert. All opinion are 100% mine.