PLANNERS.  Oh my heavens, do I love planners.  I would say the effort I put into finding a great planner surpasses my effort in finding a good wall calendar… which if you recall is fairly high on my life importance list.  So now that we've got THAT out of the way, we can move onto Allllll my favorite 2017 Planners.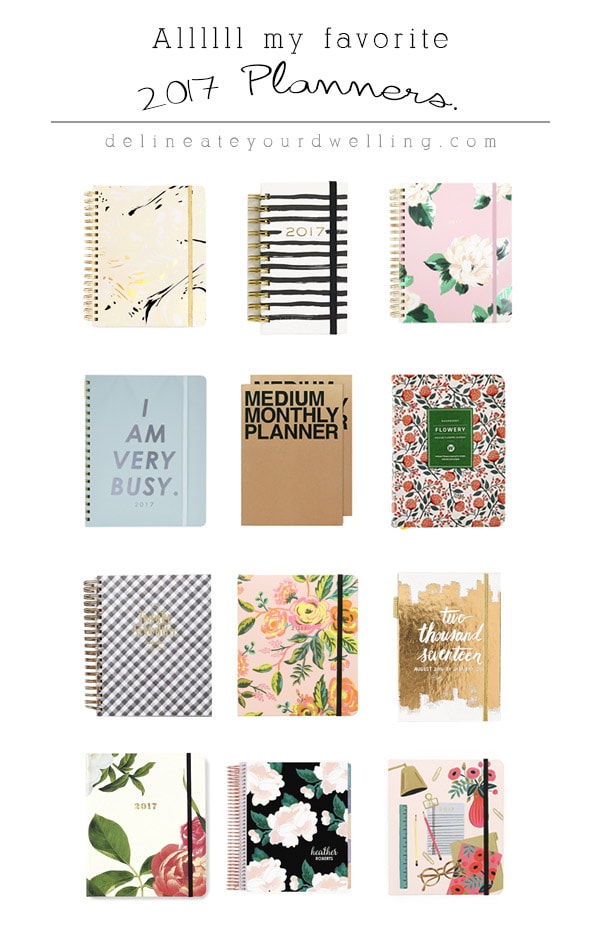 This post may contain affiliate links. See my full disclosure.
Some people hoard shoes.  Some people hoard fancy purses.  I'm that cool kid that hoards paper products and office supplies (check out #officesuppliesaremycrack – most of those pictures are mine, people).
Call me old fashion, but there is something wonderful about putting pencil to paper.  Don't get me wrong, I use various digital calendars to keep my family's schedules on track.  I share what feels like a million Google Calendars with my husband.  But when it comes to blogging and those types of daily tasks I need to keep on top of, I always use a paper planner.  Today I am sharing all my favorite ones… which just so happens to be 12 of my 99 favorites.
Let's get to it:

Bando Marble Large Planner | Black and White Stripe Weekly Spiral Planner | Lady of Leisure Agenda


I am VERY Busy Planner | Medium Monthly Planner | White Raspberry Planner


Wise Words Planner | Graceful Garden Planner | Gold Foil Brush Planner


Kate Spade Floral Planner | Erin Condren Life Planner | Rifle Paper Planner
What planner are you going to get?  Honestly, I'd love to know!
SaveSave