Happy Friday, friends! Ah, the weekend is nearing and my amazing mama is here visiting. As if I'm not already a crafty type, my mama and I can stay up all night talking ideas and being crafty. Let's just say, she's spurring me on to finish my guest room + office. Soon soon I'll be sharing!
*This post contains affiliate links. If you purchase through these links, you'll help support Delineate Your Dwelling (there is no extra cost to you) and you'll receive some amazing products that I love, too!*
While roaming the aisles of Lowes last week, I found this gorgeous *
Round Eye Swivel Trigger Snap
(say that 10 times fast!) and knew right away, I wanted to use it as a keychain.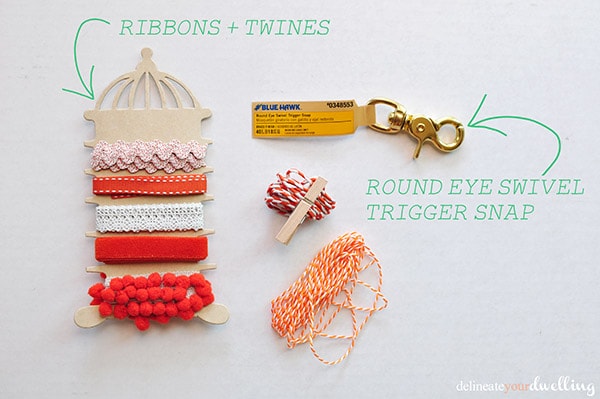 Tassel's are popping up everywhere and I'm so glad I know how to make them now. They are exceedingly simple to create and by making your own, you can use any color and type of twine you like!
1. I cut out a piece of cardboard and wound my twine around it. The board should be double the length of your finished tassel.
2. I wanted my binding material to be different than my actual tassel so, I used some leftover orange and white string I had bought in the dollar section at Target. (It came on the above package of six different ribbons — soooo adorbs.) Cut your string approximately 5″ and lay it horizontally on your work surface. Slide your wound string off the board and lay over top the 5″ piece. Tie a knot with that 5″ piece.
3. Grab the 5″ piece upward and the tassel portion down. Trim the tassel as need be to be even. Loop one end of the 5″ piece through the bottom of your snap.
4. Bring the leftover 5″ piece down to join with the tassel twines, while holding onto the other end and wrapping it around all the strings to create a bound area. I added a little bit of hot glue just to keep that first loop around nice and tight and then a little bit at the very end to secure it in place.
What you are left with is a simple keychain tassel using two different twines.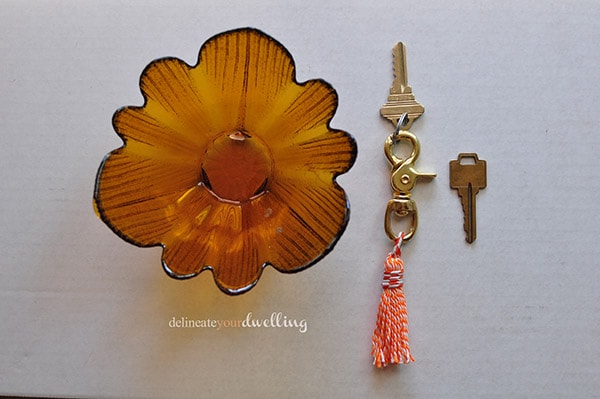 I went from having unattractive keys (shown above) in my key dish to this lovely simple yet classy orange Swivel Tassel Keychain!
Have you made anything with tassels yet?